*FYI - this post may affiliate links, which means we earn a commission (at no extra cost to you) if you purchase from them. Also, as an Amazon Associate, I earn from qualifying purchases. For the full scoop on what this means, feel free to check out our Privacy Policy and Disclosure.
If you're wondering what to do in Munich on Sunday, here's a list of fun activities we've grown to love over the years as perfect Sunday Munich activities.
Sundays are a day of rest in Munich, which means the shops are closed, and you're free to nap guilt-free to your heart's content.
But (beyond a good old nap), Sundays in Munich are also a perfect day to take advantage of the city's many cultural and recreational offerings.
NOTE: If you find yourself in desperate need of groceries or other supplies in Munich on a Sunday, there are indeed some special shops that remain open! Be sure to check out our list of shops and supermarkets open on Sundays in Munich for more details.
Take Advantage Of Munich's Sunday 1 Euro Museums Offer
Many of Munich's top museums happen to offer 1 euro entry on Sundays, which makes museum hopping one of the best and most affordable things to do in Munich on Sundays or a brilliant plan for a rainy day!
Which museums offer this special price?
Most of the museums around the Kunstareal like the Pinakothek der Moderne and Alte Pinakothek, as well as the Nationalmuseum and others.
Check out our full list of 1 euro museums in Munich for more details.
Go For A Walk In One Of Munich's Lovely Parks
We in Munich are very lucky to live in a green city that is filled with stunning parks.
Enjoying a little park promenade is one of the most popular things to do in Munich on a Sunday, combined with sunbathing and sports if weather allows.
Which parks are our favourites in Munich? We live in the city center, so frequent the English Garden often, however Westpark and Ostpark are both great choices too.
Enjoy A Nice Breakfast Or Brunch Out
While most shops can't open on Sundays in Munich, most restaurants and cafes will still be open. This is why Sunday breakfast/brunch is such a huge deal.
There's no shortage of great places in Munich to enjoy brunch, from a proper boozy brunch to excellent Munich coffee spots, but we're partial to the gluttonous offerings at these cafes in our list here!
Of course, one very special Sunday activity in Munich you can enjoy is…
Have Brunch At The Maximilaneum 
A little known secret of the Maximilianeum is that you can have brunch there!
Yes! The very building where the Bavarian parliament convenes for important meetings is indeed a place where you can enjoy a chatty brunch with pals. In fact, the restaurant that hosts brunch is the same one that all the parliamentarians dine at daily.
While brunch is currently on pause, they plan to bring back the Brunch on Sundays program as soon as regulations allow, so stay tuned for more information, and visit their website here for more details.
Treat Yourself To Doughy Goodness From A Bakery
While most shops aren't allowed to open on Sundays in Munich, one glorious exception is bakeries!
Most bakeries get to open for a few hours on Sundays, and it seems lining up for your favourite treat is a beloved Sunday tradition for many who live in the city.
Want to make this little bakery excursion into a full blown adventure? Pick a nice park to perch at while you enjoy your pastries outside.
Enjoy A Stroll (Or Sunbathe) Along The Isar
Another quintessential Sunday activity in Munich is going for a promenade along the Isar.
This river is the heart of the city, and in summer months its banks are filled with sunbathers, grillers, and swimmers soaking in the best that the city has to offer.
We love going for walks along the Isar because there's beautiful views all along… hence why it also makes a great cheap date in Munich 😉
One time we even went from the Friedensengel all the way down to the zoo! In case you aren't familiar with that distance, it's….. far. That's all we need to say.
Explore One Of Munich's Various Neighbourhoods In Detail 
Since Sundays are a day of rest in Munich, most businesses are closed which makes it a great time to go on little nosey walks.
We love going on long walks to discover neighbourhoods around the city, and if that sounds like your idea of a good time, then you should follow one of our self-guided walking tours sometime to get started!
Here are some of our self-guided walking tours that you can easily enjoy on you own:
Go On A Beer Garden Crawl
When the weather allows it, visiting a beer garden is one of the best, most relaxing things to do in Munich on a Sunday.
Two favourites of ours are the Chinese Tower beer garden and Seehaus beer garden nearby.
But hey, if you're feeling particularly daring, you can also attempt a beer garden crawl to visit multiple beer gardens and try all six of Munich's main breweries at once.
Luckily, we've created a self-guided Munich beer garden crawl just for that purpose.
Try it if you dare.
Walk Around The Nymphenburg Palace Grounds 
Nymphenburg Palace is one of our favourite places to visit in Munich, and on Sundays (while busy), it's a beautiful and scenic place to spend the day… especially if you head to the Botanical Gardens too!
PS: The Museum of Man and Nature located on the palace grounds is only 1 euro entry on Sundays.
Go Hunting For Street Art
The street art scene in Munich is seriously underrated and there are plenty of cool places to see beautiful murals around the city… and well, since street murals never sleep (or rests), Sundays are a perfect day to go enjoy them.
Check out our guide to street art in Munich for more info.
Visit A Nearby Lake
For many of those who live in Munich, Sunday is an excursion day where we head out to a nearby lake or go hiking.
Luckily, Munich is surrounded by an abundance of truly stunning lakes, so you could visit a new one each Sunday and never get bored!
Be sure to check out our list of best lakes near Munich for inspiration on where to go or even those you can reach easily and free with via your Deutchlandticket!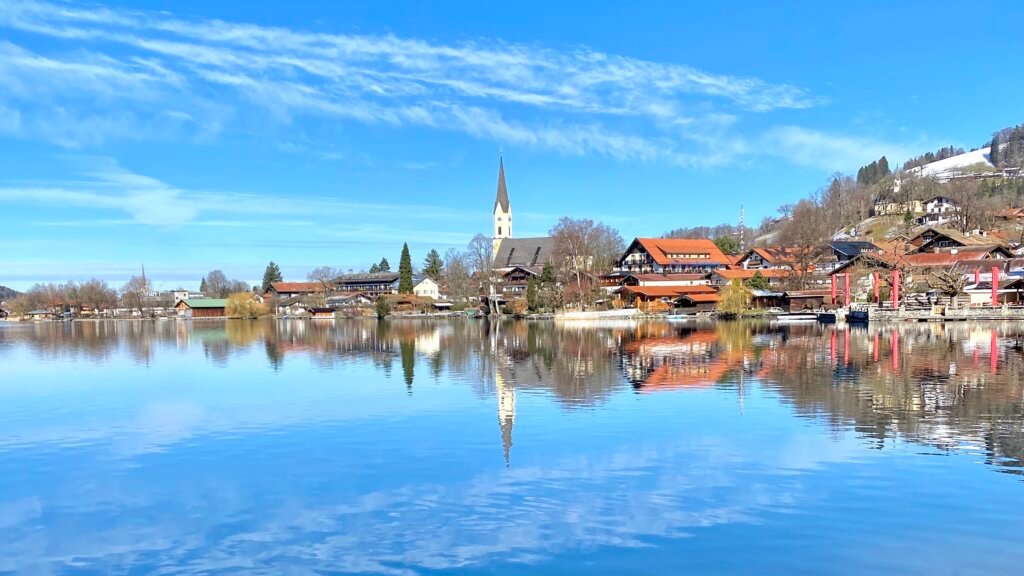 Use The Deutschlandticket To Go On A Day Trip
For those of us living in Munich, Deutschlandticket is like this magical golden ticket that fuels dreams and joy.
Genuinely, this money-saver can be used to go anywhere with regional trains in the state, which means endless possibilities for fun day trips.
We've already compiled a list of awesome Deutschlandticket days trips from Munich, but here are some ideas for common excursions that are doable with a Deutschlandticket:
Regensburg
Nuremberg
Eibsee
Walchensee
Salzburg
Catch A Movie 
Lastly, if you're looking for a chill Sunday activity in Munich that doesn't require too much brainpower, heading to the movie theatre is usually a good idea.
Check out our list of English language cinemas in Munich if you need help finding a place that does screenings in English!
For an extra fancy Sunday experience, consider catching a movie at the Gloria Palast – Sundays are the day they screen films in OV (Original Version), which in the case of English movies, means English movies without any dubbing!
Or Simply Check Out Our Event Calendar!
The easiest and most hassle free option; pop on over and check out what events are happening in the city on our interactive Munich event calendar here!
We keep it updated regularly and filled with a variety of options-both paid and free!
Did We Miss Any Of Your Favourite Munich Sunday Activities?
Let us know in the comments!