*FYI - this post may affiliate links, which means we earn a commission (at no extra cost to you) if you purchase from them. Also, as an Amazon Associate, I earn from qualifying purchases. For the full scoop on what this means, feel free to check out our Privacy Policy and Disclosure.
Dying to watch English movies and find an English cinema in Munich? Yeah, we get it… And we're here to help with a great guide!
After all, nothing quite ruins the vibe of a movie like an awkward German dubbing. Luckily for you, there are plenty of great movie theatres in Munich that screen English films – you just need to know where to find them.
So, if you're on the hunt for a perfect English movie theater in Munich, here's a quick guide on where to watch movies in München auf englisch:
How To Find English Movies in Munich
English movies will be advertised in Munich theatres as Original Version or "OV". Before you buy your tickets, triple check that they're OV!
We've been hunting for the best English cinema in Munich for years, and what we've discovered is actually that most movie theatres in Munich WILL have screenings in English, you just need to dig for the "OV".  
That said, there are a few places known especially for being English language cinemas in Munich, and here they are!
A Guide To Find An English Cinema in Munich
Whether you're looking for tiny, huge, fancy or quirky, here are our top picks for English cinemas in Munich:
Cinema Filmtheater München
As the only exclusively OV cinema in Munich, Cinema Filmtheater is often the "go to" for those in search of an English language cinema in the city.
The staff are usually super friendly and all speak English, but the cinema itself is small (only one theatre!) with limited showtimes and offerings. If you're looking for a good place to watch new releases though, this is a good theatre with comfy seats.
PRO TIP: Cinema Filmtheater München offers special discounts for matinee performances and also on Fridays for a "mystery movie" where tickets are half price but you don't know what you're watching until you're in the theatre. It's a lot of fun if you don't mind some uncertainty!
Address: Nymphenburger Str. 31
Click here to browse showtimes and tickets for English movies at Cinema Filmtheater.
Mathäser Filmpalast
Mathäser Filmpalast (located right by Karlsplatz/Stachus) is a big, modern movie theatre similar to the big box cinemas found in North America/the UK.
While they show a mix of German and English movies, their "OV" selection is pretty good, and they win points for their central location and comfy theatres with an insane amount of legroom compared to other theatres in the city.
Address: Bayerstrasse 3-5
Click here to browse showtimes and tickets for English movies at Mathäser Filmpalast.
Museum Lichtspiele
This little theatre can be found a few blocks away from Isartor and regularly shows OV versions of movies.
It's small and no-fuss, but it's not our favourite English cinema in Munich because you can't reserve seats in advance, which means you need to get there early to ensure a good spot.
PRO TIP: Museum Lichtspiele has been regularly showing the Rocky Horror Picture Show for 40 YEARS, a feat which (we've been told) has landed them a spot in the Guinness Book of World Records. Take your part in history and attend a screening of the cult classic here – you won't forget it 😉
Address: Lilienstraße 2
Click here to browse showtimes and tickets for English movies at Mathäser Filmpalast.
Gloria Palast
Gloria Palast is probably the most uniquely fancy English language cinema in Munich. While they don't show English movies all the time, they do screen OV films on Sundays.
Found right at Karlsplatz, this is the theatre you'd like to go to for a nice date night or just for a treat!
Prices are higher here, but with it you get a free glass of bubbly, comfy leather recliners with ottomans and blankets included, plus a dining menu that puts traditional theatre snacks like popcorn to shame.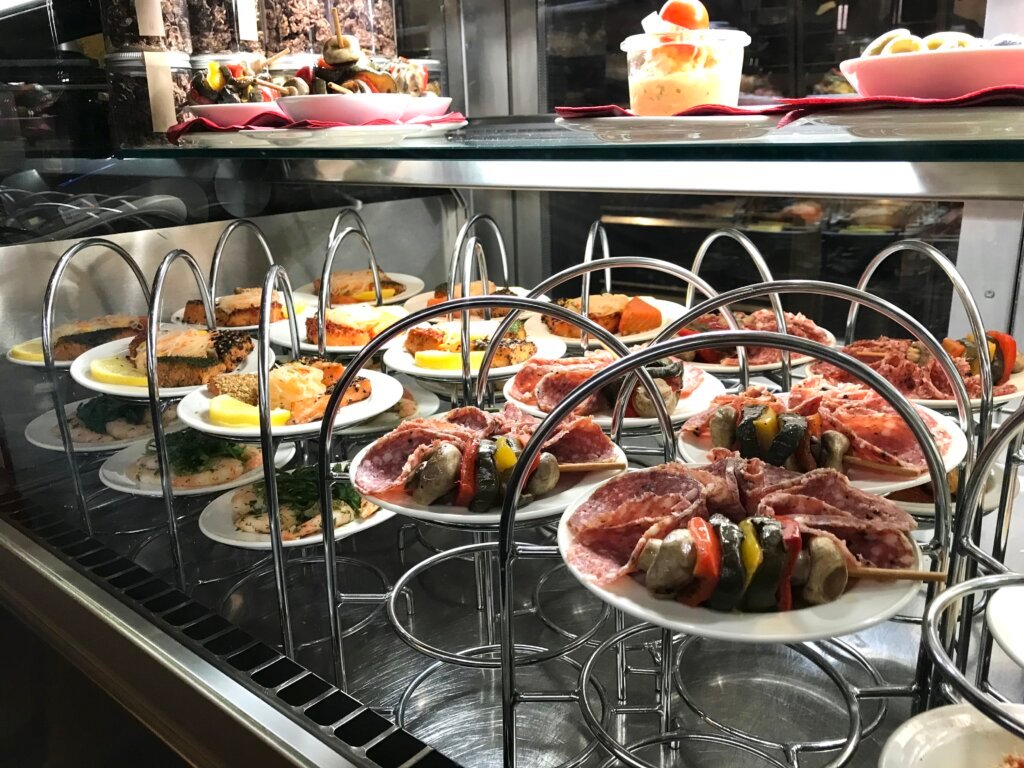 Address: Karlspl. 5
Any Other English Cinemas in Munich We Should Add To The List?
Let us know in the comments or if you are interested in more of course make sure to check out our Instagram & TikTok!