*FYI - this post may affiliate links, which means we earn a commission (at no extra cost to you) if you purchase from them. Also, as an Amazon Associate, I earn from qualifying purchases. For the full scoop on what this means, feel free to check out our Privacy Policy and Disclosure.
It's raining, it's pouring, but Munich is anything but boring ; ) We've got you covered with our Munich in the rain guide!
Here at Bored in Munich, our speciality is finding the best things to do in Munich, and even when the weather is garbage, we've got loads of gems for you…So, what are some of the best things to do in Munich when it rains?
You have plenty of options to choose from, whether you're after a cultural 'quintessentially Munich' experience, cruising over to a cool cafe for brunch or just a fun activity to pass the time. Below, you'll find a round-up of our favourite Munich rainy day activities, broken up into different categories! Enjoy.
Find Your Favourite Section Here
Munich In The Rain: Cultural & "Touristy" Ideas
Whether you're a visitor or just a local hoping to check more things off their Munich bucket list, there are plenty of fun rainy day activities in Munich that will allow you experience the best of the city's sights and culture. Here are our rainy day picks:
Explore The Residenz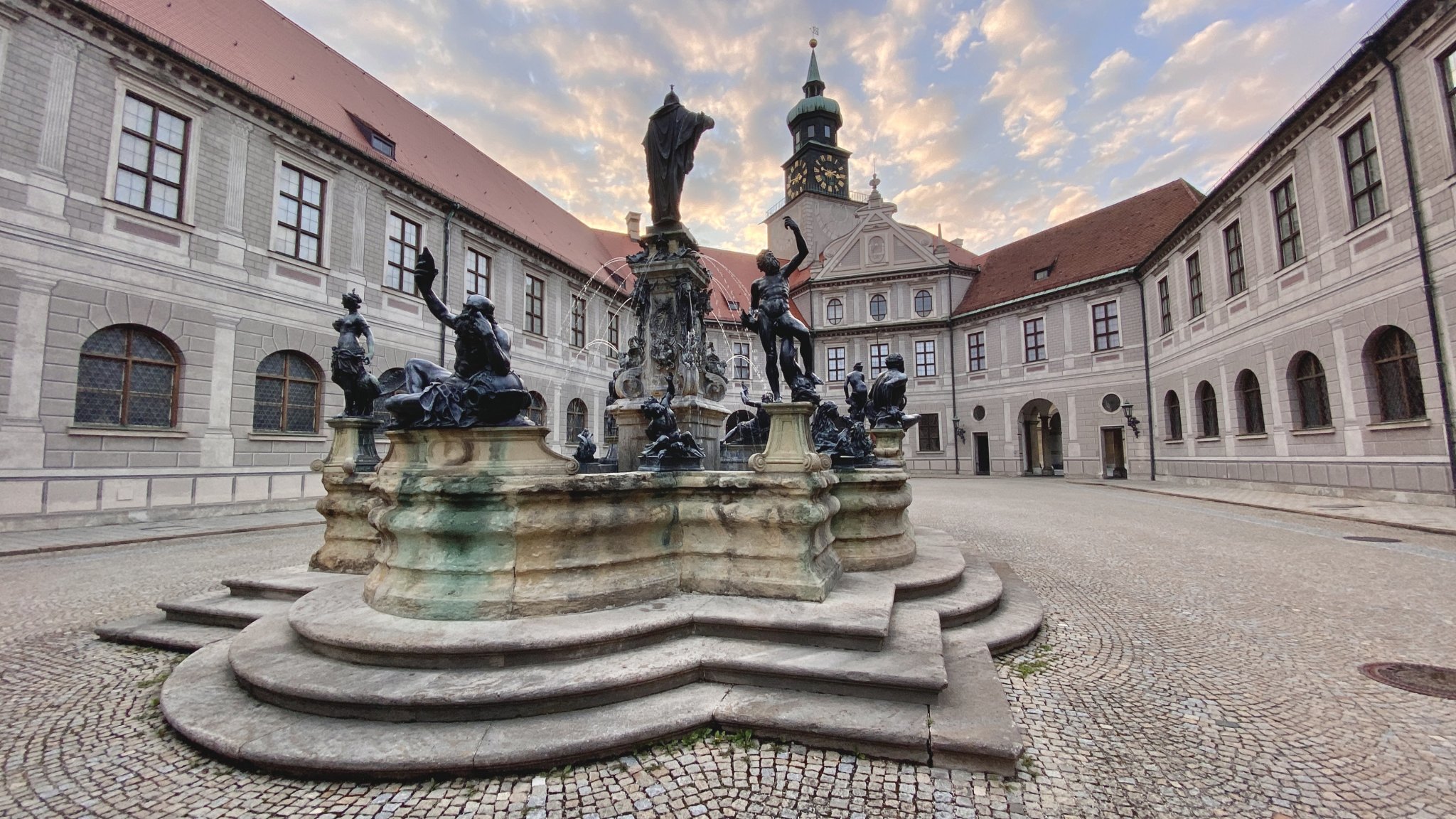 The Residenz is Munich's royal palace, and it's absolutely massive, which makes it the perfect rainy day destination if you feel like playing tourist for the day.
The most famous room here (and most beautiful in our opinion) is the 66m long Antiquarium but there are 130 other rooms, many of which you can explore for yourself by buying a ticket inside.
Visit One Of Munich's Many Art Museums
Munich is full of great museums to visit, many of which have wonderful works of art to keep you busy on a rainy day. If you're lucky enough to be reading this on a Sunday, then many of Munich's top museums actually offer 1 euro entry! Click here for a full list.
One of our personal favourites is the Pinakothek der Moderne, which is located in the Kunstareal which has plenty of other museums to visit. Click here for an overview of museum experiences you can enjoy in the city.
Or Finally Take A Day To Explore The Deutsches Museum
The world's largest science and technology museum can be found riiiight here in Munich, and a soggy day is the perfect time to finally check this one off your bucket list.
Located right along the Isar, this giant museum boasting almost 30,000 objects will definitely keep you busy… plus they have a secret rooftop terrace with a great view!
Visit A Sauna Or Bathhouse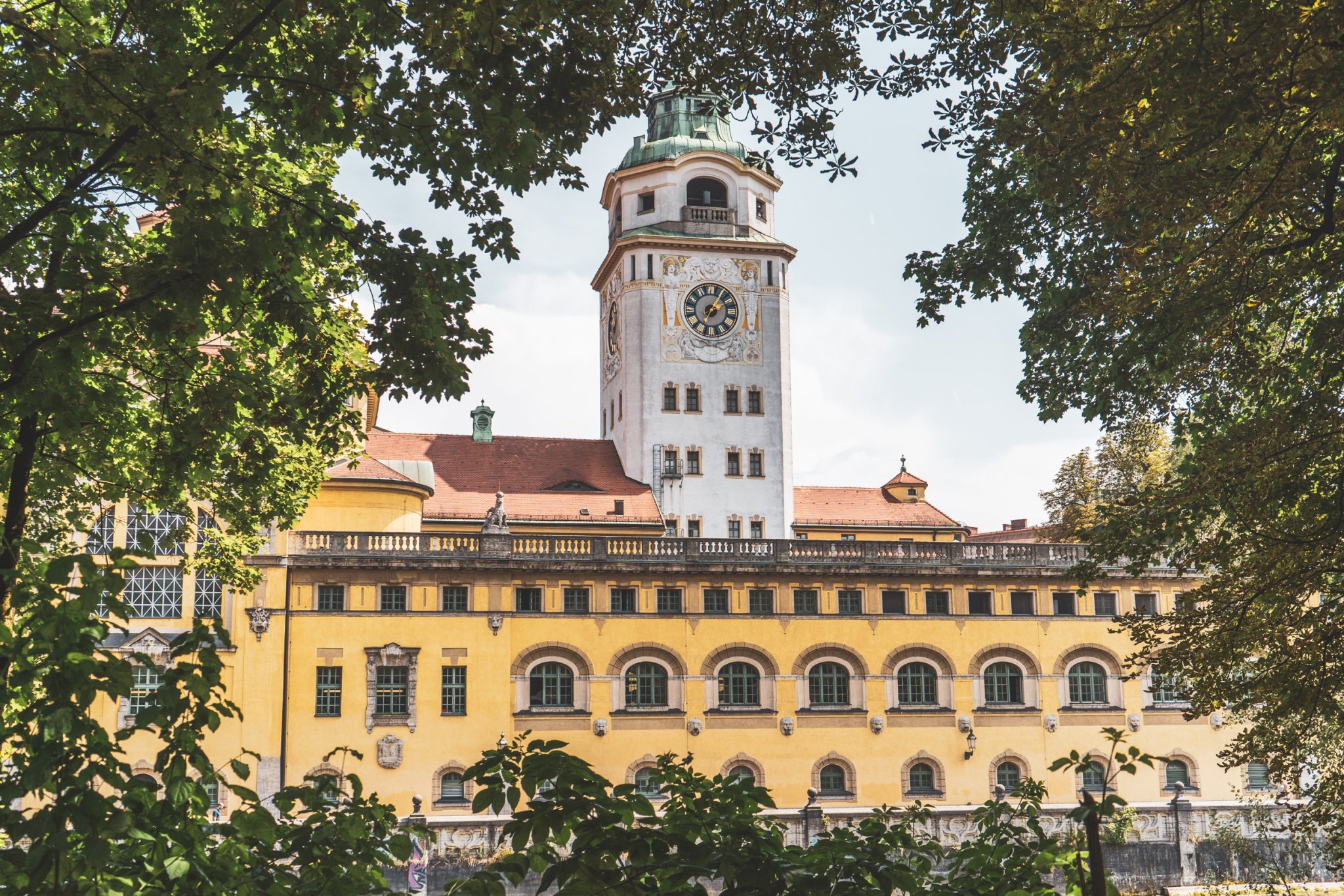 Bavarians love their bathhouses, and there's no better way to relax on a rainy day than hitting up an indoor sauna or bathhouse… unless you're not great at dealing with nudity, in which case this might actually be a stressful experience.
Explore BMW World (or Museum)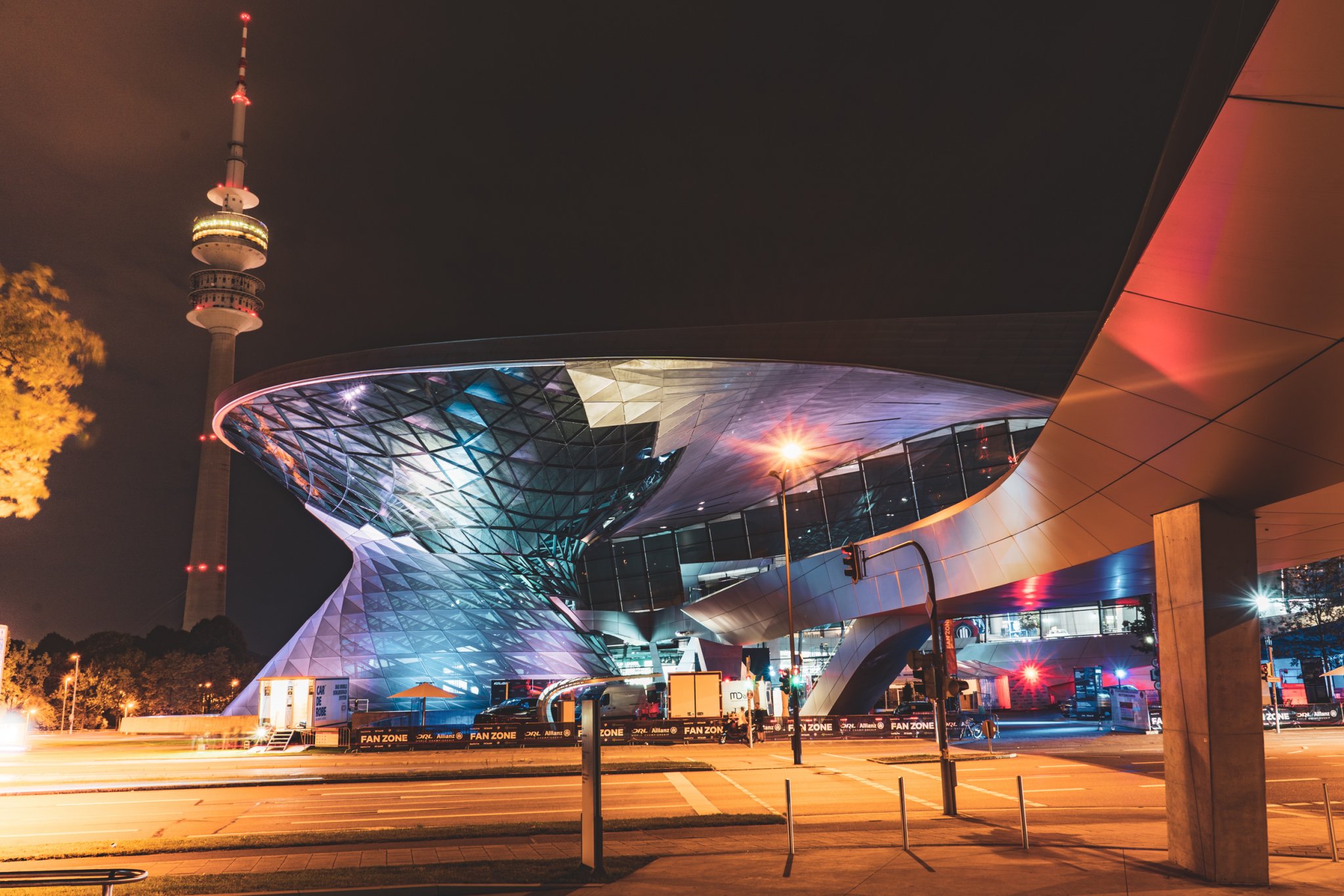 One of our favourite indoor ways to kill some time is heading to BMW World, located right by the Olympiazentrum U-Bahn Station.
This indoor temple dedicated to all things BMW is a lot of fun if you've never been there before – you can hop inside cars, marvel at Rolls Royces, take some photos on snazzy motorcycles, or just enjoy some food and drink and the different in-house eateries. There's even one of Munich's fanciest restaurants, Esszimmer on the top floor.
If you want to take your BMW fandom one step further, you can also buy an entry ticket to the BMW Museum which takes you through the brand's history through an epic showcase of awesome cars/displays. We recommend booking in advance though because this one is popular!
Take A Tour Inside Nymphenburg And Head To The Botanical Garden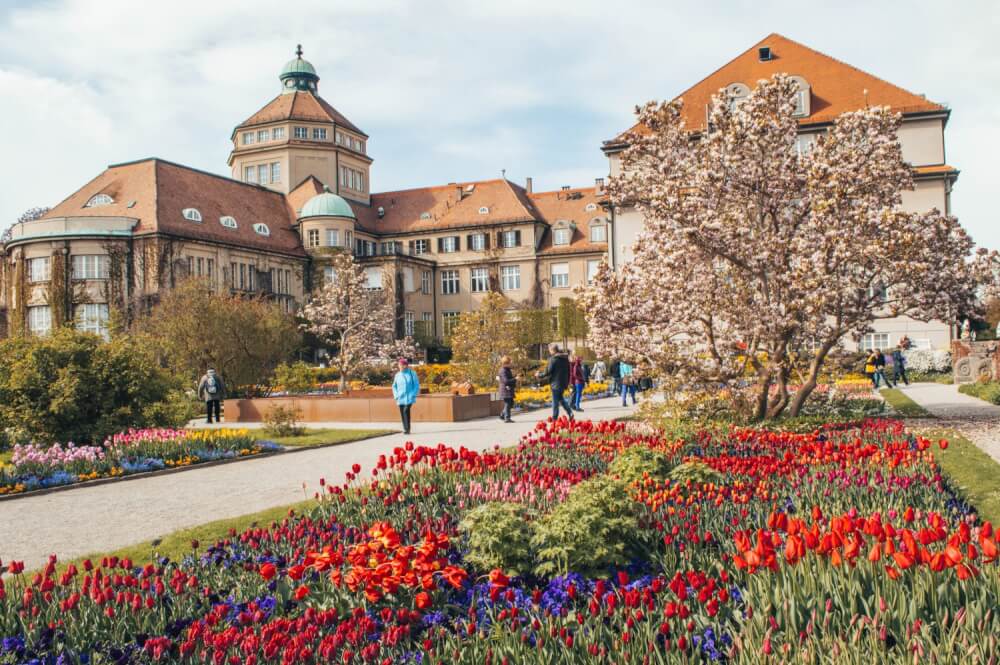 While strolling through Nymphenburg's gardens is definitely better enjoyed on a beautiful sunny day, Nymphenburg is still a nice place to visit on a rainy day since there are lots of museums and indoor spaces you can tour…. for a fee.
Nonetheless, if you're like us and always procrastinate the touristy things on your doorstep, a rainy day is the perfect chance to finally see the inside of the palace or even head to the nearby Botanical Garden, which is home to almost 20,000 species and subspecies.
Sure, the gardens themselves are best enjoyed with sunshine, but the greenhouses here are covered and really cool to explore.
Visit One Of Munich's Best Kept Secrets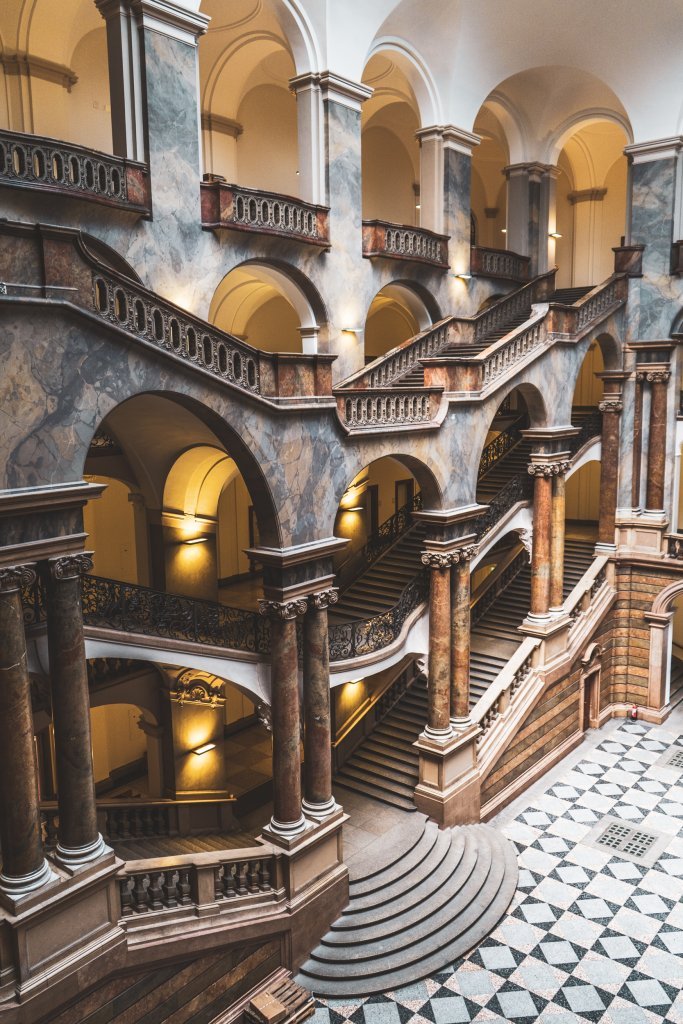 The Justizpalast is one of the most beautiful (and free!) rainy day sightseeing opportunities you can enjoy in Munich.
Located just across the street from the fountains at Stachus, this hidden gem houses courthouses and administrative offices, but anybody can actually visit the inside to see the incredible architecture. Click here to learn more about how to visit this gorgeous place.
Munich In The Rain: Cozy Indoor Activities And Wellness
Feeling like going out and about but enjoying a more relaxed activity? We get that! Sometimes you want to soak up that rainy day vibe…just not a lazy day at home. Here are some ideas that may perfectly fit that Munich in the rain mood:
Visit An English Movie Theatre In Munich
We know, this sounds like a pretty generic rainy day activity, but Munich is actually home to some really cool movie theatre experiences.
From movie screenings in a palatial setting (fizz, leather chairs, footstools, and blankets included!) at Gloria Palast, to a quirky small theatre experience at Museum Lichtspiele (which holds the Guinness World Record for showings of the Rocky Horror Picture Show), there are lots of unique movie-going opportunities to enjoy in our beautiful city.
Of course, you can easily find movies showing in English too! Click here for more info on finding English movie screenings.
Enjoy A Spa & Wellness Day
A rainy day is the perfect time to pamper yourself and enjoy a little spa day. Luckily, Munich is a bit of a treasure trove of luxury experiences, whether you want a mountain getaway or something closer to the city.
Here's a great round-up of day spas in and around Munich that you can check out.
Visit A Beautiful Library
Did you know that there are some truly jaw dropping libraries in and around Munich? Well, a rainy day is the perfect time to explore them!
Click here for a round-up of beautiful libraries in/around Munich.
Munich In The Rain: Adventurous Activities
Not looking to play tourist or go sightseeing? Maybe you had beer garden or English Garden plans that got rained out? Don't worry – there's loads of fun things you can do indoors in Munich. Here are some rainy day options for fun activities:
Do An Escape Room
Getting locked in a room with a few of your friends, with your 'survival' dependent on teamwork… what could go wrong? Nonetheless, if you're looking for something fun to do with friends or family, an escape room is a fun activity to try.
Perfect for a rainy day, there are different themed escape rooms all around the city which will allow you to kill a few hours and try something different.
PS: If you're looking for an English-friendly escape room in Munich, AdventureRooms does provide instructions in English!
Go Adventuring At The Jochen Schweizer Arena
Located in Taufkirchen, the Jochen Schweizer Arena is a little adventure haven with loads of indoor activities that you can try, including indoor surfing, body flying, and virtual reality escape rooms.
If you're looking for an adventurous way to spend a rainy day, this would be a good bet! Click here for more info.
Enjoy Some Bowling
Feeling nostalgic for some good old-fashioned bowling? Yup, this is something you can do in Munich, and of course a really fun rainy day activity. At Dream Bowl Palace in Unterföhring, there are dozens of bowling lanes (including several that are VIP!) that you can enjoy.
Play Indoor Mini-Golf
How does an 18 hole moonlight mini-golf course sound? Yup, this is another experience that you can find at Dream Bowl Palace – the perfect way to have some fun even when it's pouring outside.
Go Go-Karting
What better way to beat the rainy blues than whizzing around a track in a real-life version of Mario Kart? Munich actually has quite a few Go-Karting facilities. You can click here for a list (in German).
Go Bouldering/Rock Climbing
Whether you're a seasoned climber or just a beginner looking to try it out, Munich has many rock climbing/bouldering gyms that are suitable for rainy-day fun. The Kletter- und Boulderzentrum München-West in Gilching is especially well-known, but there are many options around the city.
PS: While not ideal for a rainy day, the BoulderWelt near Ostbahnhof has a rooftop climbing wall that looks really cool!
Munich In The Rain: Cafes, Brunch And Beer
For us, Munich in the rain is perfect for pigging out a little. Here are some final ideas for rainy day Munich activities…. that involve food and drinks!
Cozy Up In A Cool Café
Coffee, cake, and watching the rain tap along the windows as you stay warm and cozy indoors… Mm, sounds like paradise to us! Luckily, Munich is full of wonderfully cozy and adorable cafés. Click here for a list of the city's most Instagrammable.
Enjoy The Gemütlichkeit Of A Beer Hall
We definitely don't need an excuse to drink more beer, but we'd say a rainy day is the perfect excuse to head into a cozy beer hall and drink the weather woes away.
We don't need to tell you that Munich is full of great beer halls to enjoy, so we'd recommend hitting up your friendly neighbourhood Google Maps and finding one near you.
Try A Brewery Tour
Feel like bundling your beer drinking experience with something mildly educational? Well, why not enjoy a brewery tour? Doing a brewery tour is not only a great rainy day option in Munich, it also makes you feel like you've somewhat earned that 4th Maß.
It's a little far away, but if you want an especially interesting brewery experience, why not head to the oldest still-operational brewery in the entire world?
The brewery with this honour is the Weihenstephan brewery, and you can find it in Freising near the airport. The tour itself includes generous amounts of samples and freebies, and makes a really fun day out!
Otherwise, in Munich itself, Paulaner and Hofbräu both do tours.
Enjoy A Long (Possible Boozy) Brunch
Last but not least, for a perfect rainy day activity, consider booking yourself a table for a long brunch… you know, one of those brunches that go on for hours and many cups of coffee later.
And if you are keen on getting a couple mimosas or bottomless brunch going, check out our post for the best places and deals in Munich!
Any Other Munich In The Rain Spots We Should Add to The List?
Let us know in the comments or if you are interested in more of course make sure to check out our Instagram & TikTok!