*FYI - this post may affiliate links, which means we earn a commission (at no extra cost to you) if you purchase from them. Also, as an Amazon Associate, I earn from qualifying purchases. For the full scoop on what this means, feel free to check out our Privacy Policy and Disclosure.
Someone once told us that brunch without a mimosa is just sad breakfast...and we couldn't agree more, so we've created this list of the top spots for a boozy brunch in Munich!
If you're looking to for a Sunday brunch with the girls (and boys if you please!), or to get a cheeky day drink on – look no further, we've got you covered with a list of locations boozy brunch spots in Munich that will make you wish you could stay all day…
and yes, bottomless mimosa specials are included in some of them…
Boozy Brunch In Munich: Mary's Coffee Club / Mary's Garden Club
Mary's has not one, not two, but two stunning locations to pick your poison from all with slightly different vibes.
After lush tropical greenery and cute pink decor? Hit the Garden club on Nymphenburgstrasse. Need a mimosa or three before shopping up a storm? If you're after the OG Mary's experience – round up the gals and pals and head through to the hidden courtyard at Maxvorstadt
Mary's has it all – all day breakfast with several GF and Veggie/Vegan options, a specially dedicated day drinking page in the menu, and a range of locations to suit your aesthetic – this is truly a spot to make the most of your Sunday Brunch and toast Sip Sip Hooray.
Our go-to drink: Tiki Spritz – Prosecco, Pineapple, Mint
Our go-to food: Halloumi Bowl – Sweet potato, smashed avo, carrot noodles, mango, pink hummus, halloumi and yoghurt – treat yourself and add a poached egg.
Price Range: 10-15€ for food, 5-10€ for drinks
Boozy Brunch In Munich: The Botanista Café Club
The Botanista Club is one our best kept secrets – due to the fact they offer bottomless mimosas (say what).
An oasis of calm and greenery – Botanista is your spot to reconcile your desire for a boozy brunch with the desire for health and wellness – all their offerings are sourced locally, everything they make (including drinks) is refine- sugar free (without compromising on flavour), and the menu is incredibly GF/Keto/Vegan friendly.
Botanista is also low key a great spot for a photo opp as you brunch away – inside you'll find warm lighting, hanging chairs and swings to perch on, outside you'll find a tropical calm among palm trees and fairy lights.
Our go-to drink: Bottomless Mimosas (would be rude not to)
Our go-to food: Brazilian Acai Bowl – Bio Acai and Gurana, berries, bananas, home-made sugar free Granola, seasonal fruits – upgrade her and add peanut butter, coconut, energy balls and goji berries
Price Range: 6-10€ for food, 18€ for bottomless mimosas (1.5 hour sitting)
Boozy Brunch In Munich: Ginger & Grays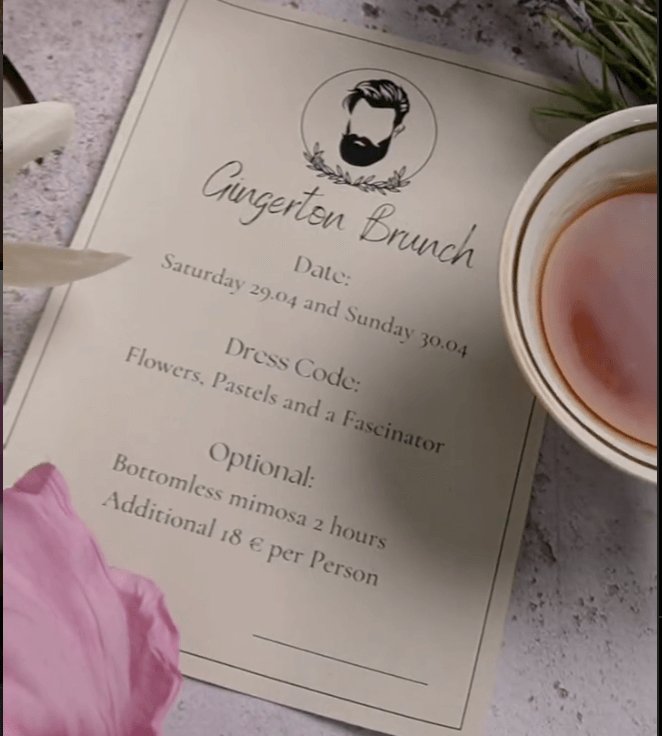 Located right in the middle of Maxvorstadt, Ginger & Grays is a wonderful cafe that changes as the seasons do. It is probably the only place in the city where themed events are done properly. Themed events refer to of course their stunning brunch events held each month.
From a Christmas pyjama brunch to a personalized rendition of Bridgerton (fun fact: actual crew members of Bridgeton attended and surprised the team with praise) and their upcoming Disco Glitter Ball.
Although the menu changes with the themes, you can always count on a deliciously large portion with an eye-catching presentation. Plus, a special 18€ mimosa that ALSO changes with the themes. How you may ask? As Gingerton's mimosas came in a teapot and Disco Balls were expected to come with glitter, you can say that the aesthetic is never lacking here.
Our go-to drink: Bottomless mimosas of course…or if you're feeling a little sweet, ask about the owner's fave; a Dragonfruit juice schorle
Our go-to food: Every themed has a new menu, but in general, their American style pancakes are the best in Munich you can find!
Price Range: 9€ – 14,50€ for food, 18€ mimosa special
Boozy Brunch In Munich: Amari Bar
Nestled next to the Kunstlabor 2 in Neuhausen, Amari Bar is the underrated brunch gem in Munich we are raving about.
It's simple yet scrumptious menu may seem small in size but delivers large in flavour. You can either choose an individual dish or indulge in their special menu which includes four items plus a glass of prosecco for only 30€ (a surprisingly large amount of food in Munich for that price!).
Our go-to drink: The best Bellini (we've found yet in Munich)
Our go-to food: Eggs Benedict with Spinach-A hollandaise sauce covered poached egg cozy in a bed of steamed spinach with caramelized onions on top of a fluffy slice of toasted brioche bread.
Price Range: 7-14€ for food, 8-12€ for drinks
Boozy Brunch In Munich: Benvido
This little sunny pocket of mediterranean-inspired sunshine serves an all day breakfast – perfect for languorous day drinking and perfect for a boozy brunch.
Tucked away in Schwabing with a phenomenal selection of summery spritzes – and the option to go for tapas style or a full feed – this is one of our all time favourite spots to lounge in the sun and snack away the day.
Our go-to drink: Yuzu Spritz – yuzu, tonic, vino frizzante
Our go-to food: Benvido's Mix – Flat bread with 3x toppings of your choice
Price Range: 5-15€ for food, 3-7€ for drinks
Boozy Brunch In Munich: Hungriges Herz
The heart wants what the heart wants – and if your heart is feeling like it's a bit peckish, head to Hungriges Herz in Glockenbach for your next boozy brunch.
They really don't scrimp on food choices here – think bagels, breakfast burgers, sandwiches, bowls galore, eggs (you can pimp them out with whatever toppings your heart desires), pancakes – this is the place to go if breakfast is your favourite meal of the day.
Whether you go full health with a vegan goddess bowl, or commit to a beautiful stack of pancakes, Hungriges Herz has you covered – almost everything can be amended to suit your dietary requirements…and in our case, pun needs as well.
Our go-to drink: Hertz Spritz Grantatapfel – prosecco, pomegranate, rhubarb
Our go-to food: Healthy Hipster – poached/scrambled eggs, salmon, guacamole, feta, salad and bread – OR Hangover Heart Burger – brioche bun, Bavarian beef patty, bacon, cheddar, tomato, salad, bacon jam, house sauce.
Price Range: 8-13€ for food, 6-9€ for drinks
Boozy Brunch In Munich: Palmtree Club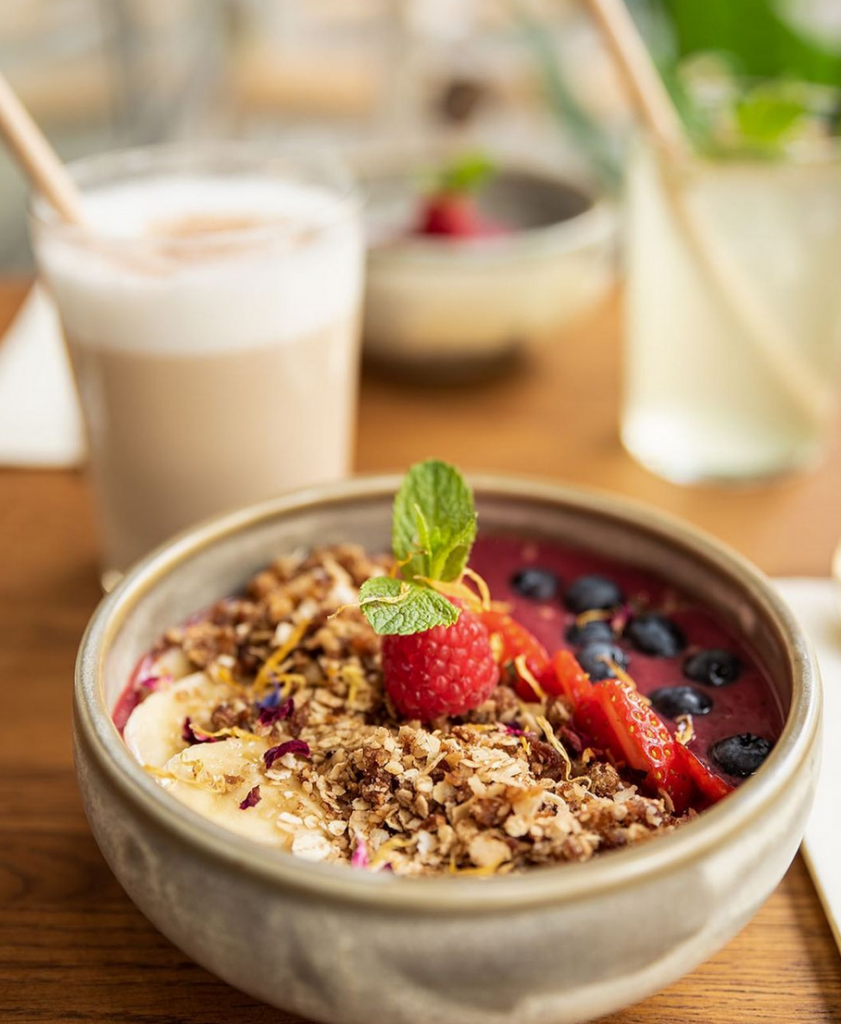 Palmtree Club is your go-to gluten free paradise in Maxvorstadt – with a veranda draped in fairy lights, leafy greens galore and a decidedly tropical menu, eating here feels like eating in Bali.
The menu is fresh, healthy, the whole menu is gluten-free, and very vegan friendly – a true marriage of aesthetics and flavour. This is the perfect spot for a boozy brunch if you want to feel like you're on holiday.
Our go-to drink: Maracuja Basilikum Spritz – passionfruit, basil, prosecco, soda
Our go-to food: Flamingo Bowl – mango, berries, banana, almond milk, home-made muesli
Price Range: Food 6-12€, Drinks 5-9€
Any Other Munich Boozy Brunch Spots We Should Add to The List?
Let us know in the comments or if you are interested in more food and drinks fines, browse our Foodie Friday archives, our Munich food archives, and of course our Instagram & TikTok.