*FYI - this post may affiliate links, which means we earn a commission (at no extra cost to you) if you purchase from them. Also, as an Amazon Associate, I earn from qualifying purchases. For the full scoop on what this means, feel free to check out our Privacy Policy and Disclosure.
Looking for the best cafés in Munich that are cute, cozy, and have an inviting "stay awhile" atmosphere?
Let's be real – Munich has no shortage of cafés, but ones with cozy, adorable and Instagrammable decor? Those are a little bit tougher to find.
Don't worry though – we're here to help. We totally get that sometimes, a cappuccino and slice of cake is best enjoyed with a side of grammable walls and cuteness.
So, here are some of the best cafés in Munich with killer aesthetics (and ample opportunities for caffeination).
Psst: Looking for the best coffee in Munich?
This list of Munich's best cafés was created with aesthetics and atmosphere in mind.
If you're looking for the best actual coffee in Munich, be sure to visit our Munich's Best Coffee guide for that!
Mary's Coffee Club
Address: Türkenstraße 86A
Hands down, one of the most beautiful café/brunch spots in Munich is Mary's Coffee Club, where they serve tasty breakfast and brunch all day long in one of the prettiest pink spaces you can imagine.
Cafe Jasmin
Address: Steinheilstraße 20
A beautiful tribute to the glamour of the 50s, Cafe Jasmin will transport you back in time with its luxurious brocades, drapery, and beautiful mural.
With a small but well prepared menu, cakes, and cocktails you're in for a roaring good time.
Wir Machen Cupcakes
Address: Frauenstraße 11
Pink, girly, and adorable – what more could you want from Wir Machen Cupcakes?
A happy bonus is of course that their baked goods are some of the most unique and gorgeous in the city.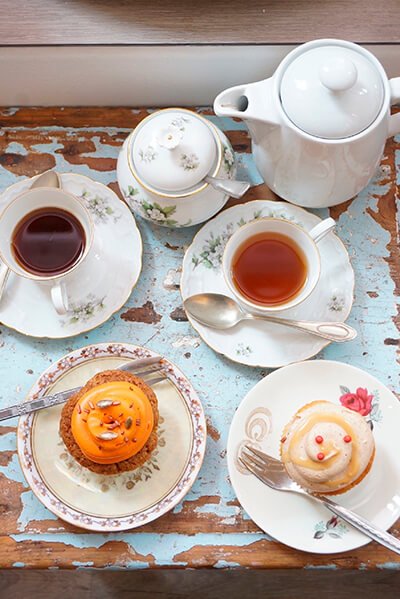 Mucki & Floyd (Formerly Hoover & Floyd)
Address: Ickstattstraße 2
Cozy, homey and avocado toast-y. Clearly Mucki & Floyd was made for Instagram.
Café Lotti
Address: Schleißheimer Str. 13
The decor at Café Lotti is best described as "Elle Woods meets Hello Kitty"… which is precisely why it's one of our favourite pretty cafés in Munich!
The all-pink aesthetic here is already enough to win us over, but did you know that they also top their cappuccinos with chocolate hearts? Yup.
French Touch Patisserie
Address: Brunnstraße 4
In this chic, softly lit, minimalist space you will find glass display cabinets of the most beautiful, colourful, carefully crafted items of french patisserie.
Each item is laid just so, and each is a work of art in itself – not to mention mouth-wateringly delicious.
We're absolutely obsessed with the caramel croissant. And the macarons. And the pistachio chocolate tartlets. And.everything.else.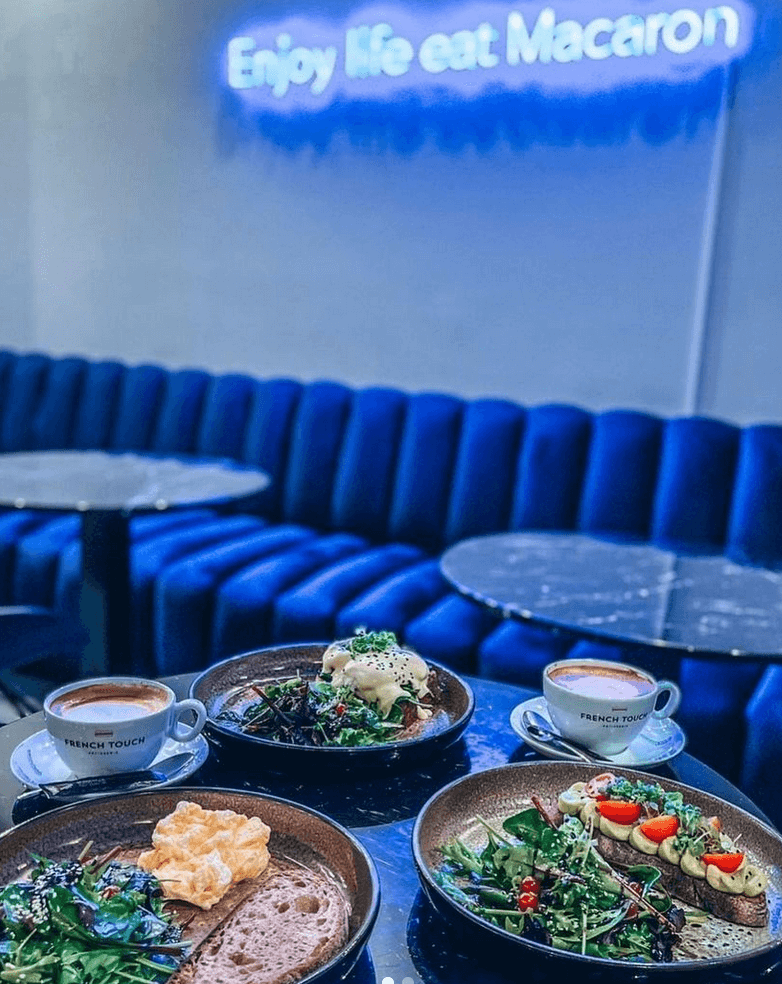 Café Blá
Address: Lilienstraße 34
Another awesome Munich café to add to your list is Café Blá, a Nordic-style cafe opened by an Icelander.
Yes, this café wins all the cool points (pun intended).
LAX Eatery
Address: Neureutherstrasse 1
One look at LAX Eatery and it's hard to believe this place is in Munich!
Between the west coast inspired mural out front, to the fresh minimalist look inside and the gorgeous menu (ft photogenic pancakes, avo toast and more), this place was simply made for Instagram, and has LA-cool written all over it.
Lost Weekend (at the 25hours Hotel)
Address: Bahnhofpl. 1
The new Lost Weekend is a huge aesthetic upgrade over its original Schellingstr location, and will make you feel like you've stepped into a sleek, mystical jungle (if that makes any sense).
Just go… you'll see what we mean (and why we consider this one of the most beautiful cafes in Munich!)
Kosy*s
Address: Pariser Str. 50
A cozy & nostalgic cafe that advertises itself as a guest's "2nd living room", with homey decor and funky accents out front (the best of both worlds).
Café Franca
Address: Hiltenspergerstrasse 24
This charming little café is covered head to toe in charming little accents like floral prints, collage frames and fluffy pink lamps. By far one of the cutest cafés you'll find in Munich!
Cafe Kolonial
Address: Donnersbergerstraße 39
A beautifully restored homage to old-world colonial coffee houses, with high arches and vintage prints adorning the walls – we find it very easy to while away our time sipping away at various styles of coffees and teas at Cafe Kolonial.
With a luxe East meets West feel and careful attention to ingredient curation and detail (their favourite cane sugar is sourced from Mauritius) – we'd recommend stopping in for your Kaffee und Kuchen.
Occam Deli
Address: Feilitzschstrasse 15
Combining cozy and cool with a gorgeous selection of cakes, the service at Occam Deli often leaves much to be desired, but the aesthetics more than make up for it.
The Brother Mill Cafe
Address: Urbanstraße 3
Laid back, leafy, vegan-friendly, and incredibly cosy – we have to recommend this cafe in Sendling.
The Brother Mill blends cafe and bakery – everything is made with love and its loyal fanbase and queues out the door are testament to its place in the hearts of local münchners.
Poppi Farmer
Address: St.-Bonifatius-Straße 1
Right on the corner of Ostfriedhof, you'll find Poppi Farmer – with organic food, specialty coffee, and Australian brunch (yess to decent Avo Toast).
With light filled, warm wooden interiors, you'll feel beachy chic and right at home. We love that they are passionate about sustainability, source locally,  and are proudly carbon neutral.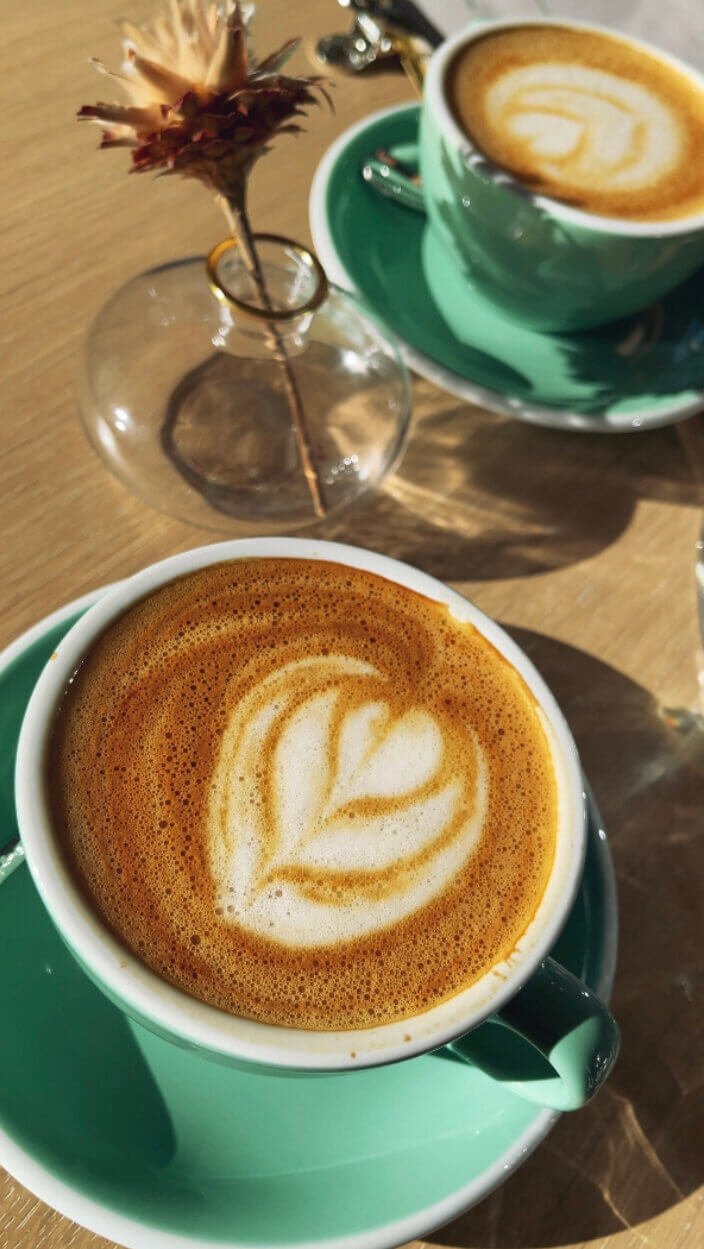 Lilli P
Address: Lilli-Palmer-Straße 2
A high ceilinged, candy accented paradise (who can resist a combo of millennial pink and mint green) with a gorgeous, umbrella-shaded outdoor terrace – you know where you can find us every weekend.
Bowls, sandwiches and baked goods – but the weekend breakfast special is something else, for 25.50 EUR pp you can hit the all you can eat buffet – complete with chocolate fountain
Das Kadu
Address: Nimrodstraße 1
Elegant, with a terrace draped with fairy lights and a lush plant wall inside – it is easy to spend hours luxuriating in the ambient comfort of Das Kadu.
With an kitchen fundamental based on international crossovers, you're guaranteed to be delighted whatever time of day you visit.
Niu Asian Cafe
Address: Sendlingerstr 7 Ecke
A veritable paradise for those looking to update the gram, the cakes and creations being rolled out of the Niu kitchen are something else.
The location itself is something special – think glitter everywhere, flower filled walls, marble, purple velvet sofas and rich jewel toned menus – but the highlight is definitely the meticulously layered and supremely delicious Asian patisserie.
Did We Miss Any Of Your Favourite And Best Cafes In Munich?
Let us know in the comments!