*FYI - this post may affiliate links, which means we earn a commission (at no extra cost to you) if you purchase from them. Also, as an Amazon Associate, I earn from qualifying purchases. For the full scoop on what this means, feel free to check out our Privacy Policy and Disclosure.
Let us present to you our epic DIY Beer Garden Tour of Munich! The perfect compromise between exercising and relaxing on a sunny summer Sunday.
Imagine, it's a Sunday. Everything is closed. Your sporty friends are trying to guilt you into hiking 5 hours up a mountain, which sounds like more exercise than you were planning on doing this entire month…
All you really want to do is sit and enjoy a nice cold beer and pretend that tomorrow isn't Monday…We feel you and we have you covered!
The Ultimate DIY Munich Beer Garden Crawl: Basic Info
This route takes you on a whirlwind tour of beer gardens representing each of Munich's 'big six' major breweries… which we think counts as a major achievement.
Here's some basic info before we get started;
Beer cost: Roughly €5,90- €10,50 a Maß / half-Maß (yes, luckily some of the locations we won't go all in at!)
Duration: Walking time roughly 2 hours. (We can't judge your drinking pace)
The route starts with a stroll through the English Garden and ends at the Augustiner-Keller, ideally located near the Hauptbahnhof so you can drunkedly stumble into whatever train you need to get home.
Munich Beer Garden Crawl: Hirschau
Brewery: Löwenbräu
Price of a Maß: 10,20€
Address: Gyßlingstr. 15
To kick it off, you will arrive at the Hirschau Beer Garden. With some large trees for shelter and often a band playing on Sundays, it's a great location to begin your long arduous trek all the way to the other-side of the motorway.
Note: the playground is for kids only. Trust us.
Munich Beer Garden Crawl: Seehaus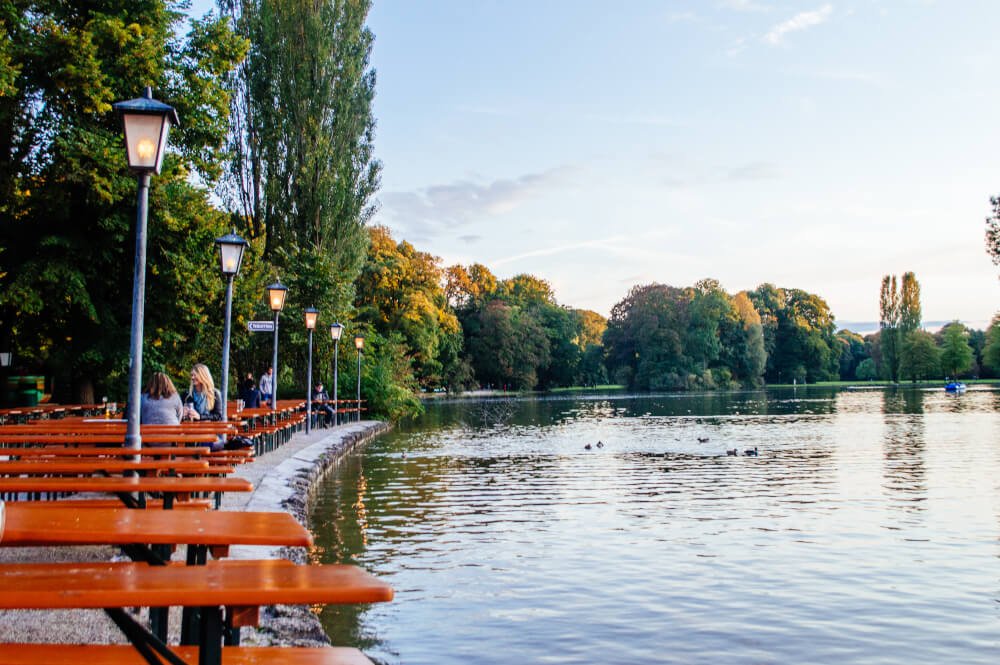 Brewery: Paulaner
Price of a Maß: 9,60€
Address: Kleinhesselohe 3
Congratulations, you successfully made it past your first liter of beer and kept strolling.
… Which means you deserve a Helles.
With a view overlooking the lake, Seehaus is one of our (personal) favourite beer gardens, and an excellent scenic point for the tour.
Note: The lake here is only about 30cm deep near the shore. Trust us.
Munich Beer Garden Crawl: Chinesischer Turm
Brewery: Hofbräu
Price of a Maß: 10,20€
Address: Englischer Garten 3
Ahh the Chinese Tower.
Despite being filled with wide eyed tourists taking selfies with their "steins", and expats who have run out of things to do when their parents have come to visit, the Chinese Tower always has a great atmosphere.
While not one of the most traditional Bavarian beer gardens, with so many visitors from around the world, it's a great place to meet some friendly new faces…
…or at least marvel at their blurriness (because let's be honest, your vision won't be that great at this point).
Brewery: Hacker-Pschorr
Price of a half- Maß: 6,10€
Address: Viktualienmarkt 15
After leaving the English Garden and wandering through the Hofgarten to Odeonsplatz, the next stage is a short wander through the city to Viktualienmarkt, where you'll find "Der Pschorr" which has a lovely beer garden.
After a couple litres of beer and a long stroll through the English Garden, we think a nice bit of city sitting and a little half litre beer is a good idea to help you keep in shape to make it to the end.
*Bonus Round* If you don't think merely 6 beers will quench your thirst (what kind of machine are you?!) then why not ALSO swing by the Viktualienmarkt Beer Garden before moving onto the next stop? With a rotating schedule of beer, you never know which of Munich's breweries will be on tap that week.
Munich Beer Garden Crawl: Spatenhaus
Brewery: Spaten
Price of a half-Maß: 5,90€
Address: Residenzstraße 12
Ok, so technically Spatenhaus an der Oper is not a 'Beer Garden' BUT, it sure is a nice spot for a classy view of the city centre…and of course, most of the Spaten beer gardens in Munich are really not so convenient for this little tour of ours.
Here you can enjoy another little half litre sip of that cool tasty star Bavarian beverage before getting ready to hit the final stretch of the days city tour adventure.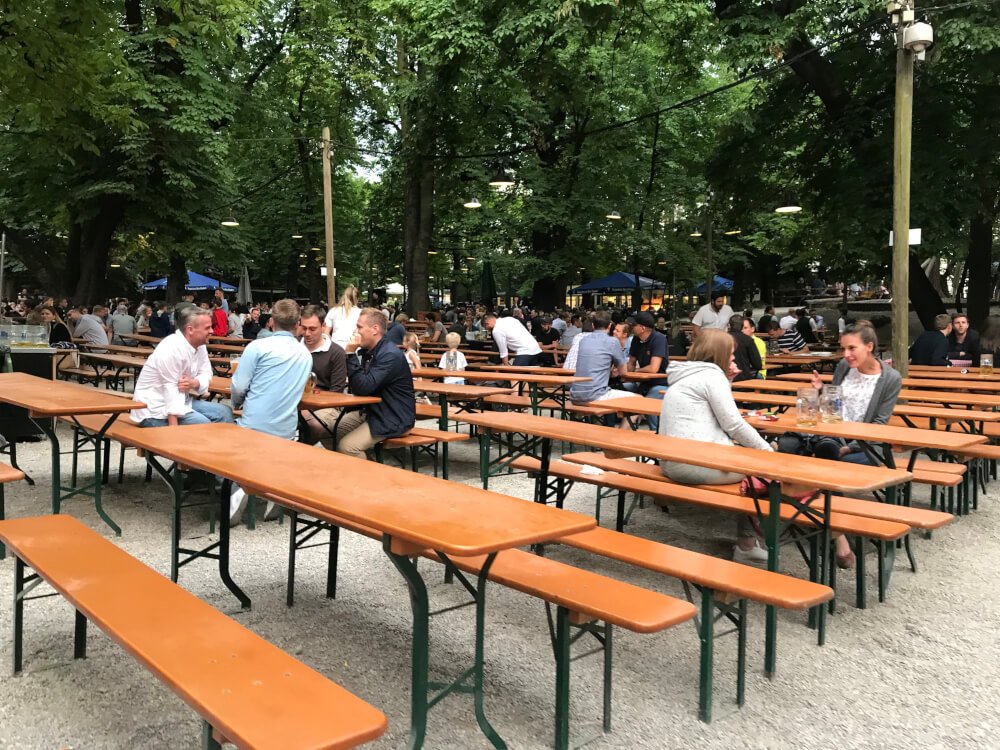 Brewery: Augustiner
Price of a Maß: 8,60€
Address: Arnulfstr. 52
Last but not least, we've saved the best for last: Augustiner!
To reach the Augustiner Keller, you can easily walk (or stumble) through town. Honestly, we'd be impressed if you were still upright.
Note that if don't feel like walking anymore, because you're incredibly impatient and want your Augustiner NOW, then hop on the S-Bahn at Marienplatz and ride a couple of stops to Hauptbahnhof.
.. we wont judge you (much). From there, it's less than a five minute stagger to the Augustiner Keller Biergarten.
This Augustiner Biergarten is one of the largest in Munich with around 5000 seats, and half the tables (the ones closest the main entrance) even offer table service. In our humble opinion, this the perfect place to get that last round of Helles whilst slurring congratulations to the surviving members of your beer crawl team.
Munich beer garden crawl, completed!
…. Now best of luck getting home.
Munich Beer Garden Crawl: Final Notes
Don't think you can handle a Maß at each beer garden? Don't worry – half Maß options are available at all the beer gardens listed above (if you aren't interested in consuming more beer than most people consume during a day at the Oktoberfest). But then again, Monday's suck with or without a hangover.
So, grab a few friends, tell them you have a "hike" planned and experience the outdoors the way it was meant to be enjoyed, with a nice cold beer in hand!
…… As always drink responsibly.
Looking For More Recommendations For Things To Do In Munich?
Feel free to ask below and we'll try to get an answer back to you! And be sure to check out our Instagram & TikTok for more content coming up!