*FYI - this post may affiliate links, which means we earn a commission (at no extra cost to you) if you purchase from them. Also, as an Amazon Associate, I earn from qualifying purchases. For the full scoop on what this means, feel free to check out our Privacy Policy and Disclosure.
As I'm sure you all know, dating in Munich isn't exactly cheap.
From a lack of 'nice' budget-friendly restaurants to even U-Bahn tickets beinag the cost of a beer one-way, cranking up the romance in this city can make some serious dents in our wallets.
… But don't worry, if you get a little creative and take advantage of insider deals, you can go on adorably awesome dates on a budget. Yes, for even less than 20 euros total! Here are some of our favourite tried and tested ideas for you.
1. A sunset picnic at Olympiaberg
Olympiaberg is one of our favourite places to watch sunset in Munich. Not only is the view spectacular, the vibe is undeniably romantic when coupled with a comfy blanket to sit on and a bottle of wine 😉
If you need a place to shop for supplies, there's an Edeka at the Olympic Village near the U3 stop, along with Munich's first board game cafe (a rainy day alternative to this plan).
PS: You can also combine your date with some of our other favourite Munich freebies – admiring all the murals on the bungalows in Olympiadorf, and running around like kids at BMW World.
Altogether, this date shouldn't set you back more than €20 total.
2. A romantic walk along the Isar + a movie
Walking along the Isar is like a romantic rite of passage in Munich – every couple eventually ends up here, and for good reason.
The views along the Isar are beautiful and the dog watching is a dream!
Combine a day of romantic strolling hand in hand along the Isar with a cheap movie date at Museum Lichtspiele, which is a cozy and intimate theater with cheaper prices than some of the other English-speaking cinemas in town.
Even on weekends, tickets are less than €10 each. Mondays are cheapest though, only €6.50 if you book online in advance.
NOTE: Get here EARLY. They don't do reserved seats so it's a free for all when you get in, and on busy days, it can get tough to find good seats next to each other if you arrive late.
3. A stroll through the English Garden + beers (or hot chocolate)
Speaking of romantic walks, what better venue than the English Garden?
This is one of the best cheap dates you can get in Munich, when combined with a treat after (either biergarten beers in the summer, or hot chocolate/glühwein in the winter).
You can take the classic route, starting from the Eisbach surfers, around the Monopteros and to the Chinese Tower…
Or if you're looking for something a little different, explore the Northern part of the English Garden, which is super beautiful as well, much more peaceful, and eventually brings you to the lovely Sankt Emmeramsmühle, one of the nicest beer gardens in the city.
PS: During the winter months, a cozy drink in the ski gondolas at Milchäusl is a must!
4. A museum + ice cream date
As I'm sure you know, many of the museums in Munich's museum district are only 1 euro on Sundays (click here for a full list) which makes for some excellent cheap date potential.
For optimal romance, I suggest you pair your museum outing with an ice cream treat after – you're spoiled for options in the area!
Ballabeni is one of the most famous ice cream spots in the city, with a permanent line-up no matter the weather. You can find it across the street from Museum Brandhorst.
Or, if you're willing to walk a little further, 10-15 minutes away from the Pinakotheks is Der Verruckte Eismacher, an Alice in Wonderland themed ice cream place with crazy rotating flavours like sauerkraut, döner and Augustiner beer. Dare your date to sample one, then share a champagne sorbet after (they're delicious!).
The Siegestor is nearby so you can even take a cute photo with the LOVE installation!
PS: If it's too cold for ice cream, I suggest Munich's #1 "hidden" rooftop cafe: Café im Vorhoelzer Forum. NOTE: To access the bar, you need to go inside the TUM building at Arccistrasse 21 and take an elevator up. Just follow the signs!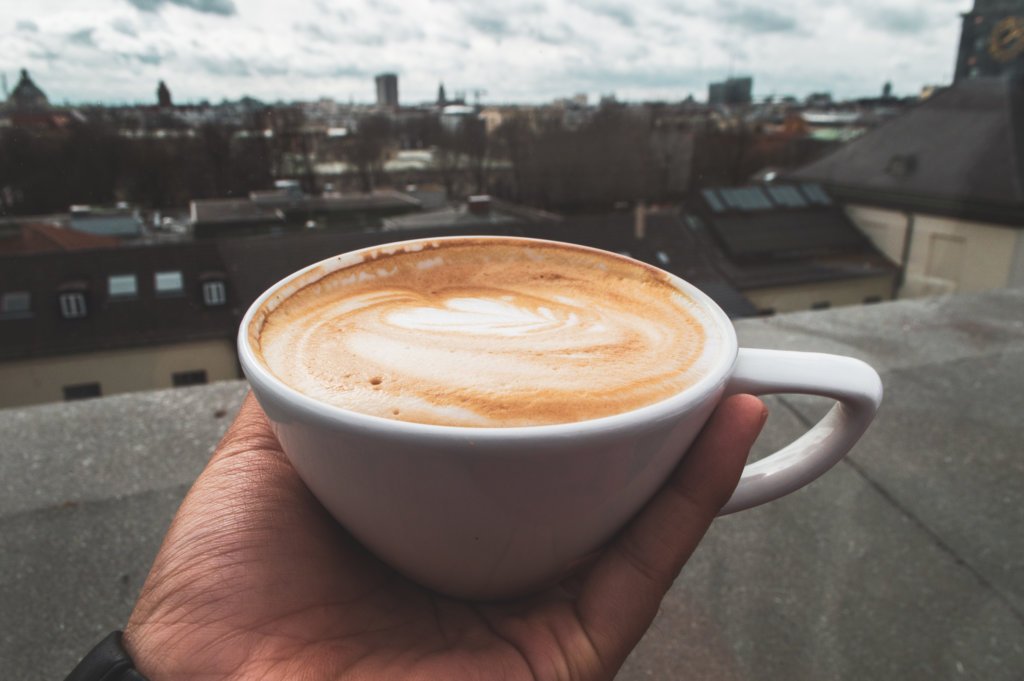 5. A cozy Altstadt day out
Last but not least, we have a classic combo of views and treats. This date would work especially well if you or your date are new to the city, but it's also great if you don't mind being cheesy tourists together.
For only 3 euros each, you can access one of the nicest viewpoints in the city with an elevator at the Neues Rathaus. It's the view opposite from the popular spot at St Michael's, except without the sweat and breathlessness, which might make it more date friendly 😉
After soaking in the amazing view, wander around the romantic streets of the Altstadt or make a bee line for Viktualienmarkt, where you'll find Chocolaterie Beluga, a very cozy cafe with some of the city's best hot chocolate.
Best of all, you can be all cutesy and hold hands while deciding from the 30+ flavours they offer… all for 5 euros each! Yup, an entire perfect date for less than 20 euros total – can you believe it?