*FYI - this post may affiliate links, which means we earn a commission (at no extra cost to you) if you purchase from them. Also, as an Amazon Associate, I earn from qualifying purchases. For the full scoop on what this means, feel free to check out our Privacy Policy and Disclosure.
Hunting for street art in Munich? You're in luck! While our city commonly enjoys the reputation of being Germany's classiest and most elegant city (some might say snobby, but let's not go there), it turns out there is a lot of interesting street art to be found if you know where to look. So HA, take that Berlin.
We've already been sharing a lot of snaps from our explorations on Instagram, but since many of you have been asking for a more organized way to find these places, we've decided to put them all in an article.
So, in this post we'll share with you some of our favourite places for finding beautiful murals in Munich! Be sure to let us know in the comments if we've left out any of your favourites.
Table of Contents
Werksviertel-Mitte
The Werksviertel-Mitte (located just behind Ostbahnhof) is a true treasure trove of murals and street art. It's also one of our favourite 'cool' hangout spots in the city! If you like urban art, this area is a must-visit, with everything from painted shipping containers and facades decked top to bottom with art, to even the world's largest mobile wheel.
Schlachthofviertel
Another cool neighbourhood for street art? The Schlachthofviertel, home to the famous Bahnwärter Thiel, and some of the most impressive large-scale murals in the city along Tumblingerstrasse. We were there recently and saw a beautiful tribute to the White Rose Resistance Group.
PS: Don't miss the Zur Gruaum too, which is also painted with murals.
Westend
This neighbourhood is filled with lots of great street art! For the best experience, we recommend just walking around and discovering the murals for yourself (really, they are everywhere), but here are some addresses to get you started:
Ligsalzstr 8
Tulbeckstraße 34
Westendtraße 99
Underneath the Friedensengel
The Friedensengel is one of the most popular meeting spots in Munich (and one of our personal favourites for sunset-watching), but a lot of people come and miss the cool street art murals right underneath the monument!
Yup, the tunnel running underneath the Friendensengel is filled with colourful murals, so be sure to take the stairs down next time and check them out.
Underneath Ludwigstrasse and Van-der-Tann-Strasse
Speaking of unexpected tunnel murals, another interesting walkway we found the other day was underneath the intersection at Ludwigstrasse and Van-der-Tann-Strasse. If you take the stairs to cross to the other side, you'll come across a tunnel painted with various Bavaria-inspired motifs.
Around Hauptbahnhof
There is also a large mural at Bayerstrasse 69 dedicated to Georg Elser (the man who famously missed assassinating Hitler by mere minutes), and a pretty flower mural on Paul-Heyse-Strasse (right next to the Hotel Atlas City).
Giesing
One of the most spectacular large murals in Munich can be found in Giesing on Zehentbauernstraße 8. The mural depicts famous fighters of resistance, including Kurt Eisner, Sarah Lerch-Rabinovitz, Erich Mühsam, Gustav Landauer and Ernst Toller.
Nearby in the area, you might also come across other large murals. Here are some in Untergiesing:
Brüdermühlbrücke
A lot of street art can be found in Munich just by following the Isar (more on this below), but one especially noteworthy place to see large murals are underneath the Brüdermühlbrücke:
Along the Isar (in Tunnels and on Street-Level)
While not as organized or artsy (in our opinion) as some of the others on the list, you'll also find a lot of spontaneous street art along the Isar in the tunnels frequently used by cyclists. A lot of these will be covered in tags and graffiti, but occasionally you will see some very skilled and beautiful mural art as well.
NOTE: On street level, you'll sometimes also encounter murals painted on some of the abandoned buildings along the river.
Olympiadorf
Olydorf, once upon a time the Athlete's Village of the 1972 Olympics, has become today one of the most unique student residential complexes in the world. Why? This sea of cubic houses gives residents complete artistic freedom over how they want to paint and decorate! Walking through here is a colourful dream of murals, with everything from Bavarian-inspired motifs and nods to pop culture to plain concrete facades still waiting to be painted.
If you haven't been here yet, it's located right in the Olympic Park and well worth a visit.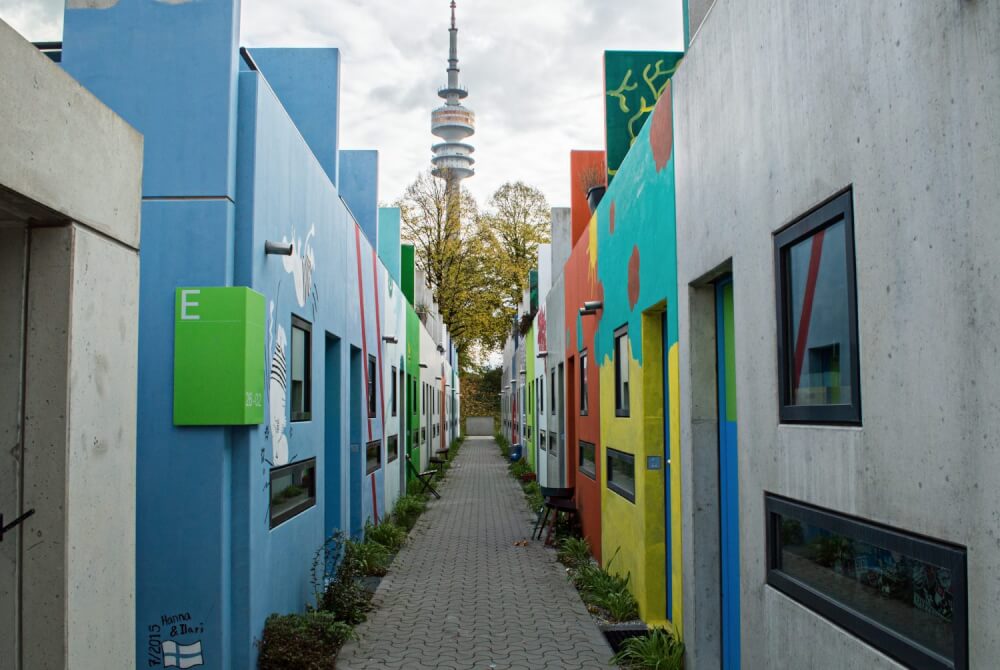 The Pissoir
Okay, last one – we promise! The Pissoir is a unique art installation in Holzplatz featuring murals from some of the most famous residents of the Glockenbachviertel. And yes, we mean very very famous. Click here to learn more about this installation.
MUCA: The Museum Of Urban And Contemporary Art
Last but not least, a great place to see some "street art" (though not on the street!) is Munich's Museum of Urban and Contemporary Art. This awesome museum is tucked away on a quiet street near Old Town, and always has very cool exhibitions and displays. We've been here a few times and have always been impressed.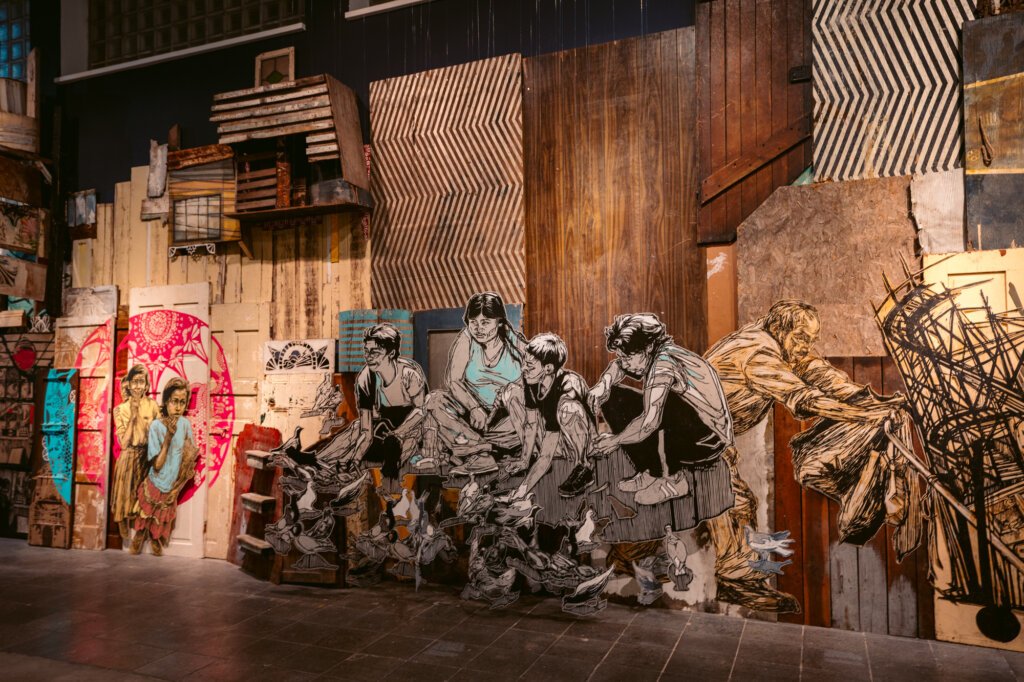 BONUS: Elisabethmarkt
There are two very cute murals near Elisabethmarkt that we wanted to include. We wouldn't exactly qualify them as "street art" but they're nice nonetheless:
Munich Street Art Map
It's part of the nature of street art that it changes all the time, so here are some resources for you to hunt down the most up-to-date street art in the city:
Click here for a street art Munich map created by Positive Propaganda
Click here to visit a site that organizes street art tours in Munich