*FYI - this post may affiliate links, which means we earn a commission (at no extra cost to you) if you purchase from them. Also, as an Amazon Associate, I earn from qualifying purchases. For the full scoop on what this means, feel free to check out our Privacy Policy and Disclosure.
For a touch of French flair and small village quaintness in Munich, look no further than the elegant borough of Haidhausen, a vibrant slice of München filled with beautiful squares, picturesque streets, and an idyllic village feel.
Tucked away between Munich's Maximilianeum, Gasteig and Ostbahnhof, this borough is filled with hidden gems, photogenic hotspots, and a fascinating history that dates even further back than the center of Munich itself.
So, why don't you head over and explore it? In this post, we'll be sharing an easy DIY Haidhausen walking tour for you to follow. Enjoy!
PS: Be sure to scroll to the end for a walkable Google Maps route.
A Brief History of Haidhausen
Believe it or not, the history of Haidhausen actually extends farther back than Munich's city centre, with first mentions of a place called "Haidhusir" (houses on the moor) traced all the way back to the year 808.
Back in the day, Haidhausen was strategically positioned along the Salt Road, and was home to plenty of fertile soil that was ideal for brick making. In fact, Haidhausen bricks can be found today all throughout the city and on prominent landmarks such as the Frauenkirche (source). Over time, Haidhausen became first and foremost a place for workers and newcomers to Munich who couldn't afford to live in the city.
And while Haidhausen officially became part of Munich in 1854, its less than glittery rep as a labourer's neighbourhood remained. As the clutches of industrialization took over Ostbahnhof and countless factories began to swallow the area, Haidhausen remained a neighbourhood for the working class.
However, as factories were demolished, buildings were rebuilt, and streets were beautified, Haidhausen's gritty reputation gave way to a new image. Today, the charm of Haidhausen has made it one of the loveliest and most appealing boroughs in Munich… and the perfect place for a scenic DIY walking tour, which conveniently brings us to…
Our Self-Guided Haidhausen Walking Tour
With photo stops, this DIY walking tour of Munich's Haidhausen quarter should last about an hour. We'll begin at the Maximilianeum and end at the Gasteig, but you can of course just read through the info below and craft your own route. Better yet, just walk around, explore it yourself, and treat our tour points as a little scavenger hunt.
Lastly, we should mention that we designed this in a way that the stop brings you to scenic spots that can be appreciated from the outside, which means this self-guided tour can be done even on Sundays or holidays when everything is closed. We'll of course mention fun food spots or shops that might be nearby, but these are optional. The focus here is on Haidhausen's unique architecture and history, with plenty of stories and fun facts that you might have never known about!
Stop #1: Maximilianeum
We'll begin our tour in front of one of Munich's most imposing structures: the hilltop Maximilianeum, known best for its role as home to Bavaria's parliament.
And although that's what the building is best known for, it's important to note that the Maximilianeum didn't actually become parliament HQ until 1949. Its original function was actually far more altruistic. Bavarian King Maximilian II commissioned the building in 1857 so that it could be a venue for historical and artistic education. Specifically, he envisioned it as a foundation for developing the talents of Bavaria's most gifted students, regardless of their social status or family fortune.
And while Maximilian II unfortunately passed away before he could see his vision come to life, the Maximilianeum honours his vision even today through a foundation that provides scholarships to graduating students of secondary school. Scholarship recipients (of which there have been over 800 throughout the years) receive free room and board inside the Maximilianeum itself, meaning yes – they officially have the swankiest dorm rooms in the entire city… along with generous perks like three meals a day, epic exchange programs and an annual Spring Break trip!
Odds are you won't qualify for a scholarship yourself, BUT you can still sample this swanky lifestyle for a day by enjoying a Sunday brunch at the Maximilianeum, which opens its doors on weekends to guests.
Click here to learn more about the Maximilianeum and its prestigious scholarship program
Stop #2: Eduard von Grützner Villa
After drooling a few puddles and imagining life inside the Maximilianeum, we'll continue our walk towards Haidhausen's main square, Wienerplatz.
But first – a detour! Let's go sneak a peek at one of Munich's most enchanting little hidden gems.
Following our route, you'll veer off into a little green space to get a good view of the Eduard von Grützner Villa, conveniently located on Grütznerstrasse 1.
Who was Eduard von Grützner? Well, he was a German painter who was renowned for his genre paintings (i.e. paintings of everyday life and people), particularly of monks. Supposedly, he was an artist beloved by Hitler himself, who was once quoted as saying Grützner's paintings would one day be worth more than Rembrandt's. Grützner had the villa built in 1883 with a design by renowned architect Leonhard Romeis. Today, it sits prettily as an enchanted fairytale castle in the middle of the city, with a magical tower trailing with ivy. Definitely a worthy detour!
Stop #3: Wienerplatz
Surrounded by cute fairytale houses, a leafy beer garden, and plenty of charming boutiques and eateries, Wienerplatz is by far one of the most atmospheric squares in Munich.
And before you get the wrong idea about its name, this square gets its name from a nearby road that was the go-to route to Vienna (Wien, in German) back in the day. So… pull your mind out of that gutter!
There are many noteworthy sights in and around Wienerplatz, so be sure to walk around and explore properly before moving on with our tour! Of particular interest is the Hofbräukeller, a beautiful restaurant and beer garden right on the square. For almost a century, Hofbräu's brewery and beer production took place right here, before they outgrew the facilities in the late 1980s.
Following our map, you should also take a little detour down to see the old hostel houses along An der Kreppe, an example of the working-class homes that once defined the borough.
Lastly, if you're visiting during the day (apart from Sundays or holidays), be sure to check out the square's permanent market too. It's the smallest of Munich's four permanent open-air markets, and has been running for over 100 years.
Stop #4: St Johannes Kirche
From Wienerplatz, continue your walk down Steinstrasse, a pretty street filled with gorgeous shops and restaurants. Take a right at Rue des Halles, Munich's oldest French restaurant, which is hopelessly photogenic and also a total dream during springtime when its facade is covered in wisteria.
You'll soon be at our next stop, St Johannes Kirche. While the church you see today only began construction in 1913 (in fact, it was consecrated in the middle of the 1st World War in 1916!), there was actually an "emergency" church erected on this site decades prior, due to the sharp rise in the neighbourhood's Protestant population.
Today, this church (and Presyingplatz in front of it) makes up one of the most serene and peaceful little corners of Haidhausen.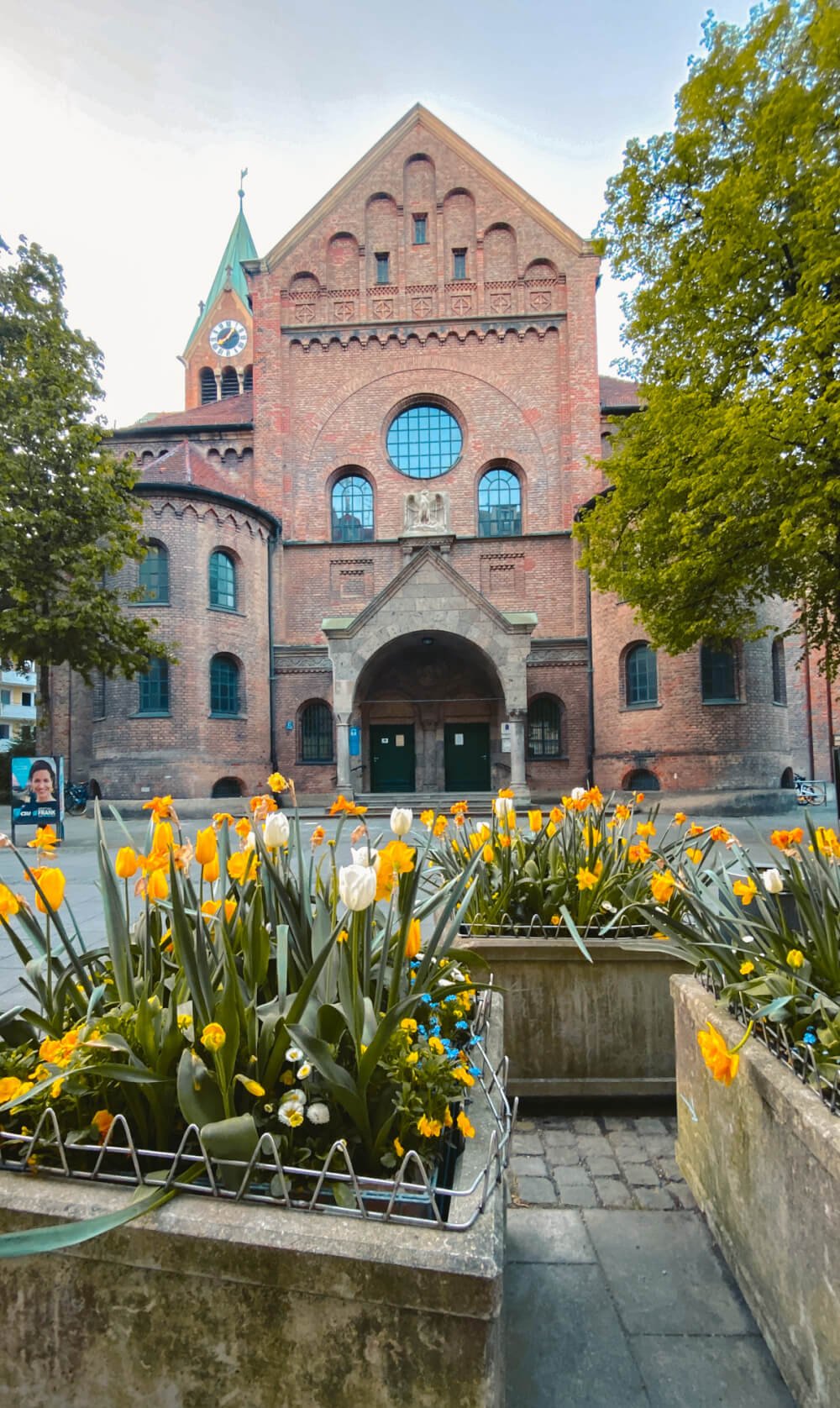 Stop #5: St Johann Baptist & Johannisplatz
From one church to another, continue your walk and turn onto Preysingstrasse, which you'll follow back to St Johann Baptist.
Built in the mid-19th century, this distinctive red terracotta church is actually one of the tallest churches in the entire city, with an imposing 90-meter tower that provides strategic shade for the ample activity space below. Visit on a nice day, and you're bound to spot plenty of families here enjoying the sun.
Continue your walk until you end up on Kirchenstrasse, where (again in Spring), you'll witness a giant wall of stunning wisteria. If it's not the right time of year though, no worries – it's a beautiful view no matter what!
Stop #6: Alte Haidhauser Kirche
Continue along Kirchenstrasse (a really lovely street) and you'll eventually reach the Alte Haidhauser Kirche, which is, as suggested by the name, the oldest church in Haidhausen. How old is it exactly? Written records trace a church at this location all the way back to the 14th century, and it is said that Romanesque elements remain from this period even today (at the base of the tower).
Stop #7: Bordeauxplatz
Continue your scenic walk through Haidhausen towards Bordeauxplatz, a beautifully manicured square that will show you precisely why this area is known as Munich's French quarter.
Flanked by Wilhelminian townhouses, lush lime tree tunnels, and colourful flower beds, Bordeauxplatz is an impossibly idyllic place to rest and better yet, people watch. Keep an eye out for the animal sculptures here around the fountain which include a boar and a ram. This oasis of calm is only a short walk away from Munich's bustling Ostbahnhof (East Train Station), but you'd definitely never think it.
NOTE: While many of the streets in this area are named after French cities where Germany won battles in the Franco-Prussian War (e.g. Metz, Wörth, Gravelotte, etc.), Bordeauxplatz is so named because of Bordeaux's status as one of Munich's "twin cities" since 1964.
Stop #8: Kreichbaumhof
We'll continue our tour towards one of the most picturesque little parts of Haidhausen: the Kreichbaumhof.
The Kreichbaumhof is a true sight to behold – an aged wooden alpine chalet in the heart of the city! Once upon a time, this building acted as a hostel where newcomers to Munich could rest their weary eyes without breaking the bank. While the building fell into disrepair in the 70s, parts of it were stored, and the structure was rebuilt in the late 80s. Today, it serves as a bookable event space and also the offices of the DAV Landesverband Bayern and the JDAV Bezirksverband München (the German Alpine Society and its youth branch).
Stop #9: Üblacker-Häusl
Just across the street, you'll find another former hostel house, the Üblacker-Häusl. Today, it houses one of Munich's smallest museums on the ground floor, with a display that shows two rooms of a typical labourer family's home, along with an apartment on the upper floor.
Stop #10: Weißenburger Platz
Following our route, you'll continue down two of the most adorable streets in Haidhausen: Preysingstrasse (which is also beautifully lined with wisteria in Spring) and Milchstrasse (literally Milk Street, which is impossibly charming in itself).
Soon, you'll hit another scenic Haidhausen square: Weißenburger Platz, the very heart of Munich's French quarter.
This square is named after the French city of Weissenburg (these days known as Wissembourg), where the Germans won a battle against the French during the Franco-Prussian war. In fact, following the German victory of this war, city planners decided to incorporate French street layouts into the area, hence why this square has streets radiating out of it in a star formation, much like the roundabout at the Arc de Triomphe in Paris.
The focal point of this lovely square is the Glaspalastbrunnen (Glass Palace Fountain), so-named because it was originally displayed in the Glass Palace of Munich's Botanical Garden. It was then moved to Orleansplatz for several years before finding its current home here at Weißenburgplatz.
PS: Be sure to come here at Christmas time for one of the most charming little Christmas markets in Munich.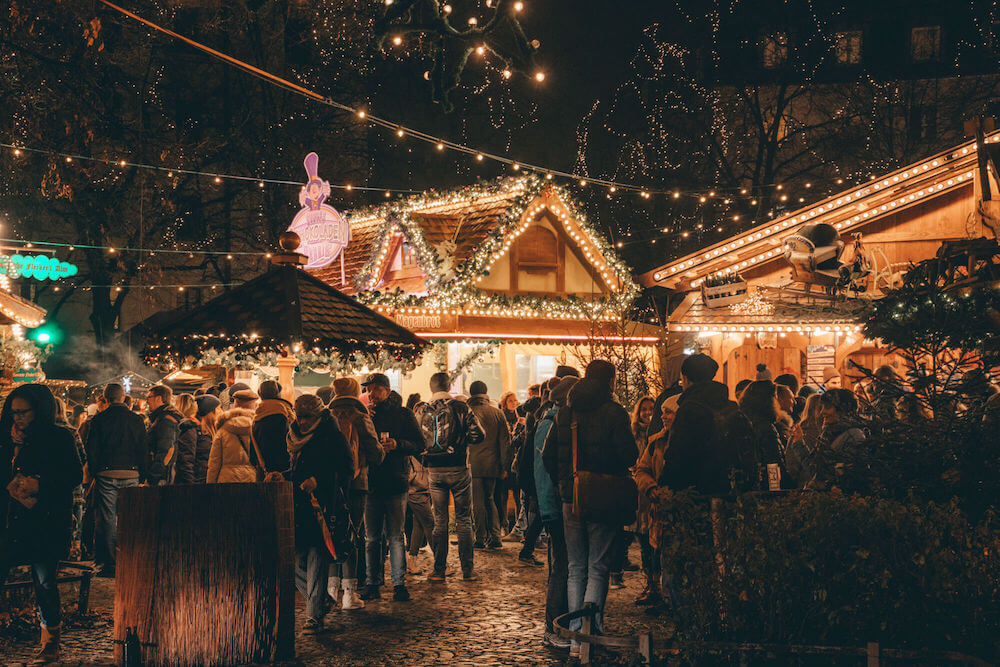 Stop #11: Gasteig
We're now at the last stop of our tour: the Gasteig, a vast cultural center that hosts some of the city's most prominent cultural events, including the Munich Filmfest, the Munich Biennale and performances from the Munich Philharmonic.
Besides being a renowned venue for arts and culture however, this is also the perfect place to end our tour because of its historical significance.
In fact, you are standing close to where history could have been changed forever.
While no longer in existence, between the Gasteig and the nearby Hilton is where the Bürgerbräukeller once stood, a large beer hall that opened in 1885 and was demolished almost a century later in 1979.
This name should sound familiar for two reasons. Firstly, this is the beer hall from the infamous Beer Hall Putsch, a failed coup d'état led by Hitler and the Nazi party that took place in 1923 – the very event that led to Hitler's arrest and jail sentence during which he wrote Mein Kampf.
Second, it was in this beer hall that a chance to alter history was just minutes away. In November 1939, Georg Elser planted a bomb inside the hall, set to detonate while Hitler was giving a speech. His plan failed only because Hitler cut his speech short and left before the bomb was detonated… escaping the assassination attempt by a mere 13 minutes.
Our Haidhausen Self-Guided Walking Tour Map
We hope you enjoyed this Haidhausen walking guide! For the full route from our walk, just follow this Google map below. Our walking route is lined in blue, and all the different stops mentioned above are in yellow. Have fun, and be sure to tag us on Instagram @boredinmunich so we can see where you go!