*FYI - this post may affiliate links, which means we earn a commission (at no extra cost to you) if you purchase from them. Also, as an Amazon Associate, I earn from qualifying purchases. For the full scoop on what this means, feel free to check out our Privacy Policy and Disclosure.
If you're tired of walking into a cafe, eager for gemütlichkeit and a flat white, only to find a barista angrily smashing buttons on a Nescafe, then you, my friend, are not alone.
It is a scene all too common in Munich. But, have no fear, these 7 coffee shops in Munich are approved by a self-proclaimed Australian coffee snob and will save the day.
Here are my picks for the best coffee in Munich!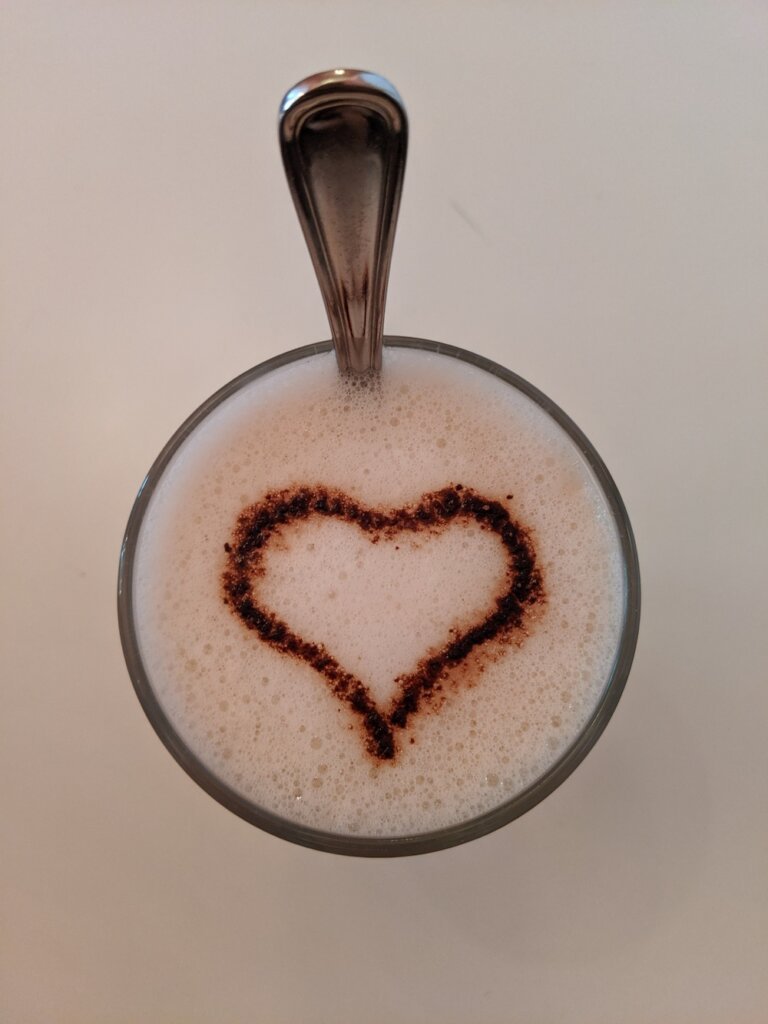 galore#
Belgradstraße 47, 80796 München
Every time I traverse across Munich for galore#, my favorite cafe in Munich, I am shocked there isn't a line out the door. It must still be one of Munich's best-kept coffee secrets.
The owner is one of the most genuinely friendly coffee experts in Munich. She is always happy to geek out over the origin of coffee beans or simply have a chat.
Make sure you come for lunch and order a homecooked meal off their daily menu. And, while you're waiting for coffee, take a look around the design store for local and artisanal goods often made right here in Munich.
There's plenty of seating, great wifi, and a group of dedicated locals. If you aspire to be a great barista yourself, then check out their barista basics or latte art classes – which also make a great gift.
Café Blá
Lilienstraße 34, 81669 München
Cafe Blá is one of my favorite cafes for vegan treats. Tucked away in Haidhausen, this Scandinavian inspired cafe is cozy and welcoming. On top of all that, they have free and easily accessible wifi, which is so rare in Munich.
Grab some light fare for breakfast or lunch, including vegan waffles or salad. But, I recommend stopping by for a morning oat milk flat white paired with whatever fresh baked good catches your eye. For me, it is usually the lemon poppyseed muffin.
Man versus Machine
Müllerstraße 23, 80469 München
Schellingstr. 18 80799 München
If you've come to accept that good coffee is often synonymous with trendy people in aprons and hip beards, then Man versus Machine is the place for you.
This hipster hot spot focuses only on creating quality coffee without a lot of fuss. So, don't expect to find wifi, food, or a lot of space, but you can always expect quality coffee made by some of Munich's best baristas, good music, and the occasional beetroot brownie.
Standl 20
NOTE: Standl 20 is currently in a temporary location while Elisabethmarkt is under construction. You can find them on Arcisstraße on the Corner of Elisabethstraße.
If you find yourself perusing the goods at Elisabethmarkt, then make sure to take a break and enjoy a hot cup of coffee from the charming, Standl 20.
Many loyal locals argue they are the OG and best hipster coffee spot in Munich. I have to agree; their coffee is pretty dang good.
The coffee experts behind the bar are always in search of the best seasonal products. The offerings are ever-changing, but the quality always remains the same.
Necado
Isabellastraße 48, 80796 München
Necado is another hidden gem in Munich. This tiny coffee shop has some of the best latte art in the city.
Pop in for a delicious steaming cup of coffee and enjoy the art on the walls. Make sure to take home their zero-waste espresso pods roasted in house.
Aroma Kaffeebar
Pestalozzistraße 24, 80469 München
Aroma Kaffeebar is my local coffee shop; a place where I call myself a regular. I always order a chai or green tea latte, but they have a wide range of offerings, including cold brew in the summer and rich mochas for winter.
They get an A+ for presentation and serve their coffee in unique mugs on rustic wood trays. Add any of their homemade baked goods or tasty breakfast options to your order, and you won't be disappointed.
BONUS: Make Coffee at Home from Munich's best roaster
Kapuzinerstraße 12, 80337 München
If you are looking to taste some of Munich's unique coffee at home, then swing by Gangundgäbe. As a specialty and boutique roaster in Munich, they roast their beans to perfection.
I always have a stock of their Guatemala roast to enjoy slow coffee with my Chemex every Saturday and Sunday morning… and yes, I can taste every hint of chocolate and citrus with bursting floral notes. Mm!
They primarily focus on roasting and have minimal hours, so plan your visit.
While you are picking up your beans, enjoy a flat white with your choice of their artisanal beans, while the aroma of coffee wafts through the store.
Looking for other fun recommendations around Munich?
I've written a full hipster guide to Munich for you here. Be sure to check it out for tips and recommendations about Munich's best brunch spots, thrift shops, boutique shops and more!