*FYI - this post may affiliate links, which means we earn a commission (at no extra cost to you) if you purchase from them. Also, as an Amazon Associate, I earn from qualifying purchases. For the full scoop on what this means, feel free to check out our Privacy Policy and Disclosure.
Let's face it – when you're in Munich, you don't need to travel far to get a hefty dose of nature. In fact, you can find some insanely beautiful lakes near Munich… all with a commute time of two hours or less!
And because Bavarian lakes are some next-level marvels of nature, you'd be silly to not take advantage. After all, Bavaria is home to some of the best lakes in Germany, many of which are easily accessible from Munich… so the next time you have a free day when the sun is shining, pack a crate of beers and head out to one of the following…
7 Beautiful Lakes Near Munich You Need to Visit
PRO TIP: All of these lakes near Munich can be visited with a Bayern ticket, so be sure to take advantage of that deal instead of paying full price. Here's a little-known tip, you can actually buy them online in advance here.
1. Starnberger See
Lake Starnberg is probably the best known of the "Munich lakes", mostly because it's the closest and easiest to get to.
How to get from Munich to Starnberger See: Take the S6 to Starnberg (not Starnberg Nord).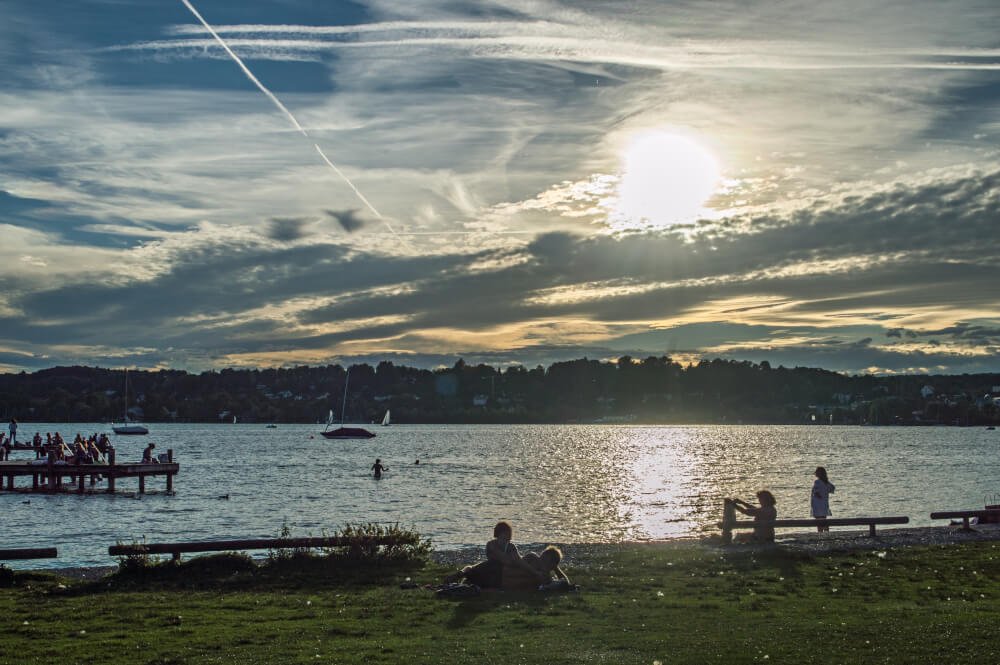 2. Ammersee
Ammersee Lake is a beautiful place to watch sunset, and a great day trip to pair with a visit to the famous Andechs Monastery (known very well around Munich for their tasty beer). Hike up to earn your treat, or simply take the bus!
How to get from Munich to Ammersee: Take the S8 to Herrsching
3. Chiemsee
One of the best things to do at Chiemsee is to take a scenic boat ride to Herrenchiemsee New Palace, found on an island at Chiemsee. It's the German version of Versailles and a real opulent must-see.
How to get from Munich to Chiemsee: Take the train to Prien am Chiemsee, which lasts about an hour.
4. Walchensee
One of the deepest alpine lakes in the entire country, with water so bright and blue, you might think you've accidentally hit Croatia. If you have the time, definitely try some of the hikes in the area… the views are ridiculous.
How to get from Munich to Walchensee: Take a regional train to Kochel (which takes approximately 1 hr). From Kochel train station, hop on a Regionalverkehr Oberbayern bus to Walchensee (there are a few different options, including 9608, 9611 and 9612)
5. Königssee
A gorgeous natural lake near the border to Austria, located in Berchtesgaden National Park. It's also often advertised as the cleanest and most serene lake in Germany. Hello serenity!
How to get from Munich to Königssee: Get to Berchtesgaden train station (the best way depends on the time of day. There are no direct trains so you'll need to switch, usually in Freilassing). Use the DB website to plan the best route. From Berchtesgaden train station, take the RVO buses to Königssee (lines 841 and 842) and Schönau (lines 842, 843 and 846).
6. Eibsee
With Zugspitze looming in the background and bright blue water that glows turquoise in the sun, Eibsee is probably one of the most photogenic lakes you'll find near Munich. Besides watersports and chill-time, there's a nice (relatively flat) loop trail around the lake that yields incredible views.
How to get from Munich to Eibsee: Take a train to Garmish-Partenkirchen and from there, hop on one of the hourly blue Eibsee Buses for a short ride to Eibsee.
7. Tegernsee
Famous for its delicious beer, Tegernsee is a must visit if even just to grab a cold one at the brewery (conveniently located right by the lake). The vibe here is a lot more chill and peaceful than some of the other lakes near Munich, and the colour of the water on a hot summer day is beyond dreamy.
How to get from Munich to Tegernsee: You can take a BOB train directly to Tegernsee (which takes approximately an hour).