*FYI - this post may affiliate links, which means we earn a commission (at no extra cost to you) if you purchase from them. Also, as an Amazon Associate, I earn from qualifying purchases. For the full scoop on what this means, feel free to check out our Privacy Policy and Disclosure.
For a lot of newcomers and visitors to our wonderful city, one of the most common questions on their mind are where to find shops open on Sunday in Munich.
And that's a fair question, because as any Münchner knows, it's a BIT of a ghost town around here on Sundays. Why? Well, here in Germany, Sundays are a day of rest (or perhaps, a day of hangovers), meaning shops and supermarkets alike are totally geschlossen, leaving you and your shopping needs high and dry.
But needing to go shopping on Sunday is sometimes inevitable, whether for that ONE ingredient you're missing for a recipe, that last minute birthday gift you forgot or maybe some headache tablets for that Saturday Katzenjammer.
Supermarkets Open in Munich on Sunday/Places to Get Groceries
If you need to do your groceries on a Sunday in Munich, there are a small handful of actual supermarkets that remain open on Sundays, all found at train stations and the airport.
Here is a list for your convenience:
EDEKA-Ernst Ostbahnhof
Located conveniently at the Munich Ostbahnhof train station (near the bus terminal), the EDEKA-Ernst is open 365 days a year until 11pm, which means it's a good place to pick up last minute groceries on a Sunday.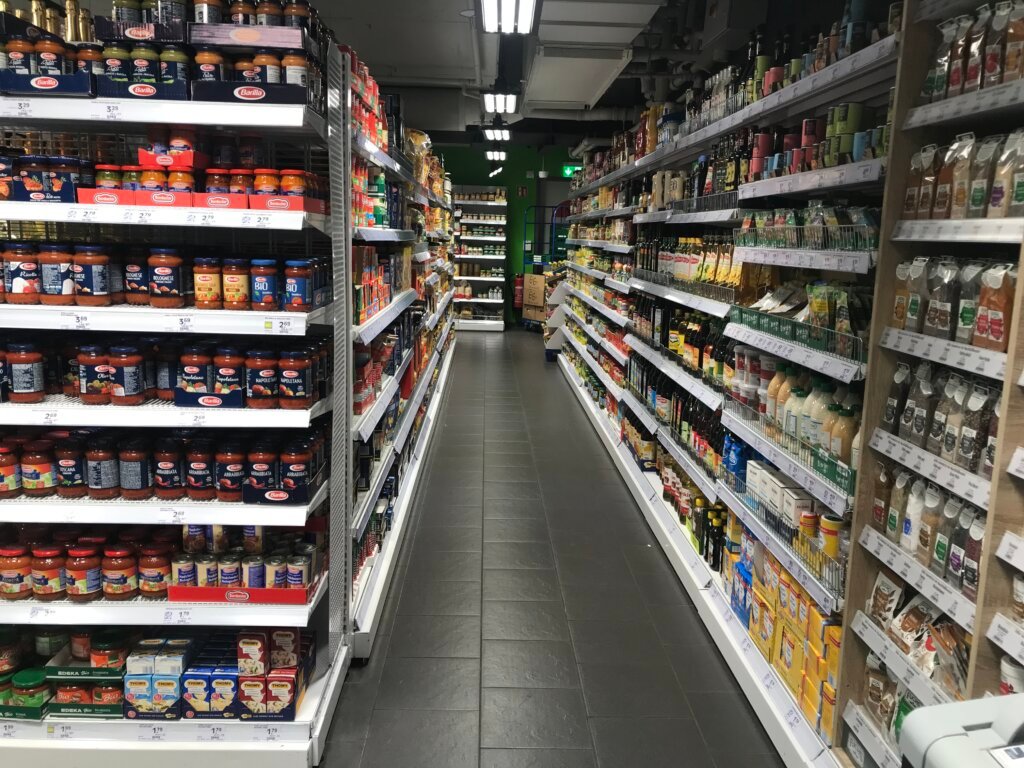 The shop is a decent size, and well stocked with two stories of products, including a huge drinks selection, BUT of course you pay for the convenience and prices here are (as expected) higher than the nearby Lidl and Aldi Süd, which are both unfortunately closed on Sundays.
In a pinch though, this is an alright supermarket open in Munich on Sundays and holidays.
Address: Orleansplatz 10-12, 81667
Hours: Open until 11pm
Dm-Drogerie Markt Ostbahnhof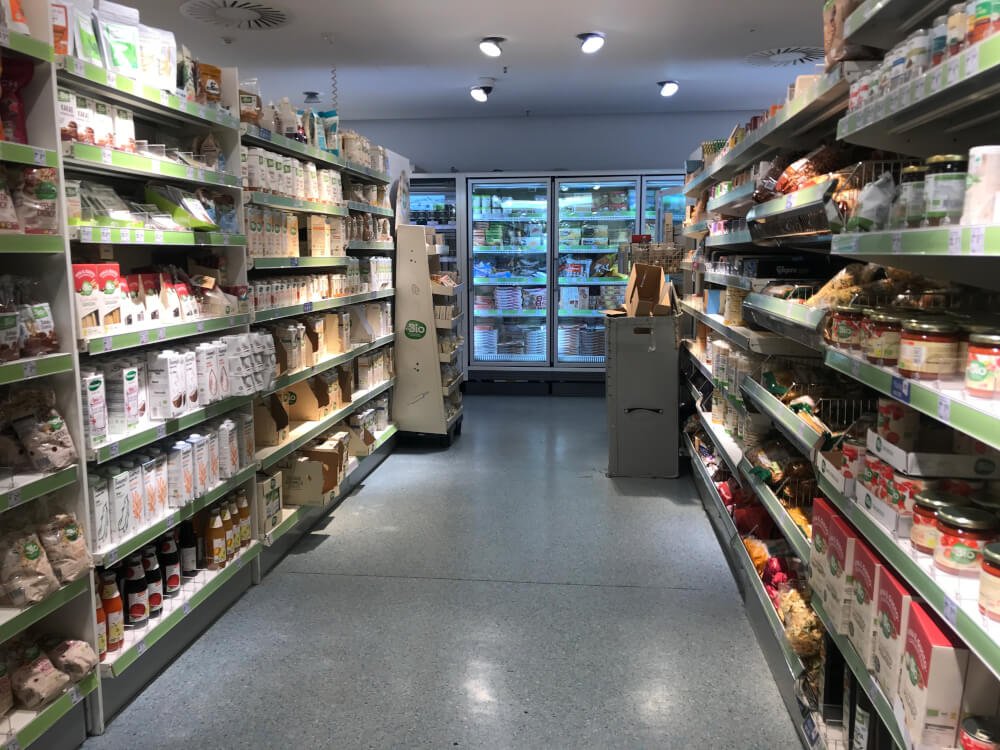 Located in the underground level of Ostbahnhof near Orleansplatz (just above the U4/U5 escalators), you'll find a dm that is open every day until 11pm.
Which is perfect for emergency supplies like shampoo, soap, etc. BUT unbeknownst to many, they actually have a wide variety of food as well hidden in the back of the store.
You won't find fresh veggies here, but they do have a nice selection of frozen pizzas, as well as different food goods from Alnatura.
Address: Orleanspl. 10-12
Hours: Open until 11pm
EDEKA-Ernst Hauptbahnhof
Another EDEKA-Ernst open in central Munich is actually located right at the Munich Central Train Station, in the underground level (across from McDonalds).
They have a decent selection of groceries here, including fresh vegetables although supplies on Sunday are usually slim pickings, and more expensive than most supermarkets too.
A highlight here though is they have a salad bar, along with quite a few takeaway options/fast food meals like (sadly, mediocre) sushi and wraps.
Address: Arnulfstraße 2 (Hauptbahnhof)
Hours: Open until 11pm
Mini Markt Hauptbahnhof
Also in Hauptbahnhof (just under the train platforms), you'll find the very mini Mini Markt which is open 365 days a year until 10pm.
This store has a pretty limited selection of actual fresh food, but you can find some basic veggies, eggs, etc. here in a pinch if needed.
The prices here are of course higher than most, but you're again paying for the convenience.
Hours: Open until 10pm
Edeka Munich Airport
Last but not least, we have the ole' reliable Edeka at Munich Airport, which can be found in Terminal 2 near the MAC Forum, AKA the covered square bit in between the two terminals.
This is a pretty well-stocked store considering most people don't come here to do their full grocery shopping. So if you're not in a rush (lines can be long!), this is a decent option for an open supermarket in Munich on Sunday, especially since the prices aren't as high as you might expect from an airport.
Address: Terminalstrase 18, München Flughafen Terminal 2
Hours: Open until midnight
Other Places to Buy Food in Munich on Sunday
Restaurants and Cafes
In a pinch, you should know that restaurants and cafes are allowed to operate on Sundays, and while some of them might opt to close on Sundays, many remain open.
So if you're starving and faced with an empty fridge, then you can quickly Google restaurants open near you and problem solved!
Gas Stations
If you need snacks or small groceries, many gas stations in Munich will have basic groceries and food like frozen pizzas, eggs, instant noodles, snacks, and sometimes even fresh meat/vegetables.
If you are starving on a Sunday, Googling open gas stations near you is a good bet that you'll at least find something to eat!
Erntebox
View this post on Instagram
If you want fresh local products direct from farmers on a Sunday, there's an awesome initiative called Erntebox that you should look into!
Basically, these are vending machines installed around the city that sell farm fresh eggs, poultry, potatoes and more.
A totally genius initiative, and perfect for that little Sunday shop when you just need a small thing or two. You can find a list of locations here.
Meat Vending Machines
View this post on Instagram
Of course, because it's Munich, there are a few locations in the city where you can get BBQ-ready grill meat straight from a vending machine.
There are two locations in the city: one at the Metzgerei Franz (Fürstenriederstr 55) and one at Metzgerei und Feinkost Raab (Verdistraße 113) but you can access a full list of these Grillfleischautomaten in Germany on this (very niche) website here.
Other Unique Vending Machines
One fun fact we enjoy is that there is a treasure trove of unique vending machines hidden around the city that sell everything but snacks!
From apotheke products, to sunscreen, fresh eggs and ballet flats, these are also great options when you are in a Sunday shopping bind anytime during the year!
Bakeries Open in Munich on Sunday
By law, Munich bakeries are allowed to be open for a few hours on Sunday, which means you won't have any trouble finding fresh bread or pastries in your neighbourhood.
The trouble is knowing WHICH bakeries are open and when. Click here for a full list courtesy of Muenchen.de.
Where to Go Shopping/Buy Gifts in Munich on Sunday
Whether it's a birthday party you forgot about, or maybe worse, some kind of anniversary, there will sometimes be moments when you need to find a nice gift on a Sunday.
Instead of rummaging through the depths of your closet for something passable, here are some ideas on where to buy actual nice things in Munich when all the shops are closed on Sunday.
Museum Gift Shops
Most museums are open on Sundays in Munich (click here for a list of ones that are only 1 euro!) and the big ones will have nice gift shops where you can buy awesome gifts like books, greeting cards, stationary and more.
This is probably your best bet for getting a gift on a Sunday in Munich that isn't evidently last minute, like "hi, here's a sack of potatoes from Edeka Ernst".
The Hauptbahnhof Souvenir Vending Machine
Another good place to get a last minute gift in Munich on Sunday is this fun vending machine in Hauptbahnhof that sells lots of different Munich-related gifts.
Sure this might not be the best place to get something for someone who has lived here for a long time, but for visitors it's a nice place to get Munich souvenirs on a Sunday!
Shops at Ostbahnhof
There are a handful of shops open at Ostbahnhof on Sundays selling gifts, including the P&B Books, which has a wide selection of Munich souvenirs and greeting cards, as well as the Rubenbauer Genusswelten which would be good for a nicer bottle of wine or foodie gift.
Where to Buy Emergency Products
What if you need something like tampons, condoms, a bike pump, etc. in Munich on a Sunday?
Here are some emergency options:
Dm-Drogerie Markt Ostbahnhof
Again, located in the underground level of Ostbahnhof near Orleansplatz (just above the U4/U5 escalators), you'll find a dm that is open every day until 11pm which will be fully stocked with different common drug store supplies.
Address: Orleanspl. 10-12
Hours: Open until 11pm
Mini Drogerie at the Kiosk an der Reichenbachbrücke
There are a handful of vending machines around Munich that are open on Sundays selling emergency things like tampons, sunscreen, batteries, you name it!
The one at the iconic Reichenbachbrücke kiosk is one we know of for sure. Let us know in the comments if you know of others!
Did we miss any other shops open in Munich on Sunday?
Let us know in the comments! We're always on the lookout for new places to add to the list.