*FYI - this post may affiliate links, which means we earn a commission (at no extra cost to you) if you purchase from them. Also, as an Amazon Associate, I earn from qualifying purchases. For the full scoop on what this means, feel free to check out our Privacy Policy and Disclosure.
Munich's hottest summer event, Sommer in der Stadt has officially begun, setting the city abuzz with fairground rides, games, market stalls, concerts & food scattered across various venues.
The event, originally approved by City Council in May, aims to bring a bit of summer fun to the city, as well as give the city's Schausteller and merchants a chance to generate income in light of most major events (including Frühlingsfest and Oktoberfest) cancelled this year.
While the event was originally billed as a "decentralized Oktoberfest" of sorts, the city has been quick to note that Sommer in der Stadt is far from a Ersatz-Wiesn, but rather an open-air program that offers something for everyone, with fun things to experience all around the city. Running in conjunction with over events like Das Fit im Park, there certainly is plenty that appeals to visitors of all ages.
And while the program is ever-changing, in this post, we'll give you a review of all the basic details you need to know about attending Sommer in der Stadt, including dates, opening hours, the different celebration sites, what to expect and safety/hygiene measures to abide by.
Sommer in der Stadt 2020: Basic Details
Dates: July 24, 2020 until the end of the summer holidays (according to the official page here, that will be around Sept 7, 2020)
Cost: Entry is free to all sites, however rides, food, drinks, etc. all come at an extra cost
Locations: All across Munich in public areas and beer gardens, with larger programs planned for the Olympiapark, Theresienwiese, Königsplatz, Mariahilfplatz, Orleansplatz, Wittelsbacherplatz, Werksviertel
Full program: Refer to the official list here (although the interface is a little clunky)

Sommer in der Stadt Hours
According to the official event FAQ here, the hours for Sommer in der Stadt festivities are as follows:
Fair & food stalls : Daily from 10 am. to 10 pm
Fairground rides and market stalls : Monday to Friday from 12 pm to 10 pm and Saturday/Sunday from 11 am to 10 pm
Culture and sports programs : Hours vary per program/event – check individual event pages for exact hours
Theresienwiese : Leisure activities are possible so long as it's light outside, while the Palmengarten and Kunst im Quadrat are open even after dark Leisure activities can be used as long as it is bright
Gasteig : daily from 10am to 10 pm
Das Fit im Park: Click here for more info
Beer gardens : Opening times depend on the the respective beer gardens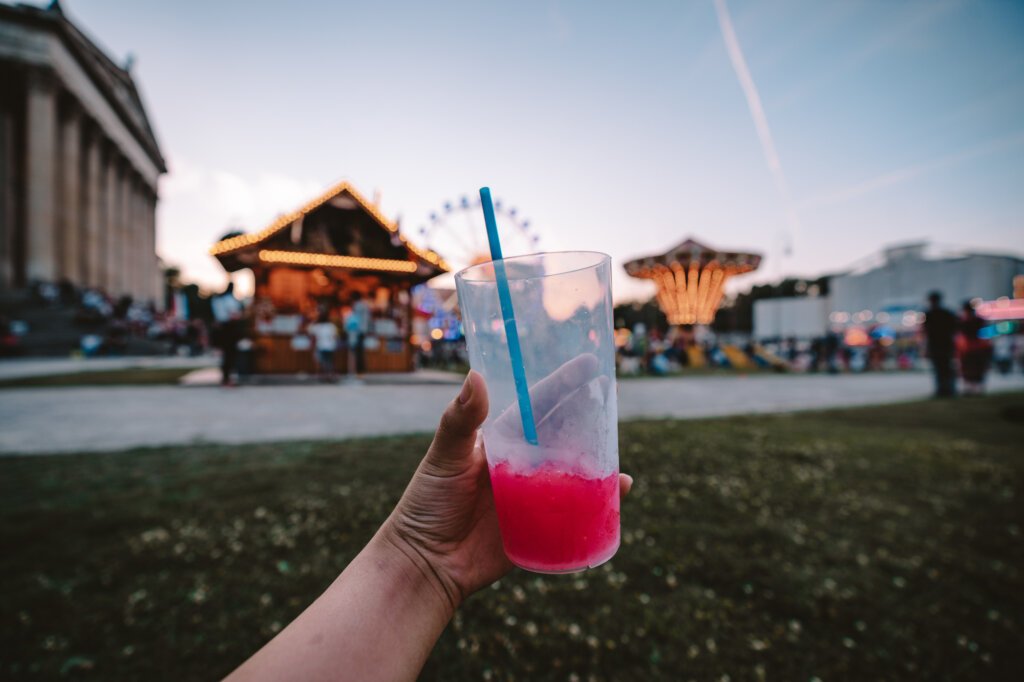 Main Locations for Sommer in der Stadt 2020
As we previously mentioned, Sommer in der Stadt is spread across various locations in Munich. You can access the most up-to-date list of locations and programming here.
Olympiapark
The theme for festivities at Olympiapark is Bavaria, and the festivities will take place on Coubertinplatz and all around the Olympic Lake. Besides market stalls, food vendors, and rides, thee will also be a large summer stage with a full program of performances and events.
Some planned highlights include:
Big rides & games such as the Willenborg ferris wheel, the Heidi roller coaster, Oktoberfest favourites "Jumanji" and "Rio Rapidos", along with the giant Bayern Tower swing ride, bumper cars, the Rainbow Star children's carousel and Break Dance No 1
A special kid's program from July 27 onwards
A summer stage at Olympic Stadium where there will be concerts, shows and other events
Königsplatz
Another major Sommer in der Stadt venue is Königsplatz, which is fully kitted out for the occasion with a giant ferris wheel right on the square, along with some other rides and even a mini prosecco garden.
Here are some highlights of the program here:
A 45m high ferris wheel in front of the Propylaea
Some rides including a small children's swing ride and a mini pirate-themed ride
Some food stalls selling Volksfest classics like slushies, bratwurst, burgers, crepes, etc.
A little prosecco garden where you can enjoy drinks
Seating areas with some beach chairs where you can sit and relax on the grass
Theresienwiese
While no beer gardens or tents will be available at Theresienwiese, there is still a lot to do on the grounds. Here are some highlights of the program:
Sporting areas for playing baseball/tennis, in addition to other fun activities like skateboarding and bouldering
A small music/art festival in the southern part of the grounds
Some stalls and rides from local Schaustellern
A palm garden (more info on this here)
Mariahilfplatz, Orleansplatz, Weißenburger Platz and Wittelsbacherplatz
At these squares, you'll be able to get a mini Auer Dult feeling thanks to a program organized by the Association of Market Merchants and Showmen. Here, you'll find mainly market stalls with a few food stalls selling fairground classics.
Beer Gardens Across the City
According to the official city program here, 20 beer gardens will also be bringing small stalls and fairground rides to their grounds, although a full list has not yet been released. We'll be updating this section as we learn more!
The Stadtmuseum Courtyard, the Valentin-Karlstadt-Musäum, the Deutschestheater Courtyard and the Gasteig
A large culture program is also planned for the summer, with a range of performances scheduled for across the city, including these locations. Again, refer to the full program here for more details.
The Wandering Stage
A wandering stage is planned for the summer as well, with a nice schedule of free performances to take place in various venues across the city, including Ostpark, St.-Nikolaus-Platz, the Kulturhaus Trudering and more.
Click here for the full schedule of this stage.
Odeonsplatz, Max-Joseph-Platz & Areas in Between
While concrete details have yet to be announced, an artisan market is planned to take place from August 6 to September 4 on Thursdays and Fridays from 10 am to 8pm in the spaces between Odeonsplatz and Max-Joseph-Platz.
The plan is for 40+ sellers to display their goods, allowing for a 5m distance between stands.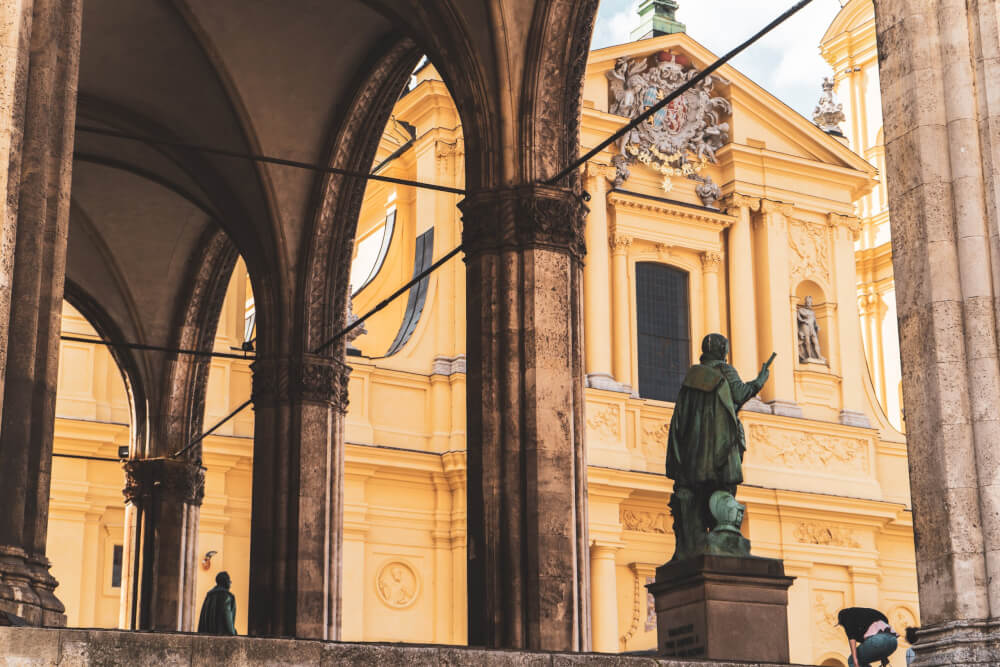 Westpark, Ostpark, Luitpoldpark und Riemer Park
As previously mentioned, a free fitness and sports program will be taking place in conjunction with Sommer in der Stadt. Click here for more info on that!
Other Celebration Areas
The locations listed above are not comprehensive, and only highlight the most major events taking place! For a full list of venues, be sure to visit the official website here.
Safety and Hygiene Measures for Sommer in der Stadt 2020
According to the official Sommer in der Stadt page on the Muenchen.de website, the following safety and hygiene measures will apply throughout the celebration sites:
Nose/mouth protection (i.e. masks are mandatory in sales areas, waiting areas and any other narrow spaces
All corona-related rules (e.g. social distancing, masks, etc.) will apply at rides, booths, activities, games, etc.
In cases when the approved number of visitors is exceeded, entry might be restricted (but signs will alert visitors of this along the way if this is the case)
A minimum distance of 1.5m between households is to be maintained
Guests are all advised to download the Corona Warning app
All beer garden visitors will need to register and provide information (usually via QR code) to enable contact tracing