*FYI - this post may affiliate links, which means we earn a commission (at no extra cost to you) if you purchase from them. Also, as an Amazon Associate, I earn from qualifying purchases. For the full scoop on what this means, feel free to check out our Privacy Policy and Disclosure.
After several development delays & setbacks, Germany's long-awaited COVID-19 tracking app is finally available for downloads!
The app's not-so-snappy title is "Corona-Warn-App" and is available for both iOS and Android.
Following its release early early this morning (at 2am), the app has already been downloaded by hundreds of thousands of users. And, luckily for those of us whose Deutsch is noch nicht so gut, the app is available in both English and German, with the app's associated hotline also offering Turkish support.
So, if you want to know more about how this app works, and how to actually get it working on your phone (trust us, lots of expats are having trouble with it!), here's an article all about the Corona-Warn-App and how you can get the best use out of it.
How the Corona-Warn-App Works
Here's an overview of how the app works. NOTE: All text written in quotes is taken directly from the app itself.
Put simply, the goal of the Corona-Warn-App is to "turn your device into a corona warning system" and allow you to "find out whether you've had close contact with people diagnosed with COVID-19 in the last 14 days".
How it works:
Users of the app must activate and enable "Exposure Logging", which "works by your device receiving, via Bluetooth, encrypted random IDs of other users and passing your own random ID to their devices". This means that users who have the app installed on their phones will exchange encrypted random IDs via Bluetooth that keep track of the "date, duration, and signal strength of an exposure". For this reason, it is important that users keep Bluetooth on whenever they are out.
Users who are diagnosed with COVID-19 are asked to report it within the app. This "notification is encrypted securely and processed on a secure server. People whose encrypted random IDs your device has collected will now receive a warning along with information about what they should now do".
If someone you have been exposed to reports their diagnosis in the app, you will be automatically notified about your risk status so that you are able to self-isolate or seek testing as needed. Your risk status is calculated based on the duration and proximity of your exposure to the infected individual. As the app clarifies however, "nobody knows when, where or with whom a corresponding risk encounter took place. The infected person remains anonymous."
These encrypted Bluetooth codes are only stored for two weeks, after which they are deleted.
Downloading Germany's Corona-Warn-App for iOS
Click here to download the app for iOS
Requirements:
Your App Store location must be Germany: We have heard from some sources that they are working on releasing the app to international app stores, but for now, you must be logged into the German App Store to download the Corona-Warn-App. This might be annoying for those whose phones were purchased abroad and the App Store remains linked to a different country other than Germany. Don't worry though, this can easily be changed, but you will need to cancel existing subscriptions that may be linked to your account. I for instance had to cancel my Apple TV subscription.
Your iOS needs to be the latest version: This Corona-Warn-App will only download if your iOS is updated to iOS 13.5.1, so make sure you get that updated before you attempt the download or it won't work.
How to Change Your App Store Country (Step by Step)
If you're not able to find the Corona-Warn-App in the App Store, or are getting an error when you try to download it, odds are your App Store is connected to a different country, and not Germany.
Changing this is easy, but do note that you will need to cancel any existing subscriptions (e.g. Apple TV). Here's how to do it:
Open the App Store and click your profile picture in the upper right hand corner to open your "Account" tab
Click on your photo and name at the top to open up your Account details (this will load in a new window)
Click on Country/Region
Click "Change Country or Region"
Choose Germany from the drop down list
Agree to the Terms and Conditions
Enter a Payment Method and write down your German billing address. The app is free – they just need this information for your registration in case you want to buy apps in the German app store in the future.
Ta-da! Your App Store should now be set to Germany and you should be able to download the Corona-Warn-App.
Downloading Germany's Corona-Warn-App for Android Phones
Click here to download the app for Android
Requirements:
Your Google Play Store location must be set to Germany. According to many reviews, the Corona-Warn-App doesn't appear to be available for international Google Play Stores at the moment, although some sources say this is in the works.
NOTE: Some reviewers are reporting an error "communicating with Google API(17)" on older phone models from a wide range of brands including Samsung, Huawei, and Xiaomi. The support team appears to be looking into this.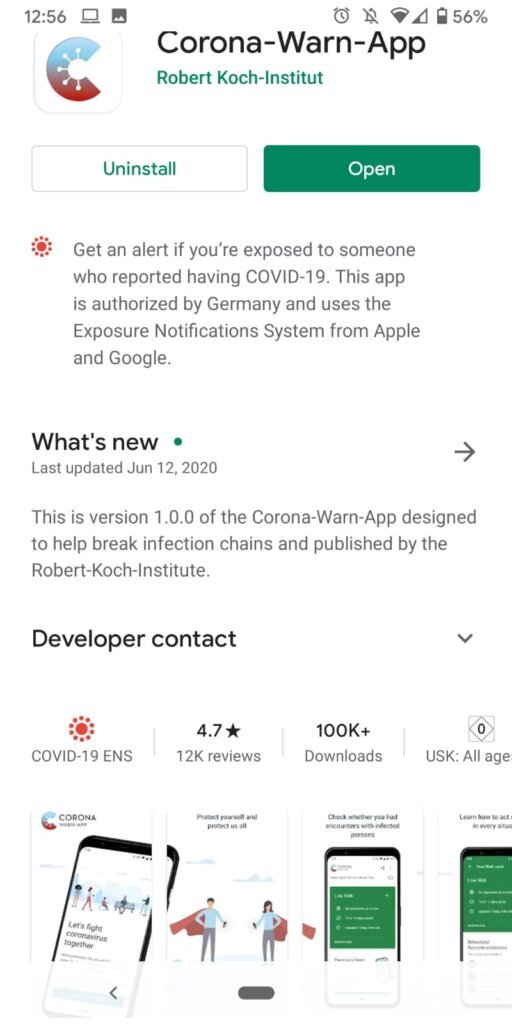 Final Notes About Corona-Warn-App
Early reviews on both app stores seem (for the most part) quite promising!
It's important to note however that there are certain limitations we must consider. For one, a common criticism is that the app relies strictly on self-reporting. App users are only notified about potential exposure when a positive diagnosis is recorded by the infected individual, which means of course that the app relies on a sort of 'honesty policy'.
There are also doubts about the accuracy of Bluetooth signals, which some have argued are usually only accurate about 80% of the time. This is of course added onto the fact that many people turn Bluetooth off as a habit to preserve battery. So, remember folks, keep Bluetooth on if you want this app to work properly for you!
All this considered though, we still think the app is worth downloading, especially because the effectiveness of the app improves as more users get on board. While clear limitations do exist, it is certainly better than nothing at all, so be sure to download the app here for iOS devices and here for Android devices.