*FYI - this post may affiliate links, which means we earn a commission (at no extra cost to you) if you purchase from them. Also, as an Amazon Associate, I earn from qualifying purchases. For the full scoop on what this means, feel free to check out our Privacy Policy and Disclosure.
This roundup of the best Thai restaurants in Munich is sponsored by Kitchen Joy, pioneers of the 'Thai Cube', a genius frozen ready meal that makes it possible to enjoy an authentic Thai meal (prepared in Thailand!) in only 6 minutes. Click here to learn more.
Where can you get the best Thai food in Munich? This is a question that has haunted us ever since we moved to this glorious city.
Growing up in a place where authentic Asian cuisine was abundant, our tastebuds were a bit startled when we first moved here.
Sure we loved tucking into all the classic Bavarian fare (who doesn't love face-sized pretzels??), but soon we were craving international flavours – Thai in particular… only to be let down by one "ASIA RESTAURANT" after the next.
If you know the struggle of finding tasty, authentic Thai cuisine in Munich, then this article's for you!
To create this list of the best Thai restaurants in Munich, we partnered with Kitchen Joy to survey over 20 Thai locals that live in Munich.
We hope you find this list useful, and be sure to let us know in the comments if you have more Thai cuisine recommendations we missed!
First: Authentic Thai Food at Home in 6 Minutes
Before we launch into our list of top Thai restaurants in Munich, first we want to introduce you to the sponsors of today's post – Kitchen Joy, who make authentic Thai food cubes you can get from your local Rewe.
And when we say authentic, we mean it. The cubes are literally made from scratch in Thailand with local Thai ingredients, then frozen and sent to Germany.
From start to finish, you're only 6 minutes away from a hot and tasty meal straight from Thailand… perfect for an affordable meal at home, or those days when waiting for delivery feels impossible.
NOTE: 6 minutes is the recommended time for a 1000W microwave, but the timing might slightly differ depending on your own microwave settings, so be sure to double check the sauce is completely heated before you dig in!
They currently offer 6 different flavours of Thai Cubes in varying degrees of spiciness, including:
Panang Curry Chicken (with jasmine rice)
Spicy Sesame Chicken (with noodles)
Sweet Chili Chicken Teriyaki (with jasmine rice)
Red Curry Chicken (with jasmine rice)
Thai Sweet & Sour Chicken (with jasmine rice)
Creamy Green Curry Chicken (with noodles)
You can learn more about each flavour on their website here.
We first taste tested the Red Thai Curry, and honestly? It was one of the best microwave meals we've ever had.
6 minutes and we had a flavourful red curry with a generous amount of chicken, and a kick from the rich mix of coriander, sweet basil, lemongrass, kaffir lime and creamy coconut milk.
We find red Thai curries in Germany generally tend to be a bit sweet and lacking spice – but this had nice kick to it that reminded us of the authentic Thai places we'd frequent back home.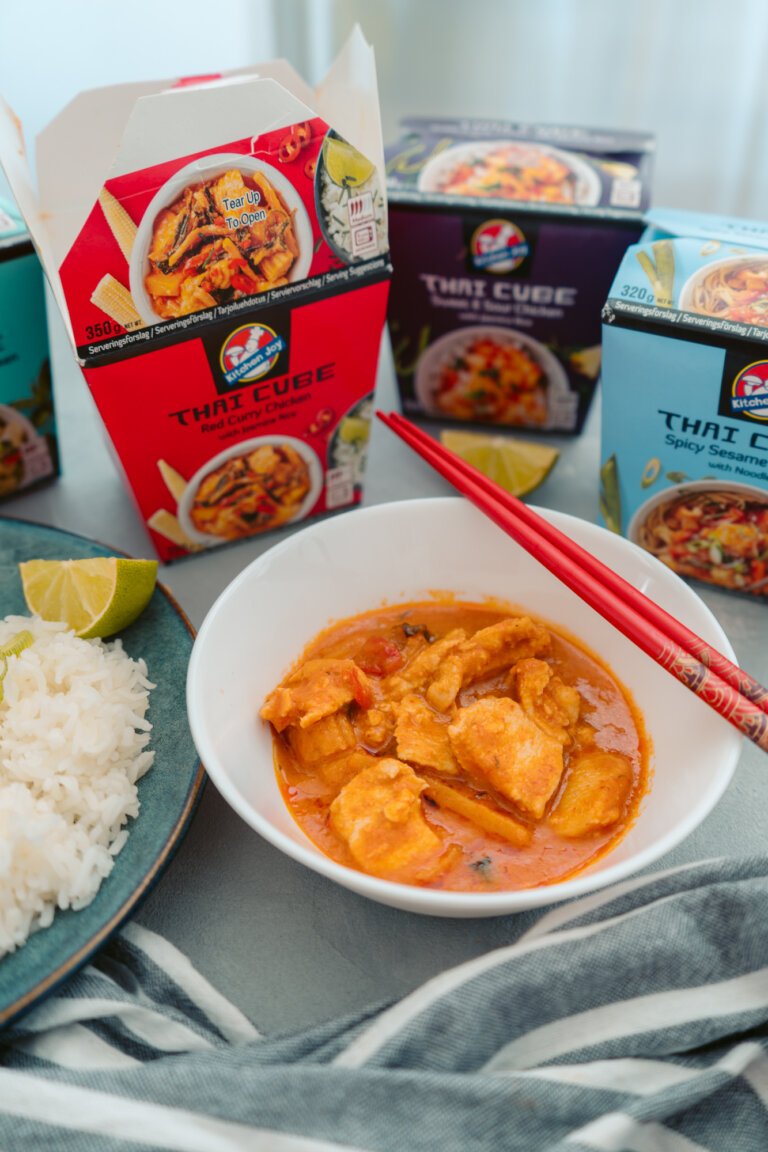 We also tried the Green Thai Curry, Spicy Sesame Chicken, and Thai Sweet and Sour Chicken later in the evening, all of which were takeout quality and really tasty. The Red Thai Curry is still our top recommendation though if you're only going to try one!
Anyways – you can click here for a Store Finder to find which local Rewe near you stocks these delightful Thai Cubes.
All that said, the instant gratification of a 6 minute meal is tough to beat, but if you're looking for Thai restaurants in Munich that are worth a visit, here are some must-tries that are Thai-approved!
The Best Thai Restaurants in Munich (As Recommended by Thai Locals!)
In no particular order, here are some of the top Thai restaurants that Thai locals count on for an excellent, authentic meal.
Mun Mun – Thai Cooking
Münchner Freiheit 18, 80802 München
The Bored in Munich team has been a fan of Mun Mun for years, so we felt weirdly validated when our local Thai friends voted it one of their top picks for authentic Thai cuisine in Munich.
Located at Münchner Freiheit, Mun Mun is a family-run Thai eatery with roots in Bangkok and Ubon Ratchatan, priding themselves on their traditional Thai cuisine made with exclusively fresh ingredients.
BONUS: All dishes at Mun Mun can also be made vegetarian, and are absolutely delicious!
Krua Thai Imbiss
Dachauer Str. 20, 80335 München
For a quick and affordable Thai meal that doesn't skimp on flavour and authenticity, Thai locals rave about Krua Thai Imbiss, located a short walk away from the bustle of Munich Hauptbahnhof.
This 'hole-in-the-wall' gem is a perfect spot to grab lunch, with an extensive and affordable menu that's all under 10 euros.
Some say this is where you'll find the best Pad Thai in the city, but we'll leave you to decide.
Ratchada Thai Restaurant & Bar
Schwanthalerstraße 8, 80336 München
Tucked away on a quiet street steps from the chaos of Stachus is Ratchada Thai Restaurant & Bar, another popular pick for authentic Thai cuisine in Munich.
Ratchada holds claim to the largest selection of Thai dishes in Munich, along with an extensive cocktail menu and a wonderful bonus for when dine-in is open again: nightly karaoke!
The cozy ambiance here (and karaoke of course) make Ratchada a great pick for an evening out, whether for a date night or with friends.
Rabiang Thai Restaurant
Georgenschwaigstraße 25, 80807 München
If you're looking to venture beyond Munich's central core, Rabiang Thai in Milbertshofen is a great bet for tasty and authentic Thai food in the northern part of the city.
Where Rabiang excels is its beautiful ambiance – with elegant decor perfectly suited for special occasions, and of course, indulging in the extensive menu made up of all your favourite Thai classics from pad thai to Thai hot pot.
Manam Thai Noodlesoup & Street Food
Rosenheimer Str. 34, 81669 München
Manam is another Bored in Munich favourite that we're almost reluctant to share because it's such a wonderful little secret… but it was consistently mentioned as a local Thai pick, so we had to include it.
Located on busy Rosenheimerstr, this tiny gem has long been hailed as one of the best Thai food places in Munich, specializing in affordable street food just like you'd get from a tiny stall in Thailand.
Prices are reasonable, food comes quickly, and you can watch as every meal is cooked fresh before your eyes (inevitable really because the place is tiny!) What more could you ask for?
Did we miss any of your favourite Thai restaurants in Munich?
Let us know in the comments, and we hope you found this list helpful!