*FYI - this post may affiliate links, which means we earn a commission (at no extra cost to you) if you purchase from them. Also, as an Amazon Associate, I earn from qualifying purchases. For the full scoop on what this means, feel free to check out our Privacy Policy and Disclosure.
Get ready to party-cipate in some of the hottest outdoor music and art events with this year's Munich summer festivals!
Whether you want to dance until the sun goes down, check out the work of the city's most creative residents, or chill out in the summer sun – check out our round-up of festivals to attend in Munich this summer.
Another Day Festival x Container Collective
Another day Festival returns with Part 5 of its Open Air Festival series at the Container Collective on May 20! The festival boasts three stages featuring a line-up of exciting acts to keep the crowds entertained.
From indie to electronic, the festival promises to offer a pure festival feeling for music lovers of all genres. Get ready to dance the day and night away with some of the best music acts around.
When: May 20, 2023 // 3 p.m. – 5 a.m
Where: Container Collective at Werksviertal Mitte
Cost: Tickets start at 14,20€ // See here for more details
Wannda Circus
A surreal conglomerate of colour, tents, art, music and workshops – the Wannda Circus has marched into town for the summer.
This festival runs continuously from May to August and has a variety of art exhibits, workshops and open airs to attend – the site is true to its name and has a real circus atmosphere. A place for creatives to thrive and dream alongside similarly minded people.
When: May 20, 2023 – September 3, 2023
Where: Various locations // Check their program here
Cost: 15€ // additional events and workshops vary in price
Another Day Festival x Praterninsel
On June 10th, the second edition of the 2023 Another day Festival will take place in the heart of Munich at Praterinsel.
Located directly on the Isar River, you can enjoy the sunshine at the open-air festival from 3pm, and continue the celebration in the vaulted cellars of Praterinsel from 10pm onwards. Don't miss this opportunity to party with us!
When: June 10, 2023 // 3 p.m. -5 a.m
Where: Praterninsel 3-4
Cost: Tickets start at 14,20€ // See more details here
Traumhänger Open Air Festival
Five stages across indoor and outdoor areas, Traumhänger promises to be a high-energy affair with electric Techno music setting the tone. With over 50 exceptional artists, food trucks, and chill-out areas, the festival offers an unforgettable experience for electronic music lovers.
And, to cap off the night, guests can look forward to a stunning fireworks display. Hurry and grab your tickets now as 80% of tickets have already been sold!
When: June 3, 2023
Where: Sugar Mountain
Cost: Tickets start at 30€ // Get more details here
Isle Of Summer
Isle of Summer is running one of Munich's biggest electronic music events this summer.
With a good mix of EDM and house music from both local and international stalwarts, pick from one of the sessions (beach or festival) and melt away into whatever vibe you choose.
When: Isle of Summer Festival – June 24, 2023 // Isle of Summer Beach – August 5, 2023
Where: Various locations // Check their program here
Cost:Tickets starting at 44.90€
Greenfields Open Air
9 Artists, 2 stages, 1 amazing day. One for lovers of house and techno, this year's lineup includes the likes of vets 'Papa' Sven Väth, Andhim and Maceo Plex.
Hit up Greenfields if you want to throw on your dancing shoes and groove until the sun goes down.
When: July 8, 2023
Where: Galopprennbahn München
Cost:45€ // Get more details here
Sommernachtstraum At Olympia Park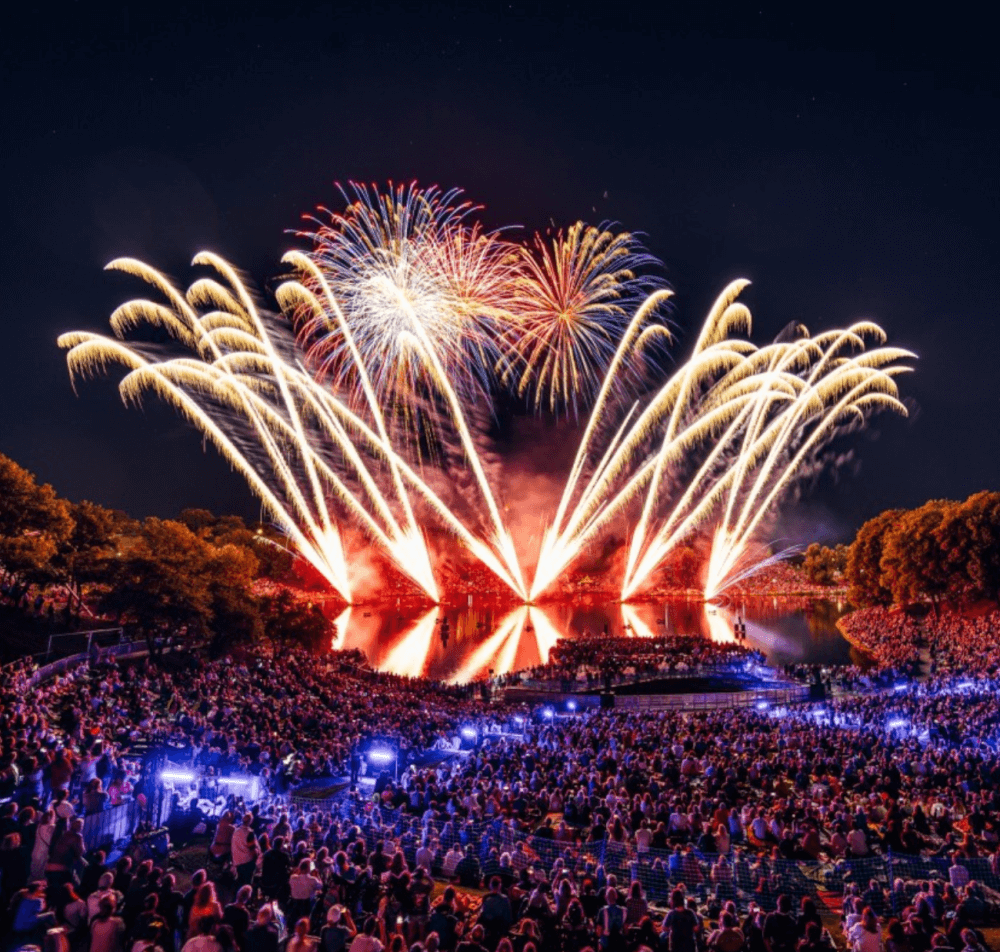 On July 15, the Olympic Park will be transformed into a magical atmosphere for a spectacular open-air event. With top-class live acts and Gentleman headlining, festival-goers can expect a night to remember.
Along with food from all over the world and artistic surprises, this event offers the perfect opportunity to unwind and take in the summer night. As the evening draws to a close, guests can gather around the Olympiasee to witness one of the biggest pyrotechnic shows in Germany.
When: July 15, 2023
Where: Spiridon-Louis-Ring 21
Cost: 45€ // Get more details here
Oben Ohne
For an astronomically low price an an ethos based on inclusivity – hit up Oben Ohne.
This one-day open air has a minimum entrance age of 12, is disability friendly (think wheel chair ramps, sign language interpreters), and tickets cost an iconic 5 EUR. With a mix of genres, this festival truly does have something for everyone.
When: July 22, 2023
Where: Königsplatz
Cost: Just 5€ // Get more details here
Superbloom
A true summer festy with some big international names (think Calvin Harris, David Guetta, Megan thee Stallion, Willow, and Macklemore), Superbloom is the chance for you to feast your senses on some of the world's current most popular artists and enjoy a carnival-like atmosphere.
When:  September 2, 2023 & September 3, 2023
Where: Olympiapark & Olympiastadion, München
Cost: Tickets start at 169€ // Get more details here
Any Other Munich Festivals Or Open Airs We Should Add To The List?
Let us know in the comments! And be sure to check out our Instagram & TikTok for more great locations in Munich!