*FYI - this post may affiliate links, which means we earn a commission (at no extra cost to you) if you purchase from them. Also, as an Amazon Associate, I earn from qualifying purchases. For the full scoop on what this means, feel free to check out our Privacy Policy and Disclosure.
Ah, Springtime in Munich; when the chill of winter fades away and the city awakens with the promise of a warmer, brighter, and beer filled future. And as part of the seasonal festivities, the Munich Frühlingsfest takes its place.
From the smell of sweet treats, to the sound of the carousel music and the sights of the amusement park rides, Frühlingsfest in Munich is a delightful April experience. If you have ever been to Munich in the Spring, you know just how special the city becomes during this time of year.
To pick up the best tips and tricks for navigating the festival, you won't want to miss out on this ultimate guide!
What Is The Munich Frühlingsfest / Springfest?
Munich Frühlingsfest, or Springfest, is a two-weekend celebration full of fun rides, food, and of course, enormous amounts of beer!

Aside from being the smaller sibling of Oktoberfest, Frühlingsfest is also much, much younger. It seems like just yesterday that Frühlingsfest began (only a little over 50 years ago) whereas Oktoberfest started way back in 1810.
Basically, Frühlingsfest began as a filler for people who couldn't wait for Oktoberfest, while its older sibling was first held as a royal wedding reception.
When Is The Munich Frühlingsfest?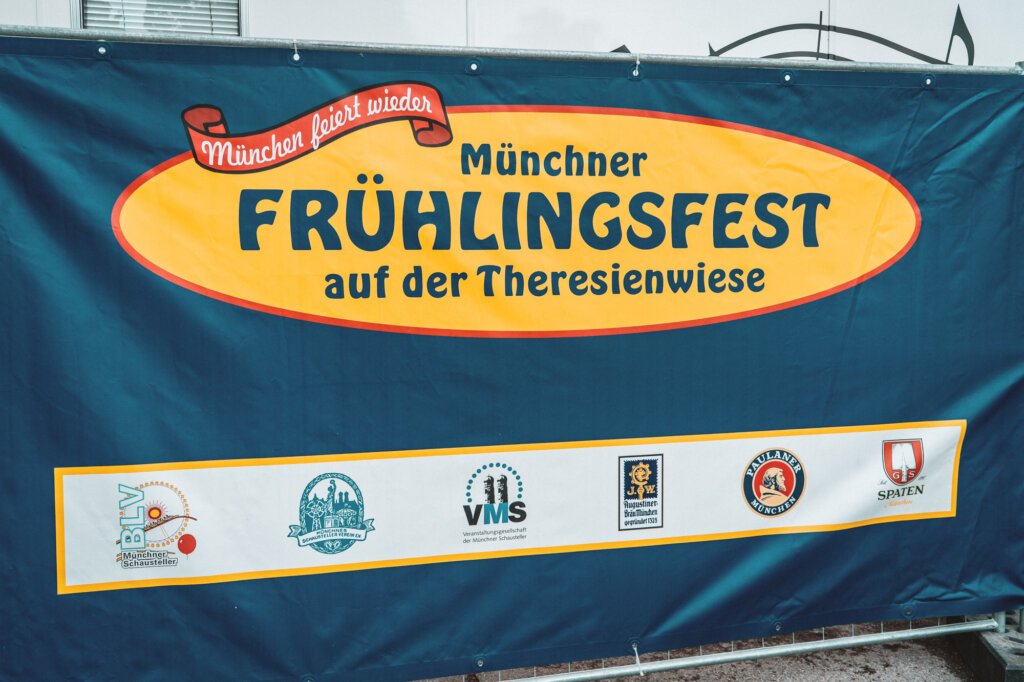 The Munich Frühlingsfest always takes place from the end of April to the start of May, and the best way to experience the Munich Frühlingsfest is to definitely plan ahead.
Frühlingsfest 2023 Dates
April 21, 2023 to May 7, 2023
Frühlingsfest Opening Times
Friday, April 21, 2023 // 4p.m – 11:30 p.m
Monday to Thursday // 11 a.m to 11 p.m
Friday // 11 a.m to 11:30 p.m
Weekend and May 1, 2023 // open from 10 a.m
Rides: Monday to Friday from 12 a.m // Saturday and Sunday from 11 a.m
The tents are open until 11 p.m and the last drinks will be served at 10.30 p.m
How Much Does The Munich Frühlingsfest Cost?
The admission and beer tent tickets for Munich Frühlingsfest are free, just as they are for Oktoberfest. Tickets for Frühlingsfest are not required and there is also no need to make beer tent reservations.
However, if you want to save a table for a special group or occasion, just know that reservations for Frühlingsfest beer tents are only possible for full 10-person tables and must be made directly with the beer tent owners.
Munich Frühlingsfest 2023 Beer Prices
A maß of beer in the Festhalle Bayernland tent: 12,40€
A maß of beer in the Hippodrom tent: tbd (but one can assume it will be similar!)
How To Get To The Munich Frühlingsfest
Getting around the city in general with the Munich public transit system is pretty easy. And luckily lots of stations are located close to the event grounds, so you'll find yourself at the festivities in no time!
Arriving In Munich By Plane
In case you are planning to arrive by air, you should become familiar with Munich's two airports: If you arrive at Munich's main airport, the S1 and S8 S-Bahn trains will take you directly into down town Munich every 20 minutes. This trip takes about 45 minutes and costs less than 10 euros.
For those arriving at the second Munich airport, a bit farther out and usually where Ryan Air or other European flights get the best deals, there are several shuttles that operate daily from Allgäu-Airport Memmingen to Munich's main train station (Hauptbahnhof). The trip takes almost an hour and a half since it's a little further out.
Arriving In Munich By Car Or Bus
The city is easily accessible by train, bus, and car (if you want to brave the German autobahn, that is…). If you are planning to travel from elsewhere in Europe, look to take trains that end at Munich Hauptbahnhof, right in the heart of the city. And make sure your bus journey ends at Munich's main bus station, the ZOB.
To get to the festivities with ease within Munich, the best way to go is with public transportation.
Ubahn
U4 or U5 to Theresienwiese or Schwanthalerhöhe
U3 or U6 to Goetheplatz or Poccistraße
Sbahn
The S1 – S8 to Hackerbrücke and then about a 10-15 minute walk
Tram
Tram lines 16 or 17 to Hackerbrücke and then about a 10-15 minute walk
Tram lines 18 or 19 to Hermann-Lingg-Straße and then a 10 minute walk
Bus
Bus 53 to Schwanthalerhöhe
Bus 58 to Georg-Hirth-Platz, Beethovenplatz or Goetheplatz
Bus 62 to Hans-Fischer-Straße, Poccistraße or Herzog-Ernst-Platz
Bus 134 to Theresienhöhe or Schwanthalerhöhe
Important Dates For Munich Frühlingsfest 2023
Did you know that the Munich Frühlingsfest also has a cool calendar of events like fireworks or family days? If not, just keep reading to find out!
Family Days
Families with kids can enjoy special deals and reduced prices on Tuesday afternoons from 12-7pm.
Firework Fridays
Usually, Fireworks shows will be held on both Fridays of the festival at 10p.m. Getting there early is important if you're hoping to get a good view, because these times can usually be prettttyy crowded!
Flea market of the Bavarian Red Cross
In the early morning of Saturday April 22, 2023 , the traders set up their stalls to await bargain hunters at 7 a.m. The BRK (Bavarian Red Cross) flea market has been part of the Spring Festival for over thirty years and is actually one of the largest in southern Germany.
Vintage Car Meeting Of The Automobil Club München (ACM)
As soon as 2 p.m. approaches on Sunday April 23, 2023, proud classic car owners will arrive at Theresienwiese with their vehicles. It has been a tradition of the ACM to organize the classic car meeting below the Bavaria Statue since 2006.
Cars such as pre-war models, VW Beetles, Opel Mantas, noble sports cars, and American chrome sleighs can be found in the car exhibition. And at the Old-timer Corso starting at 10 a.m., classic cars of special value will be displayed.
Day Of Customs And Bavarian Music
Starting at 11 a.m on Sunday April 30, 2023, As part of the Frühlingsfest weekend finale, you can hear local Munich and Bavarian groups performing Schuhplattler, Goaßlschnalzen and brass band music.
What Beer Tents Are At Munich Frühlingsfest?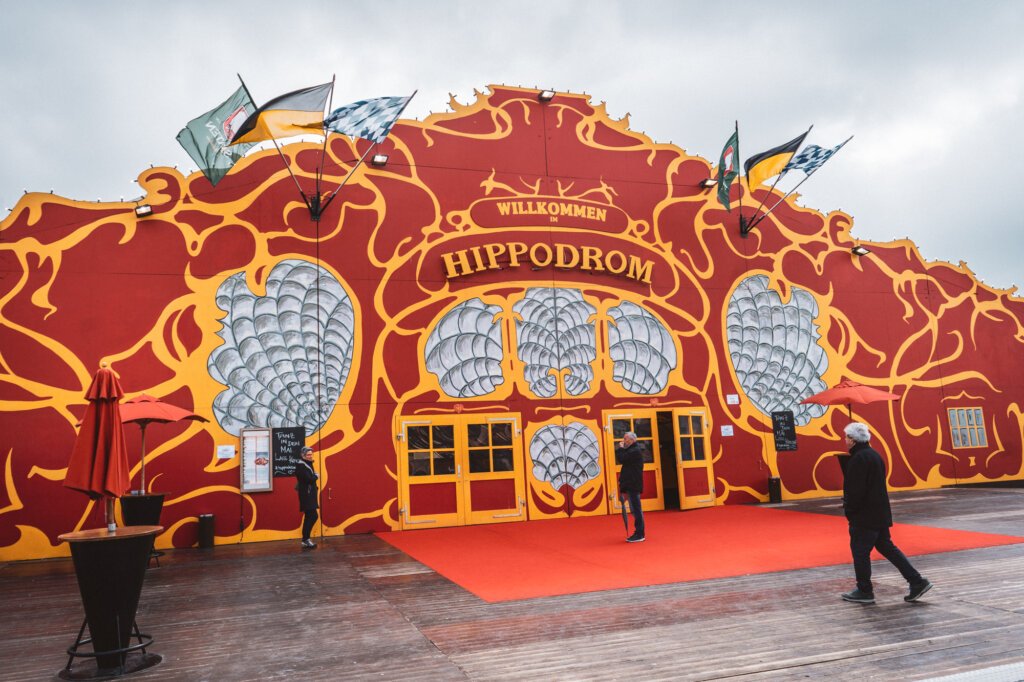 One of the main differences between the Frühlingsfest and Oktoberfest is the size..hence the nickname of 'Oktoberfest's little sister'..
Instead of the big collection of 15+ tents you find at the Oktoberfest, Frühlingsfest has a klein aber fein (German for small but great) duo.
This is the classic Bavarian blue adorned tent serving one of Munich's six founding beer fathers, the delicious Augustiner brew. The Festhalle Bayernland tent is the oldest tent at the Frühlingsfest as well as a favourite for locals. Check out their menu online here to see the prices and, to our excitement, alll the delicious photos!
Although Hippodrom is technically the smaller of the two, don't let it fool you, this tent offer seating for about 2000! This tent is common for offering a venue for day time business crowds, Spaten beer and even a cocktail bar. ..Here's their menu from last year for a little reference, unfortunately no updated one for this year has been posted yet.
What To Eat And Drink At The Munich Frühlingsfest
If you're planning a trip to Munich for the Frühlingsfest, you'll want to know what to eat and drink! The Munich Spring festival is a fantastic German celebration, and the food and drinks are an integral part of the experience.
Bavarian specialties such as Weißwurst (Bavarian white sausage), Brezn (pretzel), and Obatzda (a spicy cheese spread) are popular favourites. Then wash it all down with a maß (a liter glass of beer) or a Radler (a German classic mix of sprite and beer) and you'll be ready to join the fun!

Traditional German dishes such as Schweinsbraten (roast pork) or Knödel (dumplings) are also common fare at the Munich Frühlingsfest. There are also a variety of non-alcoholic drinks available such as Apfelschorle (apple juice mixed with sparkling water) and Spezi ( Our personal favourite, a soda mixture of cola and fanta flavor).
Of course, don't forget to finish off your meal with a hearty helping of Kaiserschmarrn ( a tasty pancake dessert, pictured below!).
Whether you're looking for a traditional German meal or a casual snack, Munich Frühlingsfest has something for everyone!
Final Tips For Attending Munich Frühlingsfest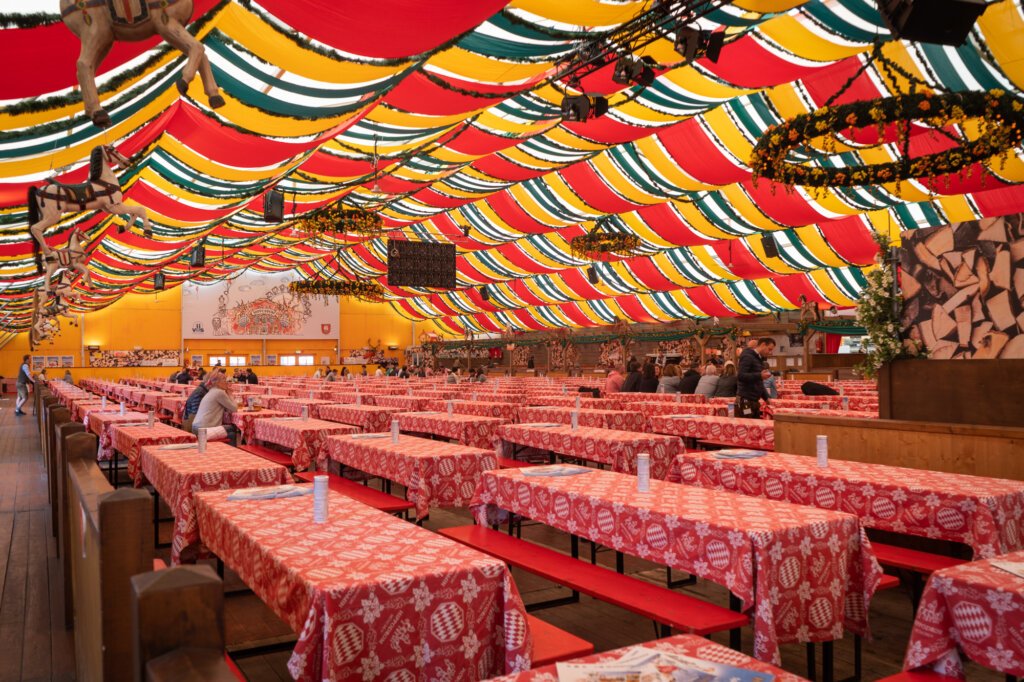 Once you've decided to visit the Munich Frühlingsfest, make sure you plan ahead to make the most of your trip. We've added a couple common topical tips here to do our best to support that!
Bring plenty of cash (coins included!) As the Frühlingsfest is mostly a cash-only event this is essential to paying and naturally giving your servers a well-deserved tip for carrying those big glasses through the chaos.
Be sure to wear comfortable shoes and watch out for the weather. In Spring it can be incredibly chilly or wet. Ideally, dress in layers so you can be equally comfortable when you're in the hot tent or walking outside.
PACE YOURSELF. Sorry for shouting, but we've all been here before and want to warn our fellow foreigners about the hazards rapidly drinking multiple litres of German beer can do.
Looking For More Information About The Munich Frühlingsfest?
Feel free to ask below and we'll try to get an answer back to you! And be sure to check out our Instagram & TikTok for more content coming up!