*FYI - this post may affiliate links, which means we earn a commission (at no extra cost to you) if you purchase from them. Also, as an Amazon Associate, I earn from qualifying purchases. For the full scoop on what this means, feel free to check out our Privacy Policy and Disclosure.
Looking for your next vegan dinner spot? Keep calm and carrot on – because we've rounded up the most delectable vegan restaurants in Munich!
Think Munich is all about meat? Boy oh boy are you in for a surprise! Our lovely city is chock full of scrumptious plant based eats for all occasions.
Whether you are on the hunt for some fun and animal free junk food, a fancy dinner date spot or simply a stunning beef-less burger, we've thrown together this ultimate guide of Munich vegan restaurants that we are sure will suit all your needs!
P.s if you are not super hungry, just a tad bit peckish or perhaps perusing for a treat, we've also got a great guide for vegan cafes and delis in Munich here!
Bodhi
With an uncluttered, beautiful interior you can feast on a huge range of vegan pastas, burgers, salads and steaks.
Choose to wash it down with one of their creative cocktails – or better yet, spend some time perusing through the extensive whisky collection.
We'd whole heartedly recommend taking part in their Brunch special (offered on Sundays) – for 29 EUR per person you're offered a 100% vegan smorgasbord – inclusive of Prosecco and a variety of juices and soft drinks.
Address: Ligsalzstraße 23, 80339
Our Order: Their 'all you can eat' Sunday Brunch special
Opening times: Monday to Friday, , Saturday 12pm – 11:45pm, Sunday 10am-3pm, 5pm-11:45pm
Emmi's Kitchen
One of Munich's best kept secrets, Emmi's Kitchen (in Glockenbachviertel ) is hidden down in a Hof with the most beautiful verdant garden (definitely one of our summer favourites). Here you'll find BBQ style vegan offerings (think burgers and sausages), as well as classic brunch fare.
Not keen on or close to Glockenbach? Check out their other locations at Giesing and Schwabing (though we are big advocates for the Glockenbachviertel garden in summer!)
Address: Buttermelcherstraße 11-15
Our Order: Crispy Jalapeño Cheese Burger (gluten free version available also, woohoo!)
Opening times: Monday to Sunday 9am – 5pm
Soy
Fresh, bright Vietnamese food and some serious interior inspo – Soy is one of our favourites for relaxed vibes and insane variety.
All ingredients and spices are carefully selected – and if you're looking to turn someone on to Tofu, the dishes this kitchen are putting out are guaranteed to knock your socks off.
Address: Theresienstraße 93
Our Order: Lau Chay Hot Pot
Opening times: Monday to Friday 11:30am – 2:30pm, 5pm – 11:30pm. Saturday 5pm – 11:30pm, Sunday 2pm – 11:30pm
Vegan Junkhouse Club
Who said vegan food had to be exceptionally healthy? When you're craving a guilty pleasure but need it to be cruelty free, Vegan Junkhouse Club has all that your plant based heart desires.
This menu is loaded with classic comfort eats – burgers, hot dogs, pizzas, snacks – and a fair few delicious tipples. The self proclaimed 'punks' of veganism – you'll find yourself ordering cheekily named dishes left right and centre.
Address: Kellerstraße 29
Our Order: Wall of Bread for Breakfast, Horny Fried Hotdog for Lunch
Opening times: Monday to Wednesday 5pm – 10pm, Thursday 5pm – 11pm, Friday 5pm – 12am, Saturday 11am- 12am, Sunday 11am-9pmsday & Friday 9.30am – 8pm, Saturday 10am to 8pm
Doctor Drooly
It's pretty hard not to drool over the juicy pizzas on offer from Doctor Drooly.
With 54 hour fermented sourdough bases, generously chewy, puffy crusts – and a stunning range of vegan cheeses (they've nailed the blue for fans of the stinky stuff), these pizzas bang baby.
Address: Adlzreiterstraße 28
Our Order: Alla Nonna (San Marzano Tomatoes, Mozzarella, Parmesan, Rucola, Pomodori Secchi, Salted Pistachio, Lemon, Chill, Pangrattato)
Opening times: Wednesday-Friday 4pm-10pm, Saturday& Sunday 12pm – 10pm
Chay Vegan
This unassuming hideaway a few blocks down from Olympiapark is one of our favourites for a balanced, healthy meal.
Primarily Vietnamese (and we love tucking into a bowl of Pho) – but the stand out for us is the Vegan Sushi – we can hoon plates on plates of the 'Salmon' Nigiri.
Address: Volkartstraße 70
Our Order: A selection of sushi/sashimi
Opening times: Monday to Saturday 5pm-10pm, Sunday 1pm – 10pm
Sanktannas
A self proclaimed 'alpine eatery' – here you'll find local favourites enjoyed in Southern Tyrol, conveniently right on Munich's own Gaertnerplatz.
Think hearty soups and dumplings (Bala) – this traditional fare has undergone an urban transformation and an aesthetic one, every plate is presented with the utmost care.
Address: Gärtnerpl. 1
Our Order: Mushroom Bala
Opening times: Tuesday to Thursday 11am-11pm, Friday 11am – 12am, Saturday 10am – 12am, Sunday 10am – 10pm
Max Pett
Right on Sendlinger Tor you'll find this quiet, cosy, alcohol-free terrace with an ever changing menu, focussing on local and seasonal ingredients.
Most dishes are geared to the quintessentially German palate (Soy Schnitzel we're looking at you) – if you're looking to relax and have a quiet meal this is the spot for you.
We'd definitely recommend saving room to try one of the home-made vegan ice creams as well 😉
Address: Pettenkoferstraße 8
Our Order: Soy Schnitzel and a Snickers Ice Cream
Opening times: Tuesday to Thursday 5pm – 11pm, Friday to Sunday 11.30am – 11pm
The Gratitude Eatery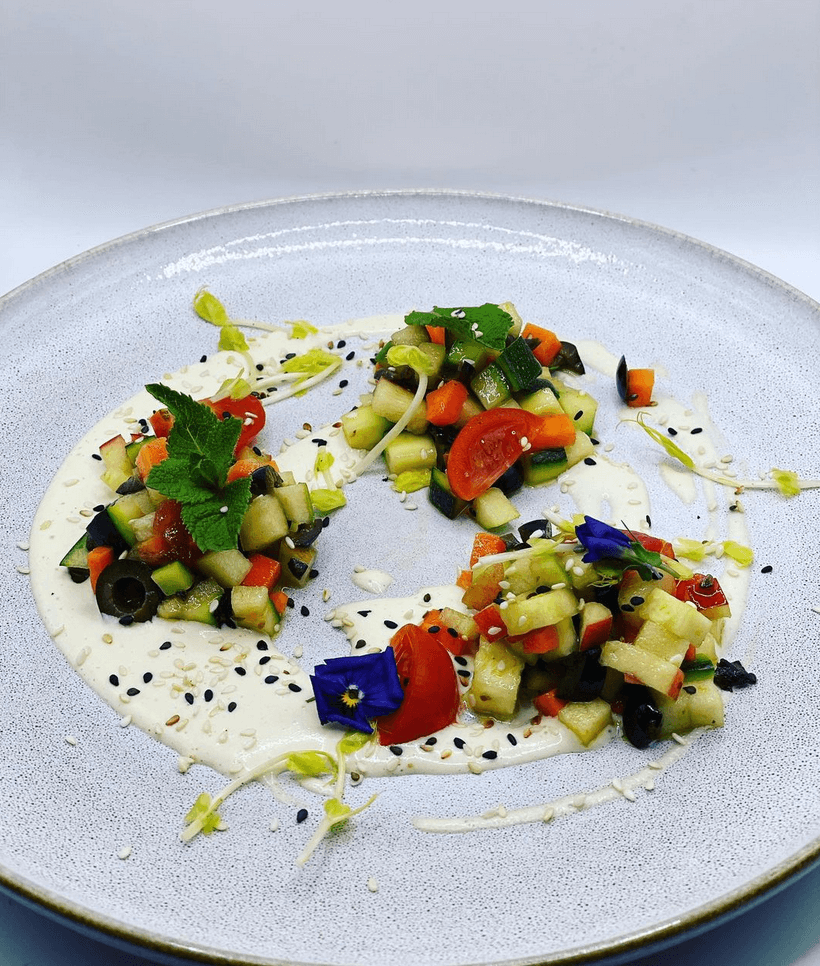 Right in the heart of Maxvorstadt, you'll be grateful to find The Gratitude Eatery.
It's small, colourful and eclectic, but still packs a punch – with a large menu of beautifully prepared meals, and some quite excellent cocktails.
Address: Türkenstraße 55
Our Order: Lemon Risotto and a Gin/Matcha/Coconut cocktail
Opening times: Tuesday to Saturday 6pm – 11pm
Secret Garden
Dark, luxe, and draped with greenery – Secret Garden is one of Munich's newest and best kept secrets.
Just a 2 minute walk from Viktualienmarkt, this fully vegan, high end sushi restaurant is one you won't want to miss. Creative, stunning rices and rolls await you – you'll find it difficult to choose.
Address: Heiliggeiststraße 2 A
Our Order: Signature Plate by Trungs Art – so you can try it all
Opening times: Monday to Friday 12pm-3pm / 5pm-11pm, Saturday 12pm – 11pm, Sunday 1pm – 11pm
Siggis
With the ethos on what it means to be vegan underpinning every choice they make (hello fair trade ingredients and publicly available sustainability stats), Siggis is a great one stop shop to meet all your needs.
With delicious sandwiches and coffees to go, and a bustling, atmospheric dining space for those sticking around – we love this laid back cafe for their choices, attention to detail and allergens, and the pride they take in the meals they put out.
Address: Buttermelcherstraße 17
Our Order: Oriental Breakfast or the Yummy Lasagne
Opening times: Tuesday to Friday 5pm – 11pm, Saturday & Sunday 10am – 11pm – 4pm
Vegelangelo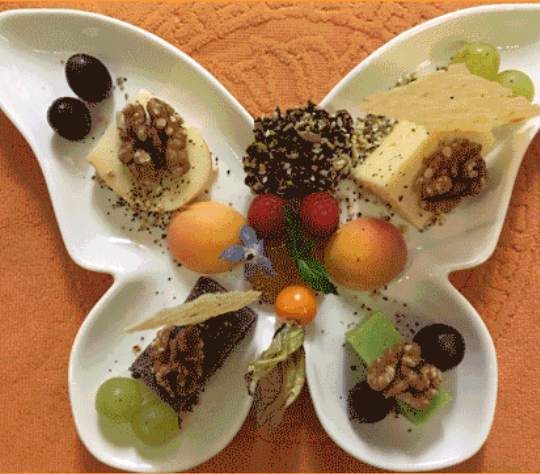 For something special, head to Vegelangelo – situated smack bang in the center of the city (close to Marienplatz). They offer a 3 course set menu (with options ofc) for just 28 EUR which changes weekly – you're guaranteed a smorgasbord of incredibly tasty, thoughtful dishes.
We'd recommend reserving for this one as it's a one man operation – but it's a meal you won't forget.
Address: Thomas-Wimmer-Ring 16
Opening times: Monday to Saturday 6pm – 10pm
Any Other Munich Vegan Restaurants We Should Add to The List?
Let us know in the comments or if you are interested in more food and drinks finds, browse our Foodie Friday archives, our Munich food archives, and of course our Instagram & TikTok.