*FYI - this post may affiliate links, which means we earn a commission (at no extra cost to you) if you purchase from them. Also, as an Amazon Associate, I earn from qualifying purchases. For the full scoop on what this means, feel free to check out our Privacy Policy and Disclosure.
With the wealth of Vegan Cafés and Delis in Munich, tantalising your tastebuds while staying plant based couldn't be an easier option – if you're looking to find love in a vegan plate – check out some of our favourites below!
Whether you're enjoying an annual diet detox or you simply prefer to keep things animal free and dairy free, Munich has plant-y of options to help you live every month like it's Veganuary.
☕ Vegan Cafes In Munich
Om Nom Nom Café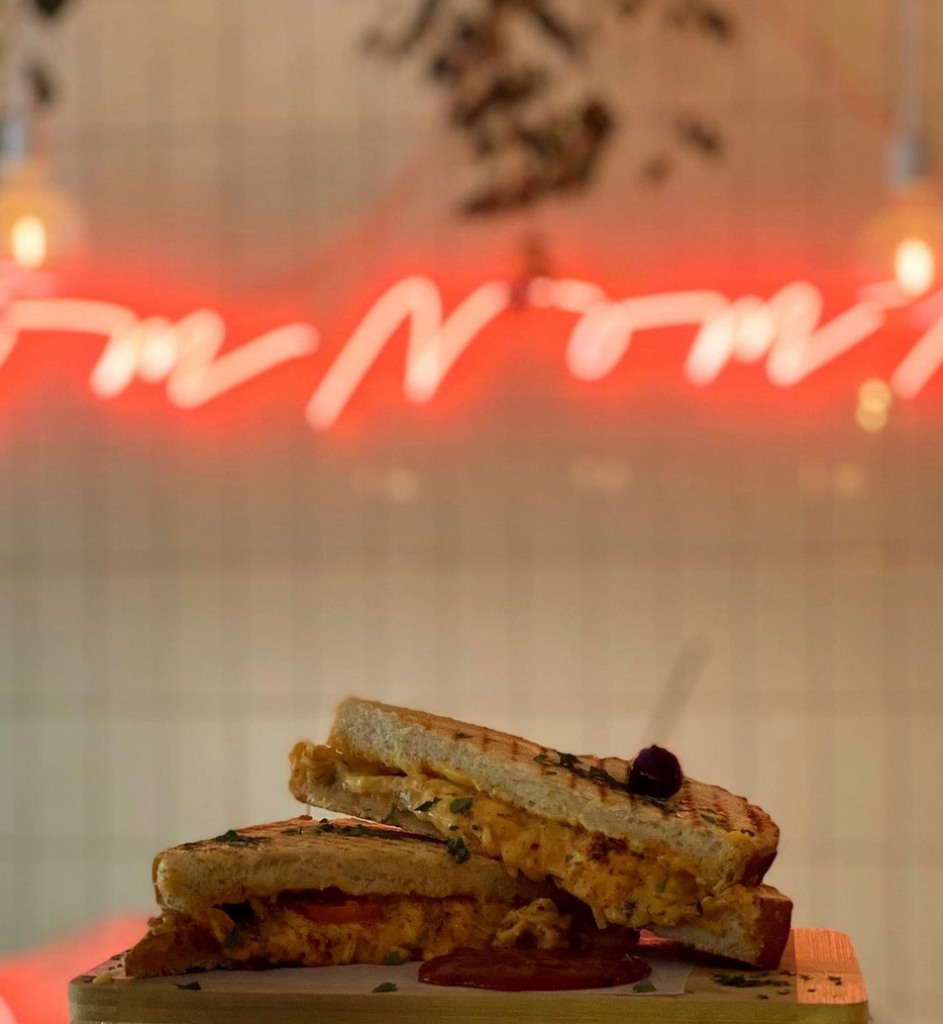 The only place in Munich you will find a fully vegan cheese platter – Om Nom Nom has only gone and upped and renovated an old Butchery in Sendling, and transformed it into a beautiful, pink, plant-based space.
The cakes are beautiful, the cheeseboard is phenomenal – but we'd recommend you go for their signature special – the classic grilled 'cheese' sandwich.
Address: Oberländerstraße 24a
Our Order: The Grilled Cheese (and we'd recommend the add in of truffles and artichoke ? )
Opening times: Monday to Wednesday 10am – 4pm, Thursday & Friday 10am – 6pm, Saturday 10am – 4pm
Isabella Glutenfreie Pâtisserie
For a hallmark institution with a few locations across the country – also named as one of the best cafés in Germany in 2022, look no further than Isabella.
With a gorgeous range of patisserie classics (think macarons, cakes, and pralines), and a huge drink selection – this spot in the Hackenviertel is the perfect place to indulge in Kaffee und Kuchen.
It's exclusively gluten free, but the vegan options are predominant and clearly marked, with several lactose free treats also on offer.
Address: Hackenstraße 4
Our Order: Any of the sweet treats (you can't go wrong) – but we also love the Home-made Vegan Pecan Granola (pecans, coconut blossom sugar and Omega 3)
Opening times: Monday to Saturday 9.30am – 6pm, Sunday 10am – 6pm
Oooh Baby I Like It Raw
With a name like that, we couldn't walk past – and neither should you. This is a mellow spot by Isartor with an excellent brunch menu – think freshly made bagels and bowls with an emphasis on raw ingredients.
The vegan/vegetarian selection dominates the menu – and staff are happy to customise to suit your dietary needs.
Address: Rumfordstraße 39
Our Order: A piece of their daily cake (new options regularly!) or a big veggie bagel brunch
Opening times: Monday to Sunday 9am – 5pm
Tushita Teehaus
This is one of the most serene places in Munich – an homage to the Japscandi aesthetic (forest greens, warm natural stones and woods), you'd be hard pressed to find a better cuppa in the city.
The tea selection is impressive – as is their exclusively vegan menu. Everything is grown organically and the menu is seasonal with an emphasis on health and freshness – Chinese dietetics underpin the philosophy of the menu.
Address: Klenzestraße 53
Our Order: Chai and a Matcha Cake
Opening times: Monday to Wednesday 11.30am – 8pm; Thursday & Friday 9.30am – 8pm, Saturday 10am to 8pm
Wagners Juicery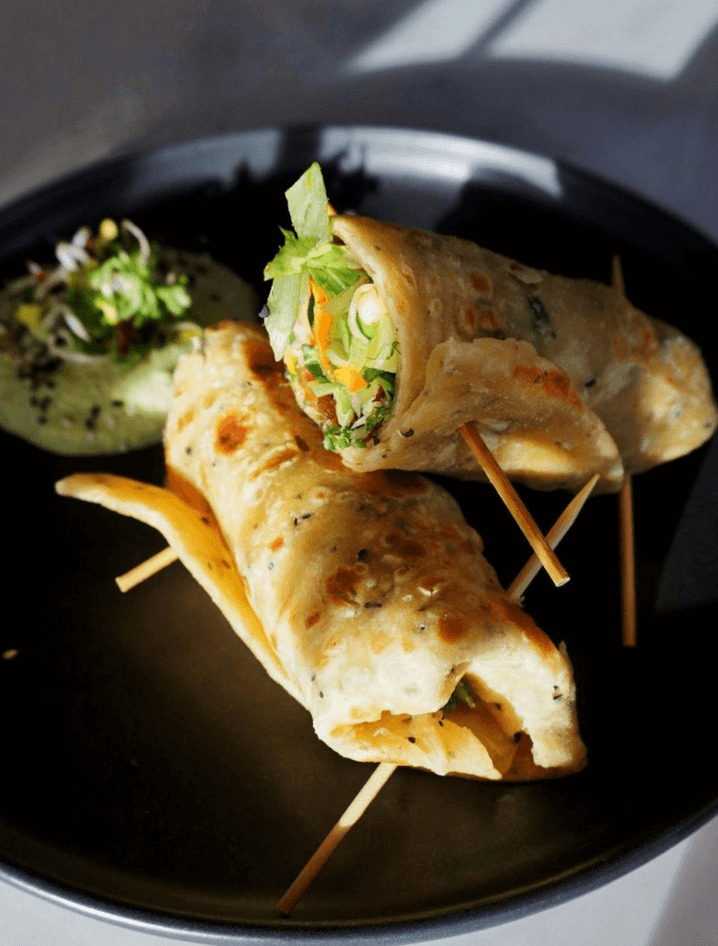 Come for the juices, stay for the plant-based eats. Wagners is a health conscious, minimalist chic café serving up smoothies, fruit bowls and salads. Everything is plant based and delicious – if you're one for add-ons and creative ingredients, Wagners is for you.
Address: Fraunhoferstraße 43
Our Order: Pe'ahi Smoothie (raspberries, peanut butter, cherries, plant-based protein, rice milk, acerola) and an Indian Summer Wrap (masala chapati, seitan, mango sauce, carrots, sprouts, fresh herbs, lime & mint dressing)
Opening times: Monday to Saturday 8am – 5pm
Café Lozzi
Don't sleep on Lozzi – a shabby chic café/bar hybrid full of colour, coffee, and vegan treats. With regular live music, readings, workshops and sessions, this is one of our favourite spots to hang out.
All baking is done in house and there is a huge variety of options which change daily.
Address: Pestalozzistraße 8
Our Order: Vegan Cinnamon Roll
Opening times: Tuesday to Thursday 12pm-11pm, Friday 12pm – 12am, Saturday 9am – 12am, Sunday 10am – 6pm
Café Ignaz
This wholesome family-run café is a great place for a quick bite or a hearty feed. Park up on the terrace and grab something from the buffet or a sweet something. The staff are lovely, the vibe is cozy, and the menu is creative – there's a lot to love.
Address: Georgenstraße 67
Our Order: Vegan Rhubarb Cheesecake OR Gnocchi from the daily menu
Opening times: Wednesday to Friday 10.30am – 10pm, Saturday 8am – 10pm, Sunday 8am – 9pm
Togather
With a gorgeous space and a long communal table for solo diners, Togather has something for everyone. Focussing primarily on nourishing vegan and plant based food (though there are also several non-vegan options), this is a great place to head for brunch.
Our favourite thing to do though? Pre-order a brunch box to take away and have a picnic with your friends!
Address: Schwanthalerstraße 160
Our Order: Vegan Chicken Caesar salad, Brunch Box
Opening times: Wednesday & Thursday 11.30am – 11pm, Friday 10am – 12am, Saturday 10am – 12am, Sunday 9am – 10pm
Café Omo
A true tastebud tickler – Café Omo is an Ethiopian restaurant you don't want to miss. A cosy dining room filled with Ethiopian art and basketry – and comforting stews to die for.
Definitely take your order with a side of Injera – a sourdough (gluten free), spongy flatbread to mop everything up.
Address: Zenettistraße 25
Our Order: Beyaynetu (a plate full of various vegan sauces/curries) with Injera
Opening times: Wednesday to Saturday 5.30pm – 10pm, Sunday 5.30pm – 9pm
? Vegan Delis In Munich
Deli Kitchen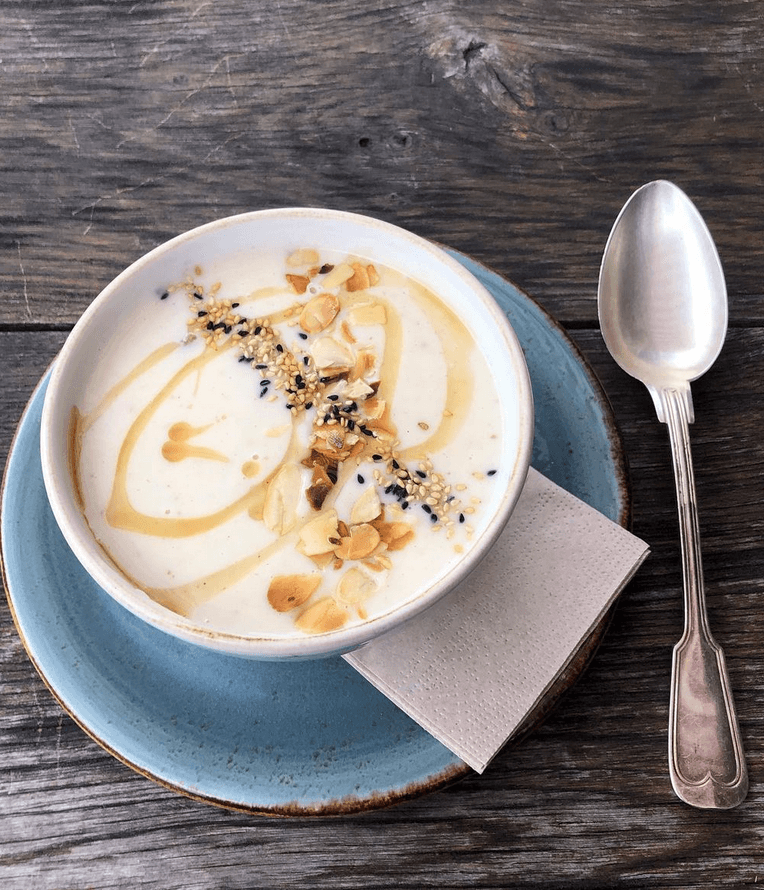 Tucked away in Obergiesing you'll find this gorgeous deli style café. Cosy (but with outdoor seating), you'll find the vegan baked section is unparalleled (looking at you Jamaican Ginger & Banana Bread) and the deli style lunch options (think soups and salads) delicious.
Address: Gietlstraße 17
Our Order: Jamaican Ginger & Banana Bread or one of their dazzling daily soups
Opening times: Monday to Sunday 10am – 5pm
Lono Vegan Deli
Spectacularly and exclusively vegan, Lono marries deliciousness with the importance of a sustainable, plant based future.
Whether you're looking to do your grocery shop (the range is fantastic), or choose something from the deli (think antipasti, bowls, creative salads, spreads, cheeses and baked goods) – you're bound to find something new and exciting to try.
Address: Kazmairstraße 38
Our Order: Spicy rice salad
Opening times: Monday to Wednesday 9am – 4pm, Thursday & Friday 9am – 7pm, Saturday 10am – 4pm
The Vegan Affair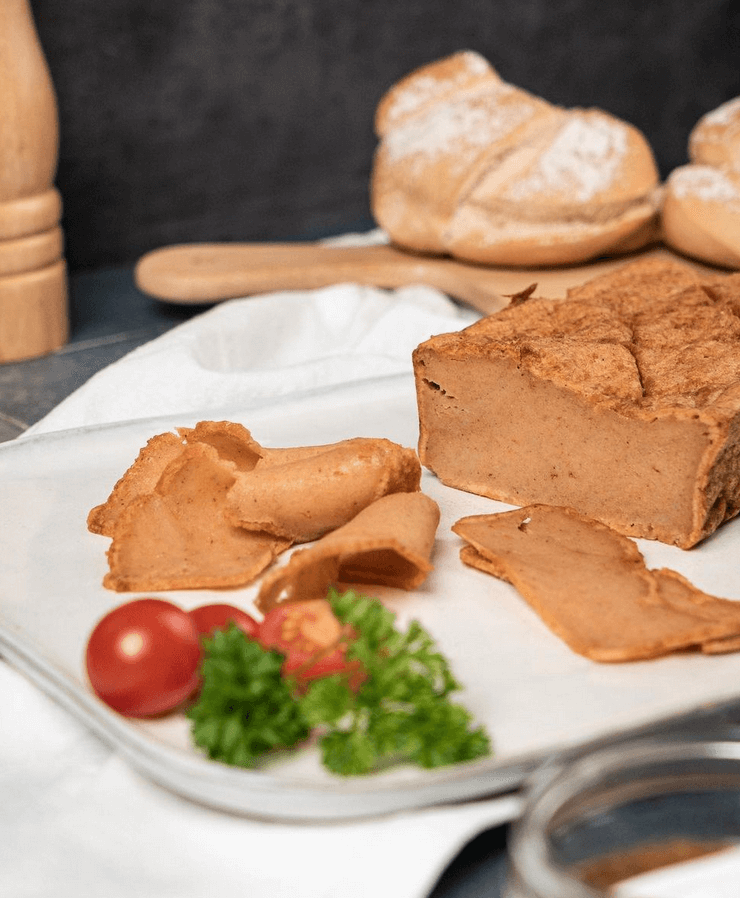 One of our favourite spots to pick up deli staples (think vegan cheeses, sausages, tofu and tempeh – all unpackaged and plastic free), we love how The Vegan Affair also offers plant based versions of traditional German and Bavarian snacks (think Liebeskas Semmel and fleischpanzerl).
Address: Reichenbachstraße 29
Our Order: Liebeskas Semmel or a Madame Jil Laugenstangerl
Opening times: Monday to Wednesday 8am – 3pm, Thursday & Friday 8am – 6pm, Saturday 10am – 6pm
Noams
The best counter in Glockenbachviertel – Noams is a laid back vegetarian deli (with lots of vegan options) where you can pick and choose from various bowls, salads, soups and treats.
In our humble opinion – the sweet potato bread here slaps.
Address: Holzstraße 19
Our Order: Protein Bowl and Sweet Potato Bread
Opening times: Monday to Friday 9am – 7pm, Saturday 9am – 4pm
Any Other Munich Vegan Cafes Or Delis We Should Add to The List?
Let us know in the comments or if you are interested in more food and drinks finds, browse our Foodie Friday archives, our Munich food archives, and of course our Instagram & TikTok.