*FYI - this post may affiliate links, which means we earn a commission (at no extra cost to you) if you purchase from them. Also, as an Amazon Associate, I earn from qualifying purchases. For the full scoop on what this means, feel free to check out our Privacy Policy and Disclosure.
In keeping with their tradition of great holiday experiences, Munich offers a wide variety of New Year's Eve events, fireworks displays, Christmas markets, beer gardens, and live performances…but most importantly, amazing restaurants for your NYE dinner!
Without further Here are 7 amazing restaurants to have your New Year's eve dinner in Munich!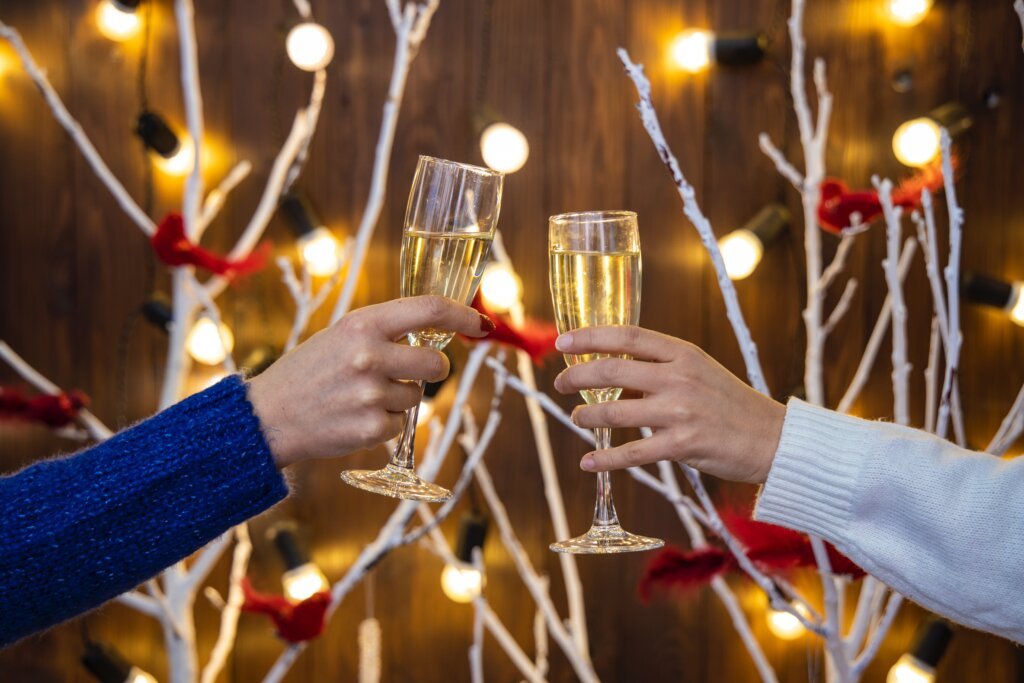 Silvester Gala at Deutsche Eiche
The Deutsche Eiche's Silvester Gala is an iconic Munich establishment, and their restaurant is one of the best places to eat your New Year's Eve dinner in Munich.
The restaurant, which used to be famed for its robust fare, has undergone several changes in order to make sure it offers a little bit of something for everyone.
The once-homey restaurant now serves Bavarian fare with cosmopolitan flare and smaller plates. Traditional foods like a roast pig and other classics, as well as contemporary cuisine, may now be found on the daily changing and permanent menus.
Where: Hotel Deutsche Eiche // Reichenbachstraße 13
Cost: Main dishes start from €10.50 while their drinks start from €2.90
Frau Im Mond
Get your party started with some delicious beverages and cuisine in Munich's coolest new restaurant/bar; Frau im Mond.
You can join them as they countdown 2022 above the rooftops of Munich. They also have one of the top New Year's Eve dinner in Munich. You can have your meal with or without wine pairings.
The NYE party doors open with a DJ and dinner at 19:00 and 19:30 on the 31st of December, 2022.
Where:  Museumsinsel 1
Cost: Frau im Mond has two New Year's Eve dinner menus, The one with wine costs €202, while the one without wine is €150.
Kinchia Sushi And Wine Bar
Japanese food at Kinchia is an adventure for not only the taste buds, but all senses! Immersed in a medley of colours, scents, and flavours unlike any you have ever experienced.
For your New Year's Eve dinner in Munich, they have carefully selected foods that meet a high quality of freshness, and their chef will provide you with a comprehensive and gastronomic menu that is sure to wow you…We've been there recently and can highly recommend the food!
We're sure you'll be delighted by how beautiful each dish looks when it's served to you – it's sure to add to the overall evening's aesthetic!
Where: Auenstrasse 124
Cost: €110 per person
Augustiner Keller
If you're looking for a terrific venue to have your New Year's Eve dinner in Munich, go no further than Augustiner Keller, one of the city's oldest beer gardens.
It's the perfect spot to unwind and give yourself a cozy, local evening that is (in our opinion) one of the best deals for NYE dinners in the city.
A glass of the Augustiner's treasured beer, just poured out of the oak barrel is one of the highlights of this location. And with a wide array of treats from their kitchen is sure to make your NYE great!
Where: Via Arnulf 52
Cost: The price for their New Year's eve package starts from €73.50 per person.The package includes dinner, live music and a glass of wine.
La Boheme
La Boheme is a great restaurant to have your NYE dinner in Munich. Their New Year's Eve package is fantastic, and it includes everything you could possibly need (even an opportunity to save a bit of money!)
Tartar and avocado variations are only two of the many appetizers available, all of which may be shared on enormous slate slabs. The gourmet's dozen distinct steak cuts from Germany to Japan, oysters prepared traditionally or with a twist "à la Bohème," crêpes Suzettes, and other treats.
Where: Leopoldstraße 180
Cost: La Boheme has two dinner NYE packages, Though the package costs €149 per person, early birds can get it at €99 per person.
Bodhi Vegan Dinner
Bodhi Vegan Dinner is perfect for you and your vegan friends if you're searching for a venue to have New Year's Eve dinner in Munich.
All of the cuisine is vegan, and there's a wide variety of drinks to choose from (they also do year round Sunday brunches which we'd recommend you make sure to check out sometime!)
You can reserve a table in advance for their New Year's Eve dinner package, which includes a variety of spectacular options. Come at 16:00 and the menu will begin to be distributed at 19:30 at the latest.
Where: Ligsalzstrasse 23
Cost: €59 per person
Cafe Kranich
Another fantastic option for a New Year's Eve dinner in Munich is Cafe Kranich. They will most certainly make sure you enjoy their New Year's Eve meal as much as they enjoy hosting you in the heart of their  urban, mid century-style restaurant.
Though the ticket fee for the party is €10, you can go in for free if you have paid for the dinner package. Plus, dinner and a party package right in the middle of the city is a pretty awesome option if you ask us!
Where: Sonnenstrasse 19
Cost: The NYE dinner package starts at €89 per person
Any Other Munich New Year's Eve Dinners We Should Add To The List?
Let us know in the comments or if you are interested in more of course make sure to check out our Instagram & TikTok!