*FYI - this post may affiliate links, which means we earn a commission (at no extra cost to you) if you purchase from them. Also, as an Amazon Associate, I earn from qualifying purchases. For the full scoop on what this means, feel free to check out our Privacy Policy and Disclosure.
If you're looking forward to all the Munich Fasching Parties this Karneval week – we've got you covered. Check out our round up of what's happening in town to celebrate the season.
The city of Munich is finally celebrating carnival again! As well as the popular street carnival "München narrisch" in the old town, Shrove Tuesday (Faschingsdienstag) will feature the traditional market women's dance at the Viktualienmarkt and a multitude of amazing parties around the city!
You can find a fantastic breakdown of them and the important details below, viel spaß!
München Narrisch
After a two year long dry spell, the street party to end all street parties is back – join the parade of fools traipsing from Stachus to Marienplatz. You won't be out of place in costume here – and with a massive program of live music, dance performances, food and festivities throughout the week, you'll be spoiled for choice.
The self proclaimed King of Ballerman Mickie Krause will be partying it up on Tuesday – starting at Stachus at 3pm and finishing in Marienplatz at 5pm
Where: Stachus – Marienplatz
When: Monday 20th 9am – 8pm, Tuesday 21st 9am – 7pm
Cost: Free Admission
Tanz der Marktweibe
Spend the day plundering through the wares at Viktualienmarkt – there are plenty of local brews, wines, local schnapps and snacks on offer all day accompanied by sweet beats courtesy of the crew at Goldener Reiter.
If you're not ready to wind down at 7pm – head on over to Goldener Reiter itself and continue to celebrate the night away.
Where: Viktualienmarkt 3
When: Tuesday 21st, 9.30am – 7pm
Cost: Free Admission
Fasching Bowling Specials
For family friendly Fasching fun (say that 10 times fast) our favourite Hollywood Super Bowl is running a two day specia from 3pm – 7pml.
This is the best Kinderdisco in town – with bops galore, treats galore, a balloon artist, and a pizza prize for the best costume (judging open from 5.30pm). Dress up and take the fam down for a fun evening together!
Where: Forstenrieder Allee 74
When: Monday 20th/Tuesday 21st 2pm – 11pm
Cost: 26 EUR family pass (2 adults, 2 kids), or 31 EUR per adult
ABC Alte Börse Club
If you're after fine tipples and you want to dance your Tuesday away, Alte Börse is opening the doors at 6pm to a phenomenal disco themed line up – with a free welcome shot and bottle specials you don't want to miss.
Head in before 9pm to make the most of free entry and a mid-week groove you won't forget.
Where: Lenbachpl. 2A
When: Tuesday 21st From 6pm
Cost: Free before 9pm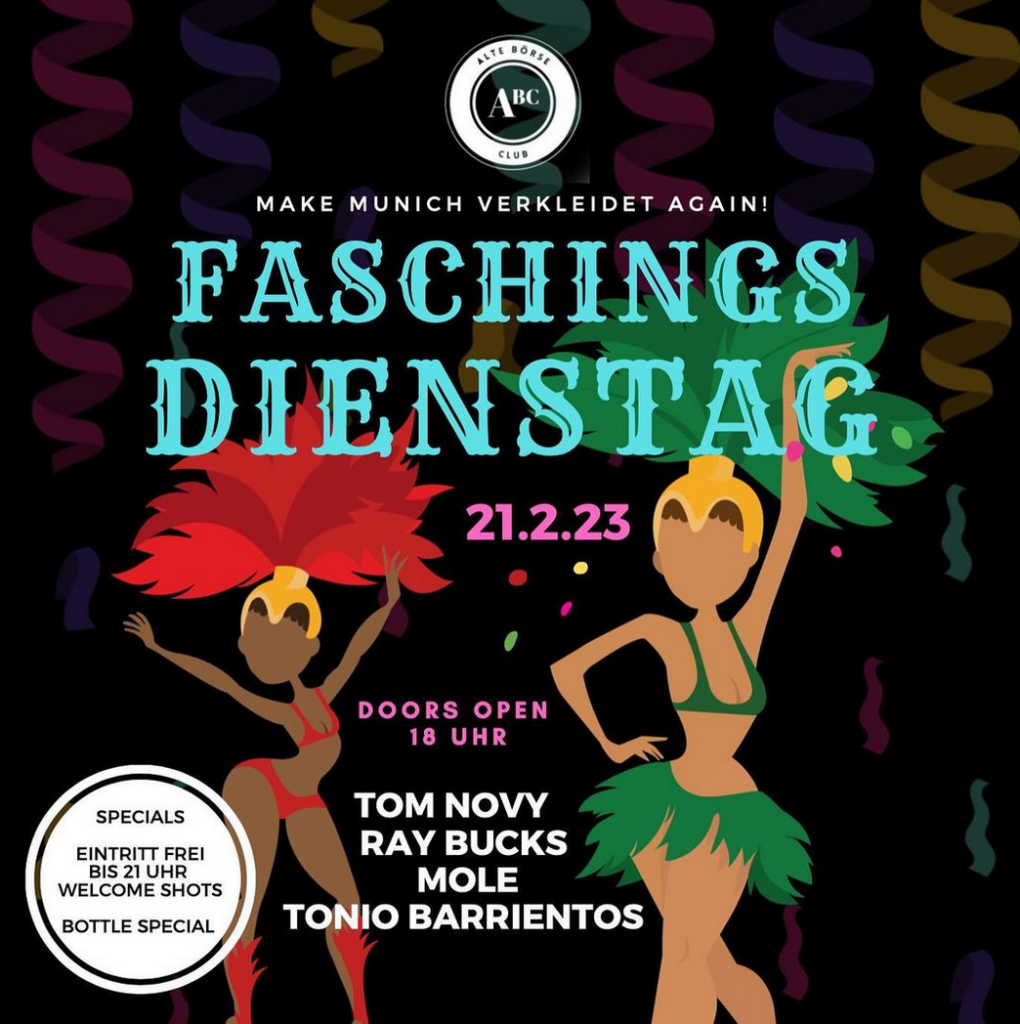 Deustche Eiche Street Fest
The folks at Deustche Eiche are taking over the nearby streets for their Fasching celebration – and they're wiping out the restaurant in favour of a massive rowdy dance floor.
With free entry, live DJs, performances and drink specials, you won't want to miss this.
Where: Reichenbachstraße 13
When: Tuesday 21st, 2pm – 10pm on the street, 2pm – 12am inside
Cost: Free Admission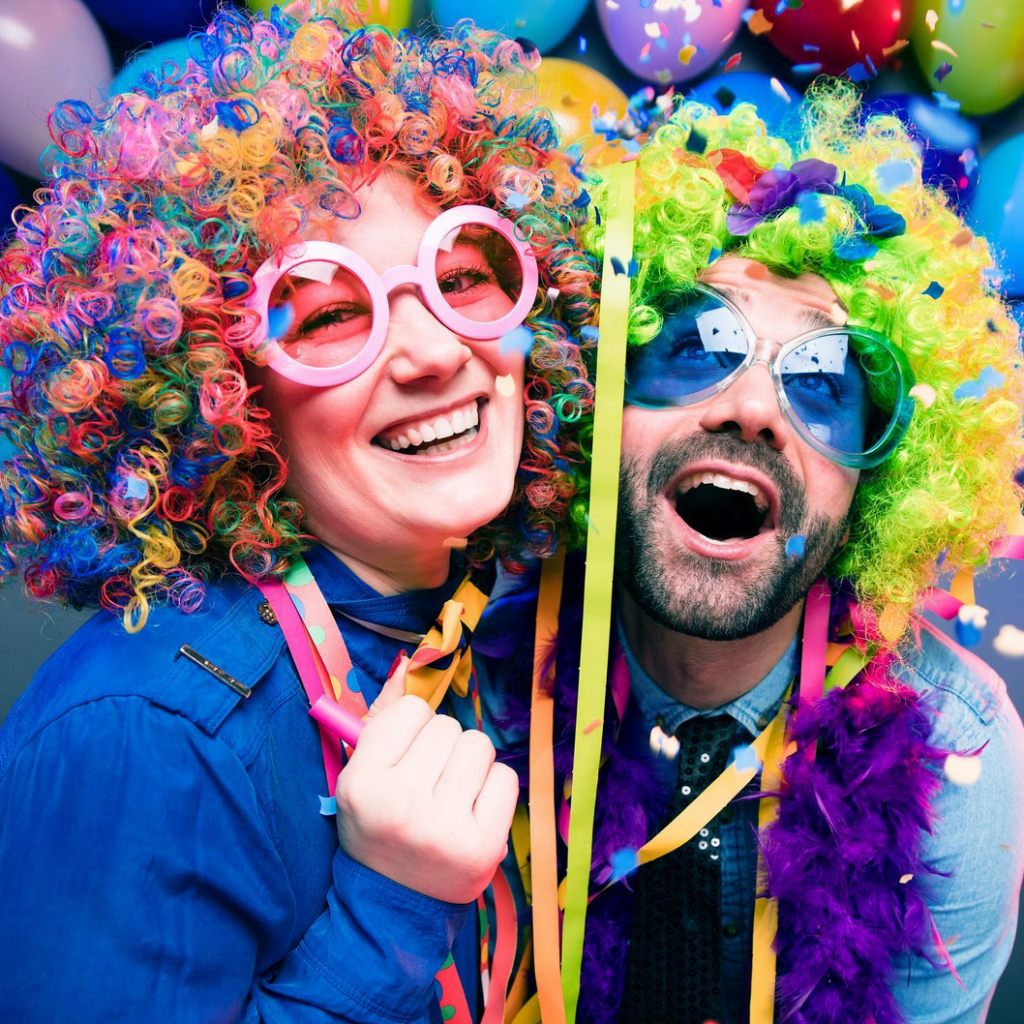 For more Lgbtq-ute ways to make life in Munich more colourful, make sure to follow our sibling website Queer in Munich! There you can find a special event calendar to help you connect to local upcoming community events in English.
Pyjama Drama at Palais
For the easiest (and most entertaining) bad taste costume party – head to Palais on Rosenmontag for their Pyjama Party – everything from your cosiest flannel to your naughtiest negligee will get you half price entry. Expect some disco beats to be laid down by legend Sandra gold, and dance the night away.
Where: Arnulfstraße 16-18
When: Monday 20th 11pm – 5am
Cost: 5 EUR in costume, 10 EUR without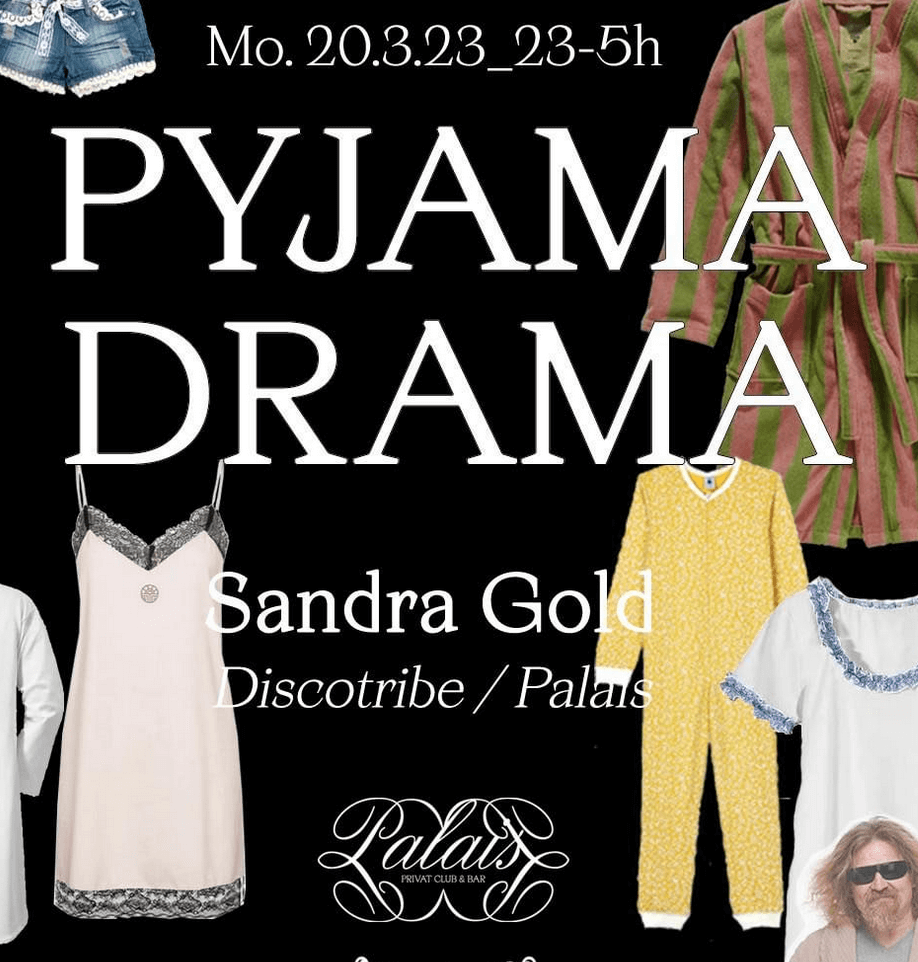 Wirtshaus Fasching
For a more traditionally Bavarian celebration, head to Hackerhaus – one of our favourite traditional beer halls (established in the 15th century for the history buffs) for some excellent local food and a beery good time.
Kick off is at 12pm – with free entry and some guaranteed Weisswurst action, you're in for a treat.
Where: Sendlinger Str. 14
When: Monday 20th 11pm – 5am
Cost: 5 EUR in costume, 10 EUR without
Muffatwerk Kehraus
Spend the day at Viktualienmarkt enjoying the festivities – but we'd recommend hitting Muffathalle just over the Isar for Kehraus!
This after party has been going on for 30 years straight and is one for those wanting to keep on grooving til dawn.
Where: Zellstraße 4
When: Tuesday 21st from 5pm
Cost: 5 EUR
Any Other Munich Fasching Parties We Should Add To The List?
Let us know in the comments or if you are interested in more of course make sure to check out our Instagram & TikTok!