*FYI - this post may affiliate links, which means we earn a commission (at no extra cost to you) if you purchase from them. Also, as an Amazon Associate, I earn from qualifying purchases. For the full scoop on what this means, feel free to check out our Privacy Policy and Disclosure.
As we all know, Munich is one ridiculously good looking city.
And when sunset comes along? Welllll… *pours you a glass of wine* That's when the city becomes something truly special.
So, where are the best spots in Munich to watch the sunset? Here are a few of our favourites…
1. Olympiaberg
This mini-mountain in Olympiapark is hands down one of our favourite places to enjoy sunset in Munich. Granted, it does get busy when the weather is nice, but walk around the hill and you're bound to find an empty spot to sit. This experience is of course best enjoyed with a blanket, a bottle of wine and some snacks. There's an EDEKA and drink market right by the Olympiazentrum U-Bahn if you need a quick supply run!
2. The Olympic Tower (AKA Olympiaturm)
To get even higher up than Olympiaberg, consider heading over to the Olympiaturm, where a small entry fee will get you some of the most incredible views in Munich. From here, you're treated to 360 degree views over the city, with the Alps in the background on clear days. There's also a little-known Rock & Roll museum up here!
NOTE: If you want an extra special experience, you can enjoy this sunset view with dinner at the Olympiaturm's restaurant, Restaurant 181.
3. The Monopteros
This English Garden icon is one of our favourite places to perch for sunset, although in the summer days it's more often than not filled with teenagers looking to decimate a crate of Augustiner before their parents make them come home. Nonetheless, if you can catch this spot on a less rambunctious day, it's one of the prettiest places to enjoy the sun set over Munich's skyline.
4. Seehaus
One of the best beer gardens to catch sunset in Munich is definitely Seehaus, located a short distance away from the ever-popular Chinese Tower beer garden. Aside from the often loud and hungry ducks, this is one of the most serene beer gardens in the city, and the sunset views are of course a happy bonus.
5. Along the Isar
The Isar is one of our favourite chill spots in the city anyway, but something about sunset makes every monument along the river glow just a little bit prettier. Our personal favourite? Any spot where you can see either St Lukas or St Maximilian Church in the foreground!
6. Hackerbrücke
Another iconic place for sunset viewing in Munich is Hackerbrücke, where the divisions of the bridge itself make for perfect little drinking perches. Come here on a beautiful day and join the many others who have come with beers, wine, and yes, sometimes even Aperol Spritzes in hand. Seeing the sun set over the train tracks is truly something magical.
7. Fröttmaninger Berg
This is one of our favourite Munich hidden gems, especially at sunset! Offering unbeatable 360 degree views over the city, with iconic landmarks like the Allianz Arena closeby, this hill in the northern part of the city is the perfect place for sunset, especially when the sky lights up like this:
8. Theresienwiese
While most of you probably associate Theresienwiese with… well, the Wiesn (AKA Oktoberfest), this wide open space is actually a brilliant place to watch the sky light up in sunset shades. Check these photos out: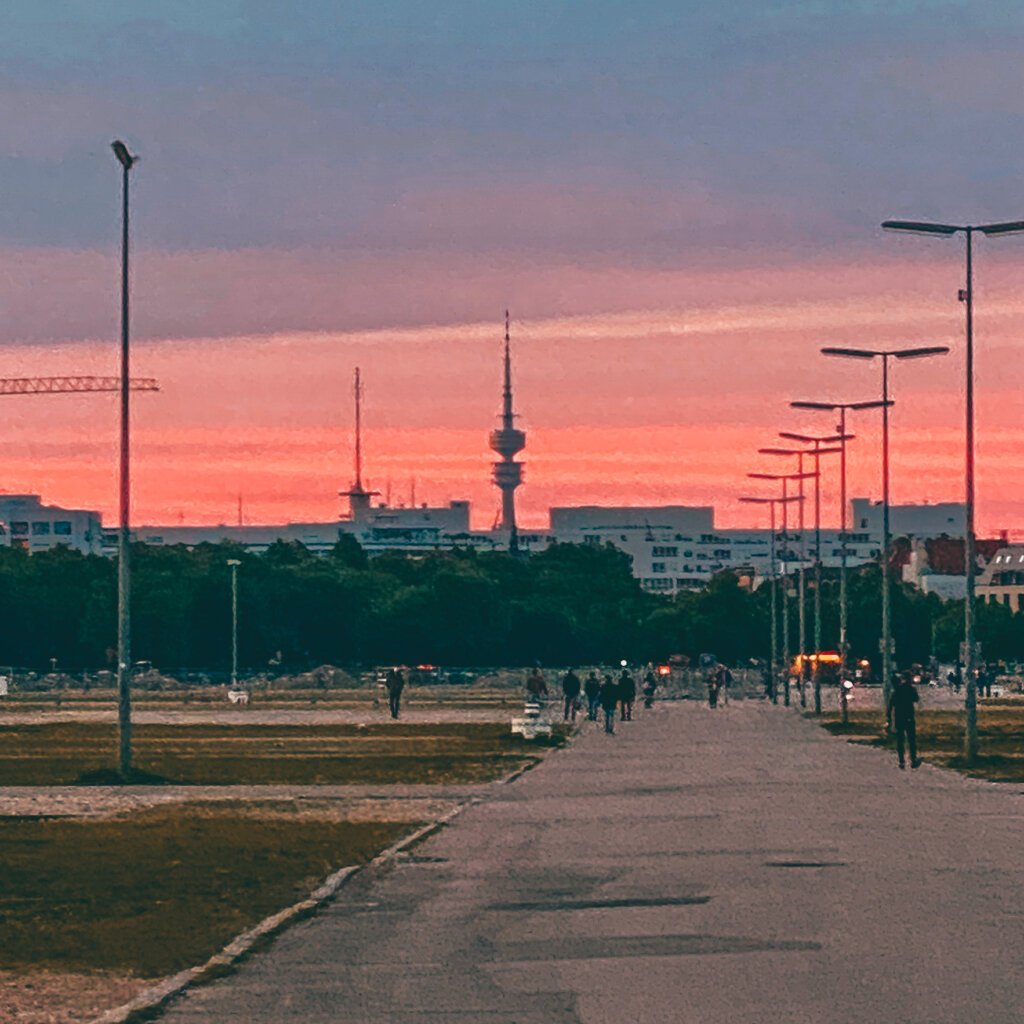 9. The Friedensengel
While it can get really busy during the summer, Munich's famous golden angel is the perfect place to gather with friends and watch sunset! Make sure you come here early to snag a spot though…. don't say we didn't warn you!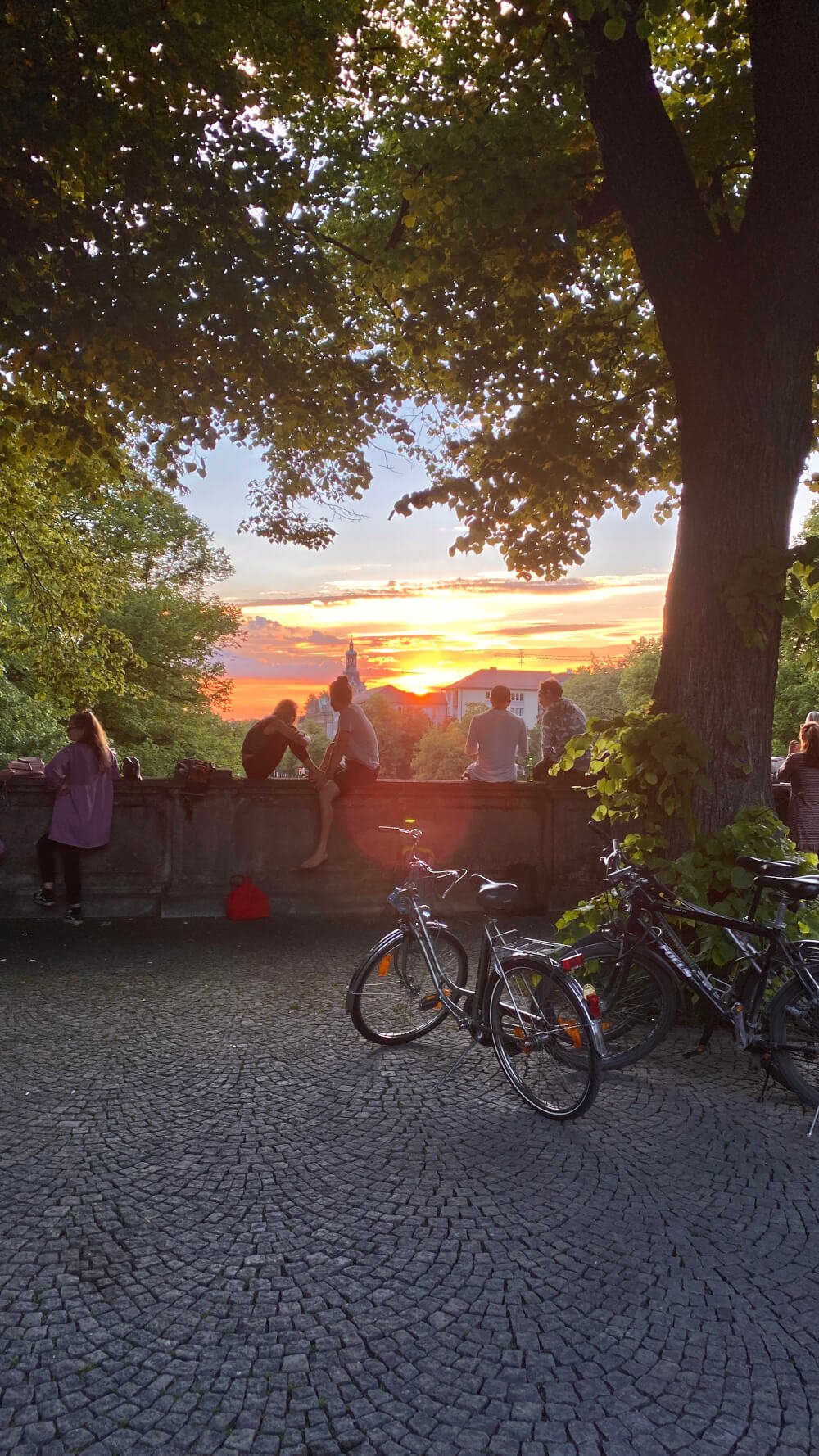 10. The Maximilianeum
This epic hilltop structure capping one end of swanky Maximilianstraße is full of amazing secrets & history (which we've recapped here). One of our favourite secrets though? It's a lovely place to catch sunset.
11. Königsplatz
With plenty of grassy space and even museum steps to perch on, Königsplatz is one of the most underrated places in Munich to watch the sun come down, especially with the majestic Propylaea in the foreground. While definitely popular in the summer months, you'll have no trouble finding an open green space to sit down, just remember to bring a blanket!
12. Nymphenburg Palace
Another absolute winner when it comes to sunset photo opportunities in Nymphenburg Palace, located on the west side of the city… all the more magical because of its large ponds filled with swans, which reflect all the wonderful colours of the sunset when it happens.
13. Werksviertel-Mitte/Hi-Sky München
Last but not least, we have to mention the awesome Werksviertel-Mitte near Ostbahnhof. If you face westwards in this area, you can get some really amazing sunset shots featuring the Hi-Sky München wheel in the foreground, along with the really cool painted containers/modern architecture of the Werksviertel.
Of course, for extra snazzy romantic points, you can even watch sunset from the wheel itself!