*FYI - this post may affiliate links, which means we earn a commission (at no extra cost to you) if you purchase from them. Also, as an Amazon Associate, I earn from qualifying purchases. For the full scoop on what this means, feel free to check out our Privacy Policy and Disclosure.
Hello beautiful bored people of Munich, and welcome to the majestic month of May!
The weather is warming up and festival season beginning, and our calendar is filled with free may events in Munich!
We've created a cool collection of free May events for you to adventure through. Have a look below and let us know how your planning goes.
Free May Events, Activities and Workshops in Munich
This month is filled up with so many free events and great selections of activities for all ages. Have a look below to find some free fun this month in Munich!
To Be Seen, Queer Lives 1900-1950
To be seen is an exhibition at Nsdoku dedicated to the stories of LGBTIQ* in Germany in the first half of the 20th century. The exhibition provides an intimate look the fight for recognition, equal rights, and social acceptance.
It is important to note the LGBTIQ+ subculture was largely destroyed after the National Socialists came to power, and their stories and fates were not well documented after 1945.
When: Now Until May 21, 2023
Where: Max-Mannheimer-Platz 1
Sendling Boogie Breaks
Import Export will be returning with its impressive collection of funk, Miami bass, and hip-hop records. Come on down for an unforgettable evening of music and good vibes. Admission is free but donations are welcome!
When: Thursday, May 11 // 9 p.m.
Where: Schwere-Reiter-Str. 2h
Leopold Corso Street Festival
Leopold Corso is back for the May 13-14 weekend! Enjoy a weekend of live music, cabaret, art shows and more with two full days of celebration.
Shows start at 4 p.m. each day but art can be viewed as early as 11 a.m. A full breakdown of the program can be found here.
When: May 13, 2023 & May 14, 2023 // 11 a.m – 10 p.m
Where: Along Munchner Freiheit and down Leopolstrasse
Street Festival At Glockenbachwerkstatt & Bellevue Di Monaco
Join Glockenbachwerkstatt and Bellevue Di Monaco for an exciting event filled with food, drinks, and a variety of talented musicians.
DJ Sharon and DJ Ropa will provide ambience and beats for the audience, while the Syrian Peace Choir, the Express Brass Band and more captivate the crowd with their unique styles and performances.
Don't miss out on an unforgettable night of music and entertainment!
When: Sunday, May 14, 2023 // starting at 1 p.m
Where: Blumenstraße 7
Clothing Swap Party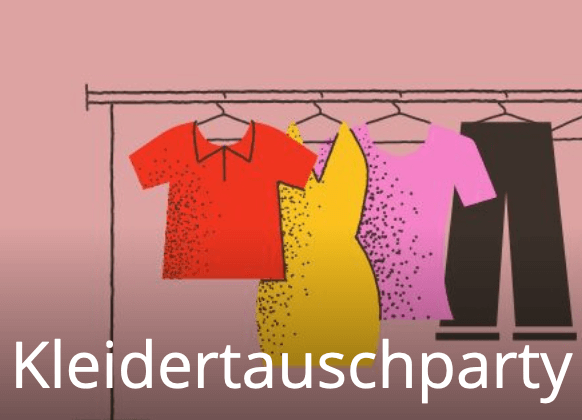 Bring some friends and head to Schwabing! Admission is free and you can bring up to 10 pieces of clothing (excluding baby clothes, underwear, bathing suits, and fur).
Don't have anything to swap? No worries, admission is still free. Any leftover items will be donated to the Caritas project "Fashiontruck."
When: Tuesday, May 16, 2023 // 5 – 9 p.m
Where: Hiltenspergerstraße 80
Vesakh Festival
Join Munich Buddhists in celebrating Buddha's birthday, the most important festival in the Buddhist annual calendar – rain or shine!
The festival features a diverse cultural program that includes various Buddhist traditions, meditation, lectures, traditional music and dances, and a children's program, ending with candle ceremony. Vietnamese, Thai, and Tibetan delicacies are available. All events are free of charge, but a small donation is appreciated.
When: Saturday, May 20 // starting at 1p.m
Where: West Park // Westendstraße 305
International Museum Day In Munich
Munich's museums will once again celebrate International Museum Day with special tours, workshops, lectures, and festivities.
This is especially exciting since many museums are offering free admission to these events and activities! You can find a detailed overview on their website of the schedule showing the museums, events, as well as a special filter to find those for children or locations that are barrier free.
Just keep in mind, there are some locations/activities that require registration.
When: Sunday, May 21
Where: Various locations throughout the city
Spotlight With Cosby
Cosby will be performing this month at the Spotlight event series, a live series featuring musicians, artists, readings, stand-up comedy, and poetry slams.
Admission is free, and the event will be held at Boilerman Bar. Cosby is one of Munich's promising indie pop band, and will be featuring their fourth album "Here I am" at the venue.
When: Friday, May 26, 2023 // 6 p.m – 9:30 p.m
Where: 25 Hours Hotel // Bahnhofpl. 1
Clothing Repair Workshop
Do you also have one or more pieces of clothing that are in need of repair? Then come learn to repair it yourself at the free two-hour workshop at Textil Werkstatt.
Bring your damaged clothing and get tips from a master tailor. Basic knowledge of sewing machine use is required, and bring a sharp pair of scissors.
RSVP at [email protected]. Sewing machines will be provided.
When: Tuesday, May 30, 2023 // 6 p.m – 8 p.m
Where: ritz-Schäffer-Str. 9
Looking For Other Deals or Cool Things to Do in Munich?
We always make sure to keep our event calendar up to date with the latest and greatest upcoming activities. Check it out here if you are interested in more than the few above mentioned events!
If you're still strapped for ideas on things to do this weekend, check out Groupon. If it's your first purchase, you can use the code HALLO to save 20% off any of their local deals, which means you can splurge on cool experiences like restaurants, alpaca walking, and even hot air balloon flights at a steep steep discount. Click here to browse.