*FYI - this post may affiliate links, which means we earn a commission (at no extra cost to you) if you purchase from them. Also, as an Amazon Associate, I earn from qualifying purchases. For the full scoop on what this means, feel free to check out our Privacy Policy and Disclosure.
Munich is a stunning winter wonderland when the snow hits… and well, with more Schnee in the forecast again in the coming week, we couldn't resist a roundup of our favourite places in Munich to enjoy the winter. Have we missed any of your favourites? Let us know in the comments!
1. The English Garden
Adorable marshmallow children sledding down the Monopteros hill, brave surfers gliding through snowstorms, snow-dusted trees & a Chinese Tower complete with icicle trim… the English Garden is an absolute dream when it's snowy, so be sure to take advantage.
2. The Milchhäusl Ski Gondolas
Located just off of the Königinstraße entrance to the English Garden (near the Universität U-Bahn stop), you'll find the adorable Milchhäusl kiosk, which offers a 100% bio menu along with cozy ski gondolas that you can sip drinks in during the winter time. Just look at how magical it looks in the snow!
Click here to learn more about this awesome spot in Munich.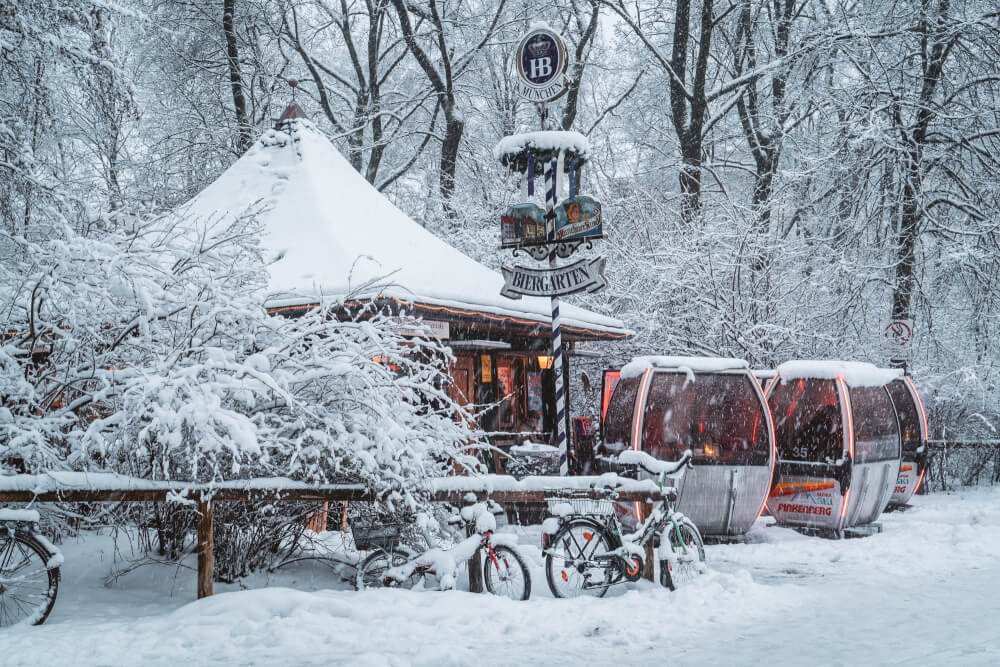 3. Marienplatz
Sure, Marienplatz is wonderful during any time of year, but when the snow is falling and the rooftops are dusted with snow? Amazing. Our tip? Take the elevator at the Neues Rathaus up to the tower for only 3 euros to get a beautiful view over the snow-covered city… then treat yourself to a hot chocolate at Chocolaterie Beluga afterwards!
4. Olympic Park
Snow-covered hills and a frozen-over Olympiasee… need we say more?
View this post on Instagram

5. The Angel of Peace
The entire Isar is a winter wonderland when snowfall hits Munich, but our favourite snow-covered monument is the Angel of Peace, which looks amazing framed by snowy white trees. Don't you agree?
View this post on Instagram
6. Westpark
Last but not least, Westpark is one of the best places to enjoy Munich in the winter. Just look at how beautiful it looks… even at night!
View this post on Instagram