*FYI - this post may affiliate links, which means we earn a commission (at no extra cost to you) if you purchase from them. Also, as an Amazon Associate, I earn from qualifying purchases. For the full scoop on what this means, feel free to check out our Privacy Policy and Disclosure.
Wedged between the rivers Pegnitz, Regnitz and Main, Franconian Switzerland is a paradise piece of Bavaria that makes the perfect weekend trip (or an ambitious day trip).
Last week, we spent some time road tripping around the region, famed for its unique rock formations, fairytale half-timbered towns, and of course, its inconceivably high density of breweries… all perfect ingredients for a nice little getaway, don't you think?
In this post, we'll share some of the most magical places you can visit, along with awesome things to do in Franconian Switzerland to fill up your itinerary. Enjoy!
Where is Franconian Switzerland?
While culturally quite distinct from the rest of the state (as locals will tell you!), Franconia is indeed part of Bavaria, and can be found about 2.5 hours north of Munich. Franconian Switzerland refers to a specific subset of Franconia that can be found between the rivers Pegnitz, Regnitz and Main, or if you're more of a city person, the region is flanked by the cities of Nuremberg, Bamberg and Bayreuth.
NOTE: While it is called Franconian "Switzerland", the region actually has no Swiss connection at all. It is said the nickname was given to this region by painters, artists and poets, who likened the mountains in the region to those in Switzerland (although to be honest, we don't really see the resemblance too much!)
10 Places to Visit in Franconian Switzerland
Let's start with places to vist. While geographically, Franconian Switzerland is a pretty compact place, there is no shortage of cool spots and must-sees. Here are some of our picks. Let us know in the comments if there are any other gems we missed!
Pottenstein
We'll start with Pottenstein, a surprising town that seems to have a bit of everything. We first fell in love with the town's fairytale aesthetic, featuring an abundance of half-timbered houses and overflowing flower boxes…We soon realized though just how many interesting things surround it!
There is for instance, the 1000 year old Burg Pottenstein that stands imposingly above town or the Devil's Cave nearby (the longest cave system in Germany). Plus, there's also an adventure park with an alpine rollercoaster. Lots to do, and it helps of course that it looks like this:
Tüchersfeld
This is a tiny tiny village and mainly a photo stop, but its iconic rock formation + timbered museum combo is one of the most famous "postcard sights" of Franconian Switzerland, so we had to include it.
If you have time, the museum pictured below is actually one that's dedicated to the history of Franconian Switzerland, so if you want to learn more about the region, there's 43 showrooms there you can explore that details the area's history even before humans settled here.
PS: This sight here was even once featured on German stamps:
Egloffstein
Egloffstein has a handful of famous attractions, most notably its hilltop castle Burg Egloffstein.
Our favourite place to visit there though is one that remains an under-the-radar secret: its baroque garden, tucked away on a quiet residential street! This is hands down one of the most sumptuous private gardens you'll see in the state, so be sure to stop by and take a look if you're nearby. Click here to learn more about this garden and how to reach it.
Forchheim
Forchheim is a historic (formerly royal) city with a beautiful Old Town well worth exploring. Boasting 1200 years of history, must-sees here include the glorious Rathausplatz, pictured below, along with the city's own Little Venice, which features adorable houses lining the Wiesent River that runs through the center of town.
Gößweinstein
This wasn't even a town we had planned to stop in, but as our car passed through and we caught a glimpse of its beautiful hilltop castle and towering cathedral, we had to pull over and explore. This charming town is home to several noteworthy sights, including the aforementioned castle (which was sadly closed when we visited!) and the beautiful Basilika Gößweinstein, which is a popular pilgrimage site and is (best of all) completely free to visit.
Nuremberg
Nuremberg is probably the 2nd most famous city in Bavaria (after Munich, of course) so if you're in the area, you should definitely take the time to explore it. Besides having a famous (albeit touristy) Christmas market, Nuremberg is also home to a very cool castle with amazing views, and a wealth of interesting museums and historical sights.
From the Nuremberg Dokumentation Center (housed in the Congress Hall of former Nazi party rallies) to the Nuremberg Palace of Justice (where the infamous Nuremberg Trials were held), there are a lot of sights especially suited for those interested in Germany's Third Reich past. Click here for a full list of interesting things to do in the city.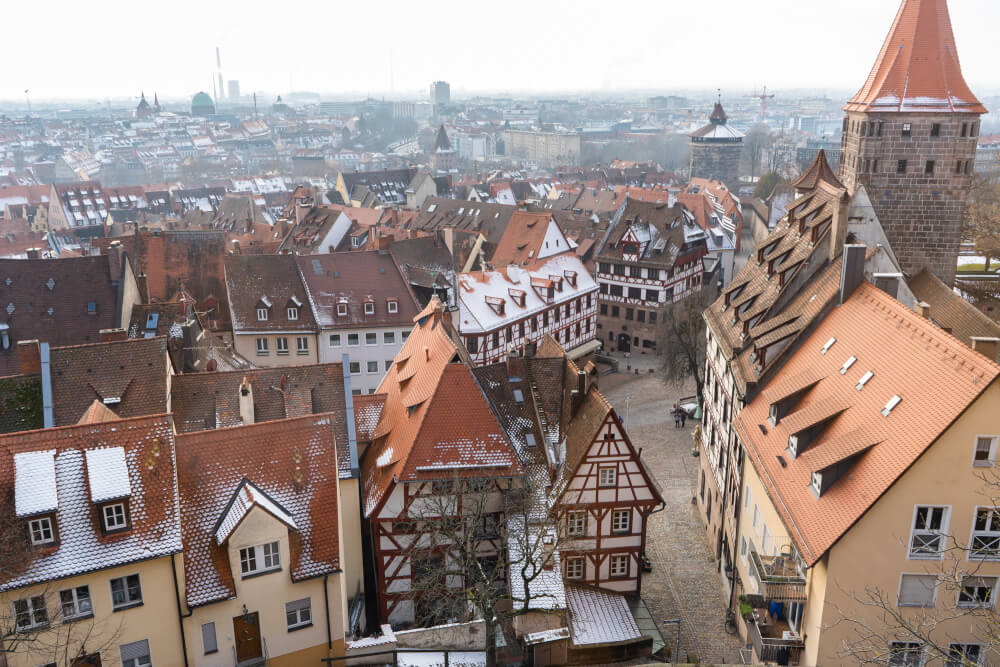 Bamberg
Bamberg is one of the most beautiful cities in Bavaria, with a gorgeous town hall, its own "Little Venice", and beautiful architecture everywhere. It's also home to one of our favourite beers in Germany – smoked beer, which admittedly does taste like bacon and smoke BUT is an acquired taste that once you adjust to, you won't be able to get enough.
We highly recommend spending some time in Bamberg if you're in the area. Click here for a full guide on what you can do there.
Bayreuth
We love Bayreuth for a lot of reasons, only one of which is its delicious beer. Besides our favourite adult beverage though, Bayreuth has a lot to offer visitors – there's a jawdropping opera house, chilling catacombs, quirky museums (dedicated to typewriters and posters for example), and the Eremitage Bayreuth, one of the most beautiful palace complexes in Bavaria.
Of course, the name Bayreuth is synonymous with its Bayreuther Festspiele, a festival dedicated to the works of Richard Wagner, held in an opera house Ludwig II had built especially for him. Rumour has it they had a um… "special" relationship.
Anyways, we definitely think Bayreuth is one of the most underrated cities in Bavaria, with lots to do. Click here for a full guide on what to do in Bayreuth.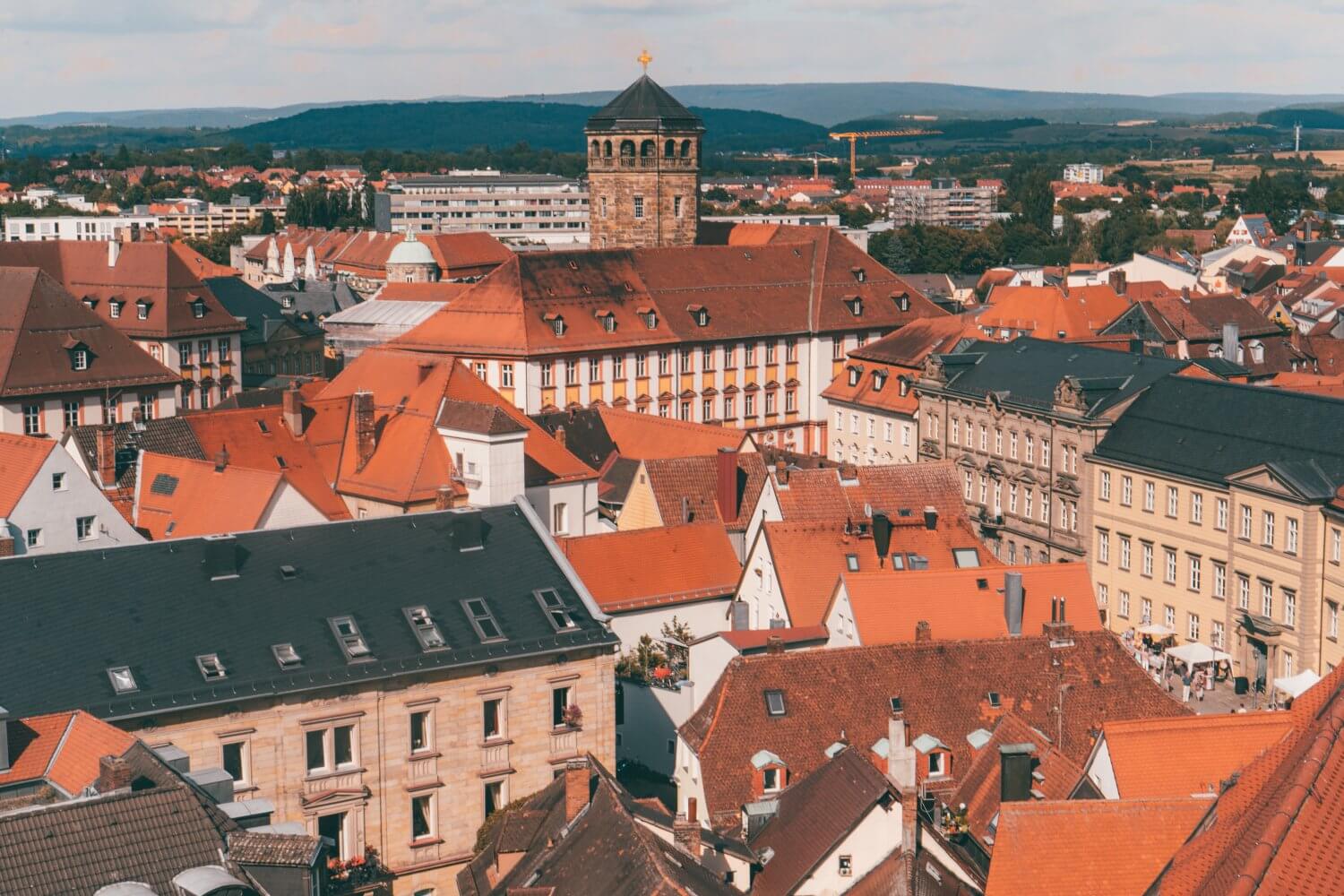 Aufseß
This Franconian town holds the honours for having the highest density of breweries (per capita) than anywhere else in the world, with bragging rights secured even in the Guinness Book of World Records. Today, you can explore four of the town's breweries through a special brewery hiking trail (which, as you know, is exactly our type of thing).
Ebermannstadt
Last but not least, while we didn't make it to Ebermannstadt this time around, we have to mention it since it is the region's central city, right in the heart of all the action. At Ebermannstadt, you can hop on a historic steam train, explore nearby castles, or just sightsee around its charming half-timbered market square. Plenty to do!
Things to do in Franconian Switzerland
Alright, now that you've seen where you can go, here are some more ideas on activities, since you definitely don't want to be bored while there, right? ; )
Hike through the many trails of Franconian Switzerland
Franconian Switzerland is a hikers' paradise, with themed trails linking everything from breweries and artwork to caves and castles. You can click here for a roundup of the best hikes to do in the area.
Slurp the beer that Franconia is so famous for
When we say that drinking beer is one of the best things to do in the area, we aren't joking. From sampling unique offerings like Bamberg's famous smoked beer, to just chilling at one of the region's many cellars, there is no shortage of activities for beer lovers.
No joke – the region is home to 69 family-run breweries, so you are certainly spoiled for choice. Click here to learn more about the beer-related activities you can enjoy there.
PS: If you are a bit nerdy like us, you might enjoy some brewery/cellar tours. We did one in Bayreuth and really enjoyed it.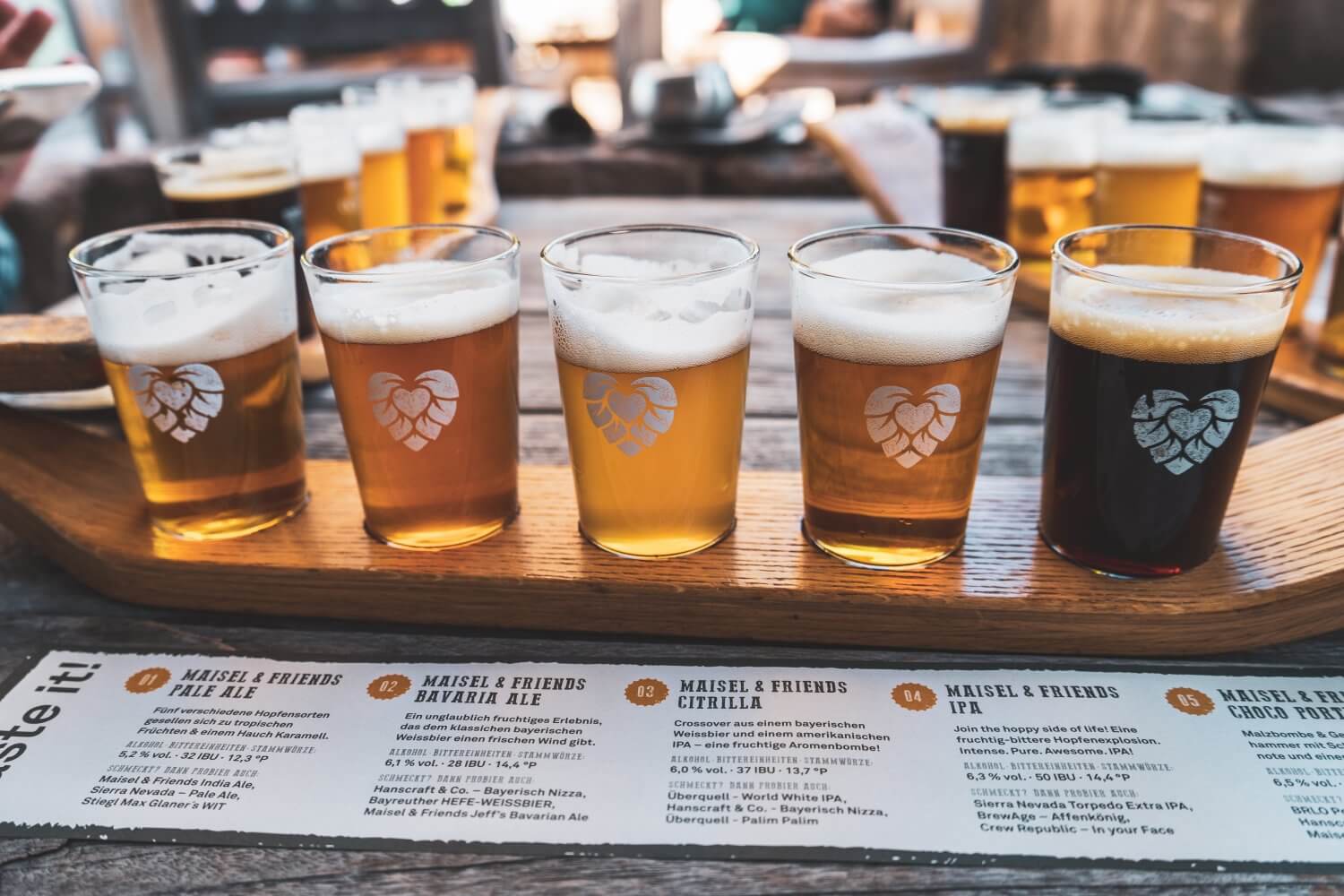 Roam through Franconian Switzerland's fairytale villages
One of our favourite things about Franconian Switzerland is that every village is ridiculously cute. If you're a sucker for timbered houses like us, you'll have an amazing time driving through this region, where each stop feels cuter than the last.
Go castle hopping
Do you know how many castles and palaces you can find in Franconian Switzerland? Over 100, a few dozen of which are still inhabited today.
Because of this, you'll feel like every town you pass through has a castle of its own, which is fair, because most of them do. Today, 11 of these castles have been converted into museums and sightseeing spots that are open to visitors. Click here for more info.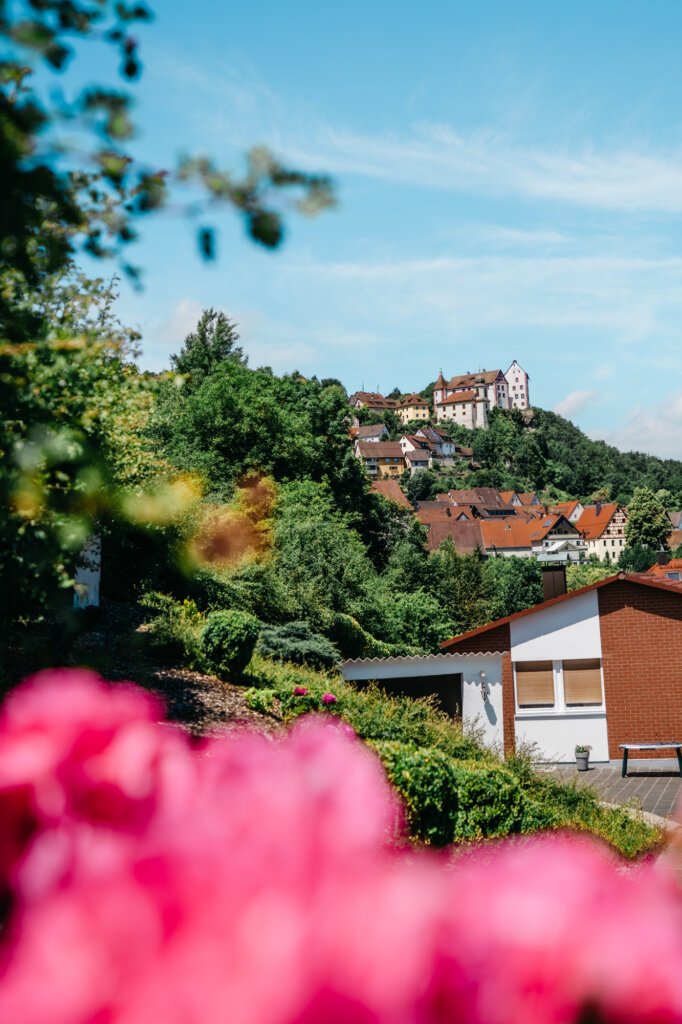 Absorb culture in one of Franconian Switzerland's cities
Besides adorable villages though, culture lovers should make sure to visit the cities perched along Franconian Switzerland's borders, namely Nuremberg, Bamberg, and Bayreuth. If you love sumptuous architecture, palaces, churches and (in the case of Bayreuth) stunning theatres/opera houses, carving out some time to enjoy the region's cities is a must.
Explore unique caves
The unique geological properties of Franconian Switzerland are one of the area's main draws, but beyond the cool rocks you see everywhere you drive, there's entire cave networks that you can explore in the region as well. In fact, Franconian Switzerland is said to be home to over 1000 caves, including the longest cave system in Germany. Click here to learn more.
Enjoy some adventure
Franconian Switzerland, besides being a haven for hiking, also offers plenty of opportunities for those seeking adventure.
Since (as we mentioned), this region is surrounded by rivers, there are tons of great kayaking and canoeing opportunities. We didn't get a chance to try this, but we've heard the Wiesent River is excellent for this!
Rock climbers can also get their fix with over 10,000 climbing routes. With the region's unique geological formations, it makes sense that it's considered one of the most popular rockclimbing spots in the entire country.
Lastly, you can also go mountain biking! Near Heiligenstadt, you'll find three circular routes that total 128km altogether. You can click here to learn more.
Any more tips for Franconian Switzerland?
Let us know in the comments! Hope you enjoyed this guide on things to do in Franconian Switzerland. We love this region and we hope you will too!