*FYI - this post may affiliate links, which means we earn a commission (at no extra cost to you) if you purchase from them. Also, as an Amazon Associate, I earn from qualifying purchases. For the full scoop on what this means, feel free to check out our Privacy Policy and Disclosure.
Since its opening in Spring 2019, Munich's giant ferris wheel by the Werksviertel-Mitte and Ostbahnhof has remained largely under the radar for tourists and locals alike.
But operators are hoping that changes after the wheel's reopening this week, with new planned offers and lowered prices to entice visitors.
The wheel, which is actually the largest mobile wheel in the world according to the Guinness Book of World Records, and the largest ferris wheel in Germany, initially opened under the name "Hi-Sky München".
After a closure for the past few months though, the wheel is set to re-open this Friday, July 10th, with a brand new price list featuring lowered prices, along with a shiny new name.
… Umadum.
It means "all around" in Bavarian, and shows a clear pivot towards a more Bayerisch rebrand. According to an FAQ posted on the official Umadum IG account, the goal was a name that conveyed emotions and feelings of life.
If you, too, want to feel emotions and feelings of life, then here are some details about the Umadum and its new opening. We haven't gone up there yet, but we've heard the views are pretty cool, with an overview of Munich's skyline and the Alps.
Fast Facts About Umadum
Height: 78m
Number of gondolas: 27
Seats: 422
Travel time: About 30 minutes
Prices: 12 euros for adults. Full price list here
Reopening date: July 10, 2020 at 2pm
New Safety Precautions
Of course, as part of its reopening, new safety and hygiene measures will be introduced at the Umadum, including…
Mandatory disinfection of hands prior to getting in
Mandatory nose/mouth coverage inside the gondola
New distancing measures introduced around the entrance to ensure minimum distance is kept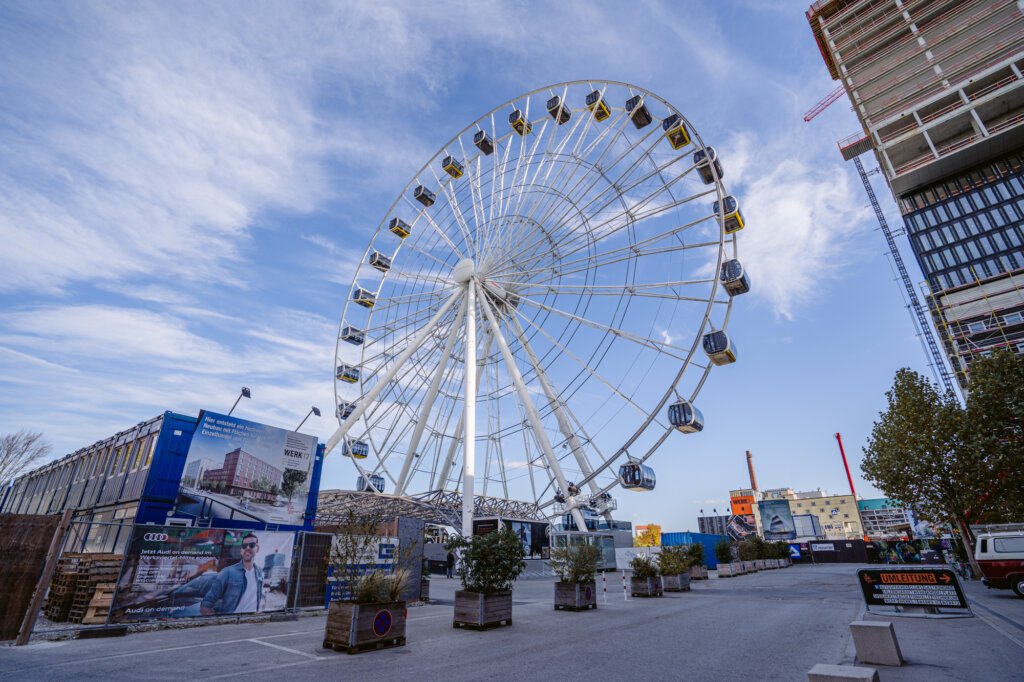 Other Things to do Near the Umadum
If you're planning a visit to the Umadum, make sure to explore the Werksviertel-Mitte too. It's one of our favourite places for viewing street art in the city. Click here for a full list.