*FYI - this post may affiliate links, which means we earn a commission (at no extra cost to you) if you purchase from them. Also, as an Amazon Associate, I earn from qualifying purchases. For the full scoop on what this means, feel free to check out our Privacy Policy and Disclosure.
Guten tag, Oktoberfest newbies! Get those wanderlust-filled hearts ready because we're about to talk all things fashion for the world's biggest beerfest in our Oktoberfest outfit guide below.
So you've decided to join the massive beer-soaked party in Munich, but wait a minute – what on earth do you wear? Fear not, we're here with some super fun style tips that will have you fitting right in with the Bavarian crowd faster than you can say "Prost!"
Table of Contents
📷 Special Thanks to Sara Kurig Photography for all of these fun and festive photos!
Oktoberfest Outfit Guide: What Are Lederhosen And Dirndls?
Germany is often associated with those cute traditional costumes worn by men and women during Oktoberfest.However, there is much more history and culture behind them than just beerfest garb!
These are actually typical Bavarian costumes that are used not only during Oktoberfest but throughout the year at other local festivals and at traditional weddings and parties as well.
Traditional Bavarian costumes are Trachten – costumes specific to a certain region – with Lederhosen for men and Dirndls for women. Tracht is a serious business in Bavaria; we see people wearing it all year long.
It is not uncommon to find locals wearing them on a regular day around the streets in Munich or at the stadium while watching a game (tbh they are the ultimate outfit for summer!)
Oktoberfest Outfit Guide: Dressing The Ladies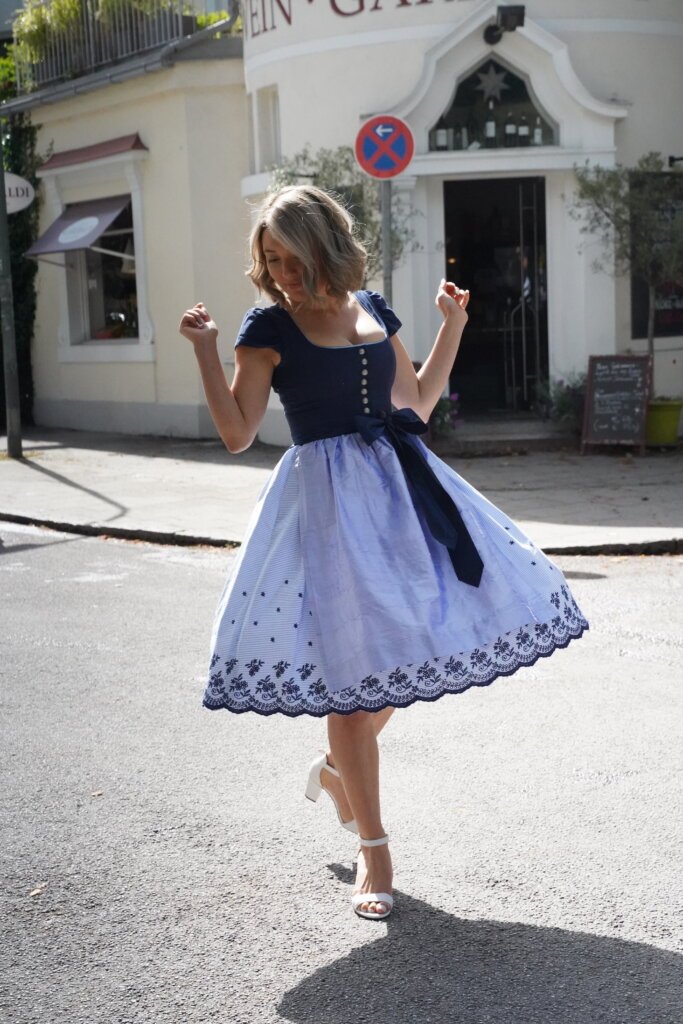 Ladies, let's kick it off with a burst of femininity – the dirndl! Imagine a dress that's part fairytale and part elegant – that's the dirndl for you. A dirndl is like your fashion BFF – it's got a bodice, a blouse, a skirt, and an apron that adds a pop of color and a flattering figure for any body type!
And oh boy, the styles are as varied as the beers you'll sample. You can go for the classic knee-length dirndl, perfect for twirling on the dance floor, or opt for a longer one for a touch of sophistication. The bodice can be beautifully embroidered, and the apron adds that pop of colour.
Pair it up with comfy shoes because trust us, you're going to be dancing like there's no tomorrow. Top it off with a cute little bag to stash your essentials, and voilà – you're the belle of the Bavarian ball!
Oktoberfest Outfit Guide: Common Dirndl FAQ's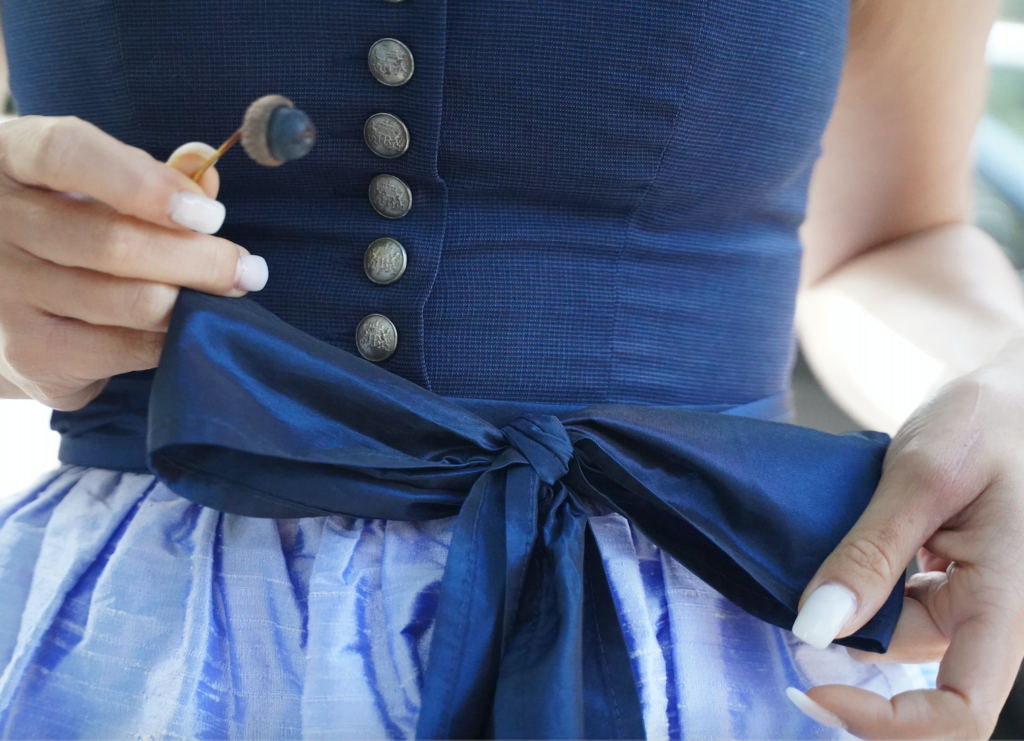 Now that you're armed with the Oktoberfest fashion low-down, let us explain some tips essential to completing and maintaining your look.
Where To Tie The Dirndl Bow
While you are probably familiar with the Bro code, Dirndl wearers at Oktoberfest follow the Bow Code; every Dirndl has a ribbon around the waist and depending on whether a woman is married, single, a widow, or has a child, she ties it differently. Here are the simple rules of tying your Dirndl:
To your left side – You are single and ready to mingle
To your right side – you are married or in a committed relationship
At the back – for widows or waitresses
In the middle – for young girls/kids
How Do You Wash A Dirndl?
Dirndls should be hand washed. The best way to clean a dirty dress or a dress made of a sensitive material, such as satin or lace, is to dry clean it. However, for the blouse this is usually ok to machine wash.
Oktoberfest Outfit Guide: Lederhosen Lovin'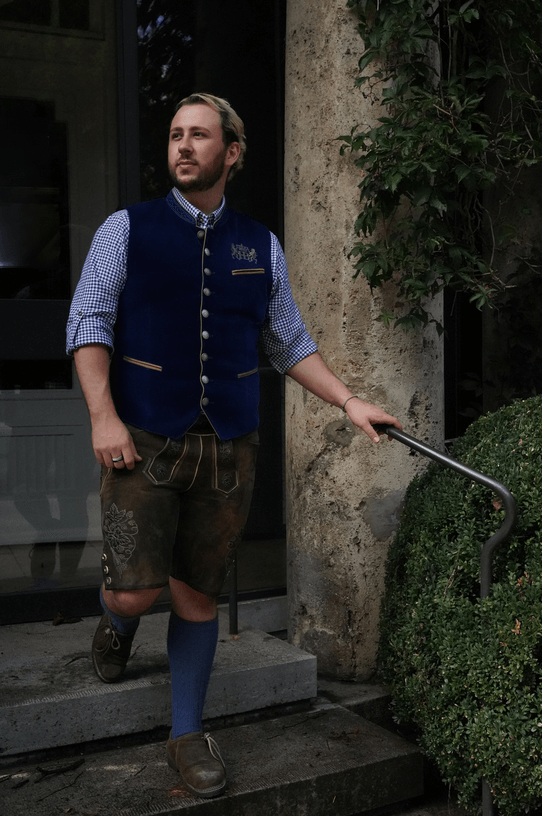 Alright, guys, meet your Oktoberfest soulmate – lederhosen! If the dirndl is all about grace, lederhosen is about rugged charm. These leather shorts are like a badge of honour for Bavarian tradition. Plus, they scream, "I'm ready to party with style."..and the easiest outfit combo you'll ever throw together and look that good in.
Now, don't just stick to basics, lederhosen comes in various lengths – from knee-length to short. There are also lederhosen out there with intricate embroidery and details that can make you stand out in the best way possible.
Pair them with a basic button down or even a t shirt to keep it a bit more casual, but if you're going for a more stylish angle we'd recommend a nice vest – it's like the cherry on top of your Oktoberfest sundae.
There's an air of authenticity and history about lederhosen that will surely earn you a nod of approval from the locals.
Oktoberfest Outfit Guide: Common Lederhosen FAQ's
How Much Do Lederhosen Cost?
A set decent pair will range from about a couple hundred to several hundred Euro. If you plan on getting a proper pair that is-which we'd recommend as the cheaper type are known to get worn out real quick…even while you're in the tent.
Our lederhosen recommendation would be these tried and true 100% leather pair from Hofbräuhaus here
How Do You Clean Lederhosen
Most people believe that the more weathered the Lederhosen, the better! The best thing you can do if your Lederhosen get dirty is to brush what you can, otherwise you can rub a damp cloth over a stain that is particularly stubborn. There are also special leather brushes but in the more extreme cases, Lederhosen should be dry cleaned if they are particularly dirty.
Just whatever you do, DO NOT MACHINE WASH..otherwise it's Tchüß to those beauties.
How Tight Should Lederhosen Be?
You don't want your Lederhosen to be too tight that they are uncomfortable, but you don't want them to be too loose either. As you wear your Lederhosen over time, they will relax and stretch to make them more comfortable.
We've heard that doing squats can help break in the leather faster before the big days if you want to speed up that process. Also, you can leave them in a tub full of water…but if possible, wear them a bit before the first night!
Are Lederhosen Warm?
Lederhosen are warm, but not uncomfortably so. In combination with a light cotton shirt, they are perfect for the autumnal days, and will not overheat you within the densely packed Oktoberfest tents. To complete your attire, it's always a good idea to opt for a nice thick pair of socks to be safe with the ever changing fall weather!
Oktoberfest Outfit Guide: Where to Shop
We know you're itching to know where to score these fantastic Oktoberfest outfits. Munich is a treasure trove for dirndls and lederhosen offering a mind-bogglingly magnificent variety. And If you're aiming for something super authentic, link up with local designers for unique pieces that have a story to tell.
Our personal favourites for Trachten (and local shops!) are;
And guess what? You can even snag your Oktoberfest gear online (all of our picks above do!). Yep, that's right – the digital world has embraced the Bavarian charm too. So go on, do a little happy dance, and get ready to click your way to Oktoberfest fabulousness!
Oktoberfest Outfit Guide: Strut, Sip, Repeat…& Check The FAQ's If Needed
Here's the most important tip of all, dear Oktoberfest rookies – wear your confidence like it's the latest trend. No matter what you choose – a classic dirndl, a snazzy lederhosen, or a unique blend of both – the key is to rock it with a smile. Embrace the festive vibes, clink those Maßes, and dance like nobody's watching. Because when you're at Oktoberfest, your energy and enthusiasm are the best things you can wear.
…but if you still need it before, here's some helpful tidbits below to keep you fully ready to go!
Common FAQ's
What Is The German Oktoberfest Outfit Called?
Trachten : Traditional Bavarian Outfits (for anyone, men, women & children)
Lederhosen: Literally "Leather Pants" in German. Men's traditional Bavarian pants
Dirndl: Women's traditional Bavarian dress
When Do You Wear Dirndls And Lederhosen In Bavaria?
Trachten are worn by Bavarians for special occasions such as weddings, birthdays, and local festivals. And commonly as a go to outfit in the summer-we see them all the time in Munich!
Can I Wear A Dirndl Or Lederhosen As A Tourist?
Yes, of course! Trachten is fine to wear, just avoid making it look tacky or like a Halloween costume (avoid all of the super discount stores or tourist shops like the ones near Hauptbahnhof!)
So there you have it, your ultimate guide on what to wear for Oktoberfest. Now go forth, dress up like a pro, and have the time of your life at the beer bash of a lifetime!
Looking For More Information About Oktoberfest?
Feel free to ask below and we'll try to get an answer back to you! And be sure to check out our Instagram & TikTok for more content coming up!