*FYI - this post may affiliate links, which means we earn a commission (at no extra cost to you) if you purchase from them. Also, as an Amazon Associate, I earn from qualifying purchases. For the full scoop on what this means, feel free to check out our Privacy Policy and Disclosure.
Oktoberfest 2023 is just around the corner–and it's never too early (or late) to start planning…So whether you have been diligent or just realizing you need to hop on that now, we're here to help with a nice neat list of the Oktoberfest events you need to know for this upcoming Wiesn season.
Essential Oktoberfest Events And Facts
Other Helpful Oktoberfest Articles ⤵️
When Is The Munich Oktoberfest?
The Munich Oktoberfest 2023 will start on September 16th and go until October 3rd. Typically it is 16-18 days long (depending on the year).
Beer Serving Hours
Opening day: noon – 10:30 pm
Weekdays: 10 am– 10:30 pm
Saturdays, Sundays & holidays: 9 am – 10:30 pm
In general, Oktoberfest closes 11:30pm -but the Käfer and Weinzelt tents are open until 1 am!
Fairground Attractions And Ride Hours
Opening day: noon – midnight
Mondays – Thursdays: 10 am – 11:30 pm
Fridays, Saturdays: 10 am – midnight
Sundays: 10 am – 11:30 pm
Opening Day Parade
Watch all the Oktoberfest movers and shakers (your lovely brewers, bands, hosts, showmen and wait staff) march their way to Thereseienwiese in full traditional regalia, complete with barrels, brews and blooms and horse drawn carriages.
The atmosphere and sheer pageantry is one of our favourite ways to kick off the season.
When: Saturday 16th September – 10.45am
Where: Start at Josephspitalstrasse and proceed down Sonnenstrasse, Schwanthalerstrasse and Bavariaring – we reckon the best seats are in the grandstand on Sonnenstrasse
The Inaugural Tapping
When the clock strikes midday, it's official – head to the Schottenhamel festival tent beforehand to wait for the cry of 'O'zapft is!' from the mayor of Munich himself.
The mayor does the honour of tapping the first barrel and handing over a delicious pint to the Bavarian prime minister – then the festivities are declared officially open!
When: Saturday 16th September – 12pm
Where: Schottenhamel Tent, Theresienwiese
The Trachten Parade
If you want to see some traditional 'fits in action, you would be hard pressed to miss the 9000+ participants from local traditional dress groups and rifle clubs promenade through the old town.
Head down on Sunday morning to watch this well-dressed crowd wend their way to the festival site.
Where: Starts at the Max II Monument on Maximilienstrasse, winds through the Old Town and ends up at Thereseienwiese
When: Sunday 17th September – 10am
Wiesn Church Service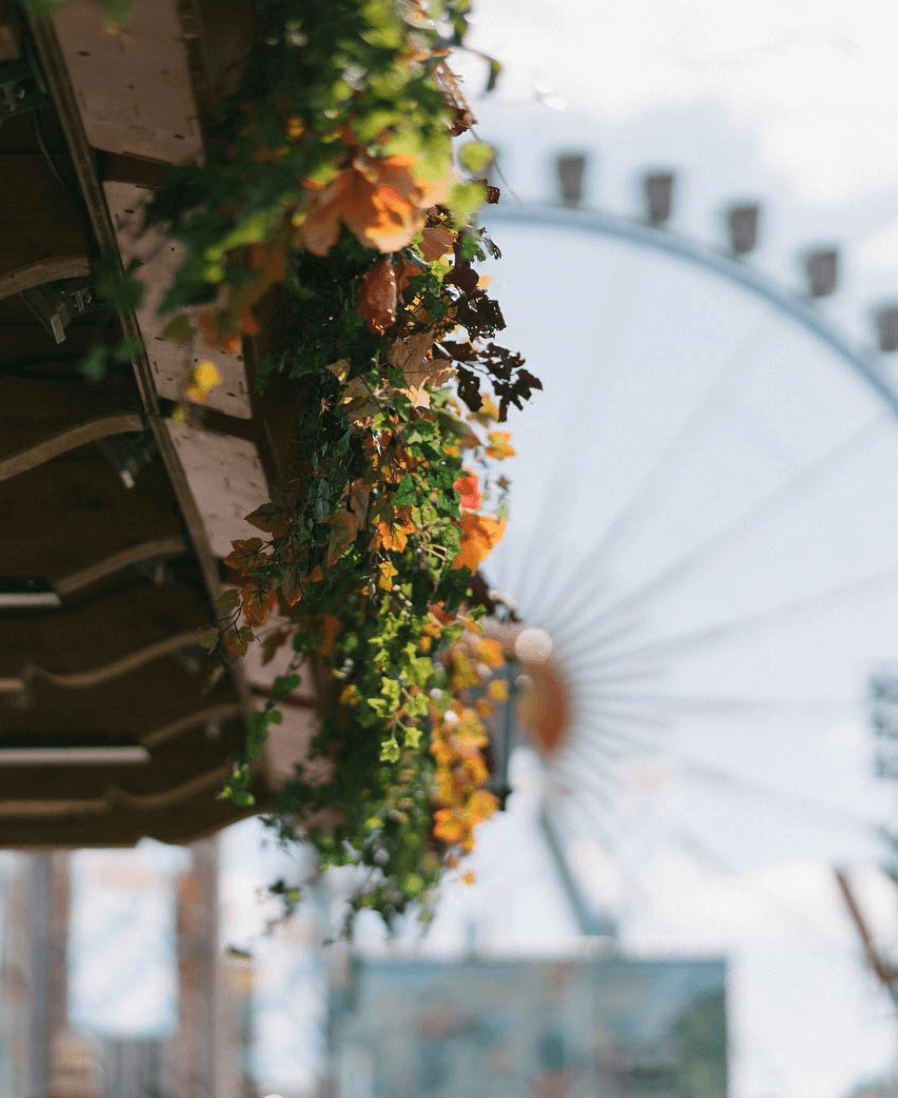 This longstanding open church service is a beloved Wiesn tradition for locals. While it's primarily aimed at festival staff with the intent to commemorate showmen, market sellers, and prominent Wiesn leaders who have passed away – there's also been a fair few special baptisms and christenings (Wiesn Tent > church) over the years.
Though geared towards festival workers, anyone can attend, and the service is open to all guests.
When: Thursday 21st September, 9.30am
Where: Marstall Marquee
Platzkonzert Under The Statue Of Bavaria
If you're after an oracular spectacular – definitely head down to the Bavaria statue on the morning of the second Sunday.
On this one glorious day, the various Oompah bands congregate in the square and unleash pure harmonious glee and play together – conducted by none other than the mayor of Munich and the boss of Wiesn themselves.
When: Sunday 24th September – 11am
Where: The Bavaria Statue on Theresienwiese
Böllerschießen Ending Ceremony
A (fire)cracker of a send off! The Bavarians like to go out with a bang – and there's no better way to witness this than attending a rifle salute.
Naturally, with an accompanying brass band at the foot of of the Bavaria statue on the very last day. Around 60 of Bavaria's best riflemen partake in this time honoured tradition.
When: Tuesday October 3rd – 12pm
Where: The Bavaria Statue on Theresienwiese
Oktoberfest Family Days
While renowned internationally as a boozy event, there are plenty of fun activities and safe spaces for families to celebrate with their youngest members.
Each Wiesn Tuesday offers something extra for those with little ones in tow, offering discounts on rides, performances and snack stands – many of the beer tents will also put on a special kids menu for the day.
If you can't make a Tuesday – head down to the Familienplatzl where there are plenty of child friendly facilities (including pram parking, and a space to prepare your own food), games and shows with prizes, and kid friendly meals.
When: Special kids discount on rides, food and activities on both Wiesn Tuesdays until 7pm.
Where: Familienplatzl – Wiesenstrasse 3 (every day)
Looking For More Information About Oktoberfest?
Feel free to ask below and we'll try to get an answer back to you! And be sure to check out our Instagram & TikTok for more content coming up!