*FYI - this post may affiliate links, which means we earn a commission (at no extra cost to you) if you purchase from them. Also, as an Amazon Associate, I earn from qualifying purchases. For the full scoop on what this means, feel free to check out our Privacy Policy and Disclosure.
Hello beautiful bored people and hello Munich Events Weekend 32! Music lovers and social butterflies get ready for a weekend packed with food, parties and more!
Free Events, Activities And Festivals This Weekend In Munich
This weekend is filled up with so many free events and great selections of activities for all ages. Have a look below to find your weekend plans in Munich.
Ping Pong Dj Jam
What you see is what you get! Come on down to the beer garden for some ping-pong action and dacning with DJ ANXA.
When: Thursday, August 10 // 5:30 p.m.
Where: Blumenstrasse 7
Cost: Free Admission
OPEN DECKS At Backstage Munich
You can listen to the sets of new or experienced DJs for FREE in a cozy atmosphere. Who knows, perhaps the big DJs of tomorrow are already spinning here, and you have the chance to experience them up close!
Whether you're an established DJ or new to the scene, feel free to send in an application at: opendecks@backstage.eu
When: Friday, August 11 // 11 p.m. – 3 a.m.
Where: Reitknechtstraße 6
Cost: Free Admission
Two In A Row Sommerfest
The time has come! Two in a Row Summer Festival 2023 at Bahnwärter Thiel! Delicious treats, cool drinks, and great music await while you celebrate a sunny day and wild night together! Free entry until 5 pm! After that, regular club admission of €15 applies. Discounted tickets available in advance!
When: Saturday, August 12 // 4 p.m. – 6 a.m.
Where: Tumblingerstraße 45
Cost: Free – €15
Night Market at Olympiastadion
Experience the lively ambiance of the Olympic Stadium's flea market with over 300 exhibitors, music, and good vibes.
Explore a diverse array of items while enjoying a relaxed beer and great music. Don't miss this delightful shopping and haggling experience!
When: Sunday, August 13 // 3 p.m. – 11 p.m.
Where: Olympiapark
Cost: Free Admission
Ninetie's & Soulfoot Oldschool Summer Open-Air
At the marvelous Urban Beach Club at Sugar Mountain, artists will keep you grooving with a fusion of Jazz and Hip Hop, uniting in the purest language of music. Freestyle and spontaneous beat-making will create beauty and enjoyment.
Apart from the planned highlights, there will be improv acts as well! Plenty of activities will be available on-site: basketball court, volleyball field, skate park, table tennis, and much more!
When: Sunday, August 13 // 2 p.m. – 10 p.m.
Where: Helfenriederstraße 12
Cost: Free Admission
Lazy Sunday Rooftop Party
The moment has arrived – get ready for the third and final round of Lazy Sunday! It's gearing up to have a bigger sound system and exciting surprises.
Save the date for a smooth farewell to the summer break! Check out the fantastic line-up featuring Garex, Manthony, LostThought, and Bordeuz Techno! Tickets are available here.
When: Sunday, August 13 // 4 p.m. -10 p.m.
Where: Coubertinplatz
Cost: From €6.71
Hide Out Bluesfest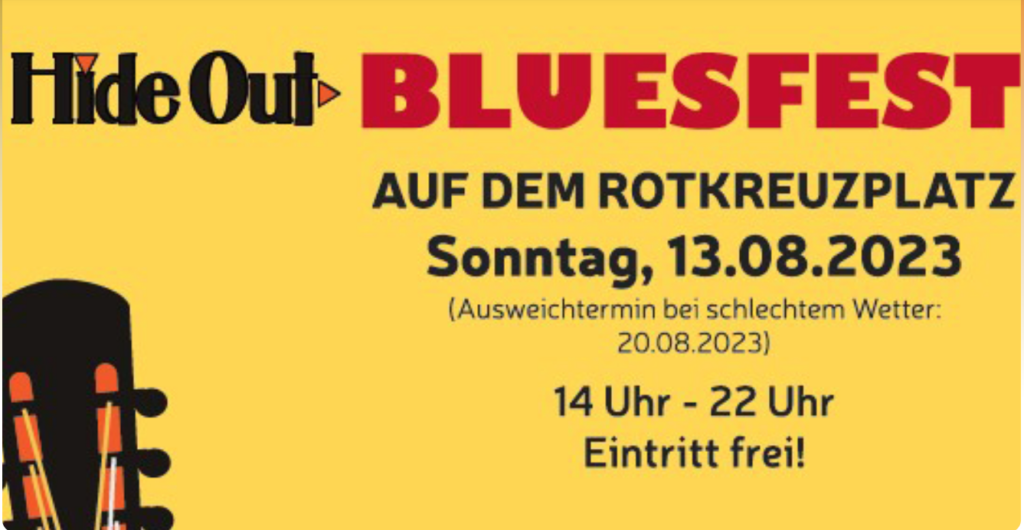 Following a 3-year COVID hiatus, the return of the Bluesfest at Rotkreuzplatz is upon us! Starting from 2 p.m., enjoy performances from Western Swing, Blues, Folk, and Rock'n'Roll bands!
When: Sunday, August 13 // 2 p.m. – 10 p.m.
Where: Rotkreuzplatz
Cost: Free Admission
Looking For Other Deals or Cool Things to Do in Munich?
We always make sure to keep our event calendar up to date with the latest and greatest upcoming activities. Check it out here if you are interested in more than the few above mentioned events!
If you're still strapped for ideas on things to do this weekend, check out Groupon. If it's your first purchase, you can use the code HALLO to save 20% off any of their local deals, which means you can splurge on cool experiences like restaurants, alpaca walking, and even hot air balloon flights at a steep steep discount. Click here to browse.