*FYI - this post may affiliate links, which means we earn a commission (at no extra cost to you) if you purchase from them. Also, as an Amazon Associate, I earn from qualifying purchases. For the full scoop on what this means, feel free to check out our Privacy Policy and Disclosure.
Nothing schöner than a döner…except perhaps a list of the top rated Munich döner spots combined with the best priced places…
The Döner is probably one of Germany's favourite foods, easy to grab and go, filling and a (our) go to late night snack.
For this unfamiliar, this Turkish fast food treat consists of shredded meat (that's been slow cooked all day) mixed with sauce and chopped vegetables wrapped in a big warm piece of bread.


Best Rated Döner In Munich
Djangos
A go-to classic place to eat at least once per week during lunch break. Amazing food and consistent, top quality!
Try their falafel or their classic döner. With an interior renovation over Covid and new outdoor furnishings, the place looks brand new!
Address: Schlierseestraße 77
Price: €9.80
Opening Hours: Weekdays: 10 a.m. – 9 p.m., Weekends 11 am. – 9 p.m.
Westends Best Döner
This hole-in-the-wall spot has been hailed as a truly great döner experience. Consistently offering excellent dishes and "legit döner kebab" all day, every day.
If you find yourself on that side of the city with a craving, head on over the Westends!
Address: Trappentreustrasse 17
Price: €10
Opening Hours: 8 a.m. – 10 p.m.
Doa Kitchen
Boasting phenomenal food, service, and an excellent atmosphere, Doa provides you with authentic Middle Eastern cuisine.
There are plenty of food options for vegans and omnivores alike, as well as a ton of seating options to tuck yourself away and enjoy your food!
Address: Augustenstraße 74
Price: €10–20
Opening Hours: Monday – Saturday: 8 a.m. – 8 p.m. (Closed Sundays)
Best Priced Döner In Munich
Alpen Imbiss
Despite its simple look, don't let this humble restaurant fool you. Alpen Imbiss has a variety of food options available but people rave about their döner.
Despite how low the cost is, their döner is more than decent. The place is always open so if you're in town and hunting for a good central spot for a good price, they've got you covered.
Address: Thalkirchner Str. 2
Price: €6
Opening Hours: 24 hours, 7 days a week
Chiccos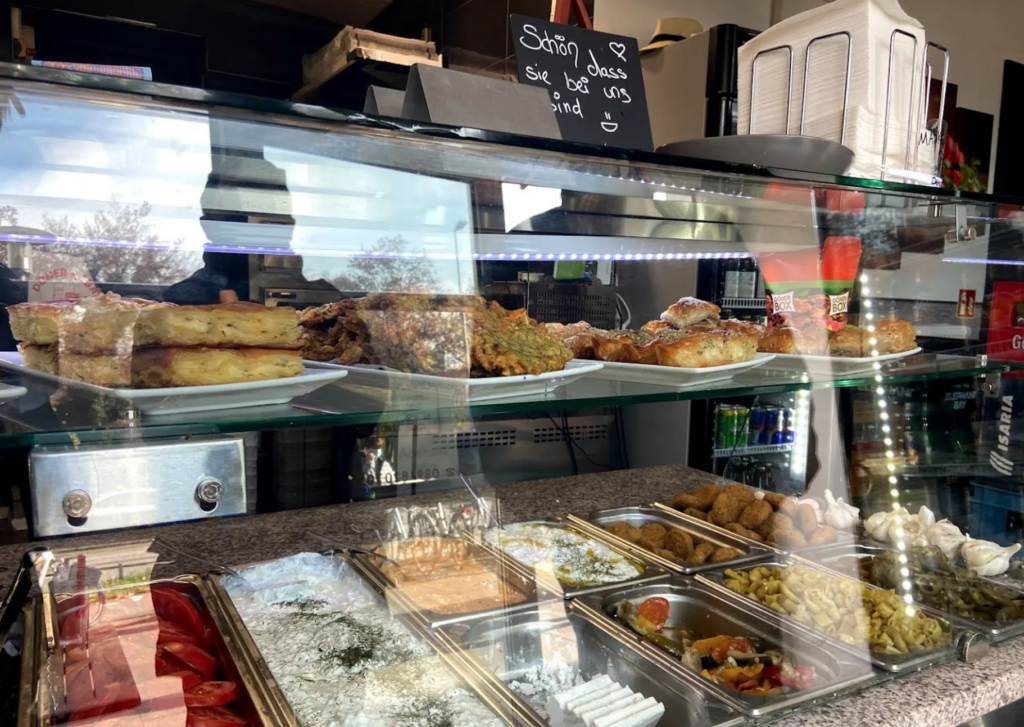 With a 4.5 star rating, Chicco's is highly recommended. Enjoy impeccably prepared kebabs, pizza, and falafels.
Many patrons praise the staff, and exceptional service is a consensus among customers. With its inviting ambiance, Chicco's is a absolutely delightful döner spot.
Address: Ganghoferstraße 25
Price: €6 (€5 for students)
Opening Hours: Weekdays: 11 a.m. – 10 p.m., Weekends: 12 p.m. – 10 p.m.
Erbils Vegan Döner
Just a 5-minute walk from Munich Ostbahnhof, Erbils offers excellent food at great prices – as well as catering options.
Erbil's foods are 100% vegan, use oat milk, have 5 star reviews, and of course deliver! So the only question left really is: what are you waiting for?
Address: Breisacher Str. 13
Price:€5.90
Opening Hours: 10:30 a.m. – 8 p.m.
Did We Miss Any Of Your Favourite Munich Döner Spots?
Feel free to ask below and we'll try to get an answer back to you! And be sure to check out our Instagram & TikTok for more content coming up!