*FYI - this post may affiliate links, which means we earn a commission (at no extra cost to you) if you purchase from them. Also, as an Amazon Associate, I earn from qualifying purchases. For the full scoop on what this means, feel free to check out our Privacy Policy and Disclosure.
Looking for one of the best Thai restaurants in Munich?
We've got you covered with a tasty and affordable pick – Mun Mun Thai Cooking, located at Münchner Freiheit.
With a variety of mains for under 10 euros you would be forgiven for assuming that Mun Mun scrimps on either portion size or food quality.
We can happily assure you they do neither.
Read on for a brief review!
Food at Mun Mun Thai Cooking
The Food at Mun Mun is all made with fresh ingredients and you can tell.
Whilst tasting deeeeelicious (not sure if you can tell but we really liked this place), the food doesn't leave you with the feeling of self loathing that can often come with generous helpings of Thai cuisine.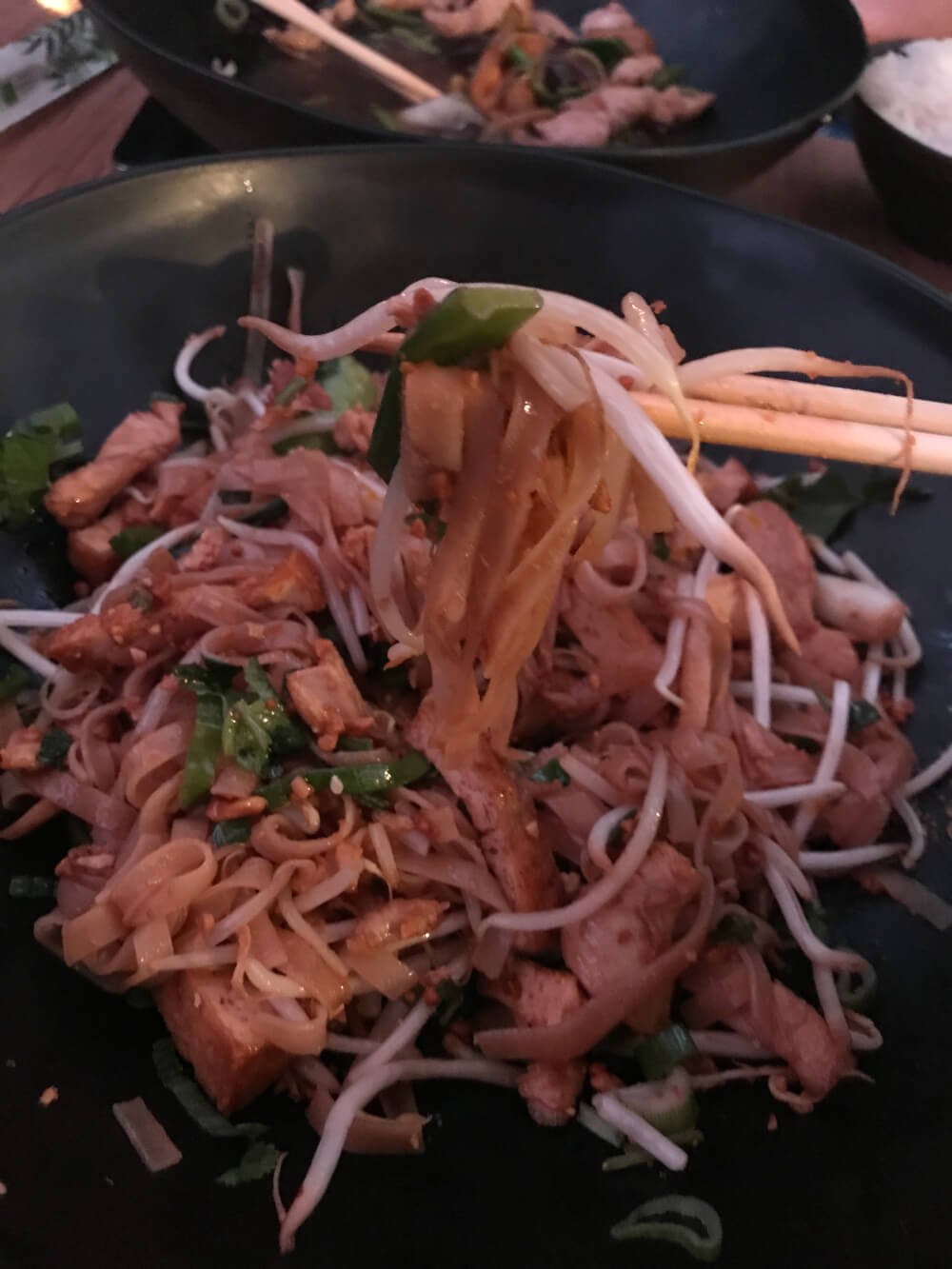 We went for the N2 and H3 (they use number and letter codes so you don't need to worry about trying to pronounce Thai food names), which was the Pad Thai Gai (pictured above) and the Gai pad king (both chicken).
Crammed with ample amounts of veggies and meat in some seriously tasty sauces, if you love Thai this place is worth a look.
The Gai pad king pictured below also came with a giant serving of rice, and we (shamefully) admit we could not finish it.
Luckily, as the restaurant also does takeout, they have food containers which you can help yourself to so if like us you can't polish it of in one serving, you can take it with you for a wonderful snack the next day….or the bus ride home (self control is not our forte).
Prices at Mun Mun Thai Cooking
With the majority of the menu options costing just shy of 10 euro, and even the most expensive item setting you back 13.50, this is a perfect end of week indulgence when you don't fancy doing the dishes but feel like treating your body to something healthier than a McDonalds.
Service at Mun Mun Thai Cooking
The service at Mun Mun is simple.
With a counter at the front you can grab yourself a seat and then head up to order and pay at the same time. Simples. Despite a small kitchen we found we didn't have to wait for our food very long.
The place acts as a takeout as much as a regular restaurant with a small waiting area for takeout customers, and whilst we were there takeout customers seemed to be in and out pretty sharpish.
Mun Mun doesn't offer delivery though so you'll have to make a trip to Munchner Freiheit for your Thai food fix.
Ambiance at Mun Mun Thai Cooking
As previously stated the restaurant is half takeaway and has a simplistic ordering system.
As such don't expect too much in the way of ambience.
The staff are friendly and efficient, but with a relatively self-service approach don't expect servers popping by to check how things are and if you need a top up.
Great if you like that sort of thing, but perhaps not an ideal first date location.
Mun Mun Thai Cooking: The Final Verdict
EAT HERE.
Seriously, it's delicious, cheap, the portions are huge, and offers a simple yet friendly service.