*FYI - this post may affiliate links, which means we earn a commission (at no extra cost to you) if you purchase from them. Also, as an Amazon Associate, I earn from qualifying purchases. For the full scoop on what this means, feel free to check out our Privacy Policy and Disclosure.
Ah, autumn. This is the most beautiful part of the year when you live in a green city like Munich. And if you are looking for inspo on Autumn activities in Munich with kids in tow, we have few suggestions for you!
Suddenly the town looks so peaceful, happy and gloomy all at the same time. Colours are changing, rain is falling and sometimes even the sun comes out!
If you have kids, then you probably know that during Fall, kids find everything interesting, from collecting leaves, chestnuts and snails to jumping in puddles.
Hopefully you will find something new for you and the kids to do together!
Table of Contents
Explore Munich's Beautiful Parks
One of our favorite Autumn Activities in Munich to enjoy with Kids is walking around the English Garden (pro-tip; grab some roasted chestnuts to snack on along the way!).
However, if you want to visit some new places, we suggest Nymphenburg Palace and Botanical Garden, Westpark and a long walk along the Isar.
The changing autumn colors, the sweet sound of leaves crunching beneath your feet, and collecting chestnuts is a guarantee for a happy day!
Click here for a full list of beautiful autumn spots in the city.
Enjoy Warm Drinks With A View At Gans Am Wasser
After a walk through Westpark, you should take a rest at Cafe Gans am Wasser. While you sip your warm tea you can enjoy the cozy and peaceful atmosphere with your kids.
They also have a lot of concerts, flea markets and circus shows here just for kids, so be sure to check this cute little place out.
Visit Some Munich Museums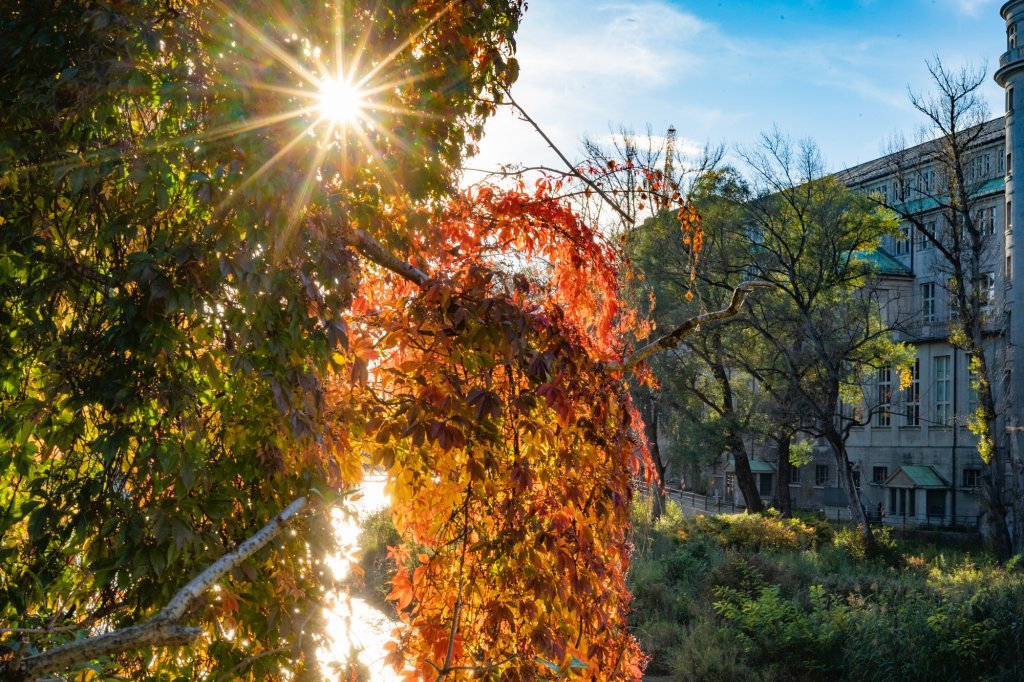 We love museums all year long, but during the rainy season in Munich, we take shelter in museums more frequently. (On Sundays there are many that are only 1€ entry!)
Although Deutches Museum is always a good choice, we would also suggest that this Fall season you visit the Kinder und Jugend Museum.
Take A Trip To Legoland
Legoland is always a good idea, but especially in October!
Full of spooky decorations, magical pumpkins and treasure hunts, it's a perfect little getaway for anyone who loves Halloween season.
Go For A Hike At Lake Tegernsee
If you're looking for something more active to do with your family this Autumn, a great idea is to try and catch one of the last sunny days in Munich with a family hike to a mountain hut.
Looking for an easy hike with good food? Then you need to visit the Berggasthof Neureuth at Lake Tegernsee.
Enjoy the view and Kaiserschmarrn !
Visit The Hellabrunn Zoo
This is something that we usually do in spring time, but with their large array of inside exhibits, it is also a nice autumn idea as well.
But, if we catch some more sunny days, we will definitely try to spend a day walking around outside also at this famous Munich zoo!
BONUS: Take A Day Trip To The World's Largest Pumpkin Festival!
If you're eager to get out of Munich for a day, the world's largest pumpkin festival is the perfect Autumn day out with kids and can be done from Munich as a day trip!
We Hope You Enjoyed This List Of Kid-Friendly Autumn Activities In Munich!
And there you have it, a simple list of things in Munich you can enjoy doing this autumn season with your kids. Dress warm and enjoy!