*FYI - this post may affiliate links, which means we earn a commission (at no extra cost to you) if you purchase from them. Also, as an Amazon Associate, I earn from qualifying purchases. For the full scoop on what this means, feel free to check out our Privacy Policy and Disclosure.
Hello beautiful bored people and welcome to Munich Events Weekend 45! This November week shines with a little food, some dancing, and festivals for all!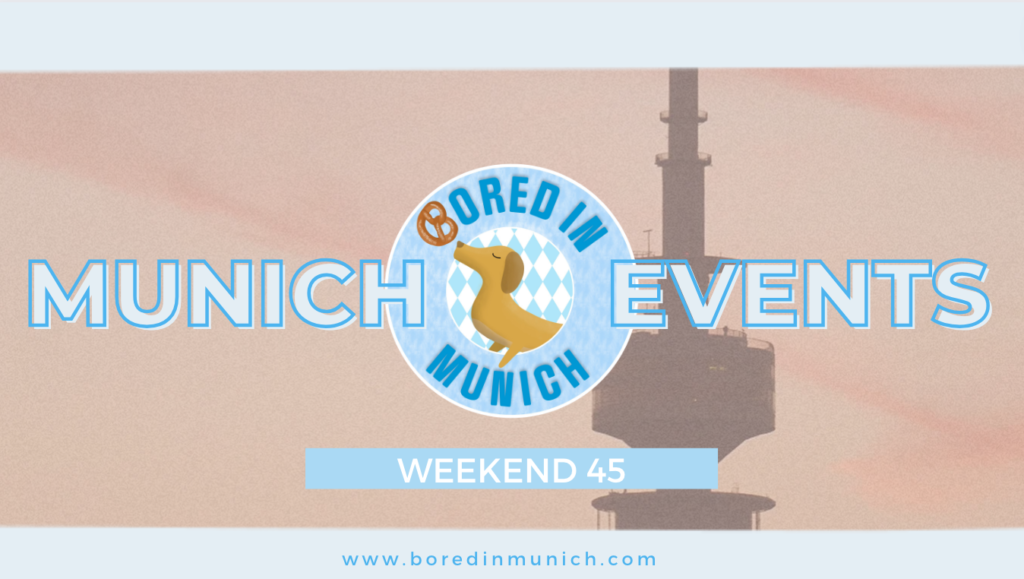 Free Events, Activities And Festivals This Weekend In Munich
This weekend is filled up with so many free events and great selections of activities for all ages. Have a look below to find your weekend plans in Munich.
Reisige Rosi Bouldering Meetup
Whether you're new to Boulder or a pro, anyone can come by for Bouldering or just to hang out in the tramway house, drink beer or tea, exchange and meet new people.
Plus this event is free and drinks are available on a donation basis.
When: Friday, November 10 // starting at 2p.m
Where: Trambahnhäusl, Rosenheimer str.238
Cost: Free Admission
WinterWunderWERK Opens
COme experience WinterWunderWERK, the winter spectacle in the Werksviertel-Mitte! It's time to "aim," "shoot," "curse," and "try again" on the curling lanes at the Container Collective.
Exactly one week later, on November 16, the ice skating rink will be opened on Knödelplatz. Also enjoy the enchanting gourmet market, right next to the ice rink! Curling can be booked here.
When: Thursday, November 9 // 6:30 p.m. – 9:30 p.m.
Where: Atelierstraße 4
Cost: €99
Salsa Roja
Since 2011, Munich's Salsa Roja has thrilled audiences with its covers of salsa legends, featuring a mix of Latin American and international influences. With a lively lineup and captivating performers, they'll have you dancing to salsa classics from start to finish. Tickets are available here. Don't miss it!
When: Friday, November 10 // 7 p.m.
Where: Giesinger Bahnhofplatz 1
Cost: €15
Dia De Los Muertos
Come and celebrate the day of the dead at the Five Continents Museum! Enjoy live music, folk dancing in Bavarian and Mexican styles, as well as workshops and Mexican specialties showing the history of the Dia De Los Muertos.
When: Saturday, November 11 // 10 a.m. – 6 p.m.
Where: Maximilianstraße 42
Cost: From €7
Community Rooftop Garden
Join in the harvest of this community rooftop garden. Learn about how to use different vegebtables, herbs and spice as well as help plant and work on the garden for the next season!
Afterwards you can enjoy some tea and chat with your fellow gardening friends. Register by emailing oe_werkstatt@kjr-m.de or feel free to spontaneously pop by!
When: Sunday, November 12 // 2 p.m. – 4 p.m.
Where: 25 claude lorrain st
Cost: Free Admission
Water Sport Festival
The 6th edition of the Water Sports Festival is coming soon at the Olympic Swimming Hall! With the motto "Get Involved" this year, there will be more than 20 sports presented by clubs and institutions, all waiting to be explored for free by water sports enthusiasts of all ages!
When: Sunday, November 12 // 12 p.m. – 6 p.m.
Where: Olympic Swimming Hall, Olympia Park
Cost: Free Admission
Looking For Other Deals Or Cool Things To Do In Munich?
We always make sure to keep our event calendar up to date with the latest and greatest upcoming activities. Check it out here if you are interested in more than the few above mentioned events!