*FYI - this post may affiliate links, which means we earn a commission (at no extra cost to you) if you purchase from them. Also, as an Amazon Associate, I earn from qualifying purchases. For the full scoop on what this means, feel free to check out our Privacy Policy and Disclosure.
With Sommer in der Stadt winding down, the city of Munich is keeping the fun rolling with a new "Volksfest-y" event at the Werksviertel-Mitte known as Trachtival, with rides, a beer garden, tracht for sale and more!
In this post, we'll share all the fun things you can do at Trachtival, along with important must-knows like opening hours and dates.
Trachtival 2020: Basic Details
Location: Werksviertel-Mitte (By Ostbahnhof)
Dates: From September 11th to October 25th
Hours:
Closed on Mondays
Tuesday – Friday: 2 p.m. – 10 p.m.
Saturday / Sunday: 12 a.m. – 10 p.m.
What to Expect: Rides, games, a beer garden, culinary offerings, performances
What to do at Trachtival 2020
To get an idea of the programming available at Trachtival, here's a list of what you can actually do!
1. Hop on some Trachtival 2020 Rides
For any thrillseekers missing the rides from Oktoberfest, you can get a small sampling of them here are Trachtival. Rides at Trachtival this year include:
The Umadum: This giant ferris wheel is not a temporary installation, but you can actually ride it cheaper during Trachtival if you buy some combo tickets for other rides too (more on this below).
Wilde Maus : A little traditional roller coaster decorated with tiny mice.
HangOver – The Tower : An 85m drop ride that is apparently the highest (mobile) free fall tower in the world.
Jumper : A 20 passenger ride that puts you in an oversized windscreen wiper.
Chain carousel: A classic favourite for kids and adults alike.
Children's carousel: A carousel featuring figures/motifs from the Brothers Grimm tales.
As we previously mentioned, they are offering special bundle tickets if you want to save a bit of money. The savings packages are:
TOP3 – Includes the Wildemaus, HangOver and Umadum
Prices:
Regular: €20
Reduced: €15
Children: €11 €
TOP2 – Includes the Wildemaus and Umadum
Prices:
Regular: € 15
Reduced: 12 €
Children: 8 €
2. Drink some Wiesn brews at the Trachtival Beer Garden
While there's no shortage of places to grab a drink at the Werksviertel-Mitte, there's a special pop-up beer garden set up just for Trachtival that includes a special treat: Wiesn brews for only 9 euros a Maß!
Definitely a better deal than what you'd get at the real Wiesn….. right? …. Right? *sob*
They also have a small selection of other drinks here too:
3. Do some shopping
If you're in the market for new tracht, Angermaier has a pop-up shop at the festival, including an outlet section where you can get huge discounts on last season's styles.
We also spotted a small Wiesn souvenir stand selling Oktoberfesty magnets, Maßkreug, and because it's 2020: masks!
4. Play some games
At Trachtival 2020, you'll also find a few carnival games like duck fishing and the shooting gallery, along with a set of claw machines with some (honestly) awesome prizes like big smiling Pikachus and the cutest little stuffed hamsters.
5. Grab a bite to eat
Some classic Oktoberfest treats can be found at Trachtival too, including a confectionary truck selling chocolate-covered fruit, gingerbread hearts and all the classics.
Since you're in the Werksviertel-Mitte too, there's a bunch of a places to grab 'regular' food as well, with diverse options including poké bowls, Thai street food, healthy green takeaways and Syrian cuisine.
6. Enjoy some live music
As part of Trachtival and Sommer in der Stadt, they've set up a performance stage at Knödelplatz where musicians will be hosting free mini-concerts. A full program has not yet been released, but you can check the official site here for more info.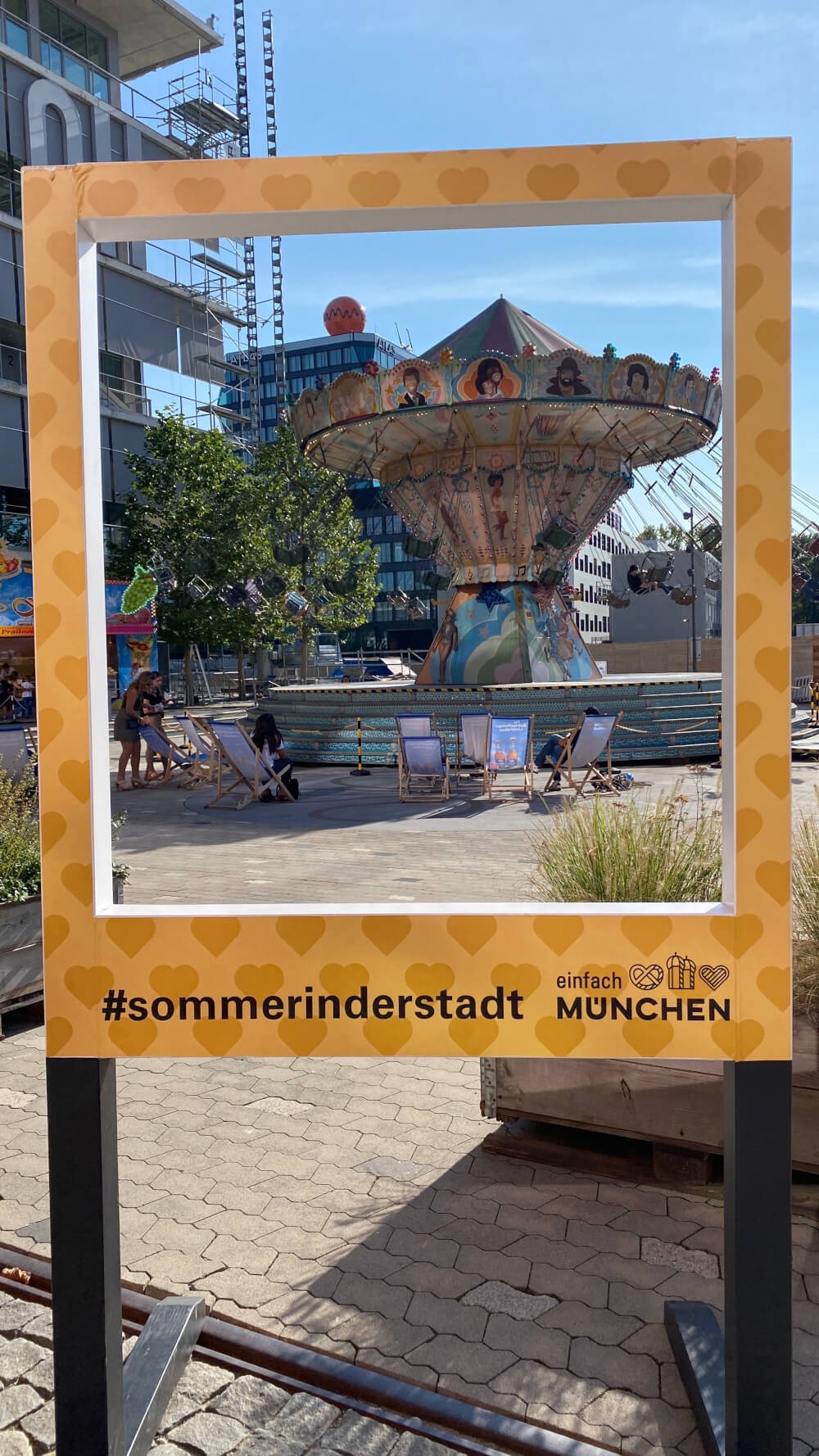 For more info on the Trachtival program, visit the official site here.