*FYI - this post may affiliate links, which means we earn a commission (at no extra cost to you) if you purchase from them. Also, as an Amazon Associate, I earn from qualifying purchases. For the full scoop on what this means, feel free to check out our Privacy Policy and Disclosure.
Getting affordable winter coats should be a cinch with this list of second-hand stores in Munich where you can find the best winter coats!
The Munich winter season tends to get quite chilly (already kicking in to action now in November!) So we know you'll definitely need some nice coats for the heavy weather. We'd say, why not go for some environmentally friendly options that wont break the bank? Munich is full of great second hand stores!
These shops provide an opportunity to stay away from fast fashion labels, while also being a more economical option! And of course, shopping this way gives you an opportunity to experiment with your wardrobe while having a bit of fun (second hand shops to us are like big treasure hunts!).
We enjoy perusing Munich's second hand stores to see what treasures we may find and we hope our list below helps you to do so as well!
Re-Sales
Resales has multiple locations all over Germany in states like Baden-Württemberg, Bavaria, Berlin, Hesse, Rhineland-Palatinate, Saxony, Saxony-Anhalt, and Thuringia.
This means you're definitely going to find a store near you to buy quality winter coats. This store believes very much in sustainability and works to curate fashion pieces in a way that's helpful to the environment.
Their opening hours vary from store to store, as you'll see here, but the average time of opening is 10:00 a.m. to 6:00 p.m. This store has the biggest selection of thrift clothes in Germany, with a wide range of choices for male and female clothing.
Address: Multiple locations in Munich
Opening Hours: 10:00 a.m. to 6:00 p.m
Oxfam
Oxfam is one of our favourite second hand shops in Munich. With so many locations in the city, it is probably the most convenient.
However, what we like in particular about this store is the fact that the website even has a shop finder you can use to locate the shop closest to you. You can also check out some nice coats in their wide selection.
Their products change quite often, giving you a wide array of options. They are also very invested in charity and encourage many to donate to their stores as well. They are open at different times across locations, but you should find them open between 10 a.m. and 6 p.m. in general.
Address: Multiple locations in Munich
Opening Hours: 10:00 a.m. to 6:00 p.m
Diakonia
Diakonia is also one of the second-hand shops we find fun to shop in for many items, including furniture, books, and clothing.
If you need a quality coat, you should look out for this store. This shop is committed to training and hiring many people as well as selecting fashionable pieces that are good for the environment.
Address: Dachauer Strasse 192, 80992, Munich
Opening Hours: 10 a.m. to 7 p.m. Monday through Friday, and from 10 a.m. to 3 p.m. on weekends
Secondhands and trends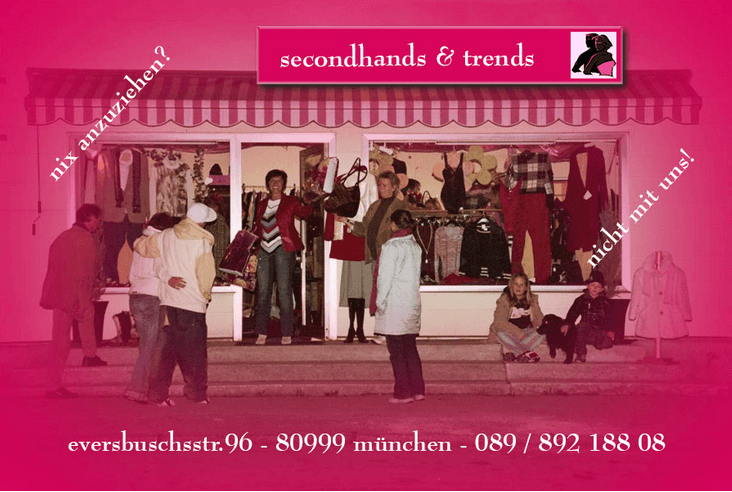 If you want second-hand shops in Munich that offer a wide selection of winter coats for all sizes without any discrimination, you've got the right store here.
Secondhands and Trends offer women's sizes that range from XS to XXL, so you don't have to worry about finding pretty clothes in your size!
Address: Eversbuschsstr.96 – 80999 münchen
Opening Hours: 9 a.m to 1 p.m & then 3 p.m to 6 p.m
Geridismann
Geridismann is a great store to buy affordable, fine quality winter coats for men. This store sells only quality second-hand menswear. The store boasts a wide array of selections for every man who needs nice clothes.
One thing peculiar to this store is how they have very high-quality designer names in their selection and the care they take in accepting such donations and selling them. You're sure to get beautiful coats for a steal!
Address: Barerstr. 74, 80799 Munich
Opening Hours: Monday through Friday, 11 a.m.–7 p.m., and Saturday, 11 a.m.–6 p.m
Vintage Revivals
Vintage Revivals is a second-hand shop in Munich that specializes in selling vintage pieces at a great price.
The store sells quality pieces that have been carefully curated or collected at reasonable prices. Their clothes are well taken care of and we've always been able to find a couple of gems on our trips there!
Address: Schützenstraße 7, 80335 Munich
Opening Hours: 11 a.m. to 8 p.m, Monday through Saturday
Bric – à – Brac Flea Market
Bric-à-brac Flea Market offers a bunch of vintage options tailored to your taste. You're bound to find a good winter coat you'd like right here! They encourage donations for sustainable fashion. They sell clothes for all ages as well.
Address: Lindwurmstr. 56–58, 80337 Munich
Opening Hours: Monday through Friday from 11 a.m. to 7 p.m, Saturdays from 11 a.m. to 3:30 p.m.
Any Other Munich Second Hand Shops We Should Add To The List?
Let us know in the comments or if you are interested in more of course make sure to check out our Instagram & TikTok!