*FYI - this post may affiliate links, which means we earn a commission (at no extra cost to you) if you purchase from them. Also, as an Amazon Associate, I earn from qualifying purchases. For the full scoop on what this means, feel free to check out our Privacy Policy and Disclosure.
Hello, beautiful bored people Munich, and hello to all the events weekend 47 has in store! If you're keen on some Christmas festivities and more, read on!
And if you are like us, then you are probably overwhelmed with enthusiasm at the site of all the Christmas Markets that have kicked off this week in Munich, BUT hold your horses, cause we need to let you know…there is SO much more happening as well!
Munich Events this Weekend
Free Events, Activities, and Christmas Markets
This November weekend is filled up with a multitude of free events, all the Christmas Market details you need and great selections of activities for all ages. Have a look below to find your weekend plans in Munich!
Open Christmas Markets in Munich This Week
Marienplatz Christkindlmarkt
If you are looking for the classic German Christmas experience then this is the one for you. It is known as the oldest in Munich, tracing its roots back to the 14th century!
This market will also host the Munich Christmas tree that will be lit from November 21st to January 6th. The market will be full of advent music, workshops, shops, Glühwein, and even a "Krampus Run". If you wanna see a traditional Christkindlmarkt check this out! The opening times change depending on the day so check out their website for times.
When: Monday, November 21st to Saturday, December 24th, 2022 // 10 AM – 9 PM
Where: Marienplatz
Pink Christmas Market
Munich continues to flex its LGBTQ+ muscles with this Pink Christmas Market. This market will be located in Glockenbachviertel, the famous gay district of Munich.
The Pink Market is also the only certified climate-neutral market with most of the energy produced by the market itself. This inclusive and celebratory event is welcoming you!
When: Monday, November 21st to Friday December 23rd, 2022 // 4PM – 10PM
Where: Stephansplatz Munich
Christmas Market at the Sendlinger Tor
Did you know that Sendlinger Tor is one of the remaining city gates of Munich? This gate is now hosting a fantastic Christmas Market.
This Market boasts items from all around the world. You can find Indian handcrafts, handmade candles, scented oils, and ceramics. During these cold times, the market also offers Feuerzangenbowle and Christmas music to warm your body and mind!
When: November 21st to December 23rd, 2022 //10:30 AM – 9:30PM
Where: Sendlinger Tor Square
Medieval Christmas Market
Hey nerds, this market is for you. We know those dungeons and dragons fans out there will absolutely love this one.
The Medieval Market will sport traditional wooden houses, merchants in robes selling handicrafts, and cuisine from the time period. There are also programs for shows every day so check out their schedule!
When: November 21st to December 23rd, 2022 // 11 AM – 9 PM
Where: Wittelsbacher Platz, Briennerstrasse 6-10
Gans Woanders Christmas Market
This market might be at the Hexenhaus (Witch's house) but the vibes are not spooky only cozy.
This market has something for everyone. There will be Christmas workshops, fire shows, bingo for seniors, a children's program, and even acrobatics.
You really can't lose with this one!
Where: Kulturcafé Gans Woanders, Pilgersheimerstrasse 13
When: Thursday, November 24th to Saturday, December 31st, 2022
Winter Tollwood
Do you remember Oktoberfest? Well, Tollwood is being held at the same place however this time change out your Maß for a Glühwein mug.
They will also have a food plaza, curling rink, and even a magic forest! They will even have a New Years' Eve celebration.
Where: Theresienwiese
When: Thursday, November 24th to Friday, December 23rd, 2022
Latin American Christmas Market
This weekend Villa Flora will be home to Latin American Christmas Market. If you are looking for something different than a traditional German market this is the option for you.
There will be DJs, folklore, food trucks, live music, and artist stands. There will be events for children as well including a piñata.
Times for the event change depending on the day so check out their website for times!
When: Friday, November 25th to Sunday, November 27th, 2022 //
Where: Villa Flora
Cost: 5 €
Popup Tropical Christmas Market
Yes, sadly for all our summer lovers out there winter is here. If you are missing that sunshine and Vitamin D try out this Tropical Christmas Market.
The event is being held at a pop-up gallery! The atmosphere will be warm, metaphorically, with a hot mai tai and potentially some Christmas presents.
When: Saturday, November 26th to Sunday, Novemer 27th, 2022
Where: Leopoldstraße 162, 80804 München, Deutschland
Cost:
Children's Gingerbread house building Event
The winter holidays are a time of relaxation and celebration. Why not share that with your kids?
At Marias Platzl they are offering a way for you to do just that, making gingerbread houses. They will provide a welcoming atmosphere with cookies and mulled wine.
When: Sunday, November 27th, 2022 // Starts 4 PM
Where: Marias Platzl
Cost: €35.00 per child and one companion
Snowboard Flea market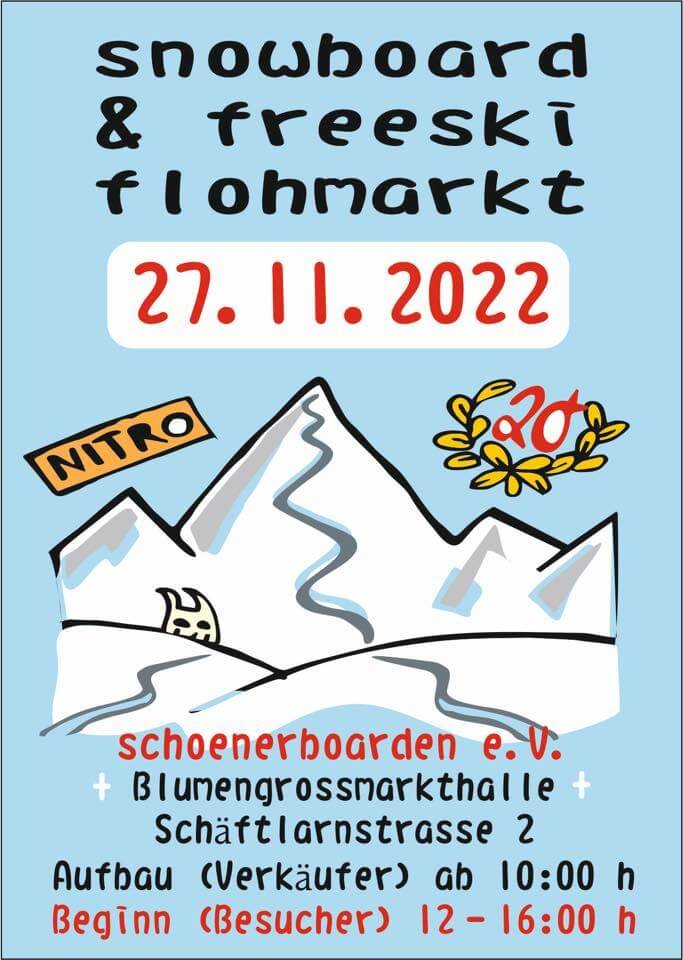 Hey, there winter sports fans, this one is for you. The 27th edition of the snowboarding market is back.
They will sell all you need to enjoy the snow; skis, snowboards, and even surfboards. At the same time, there will also be mulled wine and food!
When: Thursday, November 27th, 2022 // Starts 12 PM
Where: Schäftlarnstraße
Cost: Free
Student Photography Course
Having trouble finding some great activities to meet your student budget? Well, Studentwerk München has you covered! Why not try their upcoming photography course!
At the mighty fine price of just 5€ per admission, you can join in on this great photography course happening Friday! Whether you want to get some support with your basic camera skills, grab better content for the 'gram or just up your selfie game, this event is for all!
You can find more information on their website here or check out their Instagram for some more great deals and activities for students.
When: November 25, 2022 // 2:30 p.m. to 7:00 p.m.
Where: Olympisches Dorf
Cost: 5€
Exit Rave Festival
Are you looking to finally find a big bright techno festival in Munich? Well, luckily this weekend Utopia Munich will be hosting the ultimate Eat.Sleep.Rave.Repeat event!
This massive indoor warehouse rave will kick of on Saturday November 26th at 8 p.m, so if you're eager to get in on the action make sure to head to their website soon to grab your tickets as we've heard they are selling out fast!
When: November 26, 2022
Where: Utopia
Cost: Ticket prices vary // You can check on their website here!
Charity Advent Concert
Looking to get into a brilliantly colorful and festive event this Sunday? Why not go and enjoy the magical music of a (Charity!) Advent Concert this Sunday!
The wonderful organizers from Monaccord have gathered together a wide array of local talent that tops over 100 singers and musical performers who will get together for an evening of celebration, diversity and festive support for the queer communities in Munich and Ukraine.
The admission is free, but all donations gladly welcome to supporting Munich Kyiv Queer's Ukrainian refugee aid! Also, if you join please make sure to bring a mask to wear!
When: November 27,2022 // Admission begins at 3:30 P.m Concert begins at 4 P.m
Where: St. Lukas Church, Mariannenplatz, Munich
Cost: Free Admission (Donate if you can, it's an important cause!)
Looking For Other Deals or Cool Things to Do in Munich?
We always make sure to keep our event calendar up to date with the latest and greatest upcoming activities. Check it out here if you are interested in more than the few above-mentioned events!
If you're still strapped for ideas on things to do this weekend, check out Groupon. If it's your first purchase, you can use the code HALLO to save 20% off any of their local deals, which means you can splurge on cool experiences like restaurants, alpaca walking, and even hot air balloon flights at a steep steep discount. Click here to browse.