*FYI - this post may affiliate links, which means we earn a commission (at no extra cost to you) if you purchase from them. Also, as an Amazon Associate, I earn from qualifying purchases. For the full scoop on what this means, feel free to check out our Privacy Policy and Disclosure.
In just one week, Allianz Arena will be hosting the NFL in Munich! If you're a fan of American football, this is a event you don't want to miss. Here's everything you need to know about the NFL's first ever game in Germany!

Looking to be prepared for an incredible experience? The NFL is known for putting on a great show, and we can't wait to see what they have in store for their new international addition of Munich!
Who's playing who? What's the schedule? and where can you see all of this? We've got all the details on the game below to help you get ready for some exciting football in Munich.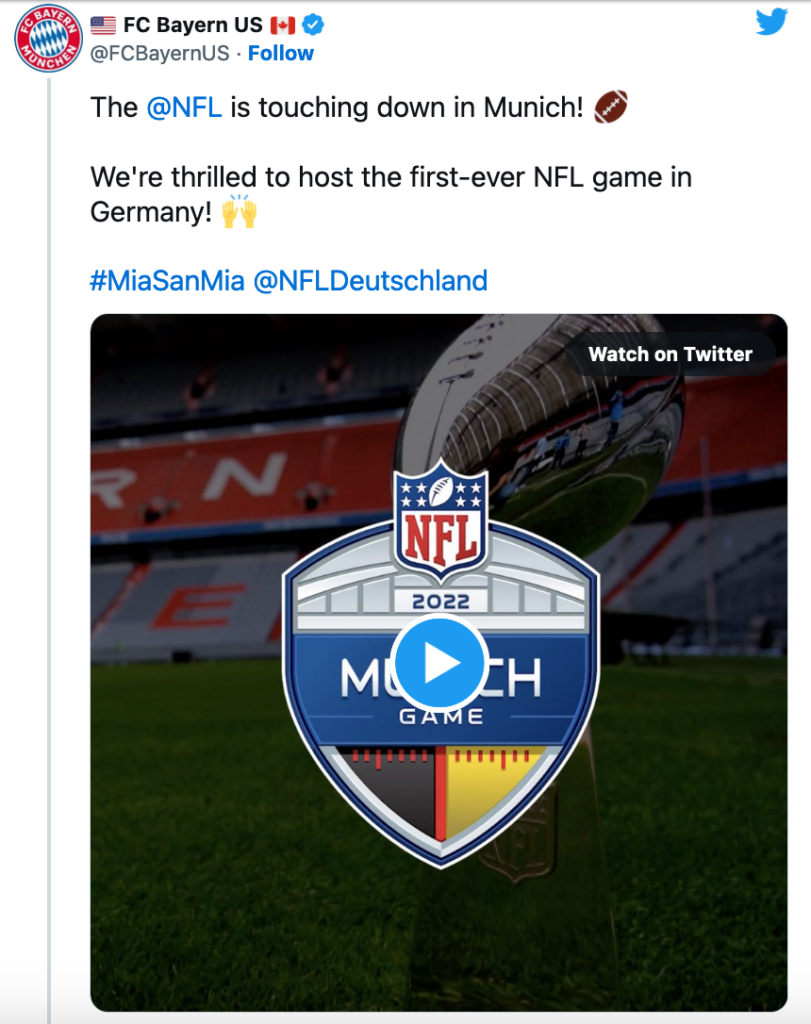 Why Is The NFL In Germany?
Earlier this year, the NFL revealed that a select group of clubs would participate in a new International games Series. Five international NFL games, including this one in Munich, one in Mexico, and three in the United Kingdom will be happening in 2022.
Over the next four seasons, Germany will actually be hosting four International Series games! Two games at Allianz Arena and two in the Frankfurt Stadium.
Fun fact: Germans sure love their football, but data has shown that American football is the second most viewed sport in Germany!
What You Need To Know About The NFL Game In Munich
This month the first NFL International game is going to be held at Munich's own Allianz Arena- home of FC Bayern and one of the largest and most iconic stadiums in the world!
On November 13, 2022 The Tampa Bay Buccaneers will go up against The Seattle Seahawks at 3:30pm.
Unfortunately the tickets for this event sold out almost immediately, but you can still try your luck for last minute resales on places like Ticket Master or Ebay Kleinanzeigen.
How You Experience The NFL In Munich
Football fever is sweeping the city- and everyone is getting ready for some intense gridiron action…but unfortunately tickets are scarce…. So what can you do if you want to still join in on all the American Football fun?
How about a classic German 'Public viewing'? If you don't feel like streaming or watching at home doesn't seem to hold the same excitement, then we'd recommend you get out with some friends (or make some new ones)!
As a general recommendation, these are some bars that sometimes play NFL and other international games in Munich:
Kennedy's, Sendlinger-Tor-Platz 11
Kilian's & Ned Kelly's, Frauenplatz 11
The Keg Bar, Trautenwolfstr. 1
Champions Sportsbar, Berlinerstr.93
Where To Watch The NFL In Munich
However, for this special occasion we have an extra special recommendation; a fan viewing event held especially by The Kansas City Chiefs! Yes, that's right, this NFL is putting together a special NFL event for all fans in Munich!
From November 10th until November 13th, you can go to Augustiner Klosterwirt for 4 days of NFL streaming, with a culminating event on Sunday to watch the game in Munich followed by an evening viewing of the Chiefs match against the Jacksonville Jaguars!
This is an exclusive Fan Event for Chiefs fans to join without registration, so make sure to come to see what's in store.
This is sure to be a historic event- so don't miss out!
Looking For More Information About The Munich NFL Game?
Feel free to ask below and we'll try to get an answer back to you! And be sure to check out our Instagram & TikTok for more content coming up!