*FYI - this post may affiliate links, which means we earn a commission (at no extra cost to you) if you purchase from them. Also, as an Amazon Associate, I earn from qualifying purchases. For the full scoop on what this means, feel free to check out our Privacy Policy and Disclosure.
Munich is one of the most popular tourist destinations in Germany, and for good reason! Aside from Oktoberfest, the Christmas markets in Munich are the second largest seasonal attractions! So we've put together a list of 5 of the most unique markets to visit during your holiday season trip to this charming German city.
Munich's Christmas markets are some of the most popular in Europe, drawing visitors from all over to experience the holiday season fun. There are many Christmas markets to choose from all over the city, we've even made a special subway map to find them all!
Curious about which you should add to your 'Must Visit' list? Check out our list below for some seasonal inspiration!
Pink Christmas Market
If you're looking for a festive and fun-filled afternoon or evening during the holidays, be sure to check out the Pink Christmas Market in Munich! This market started as an initiative for the gay community in Munich, but has since become a popular destination for people of all ages and backgrounds. And it doesn't stop at inclusivity, it is also officially the first climate neutral Christmas Market in Munich!
The market is adorned with pink decorations and holiday cheer, making it a truly unique and enjoyable place to visit. Pink Christmas also includes many local treats, delicious mulled wine, and Christmas-themed gifts.
You can also experience special performances by local drag queens, DJs, cabaret dancers, and more. Plus, the market has its dedicated prosecco bar and benefits the LGBTQI community in Munich!
Our go-to Glüh: Classic red Glühwein with a shot of Amaretto
Where to find it: Stephansplatz (near Sendlinger Tor!)
Opening Dates: 24 November to 23 December, 2022
Medieval Christmas Market
If you're looking to get a taste of Christmas past, the Medieval Christmas Market in Munich is a great place to start.
This renaissance festival highlights the medieval roots of the Christmas market tradition, with handmade stalls, medieval costumes, and a massive food selection. The traditional flambée tarts and beechwood fire grilled sausages are pretty amazing!
It's the youngest of the Munich Christmas markets, but it's already become a popular meeting place for locals and visitors alike. As well as the fact it does have a pretty unexpected theme for Munich!
Our go-to Glüh: Drachenglut
Where to find it: Wittelsbacher Platz, Briennerstraße 6-10
Opening Dates: 21 November to 23 December, 2022
Bogenhausen Weinachtszauberwald And Glühwein Festival
Are you a fan of Glühwein? Then you are in luck! This festival has a huge menu of different drinks as their main attraction!
The Bogenhausen Glühwein Festival as over 20 types of Glühwein for you to choose from, including concoctions made with rosé, drinks infused with ginger and all other crazy twists on classic drinks (like a hot daiquiri), you're sure to find the perfect drink for you! And they also have a lot of tasty alcohol free options as well, so everyone can enjoy!
If you're looking for a quirky and odd market experience, this is the place for you! Just don't expect to find any great shopping to be done here.
Our go-to Glüh: Alpenglühn. This is a Glühwein made with rosé and its actually really good! (Kind of like a regular one but more tart).
Where to find it: Right near the Cosimabad Tram station in Bogenhausen
Opening Dates: 17 November to 30 December, 2022
Alte Utting Sternenflotte
The Alte Utting Sternenflotte (Star Fleet) Christmas market is in the Sendling district of Munich. And is one of the top spots to experience the festive spirit.
This market is located in the Alte Utting boat, which is set upon an old railway bridge, which in itself its pretty exciting and unique already! The market features food trucks, art stalls, live music, with indoor and outdoor seating areas.
You can enjoy views of the city while sampling some of the best seasonal specialities…a great spot for a wintery date perhaps?…
Our go-to Glüh: Classic red Glühwein with a shot of Rum
Where to find it: Lagerhausstraße 15
Opening Dates: 23 November to 23 December, 2022
Gans am Wasser Winter Magic Christmas Market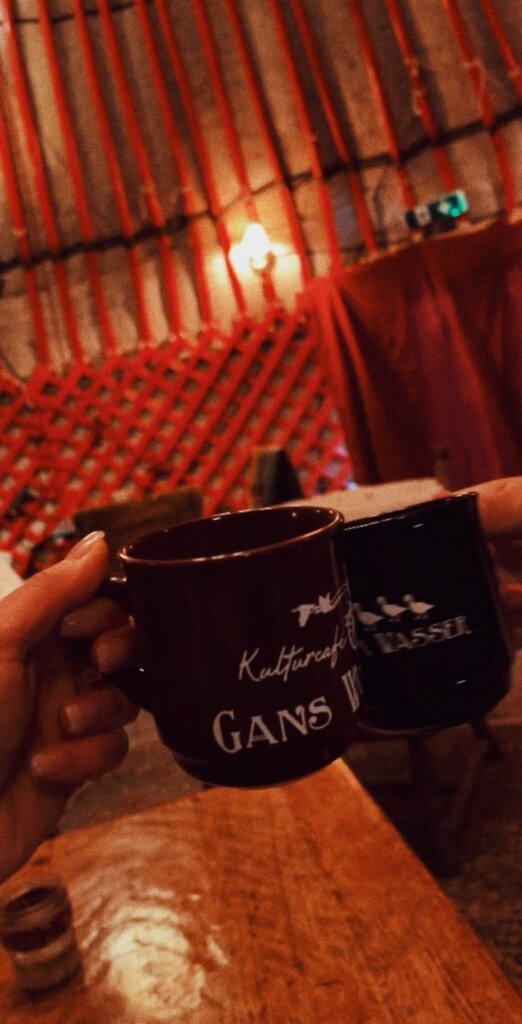 If you're looking for a cozy spot to enjoy some delicious crepes, Gans am Wasser is the place for you!
Their market is full of quality goods, so you're sure to find the perfect souvenir or gift if that's on your to do list. There's a wide selection of handmade ornaments to choose from. And if you want to see how some of the products are made, several stalls offer demos.
However, one of the best features (and our favourites) is that Gans am Wasser has a fire place furnished yurt. Here you can warm up and continue sipping your Glühwein if it's too cold by the lake.
Our go-to Glüh: Lumumba (Hot chocolate with a BIG shot of rum!)
Where to find it: Café Gans am Wasser in the Westpark at Mollsee
Opening Dates: 25 November to 18 December 2022, (always Friday to Sunday)
Know Any more Unique Christmas Markets in Munich?
Let us know in the comments if you have any Munich Christmas Markets we should add in! And stay up to date with our blog posts page and of course check out our Instagram & TikTok!