*FYI - this post may affiliate links, which means we earn a commission (at no extra cost to you) if you purchase from them. Also, as an Amazon Associate, I earn from qualifying purchases. For the full scoop on what this means, feel free to check out our Privacy Policy and Disclosure.
Hello beautiful bored people and welcome to Munich events weekend 37! Oktoberfest is starting, pizza deals are happening, Mexican fiestas and so much more this weekend!
Free Events, Activities And Festivals This Weekend In Munich
This weekend is filled up with so many free events and great selections of activities for all ages. Have a look below to find your weekend plans in Munich.
True Italian Pizza Week 2023
During the week of September 14th-20th, Munich will host its 4th True Italian Pizza Week. 29 pizzerias in the city are offering an amazing deal: a special pizza and an Aperol Spritz for just 15 euros!
You can also win a trip to Naples for two by taking part in the True Italian Pizza Week photo and video competition on Instagram. To participate just take a picture of a pizza or someone eating it in one of the participating restaurants during the event.
When posting, be sure to add the hashtags #trueitalianpizzaweek, #togetherwithaperol and #jointhejoy, tag @trueitalianfood @ aperol.de and the restaurant, then cross your fingers!
When: September 14 – 20, 2023
Where: 29 different pizzerias in the city // Find them on the map here!
Cost: 1 Aperol Spritz+ 1 Pizza for 15€
MS Bazar Fall Fleamarket
From a modest apartment flea market, he MS Bazaar has become Germany's largest volunteer-run charity bazaar over five decades. Its mission is providing financial aid to Bavarian MS patients and their families.
With the motto "Beautiful and valuable things for a good cause," the bazaar offers high-quality fashion, home decor, and literature. Shoppers can find everything from second-hand clothing to brand-new donations, including shoes, accessories, and more!
When: Friday, September 15 // 1 p.m. – 6 p.m.
Saturday, September 16 // 11 a.m. – 5 p.m.
Where: Martin-Kollar-Str.10/12
Cost: Free Admission
Night Market In Werksviertel

The Midnightbazar offers music, food and drinks, and of course a market to buy from to create a relaxing environment for friends to swap and recycle.
The event boasts highlights live music and street food and a diverse array of attendees. Besides trading, numerous meeting points foster social interaction and connections.
This night flea market is a welcoming and nostalgic event, perfect for reuniting with old friends.
When: Friday & Saturday, September 15 & 16 // 5 p.m. – 11 p.m.
Where: Atelierstraße 4
Cost: € 4
Independencia Mexicana En Munich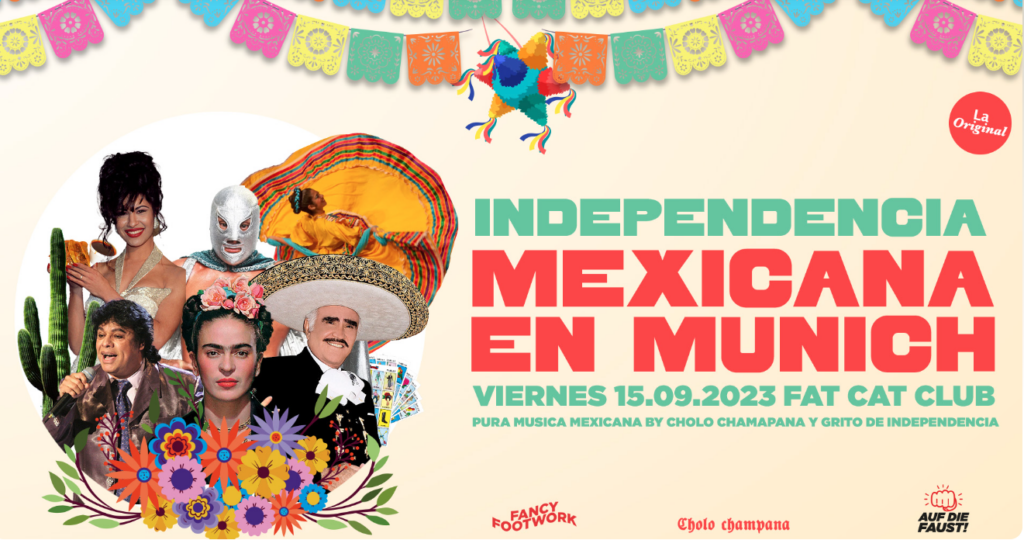 Come and celebrate Mexico's independence day! Dance to the Mexican rhythm, where it doesn't matter how you look or what you're wearing, but your attitude!
Live performance by Cholo Champaña. Enjoy an evening filled with music, drinks, and Mexican munchies – with a Mariachi Turn Up guarantee!
The first 100 guests get a welcome shot with admission!
When: Friday, September 15 // 9 p.m.
Where: Kellerstraße 8a
Cost: €14
On the first day of the Oktoberfest, the festival hosts traditionally march to the festival grounds with festively decorated wagons and horse-drawn carriages.
Boasting over 1000 participants, this year's parade is sure to be a hit!
When: Saturday, September 16 // 10:45 a.m.
Where: Josephspitalstrasse , Schwanthalerstrasse, and Bavariaring to the festival area
Cost: Free
Following the Oktoberfest opening day parade, thousands of participants will march from Maximilianstrasse through the city centre to Theresienwiese in traditional costumes for the Sunday parade!
When: Sunday, September 17 // 10 a.m.
Where: Maximilianstrasse to Theresienwiese
Cost: Free
Sunday Culture Kitchen
Come explore diverse cultures through food – as you are warmly welcomed to the Culture Kitchen's Sunday event.
Once a month on Sunday afternoons, cook and savour dishes in a joyful atmosphere, together! In small groups, you will cook while maintaining safe distances. Ingredients are provided and no registration required!
When: Sunday, September 17 // 1 p.m. – 5 p.m.
Where: Müllerstraße 2
Cost: Free Admission
Go Sing Choir
Singing together, celebrating and meeting new people are what the Go Sing Choir is all about! Anyone who enjoys singing can participate – no membership, no auditions, no knowledge of sheet music required.
Each time, different pop songs are used for the choir, and at the end of the event, a recording is made just for you! Just listen to the current song a few times beforehand, get your ticket, and sing along!
When: Sunday,. September 17 // 7 p.m. – 9:30 p.m.
Where: Lindwurmstraße 88
Cost: €15
Looking For Other Deals Or Cool Things To Do In Munich?
We always make sure to keep our event calendar up to date with the latest and greatest upcoming activities. Check it out here if you are interested in more than the few above mentioned events!
If you're still strapped for ideas on things to do this weekend, check out Groupon. If it's your first purchase, you can use the code HALLO to save 20% off any of their local deals, which means you can splurge on cool experiences like restaurants, alpaca walking, and even hot air balloon flights at a steep steep discount. Click here to browse.