*FYI - this post may affiliate links, which means we earn a commission (at no extra cost to you) if you purchase from them. Also, as an Amazon Associate, I earn from qualifying purchases. For the full scoop on what this means, feel free to check out our Privacy Policy and Disclosure.
Welcome to Foodie Friday! This is a special weekly feature from @whatandieeats, featuring a new restaurant recommendation every week. For more tasty food photos, be sure to follow her on Instagram.
Hello Munich Foodies and Happy Foodie Friday!
This week we took a small trip to Asia, exploring the wonderful world of Dim Sum. Here's where we went and what we ate.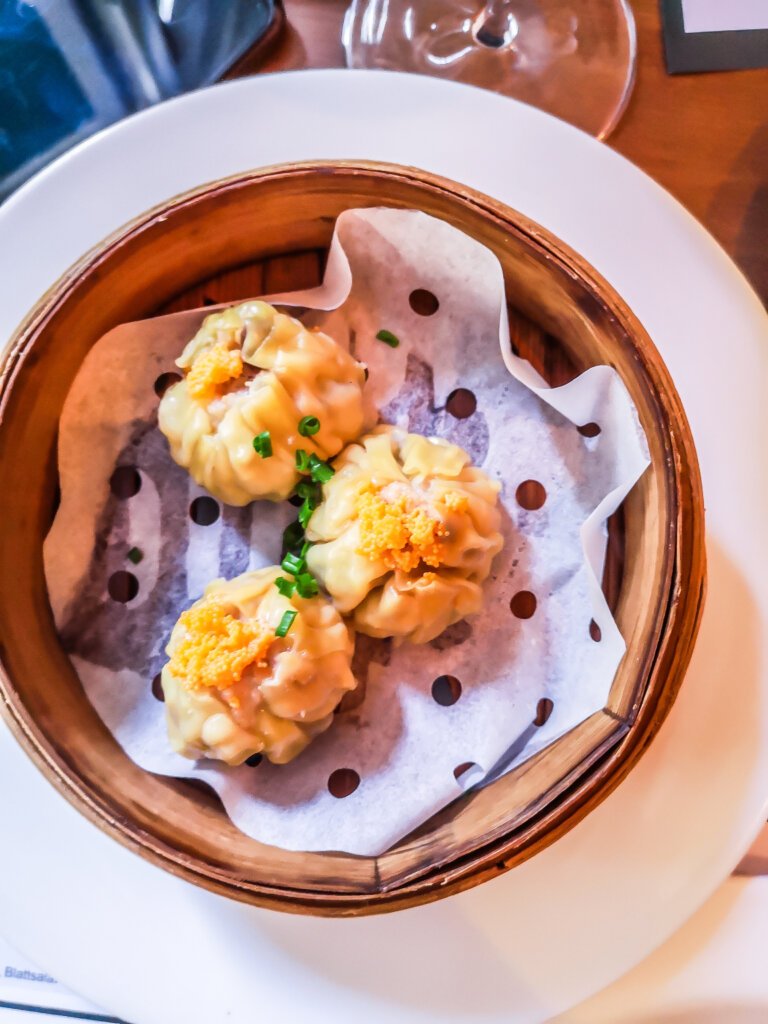 First: What is Dim Sum?
Dim Sum is a style of Chinese cuisine where dishes are prepared as small bite-sized portions of food served in small steamer baskets. They can be served steamed or fried. Dumplings are a popular dim sum dish, featuring stuffed clouds of flavor pinched into delicious dough pouches… a true taste of heaven!
Where We Went: LeDu Dim Sum Bar
For this week's foodie mission, we decided to try out LeDu Dim Sum Bar on Klenzestrasse, a wonderful neighborhood eatery nestled in the Glockenbachviertel, Munich's LGBTQ district.
The food here was high quality and had a bit of an Asian fusion flare to it.
I have to admit, I was a bit overwhelmed at first glance at the menu. There are tons of dishes to choose from, not just the colourful dumplings that LeDu is famous for.
The menu is pretty fun too – you are given a pen and a bunch of boxes to check off. The staff then come take your order and the meals just start pouring in.
The Food at LeDu Dim Sum Bar: What We Ordered
DISCLAIMER, we tried at least 20 different dishes so I apologize for not having everything pictured.
The table wasn't big enough to hold everything at once, and at some point my stomach took charge of my arms, so I didn't get a nice photo for everything. However, I think we have enough for you to get the gist of how great this place is!
Starters
Our first dish wowed my taste buds – it was the crispy duck salad with wasabi dressing. Wow, talk about a dish I was genuinely sad to finish.
We also enjoyed a tasty octopus salad, which was satisfyingly appetizing:
Dumplings
Dumplings are a LeDu specialty and come in some interesting colors that add to the overall "awe" of the meal.
The beef dumplings for example came in a black colored pouch. It doesn't do much for flavor, but it certainly widens your eyes!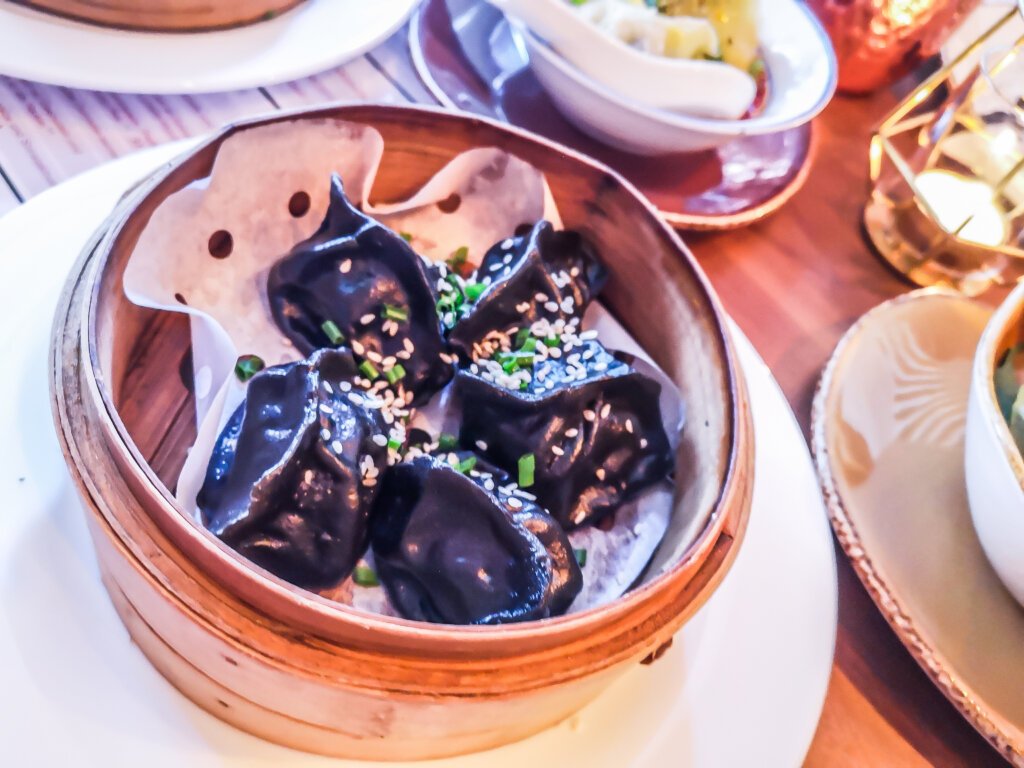 Black dumplings aren't the only color you can find on the menu, they also have yellow ones, green ones, and even pink ones! All super delicious and oozing with juicy flavor that you just can't stop eating.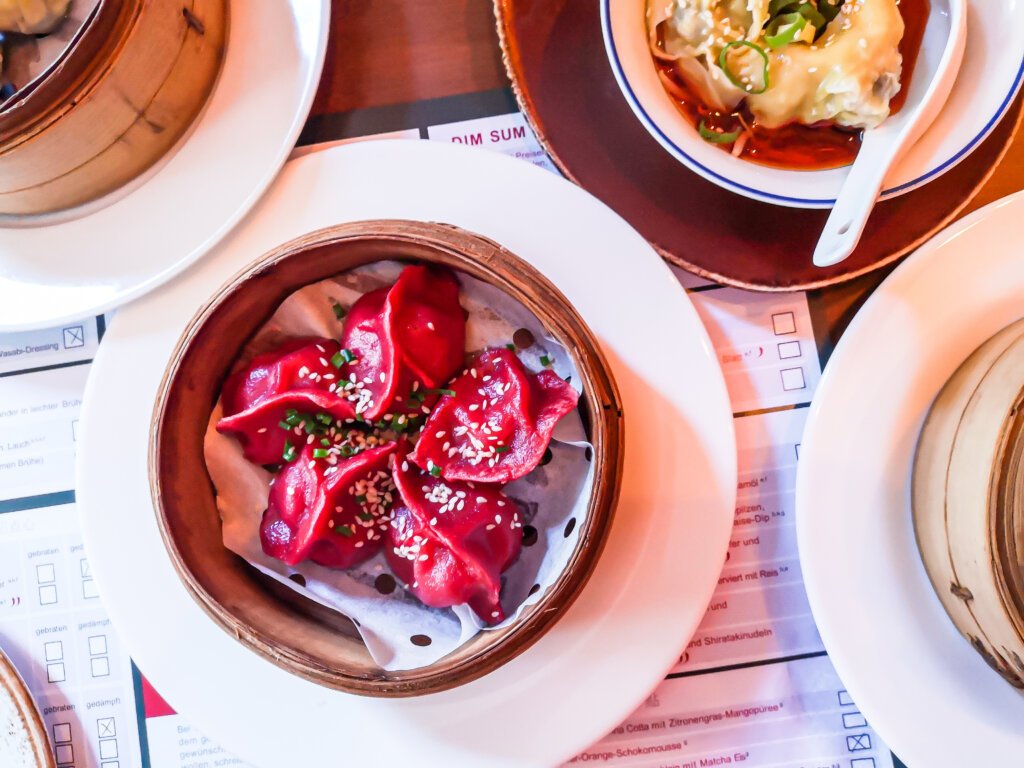 We went with another couple who were actually just telling me about a special pepper they enjoy which is the Sichuan pepper. If you've never tried it, it's very much a treat to try at least once.
For that, you'll have to try number 21 on their menu, the Vegetarian Dumplings with Asian broccoli leaves, glass noodles, Shiitake mushrooms and the infamous Sichuan pepper.
Specials & Other Dishes
We also indulged in plenty of LeDu's specials and dim sum dishes. For instance, I tried the rice with shiitake mushrooms and chicken wrapped in banana leaves… a very different dish for me! You could tell because I didn't know you weren't suppose to eat the banana leaves. (PS – don't eat the banana leaves!)
Now this dish hit the spot…. after pulling the leaves out of my mouth. It was so delectable that I couldn't get enough of it, or the mayo sauce on the side. I mean, I think I almost cried. GO EAT IT NOW.
Some other dishes we enjoyed were the pork belly with takoyaki sauce, duck with cucumbers and onions, stuffed shrimp over a bed of glass noodles with garlic sauce, and fried pork ribs with lemongrass and plum sauce. Of course, we also ordered edamame.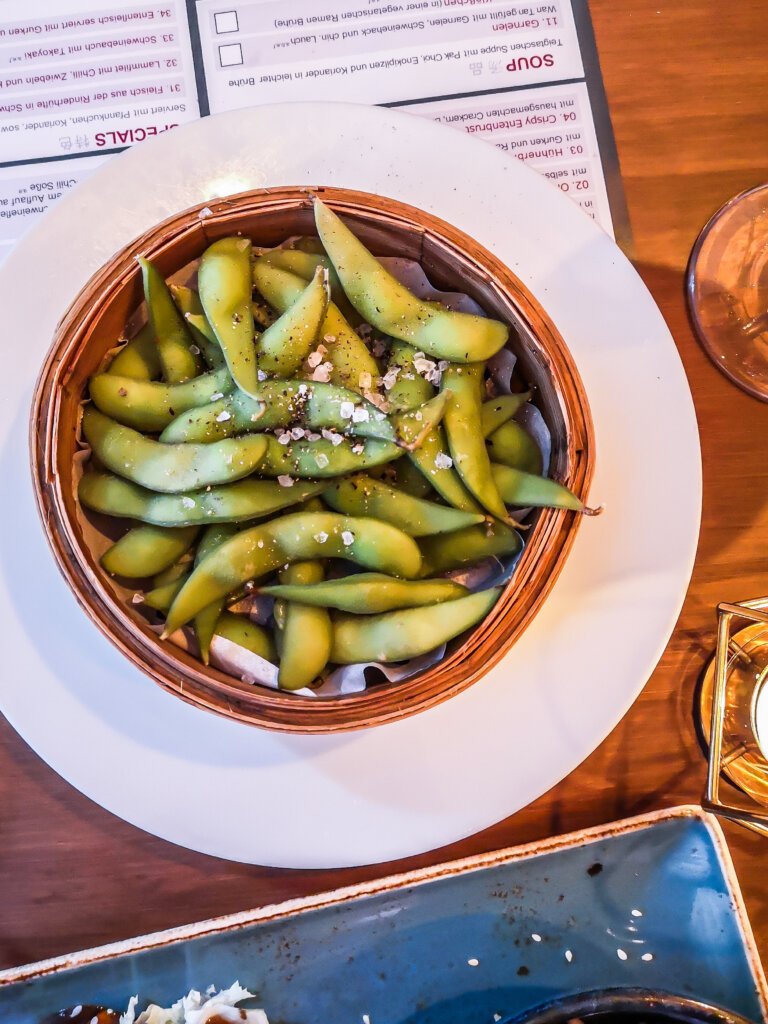 Drinks
LeDu has a decent selection of drinks, however their Asian selection is rather small. We did enjoy some Japanese whiskey to wash it all down though!
Our Visit to LeDu Dim Sum Bar: A Recap
In all, I would say this place is a must try but probably for a special night out, it can get a bit pricey if you get carried away like we did, but honestly it was so worth it!
All the dishes were beautifully presented, all the dumplings were snuggled in their own little steam boxes, and every plate was delicately decorated with salads, sauces and other garnishes.
To recap, here's everything we tried:
Starters:
Octopus Salad
Crispy Duck Salad
Dumplings:
Rind
Schwein
Vegetarian
Hänchen
Shao Mai
Chao Shou

Specials:
Pork belly w/ Takoyaki sauce
Duck with cucumbers and onions

Dim Sum
Rice with shiitake mushrooms and chicken in banana leaves steamed with wasabi-lime-mayo-dip
Stuffed shrimp over a bed of glass noodles with garlic sauce
Fried pork ribs with lemongrass and plus sauce