*FYI - this post may affiliate links, which means we earn a commission (at no extra cost to you) if you purchase from them. Also, as an Amazon Associate, I earn from qualifying purchases. For the full scoop on what this means, feel free to check out our Privacy Policy and Disclosure.
Looking for a spot to grab a bite that won't also bite into your bank account? Welcome to your new favourite guide on where to grab some good and cheap eats in Munich!

🍹Searching For Some Happy Hour Specials? We've Got That Post For You Here! 🍹
Alles Wurscht
Dubbed "the best currywurst south of the white sausage equator", and we can confirm this to be exactly so!
Alles Wurscht really lets you put as little money as possible where your mouth should be. With the majority of their food sitting under 5€, the only items that come close to 10€ are their drinks.
Address: Nikolaipl. 3
Opening Hours: Weekdays: 11 a.m. – 9 p.m. (weather permitting), Weekends: 12 p.m. -10 p.m.
Closed Mondays
Bazi's
Bazi's sets itself apart by fusing traditional German cuisine with savoury favourites like roast pork, roast duck or cheese spaetzle.
The high-quality Bavarian style fast food can be put into an easy box to have on the go or you can get it wrapped up burrito style!
Address: Müllerstraße 43
Opening Hours: Tuesday – Thursday: 11:30 a.m. – 10 p.m., Friday & Saturday: 11:30 a.m. – 5 a.m.
Chat Junction
Chat Junction offers "the true Desi experience" with authentic Indian street food. With classic dishes like Chilli Paneer and Szechwan Chicken, you'll be sure to get your money's worth here!
Address: Zweibrückenstraße 5-7
Opening Hours: Monday – Saturday: 11:30 a.m. – 8:30 p.m., Sunday: 2:30 p.m. – 8:30 p.m.
Sushi Gourmet
Sushi Gourmet is home to some of the most affordable sushi around town. And don't worry, their low price definitely doesn't mean low quality!
With rolls as low as 1€, and almost all sushi boxes below 10€, if you're looking for sushi and don't want to break the bank, Sushi Gourmet is the place to go.
Address: Karlstraße 56
Opening Hours: Monday – Saturday: 11 a.m. – 3 p.m., 4 p.m. – 9:30 p.m.
Closed Sundays
Zum Koreaner
Korean food-lovers rejoice! Zum Koreaner is the perfect place to kick back and enjoy Korean dishes and snacks. From Bibimbap to Umami, Zum Korean has it all.
If you're new to Korean food, the pork belly is your best introduction as it is a crowd favourite there.
Address: Amalienstrasse 51
Opening Hours: 10:30 a.m. – 10 p.m.
Gyoza Bar
No surprises here, just incredibly good food for an incredibly good price!
Gyoza, for the uninitiated, are small dumplings that serves in a soup or on their own. Not a single thing on the menu is €10, and the ones that come close are for a dozen or so gyozas.
If you are down for some dumplings, come here and come hungry.
Address: Augustenstraße 47a
Opening Hours: 11 a.m. – 10 p.m.
Make Falafel Not War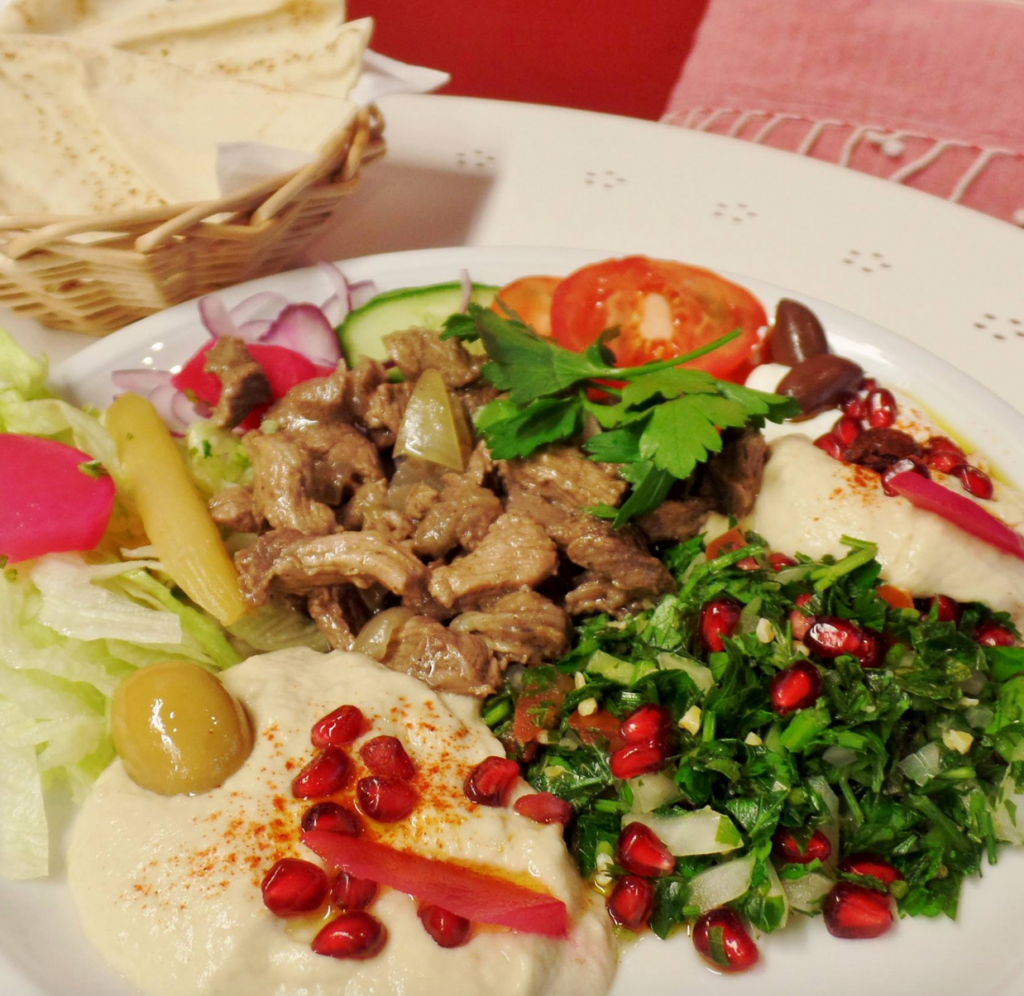 This Arabic falafel is delicious, authentic and serves a big bang for your buck!
With assortments of halloumi, hummus, babaghanoush and tabbouleh available (all at unbelievably low prices), it's hard to go wrong here.
Address: Kapuzinerstr. 2
Opening Hours: Monday – Friday: 11.30 a.m. – 3 p.m., 5 p.m. – 8 p.m.
Münchner Suppenküche
Sit in their cozy outside terrace or the indoor eatery while you enjoy delicious soups, curries, stews and salads at this Munich favourite.
If you're feeling especially hungry and not sure soup will suffice, try the very popular Saures Lüngerl from the kitchen. Be sure to sit back and enjoy the casual, lively hustle and bustle of the Viktualienmarkt.
Address: Viktualienmarkt
Opening Hours: Monday – Saturday 10 a.m. – 4 p.m
Wintergarten am Elisabethplatz
Traditional Bavarian comfort food at untraditional Munich price. This central biergarten is an A+ eatery in general but with a 1€ weißwurst special, our praises are through the roof!
They offer a dynamite deal daily for a traditional Weißwurst breakfast, with sausages available for only 1€ (until noon).
Address: Elisabethpl. 16
Opening Hours: 10 a.m. – 8 p.m.
The Keg Bar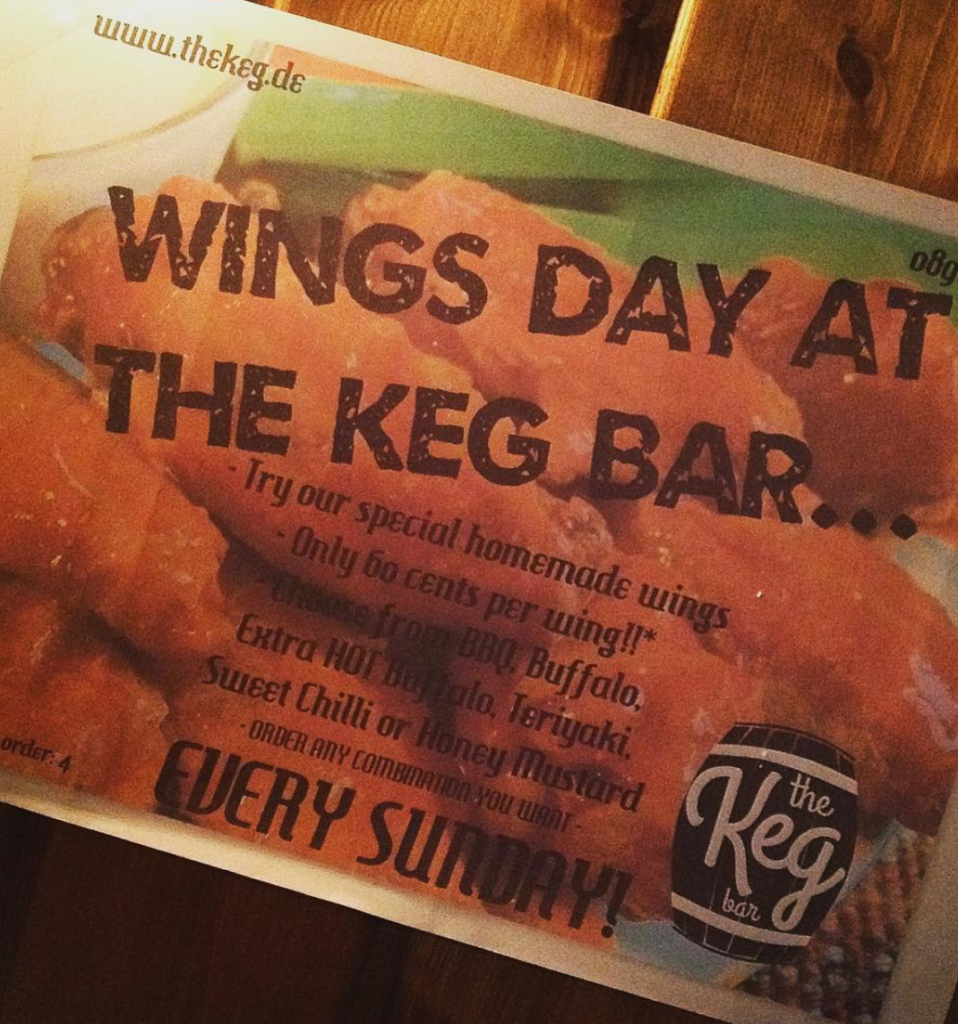 One of our favourite (and to be honest, wildest known) Munich deals, The Keg Bar's .60¢ chicken wings.
You can get this deal only on Sunday, but all day long! With a huge amount of flavours, classic BBQ to extra hot buffalo, this is one major deal you will HAVE to check out.
Address: Trautenwolfstraße 1
Opening Hours: Sunday: 11 a.m. – 11 p.m.

Der Kleine Flo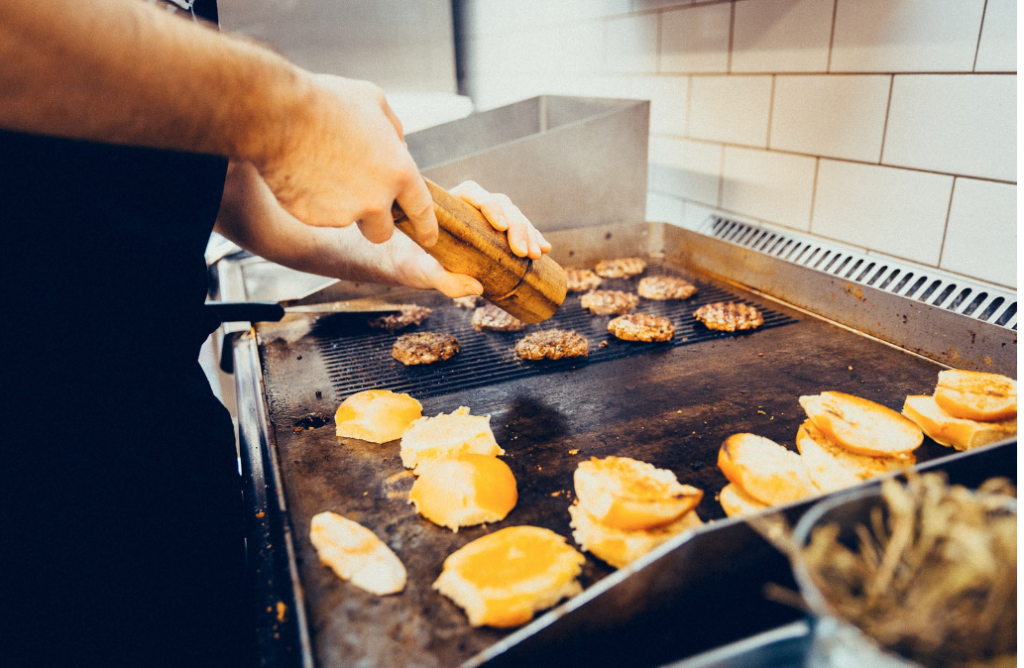 At Der Kleinne Flo, you can finally eat more than just a burger, because their burgers are only available in mini format. 
With a piece of paper and a pen, you can make your own personal (mini burger) menu. Roughly 2-3 mini burgers are the size of a standard burger, but don't let that stop you from getting as many as you like…
Pro tip: Der Kleine Flo has a Happy Hour daily from 9:15 PM to 10:15 PM (with discounted drinks as well!)
Address: Josephspitalstrasse 4
Opening Hours: Monday – Thursday: 11:30 a.m. – 10 p.m., Friday: 11:30 a.m. – 11 p.m.,
Saturday: 12 p.m. – 11 p.m.
Closed Sunday
Looking For More Information About Cheap Eats In Munich?
Feel free to ask below and we'll try to get an answer back to you! And be sure to check out our Instagram & TikTok for more content coming up!