*FYI - this post may affiliate links, which means we earn a commission (at no extra cost to you) if you purchase from them. Also, as an Amazon Associate, I earn from qualifying purchases. For the full scoop on what this means, feel free to check out our Privacy Policy and Disclosure.
Looking for the best Munich ice cream? We've got just the list waiting for you below!
Let's be honest: there's never a bad time to eat ice cream, but with the summer heat as scorching as it is, well… now's certainly a pretty good time.
And you know what else is a good time? MUNICH'S ICE CREAM SCENE! So many locations, so little time…(looking for vegan ice cream? Check out our special post here!)
From Instagrammable treats and traditional scoops to bio-vegan goodness, here are some of THE best Munich ice cream spots you need to check out:
Best Munich Ice Cream: IceDate
Ice cream that's both vegan AND organic? We love going to this place when we're craving something healthy and sweet.
Located in Maxvorstadt, the team at Ice Date scoops up ice cream made of 100% natural ingredients like dates, cashew cream and frozen fruit, with no artificial additives or added sugar. Gluten-free, soy-free, refined sugar-free and vegan hurray!
It is easy to satisfy your taste buds even if you have dietary restrictions with Ice Date's wide variety of daily changing flavors.
Address: 91 Amalienstraße
Best Munich Ice Cream: Der Verrückte Eismacher
By far, Der Verrückte Eismacher (The Crazy Ice Cream Maker) is one of Munich's most famous ice cream shops, offering delicious ice cream in a funky Alice in Wonderland-themed setting.
The staff here are super friendly and willing to dish out samples, especially for the weird flavours they do on rotation (such as Augustiner beer, döner and more).
There are of course, also some normal flavours he offers. However, for normal ice cream you could also visit somewhere else, wouldn't you agree?
TIP: It's a little pricier, but the berry champagne flavoured ice cream here is unreal.
Address: Amalienstraße 77
Best Munich Ice Cream: Eiskind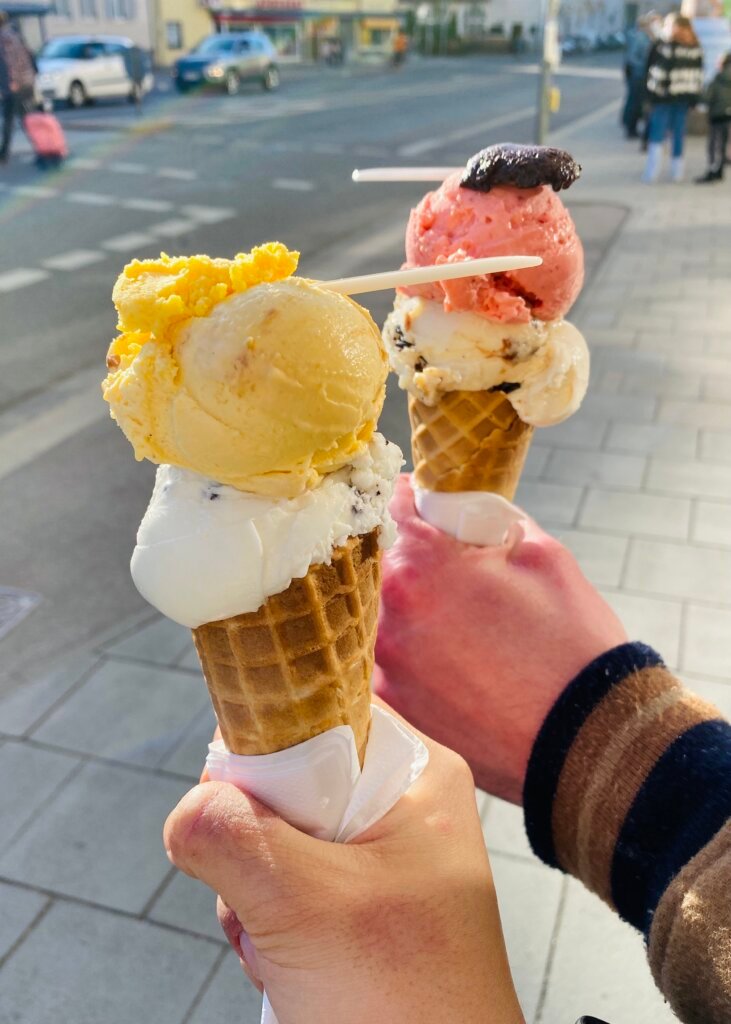 Located just across from Mariahilfplatz, Eiskind is an absolute gem of an ice cream spot, with super friendly service, tasty flavours and a very generous sample policy.
The line-ups here can be long, but if you're looking for a nice ice cream place in Munich with friendly staff (a true rarity!) and delicious options, we highly recommend Eiskind.
Address: Schweigerstr. 15
Best Munich Ice Cream: Ballabeni
The line-ups here may always be long, but that's because it's one of the best Munich ice cream places, beloved by locals and visitors alike.
Found just around the corner from some of the city's major museums, this is the perfect place to grab an icy treat after sightseeing (if you don't mind the wait, that is).
Address: Theresienstraße 46
Best Munich Ice Cream: True & 12
This little, unassuming shop is known for having some of the best ice cream in Munich (after all, it's #1 on Tripadvisor for a reason!)
Serving up delicious artisan ice cream with creative flavours (like Chai, Matcha Green Tea, Goat Cheese & Honey). A pursuit of high-quality ingredients is also included. Using milk from grass-fed cows in Bavaria, their ice cream is truly local and artisanal. Local, seasonal, authentic and fresh, what's not to love?
The handmade quality here is next-level. Plus, they might just have the cutest signage in town: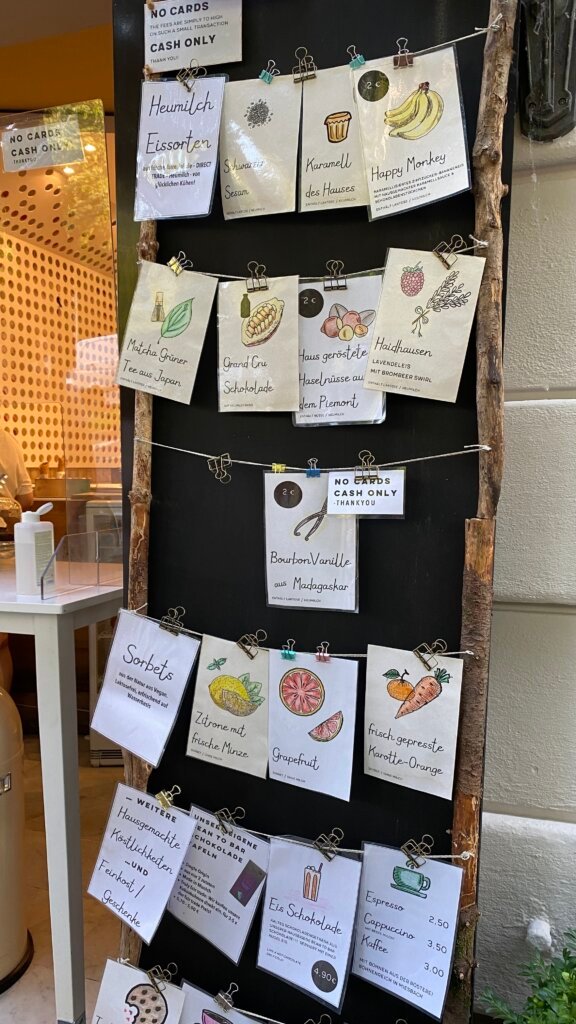 Address: Rosenheimer Str. 14
Best Munich Ice Cream: Sarcletti
Probably one of the most historically interesting ice cream locations we've come across, Sarcletti is a family business and has been making ice cream since 1879. After being destroyed in WWII, their current location in Neuhausen was rebuilt in 1946.
With a wide variety of cake and ice cream flavours (50-70 flavours to choose from depending on the season), this eiscafe also offers up beloved ice cream creations like spaghettieis.
Although it's always busy, the lines due move pretty fast! However, be warned though; service here is notoriously frosty.
Address: Nymphenburger Str. 155
Best Munich Ice Cream: Jessas Eis
You can find Jessica's Eis in the Glockenbachviertel at the corner of Müllerstrasse, a place that offers both conventional and modern flavours of gelato – (in our humble opinion) the city's best.
They serve them in adorable little waffle cups, and will happily pile them as high as you need.
Address: Klenzestraße 97
Best Munich Ice Cream: Eismeer
With its midnight opening, this ice cream parlour is an excellent option for people looking for a late night treat in Glockenbachviertel.
This is one of the few ice cream parlours in Munich that make their own ice cream, guaranteeing a unique taste as well as vegan options. BUT that's not all! In fact, Cafe Eismeer was the first climate-neutral ice cream shop in Munich.
This ice cream only produces 9 tons of CO2 a year, so you can enjoy your sweet indulgence with an even sweeter conscience.
Address: Pestalozzistraße 21
Did We Miss Any Of Your Favourite Munich Ice Cream Places?
Let us know in the comments!