*FYI - this post may affiliate links, which means we earn a commission (at no extra cost to you) if you purchase from them. Also, as an Amazon Associate, I earn from qualifying purchases. For the full scoop on what this means, feel free to check out our Privacy Policy and Disclosure.
Looking for the tastiest vegan ice cream in Munich? Beat the summer heat with a tasty plant based treat! Check out our list below to find your new favourite spot.
With the summer heat at its peak, there's no doubt that now might be an ideal time to grab a nice cool scoop of ice cream..but for those of us living in Munich who are dairy-free, our options are limited.
So we decided to add a little ease to your summer by putting together this amazing list!
Vegan Ice Cream In Munich: IceDate
Maxvorstadt's Ice Date serves ice cream made from 100% natural ingredients, such as dates, cashew cream and frozen fruit, with no artificial additives or sugar. YAY! Gluten-free, soy-free, refined sugar-free, and vegan!
Can you imagine ice cream that's vegan AND organic? It's our go-to place for healthy and sweet treats! With Ice Date's daily changing flavours, you can satisfy your taste buds regardless of dietary restrictions.
Address: 91 Amalienstraße
Vegan Ice Cream In Munich: Sweet Monkeys
Are you not often in central Munich? No problem at all! You can enjoy fresh ice cream creations every day at Sweet Monkeys in Pasing!
Apart from the 18 vegan and lactose-free flavuors, there are also no flavour enhancers or artificial colours added, just home-made gelato prepared with love.
Address: Haidelweg 13, Pasing
Vegan Ice Cream In Munich: Ballabeni
It may always be crowded, but it is one of the most popular ice cream shops in Munich, beloved by both locals and tourists…and for a good reason!
Luckily, they have a couple locations you can try to avoid the crowds. While they don't solely serve vegan ice cream, they always have a few sorbets on hand. We love the coconut one – it's the creamiest and tastiest in Munich!
Address: Theresienstraße 46 & Seidlstr. 28
Vegan Ice Cream In Munich: True & 12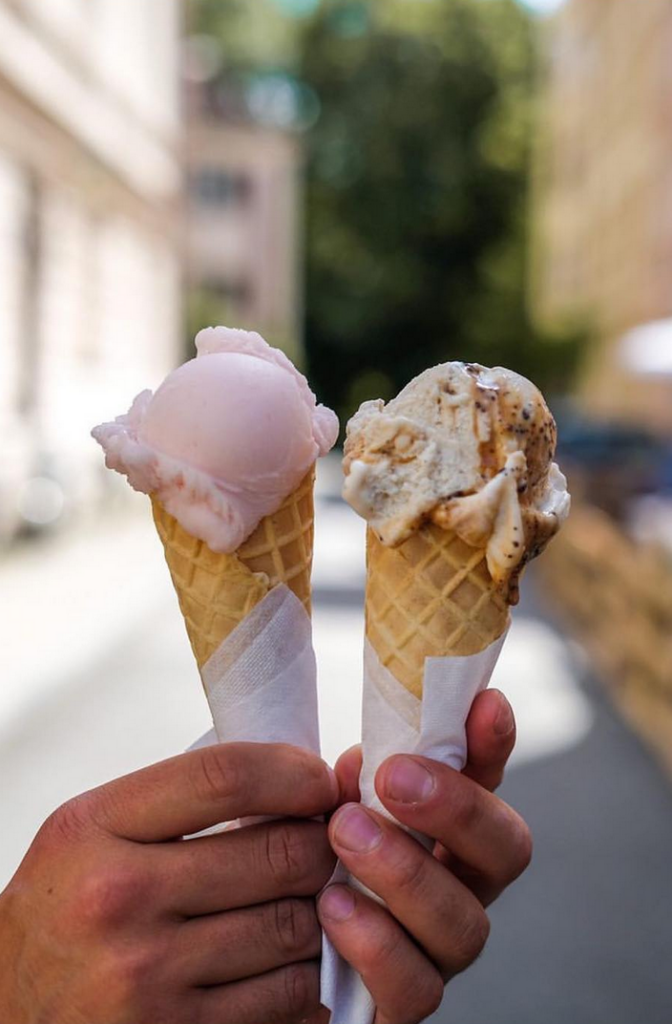 True and 12 offers delicious ice cream with creative flavours (such as Chai, Matcha Green Tea, and Goat Cheese & Honey). The company also strives for high-quality ingredients. A true local and artisanal product, their ice cream is made from grass-fed cows in Bavaria.The combination of local, seasonal, authentic, and fresh cannot be beat!
Handmade quality here is top-notch. They might just have the cutest signage in town, too: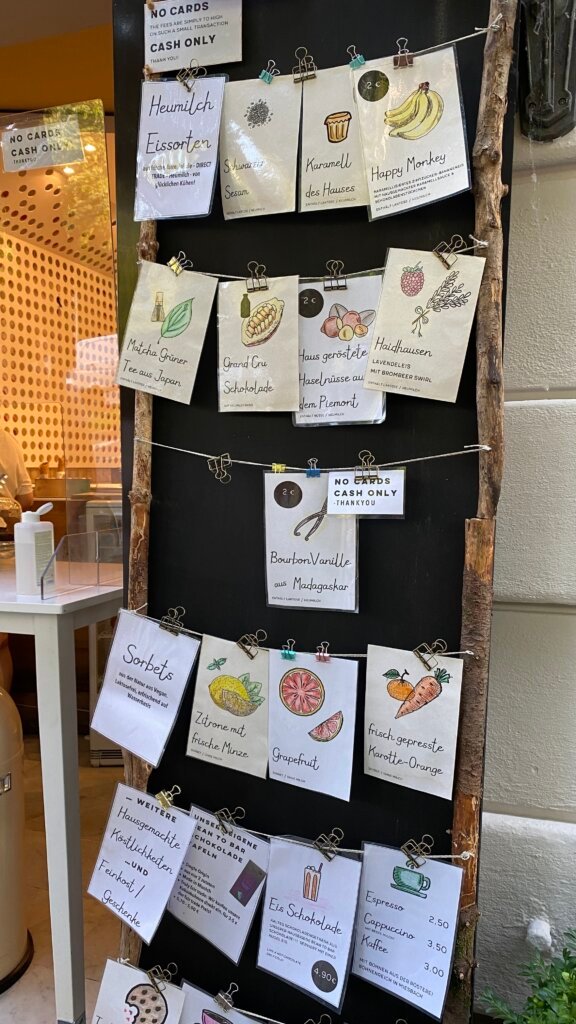 Address: Rosenheimer Str. 14
Vegan Ice Cream In Munich: Bartu Bio Eis
A contender for the best ice cream in Munich is hidden behind the stylish counter of Wilhelmstraße, hidden in beautiful silver containers.
The menu also includes a great selection of sorbets – all vegan of course. Bartu places a high value on quality, production and taste so the ice cream is spatulaed into the cup, not scooped (according to Italian style). This allows the flavour to develop more fully. In addition to this lovely location, you can also find another in Türkenstraße!
Address: Wilhelmstraße 23
Vegan Ice Cream In Munich: Jessas Eis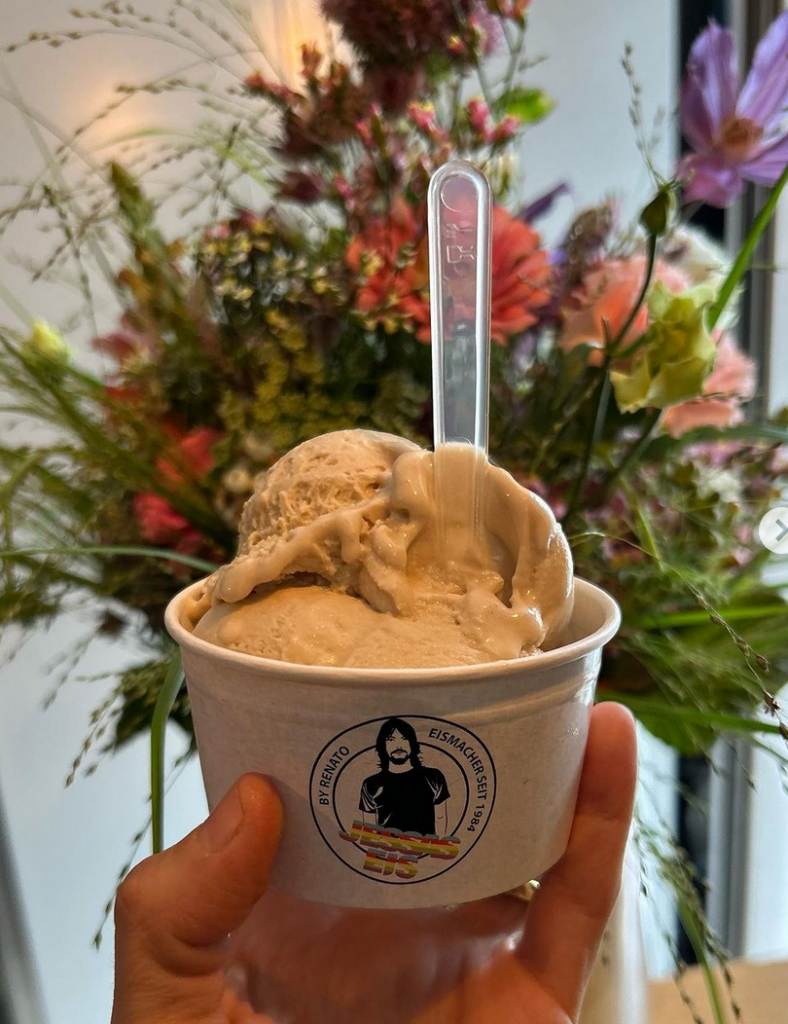 Located in Glockenbach's Klenzestrasee ( and another location in Müllerstrasse!), the Jessas ice cream shop is insanely cool- complete with Glockenbach's colorful hipster touch, naturally.
Next to their dynamite gelato, the vegan sorbets at Jessas are a permanent feature, and the ice cream varieties constantly rotate throughout the day, so it never gets boring.
Address: Klenzestr 97 & Müllerstr 51
Vegan Ice Cream In Munich: Eismeer
Whether it's early in the morning or late at night, you can find home-made ice cream varieties in Glockenbachviertel.
As the first climate-neutral ice cream shop in Munich, Cafe Eismeer boasts a range of products that are organic and natural. Along with being one of the few ice cream parlours in Munich that make their own ice cream, they are guaranteed to be one of the freshest and tastiest options!
Address: Pestalozzistraße 21
Did We Miss Any Of Your Favourite Places For Vegan Ice Cream In Munich?
Let us know in the comments!