*FYI - this post may affiliate links, which means we earn a commission (at no extra cost to you) if you purchase from them. Also, as an Amazon Associate, I earn from qualifying purchases. For the full scoop on what this means, feel free to check out our Privacy Policy and Disclosure.
Munich biergartens may be a brewtiful choice for drinks, but if you are interested in trading in your hoppy hour for a happy hour, We've got a great list ahead.
Don't call it a comeback… but this Glockenbach bar is back… and ready to wow with a new signature cocktail menu, hip lounge atmosphere with a sustainable local flair.
Whether you are seeking a location for a casual night, date night, or simply an amazing drink, Goldamsel is your one-stop-shop. This centrally located spot has all the Munich upscale quality but the friendliness of your favorite neighborhood spot.
With a great theme, comes great responsibility and you'll usually find bar co-owner Poldo working hard to deliver some of the best service to pair with the great experience you'll have.
Our go-to drink: Holler at me
Tasty cocktails, friendly service, and an aesthetic atmosphere are what you'll find at Juliet Rose Bar, the too often-overlooked bar of Hilton Munich City.
Unlike some of Munich's stuffier cocktail bars, this unpretentious (yet beautiful) bar caters to cocktail drinkers of all experience levels, with an uncomplicated menu divided into woody, herbal, floral, and fruity sections so you can find just what you're looking for.
Extra bonus? The bar even has direct access from the Rosenheimer Platz S-Bahn Station.
Our go-to drink: Rosella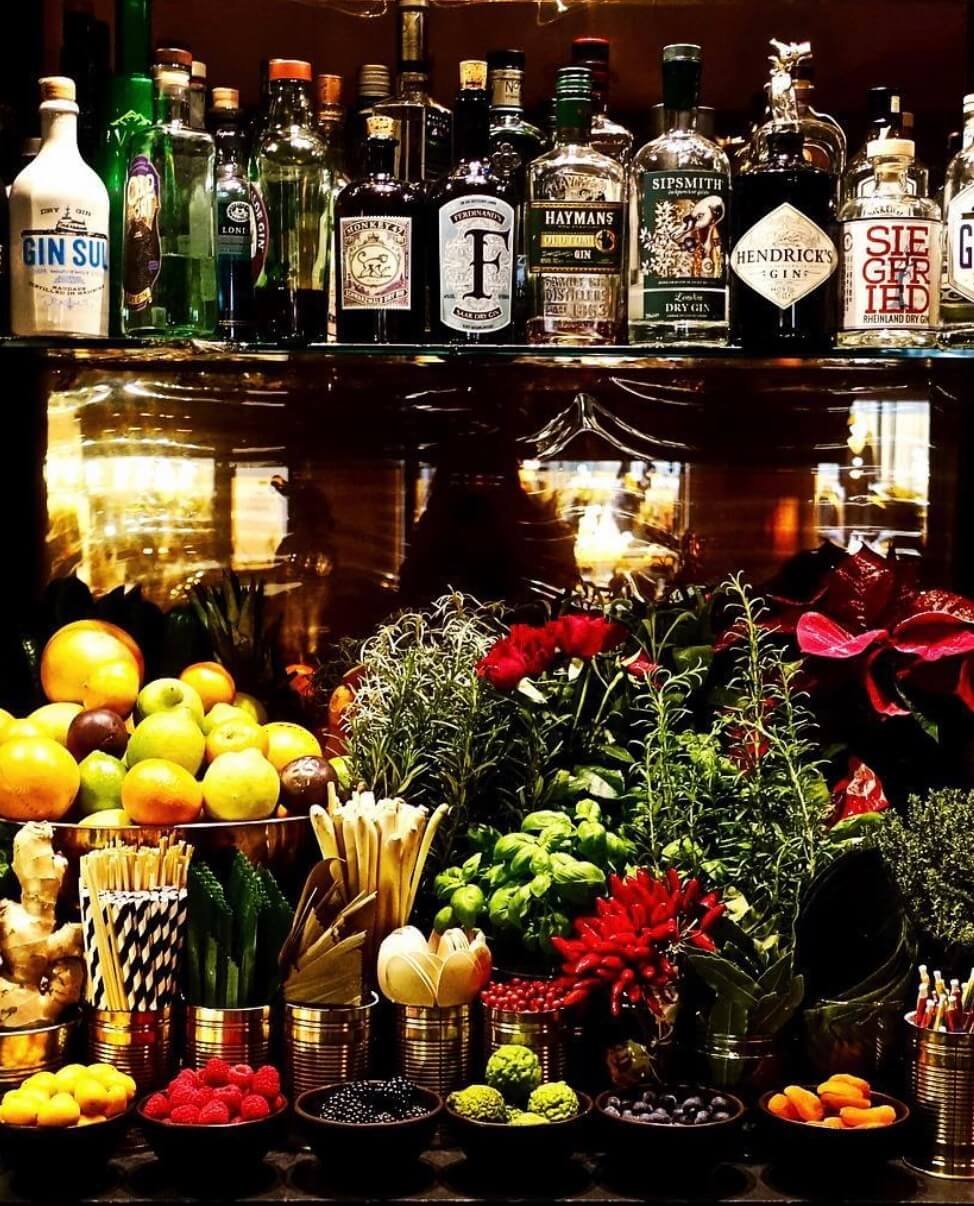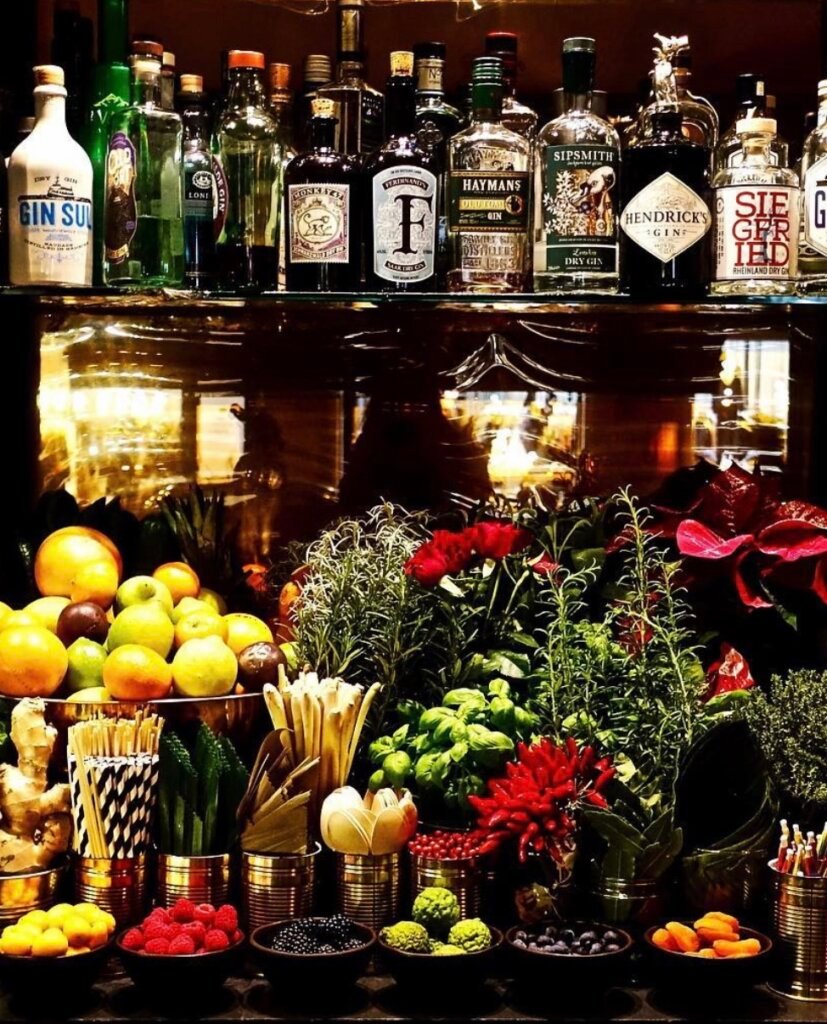 One of the freshest places on the block, Zephyr is a small but mighty cocktail paradise. A little "hole in the wall" curb appeal gives the experience an added surprise upon entry. This small cozy lounge may hold only a handful of seats, but the large bar in the center shares the detailed story of every drink's hand-crafted experience.
With the lavish array of fresh fruits, herbs, and homemade syrups combined with Zephyr's notorious collection of local gins, it's no wonder they've won both Mixology Magazine's ©Best Drink Menu of the Year" and a feature in The World's 50 Best.
Our go-to drink: Handcrafted Slushy (available in Summer)
Tucked away in Beethovenplatz is another one of our favorite cocktail bars in Munich – the chic and sophisticated Bar Gabanyi, where you'll find an extensive cocktail menu and a cozy atmosphere perfect for date night or an elegant drink with friends.
While you'll have plenty of options to choose from, here's an extra special tip(ple) for you: the bar's founder, Stefan Gabányi, is such a prominent whiskey expert that he has even written a book about it!
Our go-to drink: Harlem Shuffle
The perfect place to wind down or soothe a homesick American soul, this beloved cocktail bar offers its patrons an impressive assortment of whiskey mixed with a healthy helping of southern charm.
Inside you'll find a warm red atmosphere with a large welcoming bar and walls plastered with photos of rhythm and blues legends while their songs mix into the air to form the perfect match to the soulful cocktail creation you will soon receive.
And if you happen to be in the mood to add some food, just down the same street you can find their counterpart diner, Little Wolf.
Our go-to drink: Etta James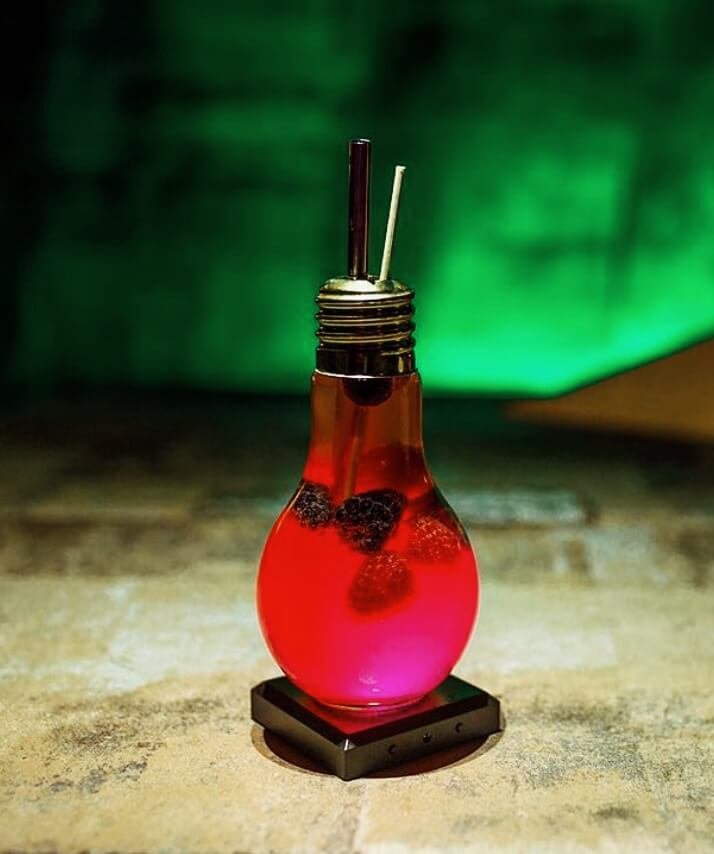 Hidden in the residential hideaway of Schwabing, is one of Munich's best-themed bars. With an underground lair feel, the barbacks here wear dark leather aprons and concoct experimental creations that will never cease to tickle one's curiosity.
From dry-ice-spewing beakers to flaming cocktails served to your table, the immersive theatrical experience here is seldom matched in the city. Our only advice is to prepare to be surprised – it's one of the best parts of ordering a cocktail at Call Soul.
Our go-to drink: Heisenberg Margarita
Mahjong Roof Garden ? @mo_munich

For drinks with a view, no cocktail bar in Munich can beat the Mahjong Roof Garden, the epic rooftop bar at Munich's iconic Mandarin Oriental Hotel.
This hip cocktail bar (open only during the summer) offers sweeping views of Munich's Old Town, with city icons like the Frauenkirche's domes in view as you choose from the tasty selection of (pricey but worth it) cocktails.
Ideal for special occasions (especially at sunset!), this Munich cocktail bar is a must-try at least once for anyone's München bucket list.
Our go-to drink: Signature Frosé
Any other Munich cocktail bars we should add to the list?
Let us know in the comments or if you are interested in more food and drinks fines, browse our Foodie Friday archives, our Munich food archives, and of course our Instagram & TikTok.