*FYI - this post may affiliate links, which means we earn a commission (at no extra cost to you) if you purchase from them. Also, as an Amazon Associate, I earn from qualifying purchases. For the full scoop on what this means, feel free to check out our Privacy Policy and Disclosure.
————
Anziege | This post was created in collaboration w/ Champions Sportsbar, who invited us to come try their new menu.
————
Alright, so it's no secret that we here at Bored in Munich LOVE to eat, but when it comes to chasing gluttony around town, there's one simple classic that has eluded us for well over three years: the almighty American-style burger. 
*cue angelic harp music*
You know, the succulent, messy, wildly indulgent burgers that require a gorilla grip and two boxes full of napkins. The kind of burger that combines a thick all-beef patty with a slew of different flavours, textures and reckless calories…
And Munich? Well, we've tried and tested a few of the city's favourites… but between thin patties, an awkward bun-to-meat ratio or a general lack of "oomph", we'd mostly given up.
And so, when the Champions Sportsbar invited us to come test out their new burger menu, we were a little more than excited. We dug out our stretchiest pants and practically ran (by that, we mean we aggressively took the U-Bahn as fast as it would go).
The Champions Sportsbar: A Brief Intro
Follow them on Facebook and Instagram
Address: Berliner Str. 93
Located in the Marriott Hotel right by the U6 stop Nordfriedhof, the Champions Sportsbar serves up American food in a typical sports bar setting, with a laid-back atmosphere and sports memorabilia/TV screens decking the walls. And while it may be affixed to the fancy Marriott, a lesser known secret is that anyone from the public can sneak in for a meal, as we did.
And what did we find?
*Holding back tears of joy* Guys, we found ACTUAL American-style burgers. 100% angus beef, thick patties, a wide variety of toppings from caramelized pineapple and fried eggs to avocado slices and chili con carne…
Here's a recap of what we ate.
7 Droolworthy Burgers (and Sandwiches) To Try From the Champions Sportsbar's New Menu
Below you'll find seven new 100% Angus beef burgers from the Champions Sportsbar menu that we got to test out. Tell us – which would you order?
1. The Tennessee Burger
Our favourite from the tasting was the Tennessee Burger. This is one glorious beast of a burger that requires all hands on deck – with a smoky Jack Daniels BBQ Sauce, a thick juicy patty, strips of bacon and of course, an oozey fried egg for good measure. Oh yes, this burger is the best kind of hot mess.
2. The California Burger
Prototypical millennials will be happy to know that there's an avo-studded burger on the new Champions Sportsbar menu as well – the California Burger, starring generous slices of avocado placed over top the cheese-covered patty like pedals of creamy deliciousness. Alongside some crunchy red onions, lettuce, tomatoes and the Champions BBQ sauce – this is one texture combo we can definitely get on board with.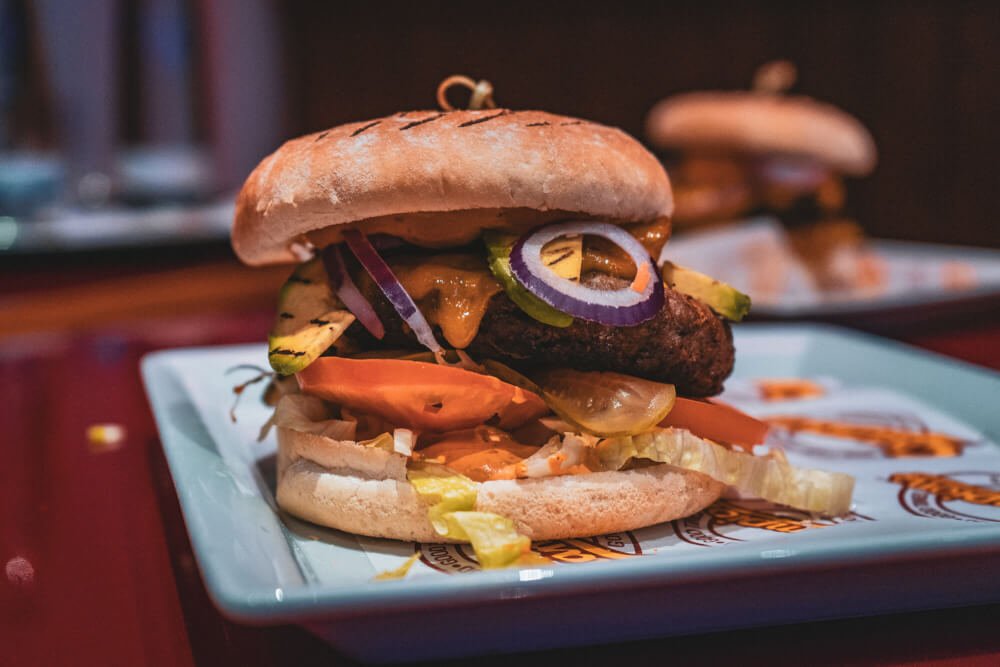 3. The Hawaiian Burger
What do you get when you combine a succulent beef patty with a thin slice of caramelized pineapple and plenty of melted cheese? You get the Champions Bar's new Hawaiian burger, with an addictive sweet/savoury combo thanks to the burger's angelic pineapple halo. Yes, this one is juicy in more ways than one. Mmmgh.
4. The Louisiana Burger
For a little surf and turf action, go for the Louisiana Burger, which combines a 100% Angus Beef patty with a handful of grilled shrimp, along with thinly sliced pickles, onions, lettuce and tomato for an extra crunch.
5. The Texas Burger
With a name like "Texas", it'd be a safe assumption that this burger is a 'go big or go home' kind of dish. Well, we can confirm: this beef burger stuffed with jalapenos, chili con carne, bacon, onions and cheese packs a flavourful punch (both to the palette and to the waistline).
6. The Pulled Pork Sandwich
If it's a satisfying sammie you're looking for, we can vouch for the pulled pork sandwich, another one of our favourites for the night. This sandwich is filled with tender sous vide pulled pork that's marinated for 24 hours in a winning BBQ sauce and honey combo. And duh, it's drizzled generously with more BBQ sauce upon serving. Ooh, saucy.
7. The Steak Sandwich
Last but not least, we have the steak sandwich: an always reliable choice with thin strips of steak mixed with slow cooked, caramelized onions. Draping on some gooey cheese and a sprinkle of scallions, this is a classic dish that stands the test of time for good reason – it's delicious.
And trust us, this photo does not to it justice.
… and PS: if you're looking for an simple, no-fuss choice, here's a photo of the Champions Sportsbar's classic burger.
Other Things to Try at the Champion Sportsbar
Of course, if burgers aren't your thing or you're hankering for something a little different, here are a few of the other goodies we sampled during our time at the Champions Sportsbar.
Cocktails
Ice cold beers may be our burgerside drink of choice, but cocktail lovers will be happy to know that there's a bunch of signature cocktails that they can choose from at the Champions Sportsbar, including the Hole in One (pictured below, with Absolut vodka, blue curacao, 7-up and grenadine), the Birdie (Absolut vodka, Kahlua and espresso), the Marqués, named after a long-time staff member (Maker's Mark, mango syrup, pineapple juice, black currant juice and lime juice), and many more.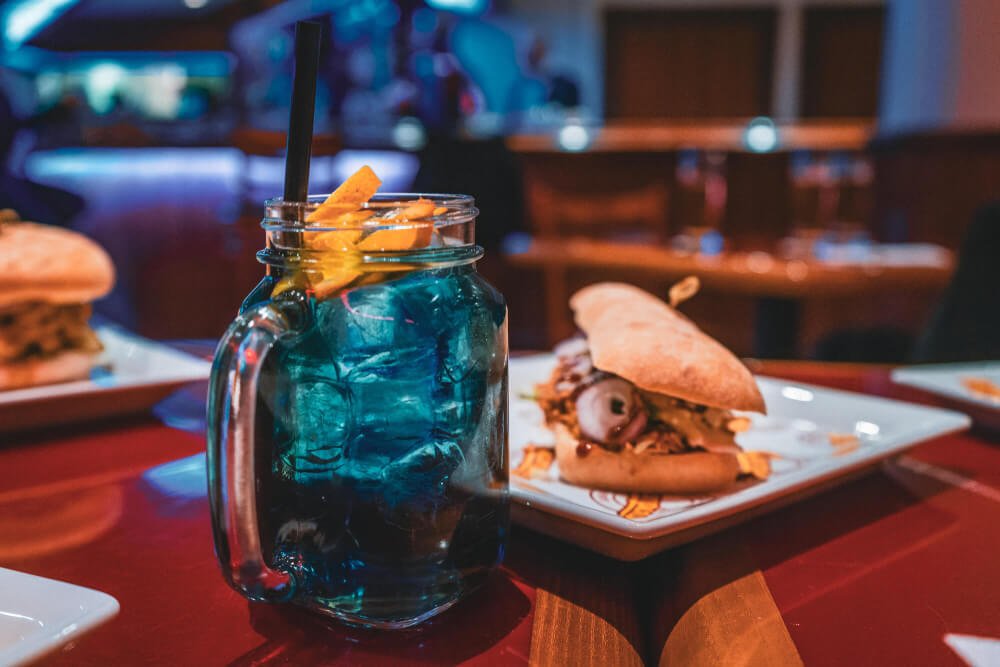 The Champions Hot Dog
This is a weird thing to say, but this hot dog literally tastes like watching sports. If you've ever grabbed yourself a hot dog at a sporting event, slathered it in fried onions and wolfed it down while soaking in the excitement of a live game, THIS is exactly what the massive Champions Hot Dog tastes like (except bigger than most). It's of course served with Krautsalat because you're in still in Germany, although the American vibe of the place might fool you 😛
Southwestern Chicken Salad
For a healthier (but equally ginormous) choice, you can opt for the Southwestern Chicken Salad, served in a GIANT jar with stacks upon stacks of lettuce, corn, beans, cucumber and of course, juicy pieces of chicken. The dressing (that you choose from 5-6 options) comes in its own separate jar, so you get an additional arm workout when mixing the salad too. Look at you, you're practically an Olympic athlete.
Hot Brownie
Lastly, for dessert, as if your entire meal wasn't indulgent enough, you can try out the hot brownie, served with berries, whipped cream, vanilla ice cream and a sweet chocolate drizzle.
… just don't let it melt before you eat it like we did! ?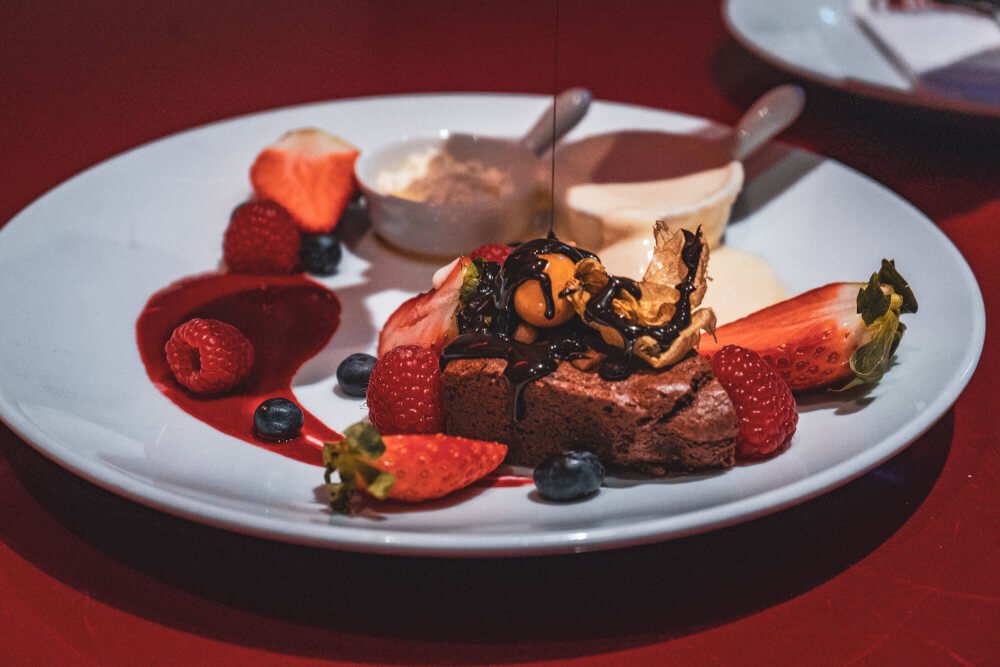 Hungry? Here's How to Visit the Champions Sportsbar for Yourself
Location: Champions Sportsbar
Follow them on Facebook and Instagram
Address: Berliner Str. 93 (inside the Marriott Hotel – it has its own entrance outside, or if you enter the hotel you just go in and turn right)
Nearest U-Bahn Stop: Nordfriedhof
Hours: 5pm – 1am daily