*FYI - this post may affiliate links, which means we earn a commission (at no extra cost to you) if you purchase from them. Also, as an Amazon Associate, I earn from qualifying purchases. For the full scoop on what this means, feel free to check out our Privacy Policy and Disclosure.
If you're looking for New Year's Eve Parties in Munich, there are a few must-sees that you can't miss. It may be a quiet city, but when it comes to NYE celebrations, everyone can find something to their liking here!
From Latin & hip-hop dance off's on an island in the middle of the city to a glittery drag extravaganza, there is a huge variety of ways to ring 2023!
Without further ado, let's look at the best New Year's Eve parties you won't want to miss in Munich in 2022!
All in Party at Praterninsel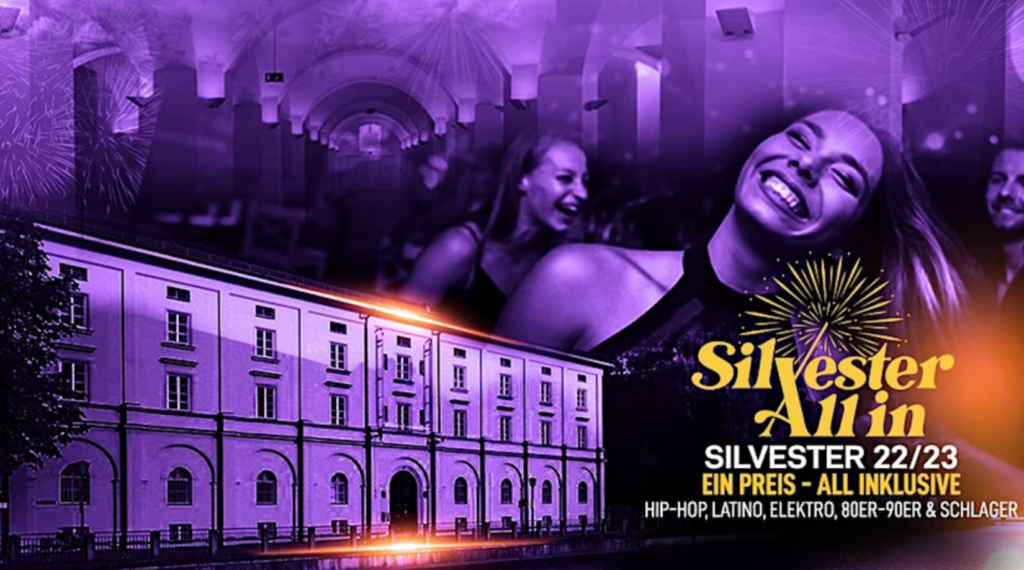 One of the most unique spots to celebrate New Year's Eve in Munich is on Praterninsel, one of the city's two islands in the Isar.
The island's big courtyard is perfect for outdoor gatherings. The ground floor's lobby and two-part filled hall is large enough to accommodate the 5 different dance areas that will be set up for this massive event.
With a all you can drink special include with each ticket and an additional free drink for the first 1000 people who arrive, this may in fact be one of the best party deals in Munich this year!
Where: Praterinsel 3-4
Cost: 64,49 €
Tollwood New Year's Eve Party
This huge New Year's Eve celebration kicks up many hours before midnight at only 7p.m! With live bands and DJs playing in a multitude of different sections, party goers can dance, say goodbye to the old year, and enthusiastically welcome the new year…with many great holiday treats to sip and snack!
The typical highlight, the midnight waltz, may be heard in all the tents and throughout the outdoor area at the base of Bavaria.
Where:  Theresienwiese
Cost: 33€ per ticket
The Werkroom Glitzeria
Though it has only been hosting it's party series since September 12, 2021—smack in the middle of the corona pandemic—the Werkroom is arguably the best event hosts to celebrate New Year's Eve in Munich!
2023 is sure to go off with a BANG thanks to all the iconic local drag stars, one of Werkroom's legendary lip sync contest, bingo, a fire performance, LED dancers, stilt walkers, and much more!
Where: Villa Flora // Hansastr.44
Cost: 17€ online or 20€ at the event
Ritual's New Year's Eve Party At MH5 Roof
The MH5 Roof is another fantastic venue for a New Year's Eve celebration, with indoor and outdoor space and a breathtaking panorama of Munich from every vantage point.
The sleek bar will inject energy into any open-event whether for a meet-and-greet, a break-out area, or it's electrifying high energy NYE club party.
Where: München Hoch 5 // Attelierstrasse 10
Cost: Tickets for their NYE party are between 15-20 Euros per person // You can buy them here
35mm Oscar Night
If you are keen on a great themed bash, 35mm Oscar Night is the place to celebrate your New Year's Eve in Munich this year!
You can join them in welcoming the New Year as they throw an Oscars themed party with a red carpet, picture wall, flashing lights, and glitz.
There's also a massive buffet with incredible appetizers, main gourmet meals, and mouth watering sweets. Not to mention the wine and champagne!
Where: Bayerstrasse 3-5
Cost: The tickets to this event range from 99-129€, while drinks before 11 pm cost 69€ and drinks after 11 pm cost 49€
Yokocho New Years Eve Karaoke Party
If singing your way into 2023 is your goal, then the vibrant karaoke bar party at Yokocho is the perfect location for your New Year's Eve celebrations with friends!
Yokocho is a Japanese-themed location with a crowded lane full of nightlife illuminated by lanterns and full of the most eager and friendly party goers you'd want to spend your last night of 2022 with.
Where: Atelierstrasse 14
Cost: Tickets cost 30€
New Year's Eve Open Air & Indoor Festival
You can join the The Winter Quartier for their annual New Year's Eve Open Air & Indoor Festival in the heart of the city as they countdown into the new year together!
Come take advantage of the outdoor mulled wine bar, long drinks and champagne area, warm lounge, stage in the winter quarters, and many other fun things available there.
Where: Winter Quartier // Alter Hof 3
Cost: Tickets cost 15.61€
Night Of Uplifting Club Sounds At Muffatwerk
At Muffatwerk's  New Year's Eve party, you can find some of the best of Munich's nightlife performers providing your soundtrack into the new year.
Come get ready to dance the night away with Fancy Footwork! This DJ team is sure to keep you on your toes with a mix of genres ranging from disco classics to indie rock to pop.
Get ready to make the disco balls shake with tons of glitter and flitter rhythms!
Where: Muffatwerk // Zellstraße 4
Cost: Tickets cost 20€ online or 24€ at the event
New Year's Eve Singles Party
The ZAR Bar is a great place to have fun if you are single and looking to mingle this New Year's Eve. You never know who you will meet there or what events may follow!
Experience the beginning of the New Year with other singles while enjoying a great dinner, fireworks, fantastic cocktails with numerous DJs, thrilling live performances, an exclusive terrace, and more.
Where: Rosenheimer Strasse 240
Cost: Tickets to the party range between 39.90€- 59€// To buy yours or get more details, check out the event page here
Fuck off 2022 New Year's Eve Party
The Fuck Off 2022 party is the perfect way to close the year in style. Whether from Generation X or Generation Z, you'll find something to dance to at this party, featuring chart-topping tunes from the 1980s through 2022. Drinks, Reggae, and dancehall classics will also be available.
And of course, tons of open space to dance and party your way into the new year complete with fantastic drink specials plus 1€ shots!
Where: Backstage //
Cost: Tickets cost 17€
Any Other Munich New Year's Eve Events We Should Add To The List?
Let us know in the comments or if you are interested in more of course make sure to check out our Instagram & TikTok!