*FYI - this post may affiliate links, which means we earn a commission (at no extra cost to you) if you purchase from them. Also, as an Amazon Associate, I earn from qualifying purchases. For the full scoop on what this means, feel free to check out our Privacy Policy and Disclosure.
Looking for a way to indulge in a weekend of wellness without a tedious amount of travel? Why not try a 5 star trip from Munich to Tyrol, Austria? Let us introduce you to the Jagdhof Spa Hotel: an authentic and luxurious Austrian experience (that is welcoming to the whole family!)
We have always been passersby, but with the experience afforded to us by the Jagdhof Spa Hotel, we took the opportunity to discover the deep idyllic Austrian experience we'd never had before. This last minute decision left us delighted and eager to share!
Table of Contents
Why Take A Trip From Munich To Tyrol?
There's nothing like Tyrol for pure alpine experiences, with rugged mountains and patchwork pastures mellowed by cowbells, the whole picturesque package has us running to frolic through any and all fields.
In winter, it's a picture perfect scene with snow-frosted forests and skiers whizzing down the slopes. In summer, hiking trails traverse peaks and huts, while local delicacies and fresh air are enjoyed by friends and families alike
How To Get From Munich To Tyrol
Luckily for us, this gorgeous getaway isn't so far away. With a hop, skip and jump over the border, Tyrol takes no more than a couple of hours to reach through multiple methods of transport.
Munich To Tyrol Driving
The scenic tour from Munich to Innsbruck is around 164km (102 miles) and just under 2 hours on average. Depending on your destination in Tyrol, this would typically tack on another 50 minutes or so depending on the traffic and weather conditions.
Just make sure you don't forget to grab your toll sticker or Vingette for your trip through the Austrian motorways!
Munich To Tyrol Train
Whichever train you choose, you will need to head to Innsbruck, Austria and transfer from there to your specific Tyrol destination. For us, this was a final destination of the Stubai Valley.
Arguably our favourite option (especially with over half the trip being covered by the Deutschlandticket), travelling by train is only around 2.5 hours. You can book a faster train directly to Innsbruck or go the route we went which was a regional train to Kufstein (the border tariff point for our Deutschlandticket) followed by a connecting train to Innsbruck and then a bus to Stubai Valley.
5 Star Spa Hotel Jagdhof Review
Scheibe 44 . 6167 Neustift Stubai valley, Tyrol, Austria
We had a truly wonderful experience at The Jagdhof Spa Hotel that was unlike anything we had ever experienced before. A lovely, spacious oasis, it felt incredibly homelike without the air of pretentiousness that one might anticipate a '5 Star Spa' would have.
It was a multi-generational hotel with family guests and singles who blended seamlessly without disruption. There is no difference in whether you come to enjoy a well-deserved vacation or plan an annual family vacation.
The Location
The hotel is located in the Stubai Valley. A 50 minute drive from Innsbruck, we went directly there with the location bus (if you are going by car it may be a bit shorter of a ride) which was surprisingly easy and efficient!
There are lots of activities in the Stubai Valley, but it is also a relaxing place to stay if you are looking for peace and quiet without sacrificing easy access to the mountains. Stubai has many hotel options ranging from modest-priced to our 5 star stay at The Jagdhof Spa Hotel (which proved to be the best value and option).
There's not much to explore or things to get, so we suggest choosing an inclusive and fully accommodating hotel in order to maximize your stay.
The Room
We got to enjoy 2 cozy nights in their spacious Zwölfer Deluxe Double room. There is an oak or reclaimed wood floor in the deluxe double room, as well as a luxurious bathroom with a corner bathtub & shower, double sink (with very amazing mirrors) and separate toilet.
There is also a cozy living room with an authentic Tyrolean farmer's stove, as well as a spacious, safe balcony that we enjoyed immensely! It was a south facing balcony which allowed us to wake up to the glow of the glacier in the distance and a gorgeous shot of the mountains in the morning.
The Pricing
Naturally for a 5 star experience you can expect to pay a 5 star price. However, our experience has shown that this correlation is not always the case. You are bound to pay a good amount for your visit to the Jagdhof Spa Hotel if your aim is a truly indulgent wellness weekend.
In our opinion, if you've got the budget for all the top tier extras this place will surely not leave you unsatisfied! However, what we were shocked by was how much they offered for a basic booking. The Jagdhof Spa Hotel inclusive services list is incredibly extensive, ranging from their 3,000sqm spa, daily activity programs, dining offers (we can't even get started on how huge and amazing this was!!) to even special children's programs.
Pro tip: If you're considering staying in Tyrol, check with your hotel if they offer transportation cards. The Jagdhof Spa Hotel offers the Stubai Super Summer Card from 18.05 until 28.10.2023 which is a game-changer.
Stubai is located right in the middle of most sites and activities, but the winding mountain roads and distance can be challenging on foot. A Stubai card gives you access to public transportation services, a ride on the summer toboggan, cable cars, and the glacier train, as well as discounts for local activities!
Munich To Tyrol, In A Weekend: Awesome Activities To Try!
Wondering what to do during your weekend from Munich to Tyrol? Here are a few must-dos for your list:
Visit The Grawa Waterfall
Confirmed to be the widest waterfall in Austria the Grawa waterfall, this UNESQO world heritage site is also unarguably the most striking. It is easily accessible; it is next to the main road leading through the Stubai Valley, just a few hundred meters from the cable car leading to the Stubai Glacier.
Many parking options are available nearby, and then you can take the footpath straight to it. There is a unique observation platform underneath the waterfall where you can kick back, relax and take it all in…Or if you feel a bit daring, climb along the waterfall's sides for even more views.
Take An E-Bike Tour Through The Mountains
E-bike tours are organized by The Jagdhof Hotel or can be rented by individuals from their nearby rental partner (but our tour guide from The Jagdhof was the most excellent, so we'd recommend you meet her if possible). There are rivers, lakes, bridges, and lush green mountains along the way as the tour leads through the valley.
Our way passed through a herd of cows grazing in the valley, since they stay there until they are sent up to pastures in the mountains. Following a smooth valley route, we started climbing uphill towards a beautiful lookout point. With the brand new e-bikes provided by the hotel, the climb was not overly difficult, but a really enjoyable workout mixture, since you get to cover more ground than you might on a regular mountain bike even if (like us) you are not as experienced with mountain biking.
This tour would be ideal for anyone with a beginner/medium fitness level, since you get to see much of the surroundings and reward yourself with a spa treatment afterward.
Soak It Up In A Spa
They really meant it when they put the spa in The Jadghof Spa Hotel, because OH MY GOODNESS was this place stunning!! It was 3,000sqm of pure wonder. So many options were available, we worried we would never try them all!
From the different grottos – salt grotto, Roman style heat beds, steam baths, Kneipp bath, to the multiple lounge areas and even a private library, everything was just so impressive. And most of it was included with our stay!
Munich To Tyrol, In A Weekend: Amazing Things To Eat And Drink!
There is a general misconception that Tyrol's cuisine is cookie cutter like Munich's Bavarian comfort meals. We can't get to experience many of the foods and drinks available in Tyrol, especially at the Jagdhof Hotel.
Here are some tried and true recommendations for your trip:
Food To Try
The Jaghof Spa Hotel was a food highlight for us. They offer not only a regional fair, but also cater to the needs of various diets and food intolerances.
They also source local produce and wild game from their family hunting grounds (following strict ethical and seasonal regulations). We got to sample all of those one evening when we had dinner in their cabin, which not only included a full spread to sample for the appetizer but as our main we got to enjoy some fondue (also super fun if you have not gotten a chance to experience it yet!)
The next day we stopped for lunch at the local gasthaus near the Grawa waterfall to have some Kaspressknödel, a cheesy Tirolean dumpling. This also 100% should be on your list!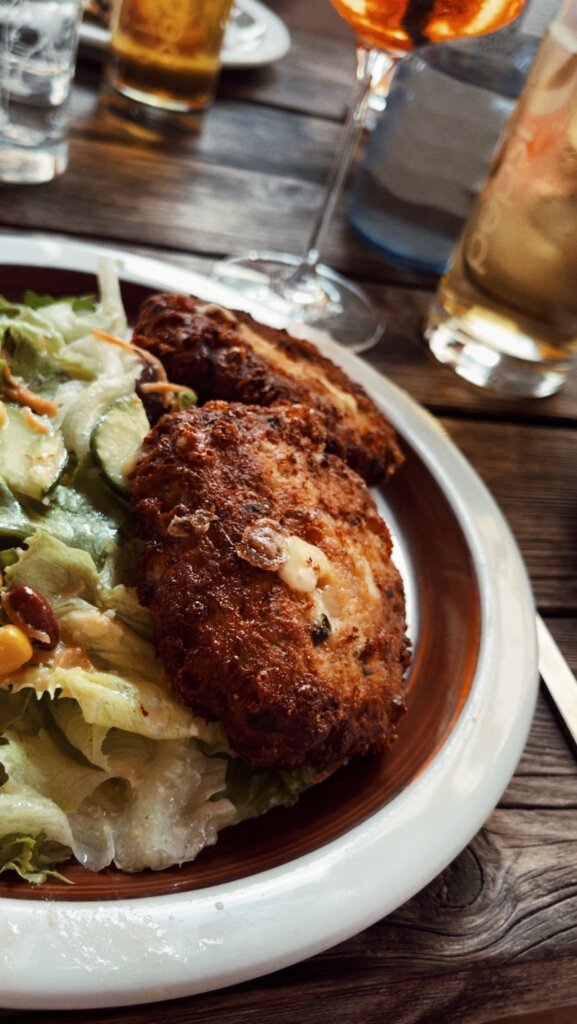 Drinks To Try
When it comes to drinks, the Austrians really know their stuff. Austrian wines were a real treat for those who drink alcohol-not to mention the large collection of wine The Jagdhof Hotel has in their numerous cellars, including some of their own products. There was no shortage of regional beverages to sample, as well as some really good (and somewhat strong) Schnapps.
There was also a really wide selection of other non alcoholic beverages to choose from, including this really delicious and unique Hallstatt water. A very interesting aspect of this water is that it comes from 212 meters (700 feet) below the surface of the earth at the base of Austria's Dachstein mountain and is said to possess some of the best health properties
Highlights & What We Loved
5-Star Service And Concierge
When you stay at The Jagdhof, you don't just pay for a room in a beautiful hotel. You can really enjoy complete tranquillity while you're there.There is so much care and attention put into the property by the team.
The service was out-of-this-world (Christian and Karl Heinz were exceptional) and overall, the hotel team made sure you were well taken care of from the moment you arrived to the time you left. If you had a request or question, you would immediately receive a range of suggestions and offers to assist you.
Considerations & Variables To Know
The Price And Cost Of A Stay
The truth cannot be sugar coated.In a 5 Star establishment like The Jagdhof, you will undoubtedly spend a significant amount of money.When you consider the location, you'd surely want to take advantage of all the amenities possible, but if your goal is to get a bigger group and plan an itinerary packed with activities, the price will rise.
Even so, if you have the budget, consider it. We had a fantastic time there and would love to return again to try it out in another season. Plus with their many (and pretty incredible) seasonal package offers, it can certainly be adjusted to be a really amazing deal.
We hope you enjoy your visit to Tyrol and the Jagdhof Spa Hotel! If you found this guide helpful, if you are in search of any more information feel free to reach out to us or
Did We Forget Any Great Munich To Tyrol Weekend Trip Tips?
Just let us know in the comments what travel tips we should add to our weekend trip guide!