*FYI - this post may affiliate links, which means we earn a commission (at no extra cost to you) if you purchase from them. Also, as an Amazon Associate, I earn from qualifying purchases. For the full scoop on what this means, feel free to check out our Privacy Policy and Disclosure.
Dear beautiful bored people of Munich, welcome to the peak of summer! Find out what free August events in Munich are awaiting in the list below. Although it seems to be wrapping up, there is still so much going on!
Alten Münze Biergarten
As of the 1.From July to September, one of the city's most beautiful Renaissance courtyards will be a cultural beer garden. Every Thursday to Sunday there will be events as part of the "Summer of Memorial".
There is also a full event calendar with open-air concerts, guided tours, theatre performances, exhibitions and more!
When: Now until September 10 // Thursday & Friday: 5 p.m – 11 p.m , Saturday & Sunday: 11 a.m -11 p.m
Where: Alten Münze, Hofgraben 4
Olympiapark Summerfestival
After a three-year hiatus, the summer festival is back at the renowned Olympic Park, promising a vibrant and diverse celebration.
From July 27 to August 20, visitors can enjoy a 25-day extravaganza with thrilling rides, delightful food, special theme weekends, and a captivating flea market in the iconic Olympic Stadium.
When: Thursday, July 27 – Sunday, August 20
Where: Olympic Park, Munich
Brunnenfest At Viktualienmarkt
On August 4, Munich will immerse itself in the fountain festival held at the Viktualienmarkt, where the spirit of folk artists like Karl Valentin and Liesl Karlstadt will be honoured among fountains, Bavarian folk music, and charming historical costumes.
When: Friday, August 4 // 12 p.m. – 5 p.m.
Where: Viktualienmarkt
Ping Pong Dj Jam
What you see is what you get! Come on down to the beer garden for some ping-pong action and dacning with DJ ANXA.
When: Thursday, August 10 // 5:30 p.m.
Where: Blumenstrasse 7
OPEN DECKS at Backstage Munich
You can listen to the sets of new or experienced DJs for FREE i a cozy atmosphere. Who knows, perhaps the big DJs of tomorrow are already spinning here, and you have the chance to experience them up close!
Whether you're an established DJ or new to the scene, feel free to send in an application at: [email protected]
When: Friday, August 11 // 11 p.m. – 3 a.m.
Where: Reitknechtstraße 6
Ninetie's & Soulfoot Oldschool Summer Open-Air
At the marvelous Urban Beach Club at Sugar Mountain, artists will keep you grooving with a fusion of Jazz and Hip Hop, uniting in the purest language of music. Freestyle and spontaneous beat-making will create beauty and enjoyment.
Apart from the planned highlights, there will be improv acts as well! Plenty of activities will be available on-site: basketball court, volleyball field, skate park, table tennis, and much more!
When: Sunday, August 13 // 2 p.m. – 10 p.m.
Where: Helfenriederstraße 12,
Bellevue Game Night
All are warmly welcomed to immerse themselves in the captivating world of board games at Bellevue di Monaco's special event.
Join the Board Game Night at Bellevue's Open House satrting at 7, where an array of board games awaits, bringing people together for an enjoyable and free gaming experience!
When: Wednesday, August 16 // 7 p.m. – 10 p.m.
Where: Müllerstraße 2-6
Rotkreuzplatz Bluesfest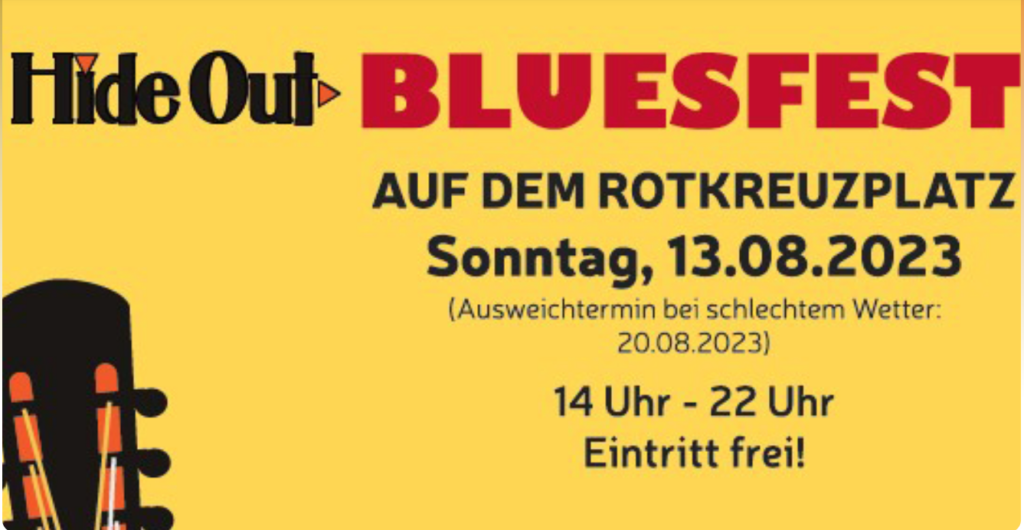 Following a 3-year COVID hiatus, the return of the Bluesfest at Rotkreuzplatz is upon us! Starting from 2 p.m., enjoy performances from Western Swing, Blues, Folk, and Rock'n'Roll bands!
When: Sunday, August 13 // 2 p.m. – 10 p.m.
Where: Rotkreuzplatz
Zamanand Festival
Calling all music enthusiasts and free spirits! Get ready to groove at the much-awaited Zamanand Festival!
The streets between Siegestor and Odeonsplatz will come alive with an aim to shine a spotlight on the pressing challenges of our era while keeping you entertained with soul-stirring melodies, interactive workshops, hands-on activities, and enlightening information stands
When: Saturday, August 19 // 4 p.m. – 2 a.m.
Where: Ludwigstrasse
After Work Stammtisch
On the Deck21 Rooftop Bar in the Olympiapark, the patio is reserved for the "After Work Stammtisch" starting at 7:00 PM. Deck21 is located on the Coubertin rooftop terrace in the heart of Olympiapark Munich.
In good weather, you can expect cool drinks, snacks, and relaxing sounds with a view of the historic venues of the 1972 Olympic Games. Attendance by registration only: https://en.xing-events.com/GUSKMWZ
When: Thursday, August 31 // 7 p.m.
Where: Coubertinplatz 80809
Looking For More Information About Upcoming Free August Events In Munich?
Feel free to ask below and we'll try to get an answer back to you! And be sure to check out our Instagram & TikTok for more content coming up!