*FYI - this post may affiliate links, which means we earn a commission (at no extra cost to you) if you purchase from them. Also, as an Amazon Associate, I earn from qualifying purchases. For the full scoop on what this means, feel free to check out our Privacy Policy and Disclosure.
Hello, beautiful bored people of Munich! And heeello Munich events weekend 50! What are your plans? If you don't have any yet, don't worry we got you covered.
Stay warm this weekend when visiting the various Christmas Markets around Munich or you can stay cozy inside with lip sync battles, art exhibitions and more.
Munich Events this Weekend
Free Events, Activities, and Christmas Markets
This December weekend is filled up with a multitude of free events and great selections of activities for all ages. Have a look below to find your weekend plans in Munich.
Lost Treasures Flea Market
Guess what. Yes that's right its the time for thrifting. Get those totes and find some hidden gems at the Lost Weekend, this weekend.
As before if your closet doors aren't shutting and you need to part with some things, you can rent a stall fro 20 euros. Happy treasure hunting!
Where: Lost Weekend
When: Sunday December 18th, 2022 // 12 PM – 6 PM
Cost: Free admission
Bellevue Di Monaco Christmas Market
Bellevue is a cultural centre in Munich focused on supporting not only our local community but refugees looking to join it. They offer apartments and can be recognized by the cafe on the street level.
This Christmas season Bellevue is hosting a Christmas market that includes a raffle in support of the Association d'Aide de Migrants en Situation Vulnerable AMSV in Oujda/Morocco. Details to participate can be found on their website.
When: THURSDAY 15th, DECEMBER, 2022 // 18:00
Where: Müllerstrasse 2 , 80469 Munich
Cost: Free admission & Donations welcome!
Viva Frida Kahlo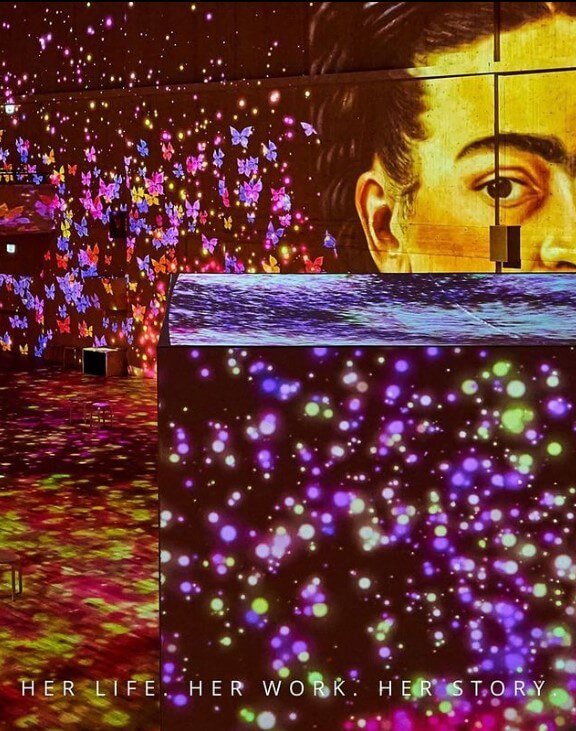 We all know Frida's famous eyebrows but what else do you know about her? If you are curious you might want to check out this stunning immersive event at Utopia!
This Thursday Utopia is celebrating the works of Frida Kahlo with an exhibition, check it out!
When: Thursday, December 15th,2022 // 10 AM – 8:PM
Where: UTOPIA // Hessstrasse 132
Cost: 22 €
The Falafel Connection
Falafel and drinks what more could you ask for?!
The famous street food vendor Fizzy Bubele is getting together with another local Munich food legend Servus Habibi, and putting on a special Falafel Connection pop-up this Friday.
If you are hungry, thirsty and on the hunt for the best falafel in town, then this is the perfect pop-up for you!
When: Friday December 16th, 2022 // 9PM
Where: MIO HOTEL BY AMANO
Cost: Free Admission
Pyjama Christmas Brunch
Okay so brunch, obviously YES. However, brunch in… pyjamas?? OBVIOUSLY a double yes!
Did you miss last week? No worries, our favourite American-themed cafe, Ginger & Gray's Cafe is hosting a Christmas-themed brunch AGAIN. The dress code remains extremely casual (but also extremely required).
So if eating breakfast in total comfort interests you make sure you reserve a spot…We'll for sure be there!
When: Saturday-Sunday, December 17th-18th, 2022 // Various Time Slots
Where: Heßstraße 74, 80798 München
Cost: Free Admission
Praterninsel Christmas Flea Market
Did you guys go to the Midnight Bazar? Well, there is nothing "Bizzare" about this Nachtflohmarkt. It will boast 100 vendors with a cozy atmosphere.
Tickets can be found on their website, so go get your Christmas shopping done early.
When: Saturday, December 17th, 2022.
Where: Praterinsel
Cost: 3 €
Lovers Lip Sync
You KNOW we are never gonna let you miss a good lip sync. This weekend get lost in the music with a winter-themed lip sync battle.
Your favourite drag queens Eve'N'More and Pinay Colada will be the moderators. The first three guests dressed like they are from ARENDELLE get free entry.
When: Saturday, December 17th //8 PM
Where: Lost Weekend
Cost: 13,41 €
Queer Winter Market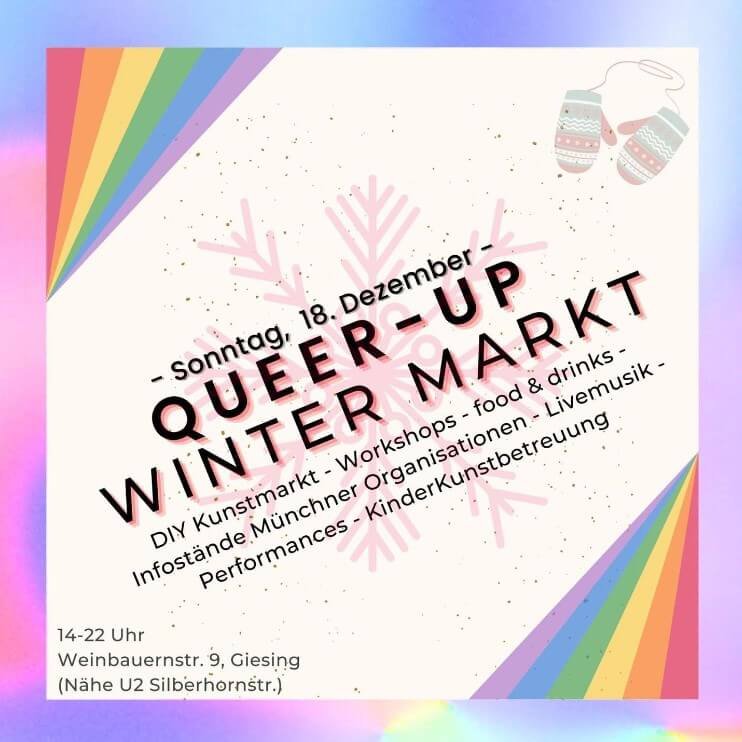 Queer Raum is hosting a Christmas market this year featuring queer artists and their artwork.
If you want to support the community and pick up a nice piece to spice up your home, come check this out!
…P.S It's also a great event for family, with many fun projects and activities for all ages!
When: Sunday, December, 18th, 2022 // 2 PM – 10 PM
Where: Weinbauernstraße 9
Cost: Free Admission
For more Lgbtq-ute ways to make life in Munich more colourful, make sure to follow our sibling website Queer in Munich! There you can find a special event calendar to help you connect to local upcoming community events in English.
Looking For Other Deals or Cool Things to Do in Munich?
We always make sure to keep our event calendar up to date with the latest and greatest upcoming activities. Check it out here if you are interested in more than the few above-mentioned events!
If you're still strapped for ideas on things to do this weekend, check out Groupon. If it's your first purchase, you can use the code HALLO to save 20% off any of their local deals, which means you can splurge on cool experiences like restaurants, alpaca walking, and even hot air balloon flights at a steep steep discount. Click here to browse.