*FYI - this post may affiliate links, which means we earn a commission (at no extra cost to you) if you purchase from them. Also, as an Amazon Associate, I earn from qualifying purchases. For the full scoop on what this means, feel free to check out our Privacy Policy and Disclosure.
Happy December, beautiful bored people of Munich! And let us say right away, these Munich events weekend 48 is filled with are extra fantastic!
Your line-up this week consists of some more (and very unique!) Christmas Markets, dancing lessons, and maybe even free some repair work, but that's up to you 😉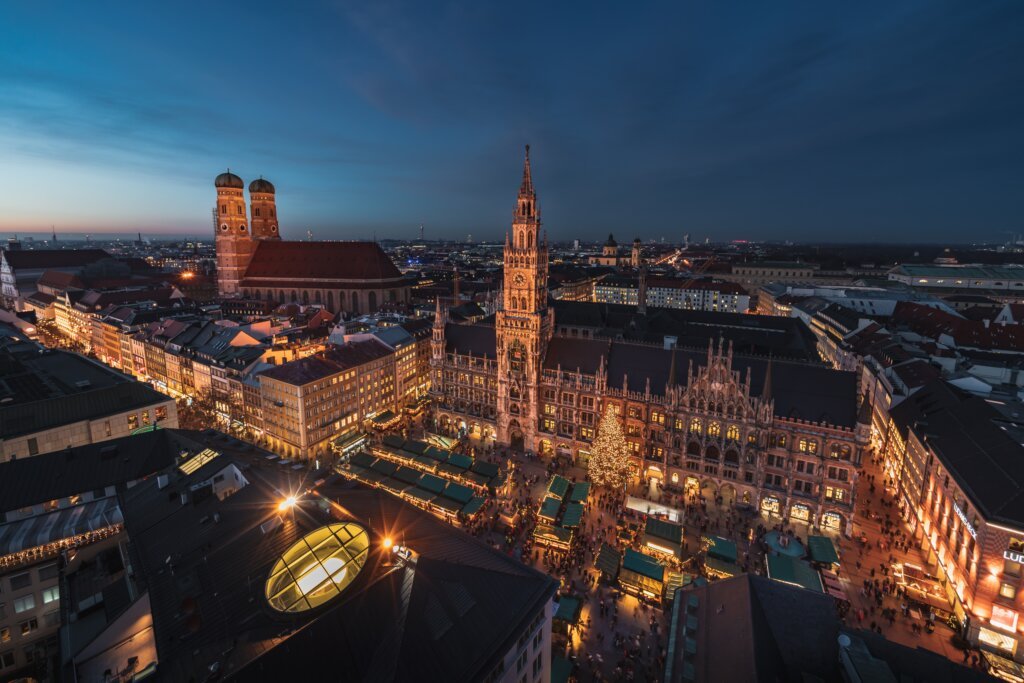 Munich Events this Weekend
Free Events, Activities, and Christmas Markets
This December weekend is filled up with a many events (some free of course!) and great selections of activities for all ages. Have a look below to find your weekend plans in Munich.
Unique Christmas Events in Munich This Week
French Christmas Market
Have you ever been to a French Christmas Market? Well, don't worry about tedious travel plans this year, you won't have to go there to experience one because we've got one coming up right here in Munich!
This event will have all sorts of French products, cuisine (Champagne of course) and even some great children's activities.
It is also an eco-friendly event so it is suggested to bring your own cups and bags!
When: Saturday, December 3rd // 11 AM- 3 PM
Where: Ungsteiner Straße 50
Latin American Christmas Party & Dance Workshop
Looking to learn a new style of dance? Or perhaps impress some family members when you go home for the holidays.Either way this Latin American Christmas themed dance workshop is a great event to check out!
This event has three main workshops and even events for children. You can sign up and purchase tickets on their Facebook page.
When: Saturday, December, 3rd // 11 AM – 5 PM
Where: Westendstraße 155
Cost: €10.00
Japandult Christmas Edition
Japan is coming to Munich, so don't worry you can watch your favourite anime later. This market has cuisine, music, workshops, and artistry all centered around Japanese culture.
Tickets can be found on their Facebook page. If you are looking for something less traditional than a German Christmas market try it out!
When: Sunday, December, 4th // 1 PM – 7 PM
Where: Heßstrasse 132
Cost: €11.22 – €16.24
Drag Bingo
A Negroni…..Sbagliato….with Prosecco. It doesn't matter if that's your favourite drink or not Prosecco the nightclub is throwing a drag bingo!
It will feature some amazing queens such as Tiffytoelle, Daphny_Ryan, and Krisblaq. All proceeds will go to the Munich Aids-Hilfe.
When: Saturday, December 3rd
Where: Theklastraße 1
Misstique Presents: Drag Burlesque
Munich's latest and greatest lesbian event venue has a special Burlesque event coming this Friday featuring the great drag beauty Ruby Tuesday!
The event is open to all as a safe space to have fun, dance and enjoy some great local talent. There will not only be an amazing venue but a red carpet rolled out, photographers and all the works. So if you are looking for a great girls night out, this is the place to be!
When: Friday, December 2, 2022
Where: G3 Club & Lounge // Atelierstr.12
Cost: Tickets start at 8€ // See the website here for more!
For more Lgbtq-ute ways to make life in Munich more colourful, make sure to follow our sibling website Queer in Munich! There you can find a special event calendar to help you connect to local upcoming community events in English.
Photography course
We all had our photography phase…but maybe it wasn't a phase. Maybe you are craving to learn how to take some awesome pictures, or even just learn some basics of that new camera you bought.
Studentenwerk is putting on a photography workshop this weekend. No prior skills are needed but it is encouraged to bring a camera of some kind, even a smart phone will do!
When: December 2nd, 2022, // 2.30 p.m. – 7 p.m
Where: Olympic Village student district
Cost: €5
International Women's Group at Bellevue Di Monaco
This weekend Bellevue is putting on an Open Meeting space for women from all over the world. It is a place to share your ideas and talk with women from all different walks of life.
If you'd like to expand your horizons in a welcoming environment step into this room this weekend.
When: FRIDAY, DECEMBER 2nd// 10:00 – 12:00
Where: Müllerstrasse 6, entrance via courtyard, Müllerstrasse 2
Open Taverna
Hall 6 is getting a makeover, into a tavern! There will be food, and live music, and bringing home-cooked goods from home is encouraged.
The line-up will consist of bands: Pnema, Munich Anatolian Project, Trio Surdamara, Lucile And The Rakibuam, Trio Eskises, and World Wide Wig. It sounds like a blast, see you there.
When: Friday December 2nd // 9 PM
Where: HALLE 6, Dachauer Straße 112d
Cost: FREE
English Book Swap
If you are an avid reader and a fan of books with a past, then this is one event you will need to try out!
Don't worry if you cant read German this book swap is specifically for English books! So bring some of your favorites to share and perhaps even discover some new ones!
Just don't forget to RSVP! You can reach out to the organizer on her post here
When: Saturday, December, 3rd // 3:00-4:00PM
Where: Ginger & Gray's // Heßstraße 74
Cost: FREE
Repair Cafe
Do you have something broken, maybe you don't want to replace it with something brand new just yet?
A repair cafe is a great option for those looking for a more sustainable option. No repair skills are necessary, and they will help you fix electronics and textiles!
Just make sure to bring one item per event, that way there is enough time for everyone to get some help!
When: December 4th, 2022 // 2-5 p.m
Where: Nikolaiplatz 1b

Subway Stop: Giselastraße or Münchner Freiheit
Cost: FREE
Looking For Other Deals or Cool Things to Do in Munich?
We always make sure to keep our event calendar up to date with the latest and greatest upcoming activities. Check it out here if you are interested in more than the few above-mentioned events!
If you're still strapped for ideas on things to do this weekend, check out Groupon. If it's your first purchase, you can use the code HALLO to save 20% off any of their local deals, which means you can splurge on cool experiences like restaurants, alpaca walking, and even hot air balloon flights at a steep steep discount. Click here to browse.